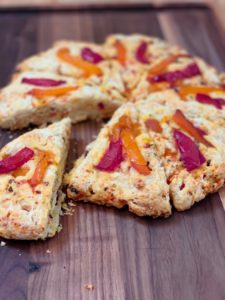 Scones with Roasted Peppers, Sun Dried Tomatoes, Parmesan Cheese and Thyme
Roast the peppers under the grill or over a flame until charred on all sides. Let cool and peel and seed. Slice ¼ of the peppers into ½" strips. Dice the remaining pepper.

In a large bowl, stir together the flour, sugar, baking powder, salt and thyme leaves.

Using a pastry cutter or two knives, cut the butter into the flour mixture until it looks like grainy sand.

Add ¾ cup buttermilk and mix together. Stir in the diced pepper, tomatoes and cheese. Mix together until it comes into a mass.

Turn the dough out onto a lightly floured worksurface and knead a few times to incorporate any remaining flour.

Pat the dough into a circle about ½" thick and 10" in diameter. Move the circle onto a parchment paper lined baking sheet and cut the circle into 12 pieces (like a clock).

Brush the top of the dough with a little milk, cream or beaten egg and decorate with the strips of pepper.

Bake in 425 degree oven for 15-20 minutes until tops are brown and a toothpick inserted into the center of the scone comes out clean.

Serve warm or at room temperature.