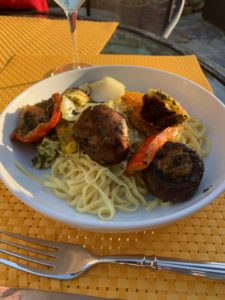 GRILLED HALOUMI CHEESE WITH HERBS AND VEGETABLES
For the Vegetables
2

red peppers

1

small onion

8

large mushrooms
12 oz (350 grams) Halloumi Cheese
For the Marinade
Put all the herbs and the garlic in the bowl of a food processor or blender and pulse until they are well minced. With the processor or blender running, slowly pour in the olive oil and lime juice. Set aside until needed
For the Vegetables
Seed the peppers and remove the white pith. Chop into pieces about 2" square. Peel the onion and chop to the same size as the peppers. Clean the mushrooms.
Cut the Halloumi Cheese in to 1 ½" cubes.
Place the vegetables and cheese in a large bowl or container. Pour the marinade over them and mix gently with your hands, making sure everything is covered with some of the herbs. Cover the bowl or container and refrigerate overnight or up to two days.
To cook the Halloumi and Vegetables
Prepare a charcoal fire or heat your broiler to high. If you are using a grilling basket, cook the vegetables and cheese for five minutes on a side or until the cheese is browned and blistering. If you are using skewers, cook the vegetables for about 8 minutes on a side until they are soft and brown around the edges. Cook the cheese separately from the vegetables for 5 minutes on a side.

Serve over fresh pasta.
This recipe is for two people.  It can easily be increased to serve a crowd.