We call it 'squeaky cheese" because it squeaks in your mouth when you eat it. But Halloumi did not need to squeak to become one of my family's favorite summer dishes.  The bright colors of the herbs and vegetables, the fragrant smell of the marinade and the fun (and novelty) of cooking cheese on a grill might have had something to do with it.  Add a flavor that is touched with salt from the cheese, acid from the lime, umani from the grilled peppers and onions, serve it over pasta and, well, there you are.
It starts with handfuls of fresh herbs: mint, cilantro, basil, thyme, and oregano are the ones I chose to use this time.  Any combination of herbs will work.  Throw in some sage, a little fresh tarragon, some parsley.  Whatever you have available. (For me, part of the pleasure of this dish comes from using herbs from my garden)
Add some garlic and whirr it all up in a food processor or blender then slowly pour in some olive oil and lime juice to make a thick paste.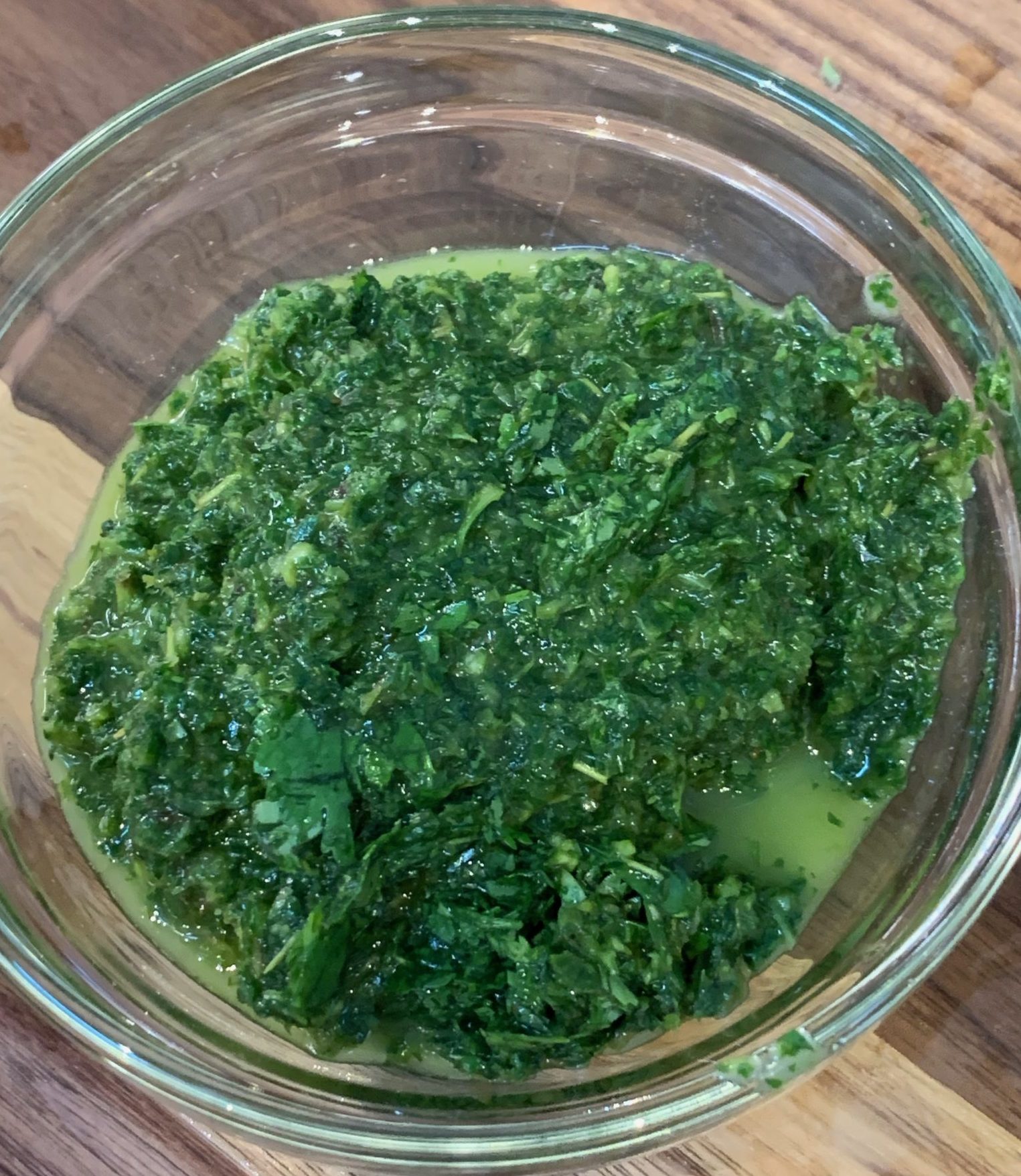 Slice some peppers in half and remove the seeds and white pith.  Then cut them into 2" squares.  Peel an onion (or two) and cut it into the same size as the peppers.  Finally clean some large mushrooms.  Put them all in a large dish or container.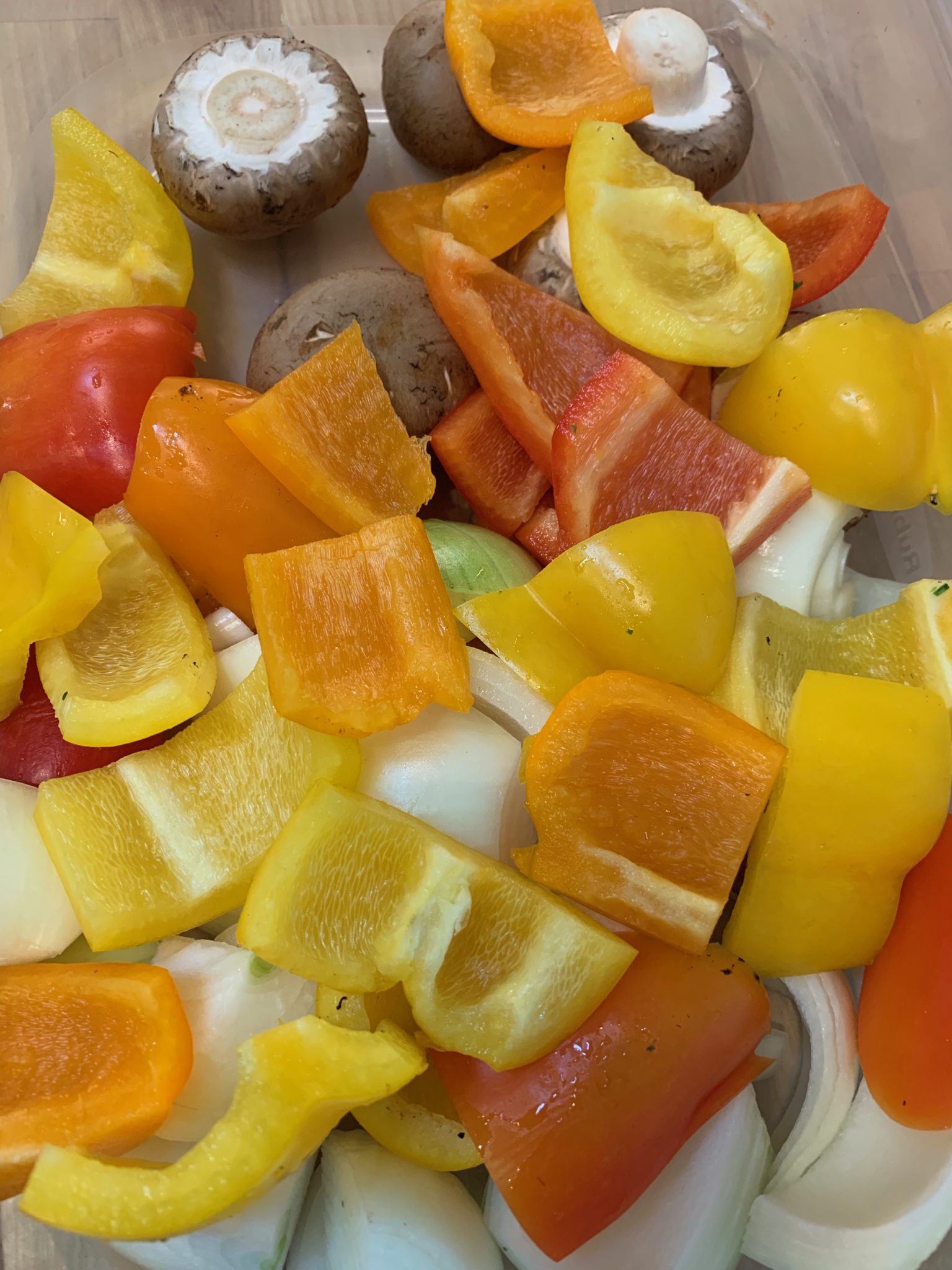 Next, cut the cheese into slightly smaller cubes.  Halloumi cheese is a Greek Cheese, traditionally made from sheep's milk.  It is not always easy to find.  Shops like Whole Foods and Trader Joes will often carry it and specialty cheese will usually have it.  The most commonly available commercial brand (Kryssos) is made from a mixture of goat, cow, and sheep's milk.
Toss the cheese, vegetables and herb mixture together with your hands, making sure that everything gets rubbed with herbs, being careful not to break up the cheese cubes.  Cover it and put it in the refrigerator for at least overnight or as much as two days.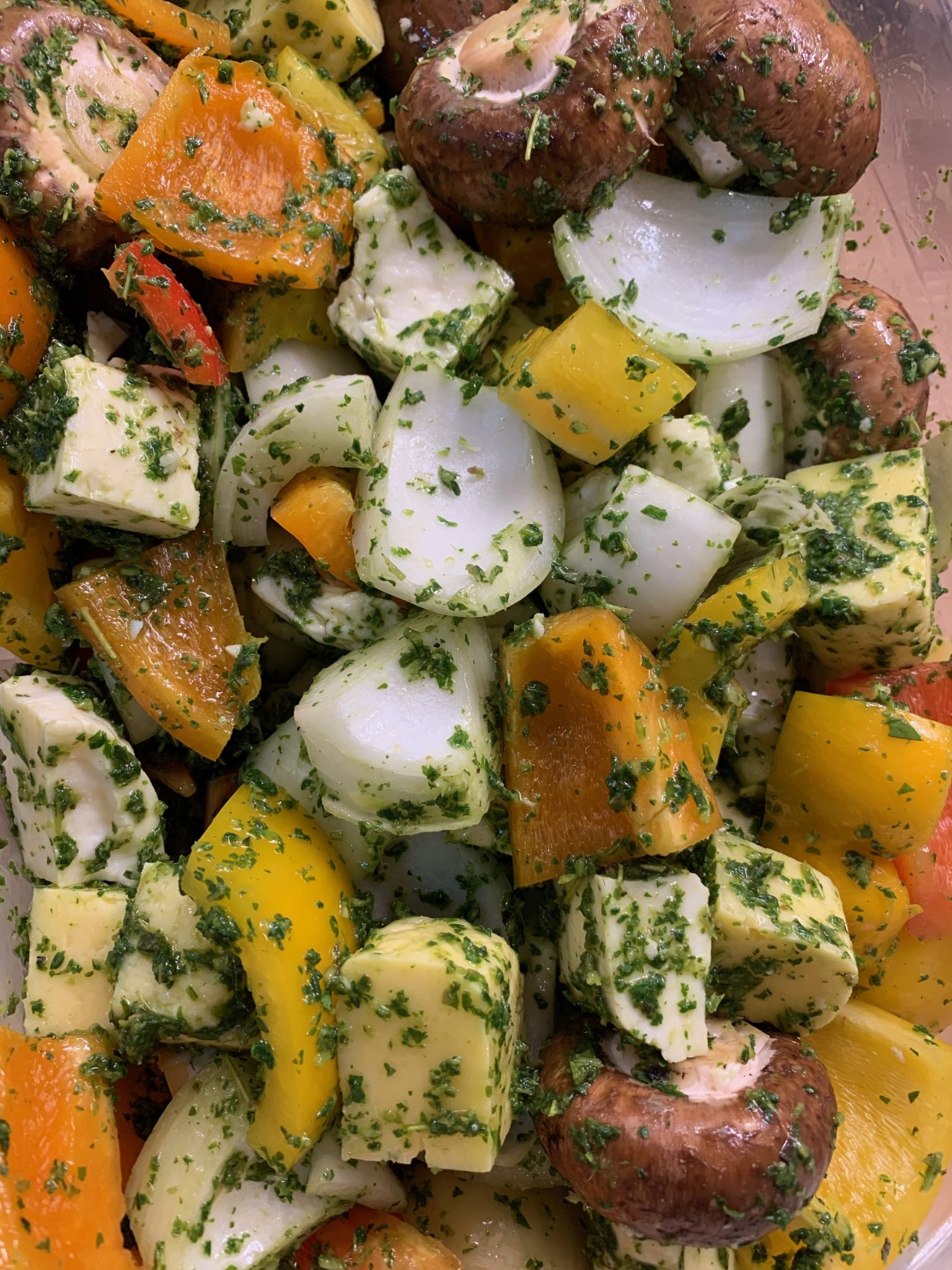 The vegetables and cheese can be cooked over a hot grill or under your broiler. And while I use a grilling basket, you can also use skewers. (If you do use skewers, put the veg on one and the cheese on another.  That way you can start the vegetables first so they cook  a little longer and get a nice brown on them.  )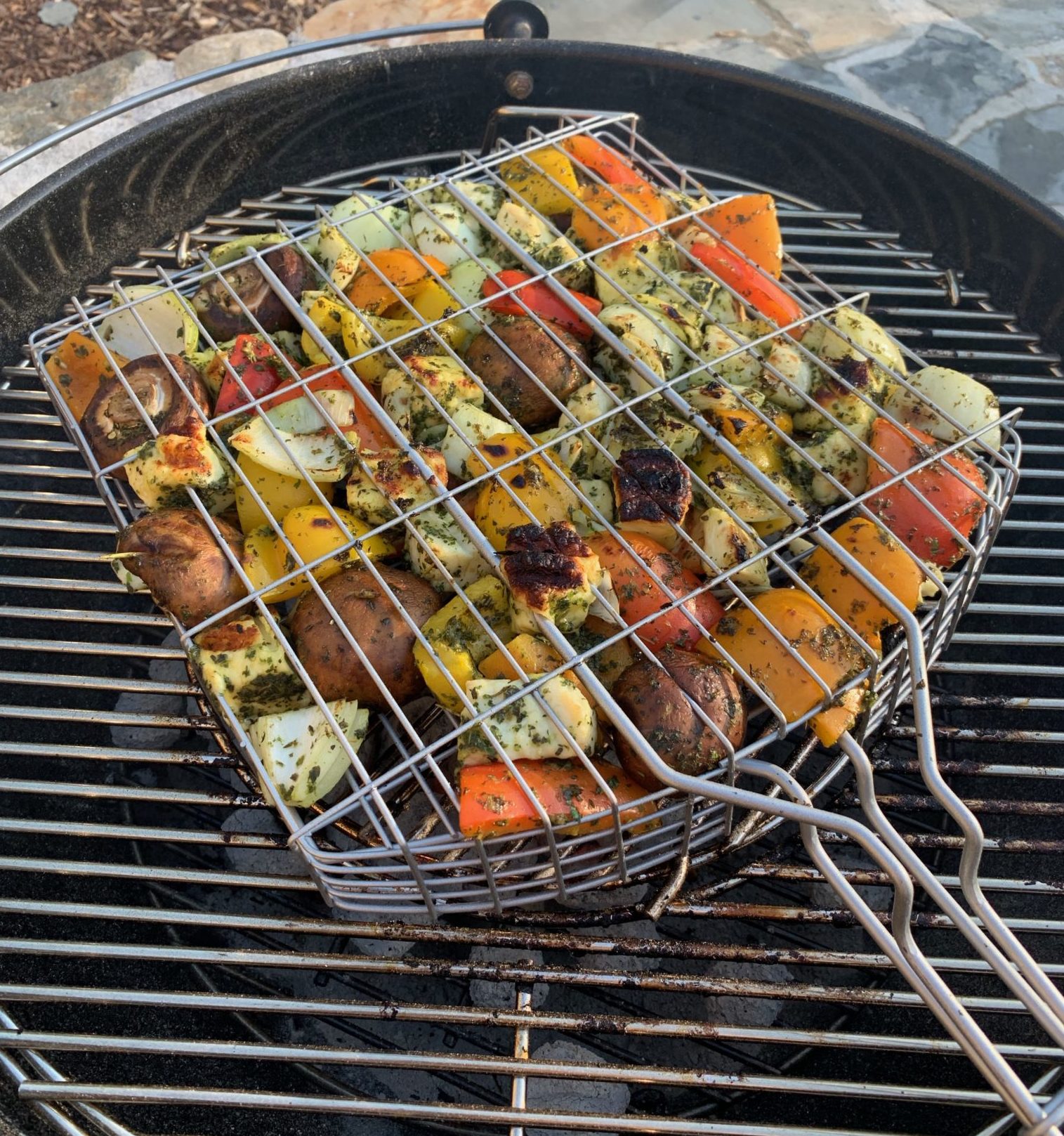 Cook the vegetable and cheese over hot coals for five minutes on a side until the cheese is well browned.
Serve with fresh pasta.  Last night we used fettuccine because that's what I had but I think it would be better with a shaped pasta like rigatoni or seashells to really catch the herbs!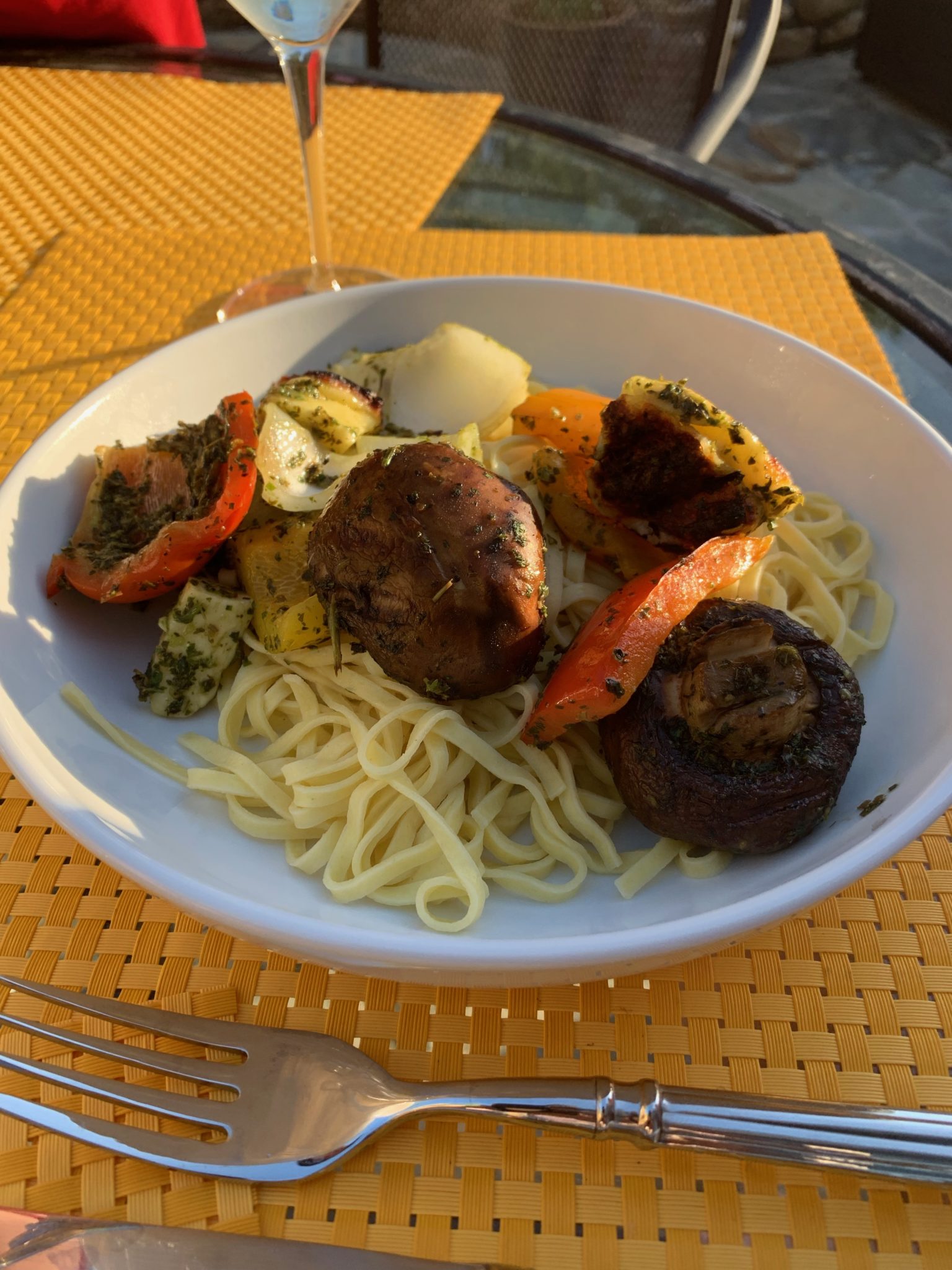 So much yum on a plate!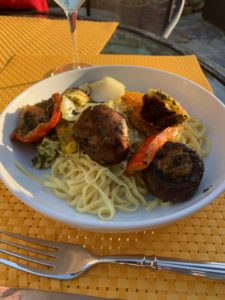 SQUEAKY CHEESE PASTA
GRILLED HALOUMI CHEESE WITH HERBS AND VEGETABLES
Ingredients
For the Marinade
One small handful of 4-6 varieties of fresh herbs

1

fat clove of garlic

½

cup

olive oil

2

tbsp

fresh lime juice
For the Vegetables
2

red peppers

1

small onion

8

large mushrooms
12 oz (350 grams) Halloumi Cheese
Instructions
For the Marinade
Put all the herbs and the garlic in the bowl of a food processor or blender and pulse until they are well minced. With the processor or blender running, slowly pour in the olive oil and lime juice. Set aside until needed
For the Vegetables
Seed the peppers and remove the white pith. Chop into pieces about 2" square. Peel the onion and chop to the same size as the peppers. Clean the mushrooms.
Cut the Halloumi Cheese in to 1 ½" cubes.
Place the vegetables and cheese in a large bowl or container. Pour the marinade over them and mix gently with your hands, making sure everything is covered with some of the herbs. Cover the bowl or container and refrigerate overnight or up to two days.
To cook the Halloumi and Vegetables
Prepare a charcoal fire or heat your broiler to high. If you are using a grilling basket, cook the vegetables and cheese for five minutes on a side or until the cheese is browned and blistering. If you are using skewers, cook the vegetables for about 8 minutes on a side until they are soft and brown around the edges. Cook the cheese separately from the vegetables for 5 minutes on a side.

Serve over fresh pasta.
Recipe Notes
This recipe is for two people.  It can easily be increased to serve a crowd.