Two days ago, I went for a walk and I found myself thinking about making Ciabatta Bread as a metaphor for living life by oneself in quarantine and maintaining a good mood.
You start with the dough, which takes a lot more yeast than most other dough and you don't add a lot of flour so it's a very wet dough.  Then you let it rise.  And in spite of all that yeast it takes a long time to rise because you can't put it in a proofing drawer or even in a warm place.  It needs to rise slowly at room temperature.
Eventually it doubles (or triples!) in size and you are ready to form the loaf.  But this is a very fragile dough and you need to be very careful not to bump it or knock it down too much.  You don't want to lose any of that good air inside it.
Then it rises again.  For a long time.  Longer than you would like it to take, or think it should take, but don't rush it!
Finally, you think it's ready and you put the loaves in the oven.  When the bread comes out, it's nothing like a ciabatta from a store or bakery.  Somehow it seems almost smaller than when it went in the oven.  It's disappointing.  Until you taste it and it will make you smile.
And that's how my mood rises and falls these days!
It's also by way of caution if you decide to try this recipe.  It does take time and it's not going to visually knock your socks off.  But it is good, lightly toasted with some soft, creamy butter.  My mornings are brighter with this bread in it.
I tried three different recipes over the course of the last week.  After mixed results I decided, since it was a Great British Baking Show Challenge, I should go to the source: Paul Hollywood.  There are more authentic recipes out there but this one is most likely to get you a result you will like.
You will need a stand mixer with a dough hook.  It is such a wet dough that it is hard to make by hand.
Put the flour, salt and the yeast together in the bowl of your mixer.  It's important that the yeast and salt be separate, so I put the yeast in first, then the flour and then the salt.  Add most of the water and start the mixer on low speed until the dough starts to come together.  Now slowly add the remainder of the water.  You  may have to stop and push the dough away from the sides.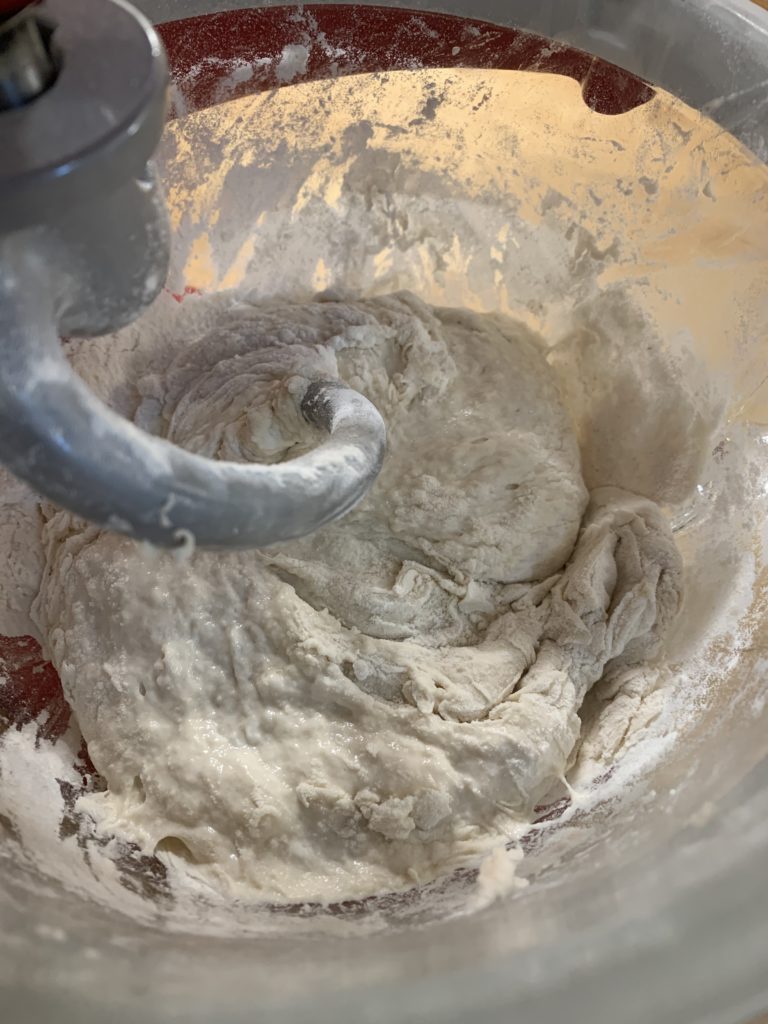 Once all the water is in, run the mixer on medium for about 8 minutes until the dough is very stretchy.
The second thing you need is a large square plastic container with a lid.  By letting the dough rise in the container, you will have a preformed loaf to work with when you turn it out.  This means you handle the dough less and less handling means more air.
Grease the container (or spray it with Pam) and place the dough in it.
Cover it and go away for almost two hours.  The dough should rise to two or three times it's original size.  It will almost fill the container.
Prepare a baking sheet by flouring it lightly.  Mix in some cornmeal if you want to be authentic.
On a floured board, tip the dough out of the square container and cut it in half to make two loaves.
(Paul suggests four cuts but I felt like I ended up with four fat bread sticks when I did that).
Using a metal spatula or a pastry cutter, carefully lift the loaves and place them on the baking sheet.  Cover them and let them rise again for about an hour.
Just before baking, spritz them with a little water.
This is how my bread turned out.  I would love to see a picture of yours!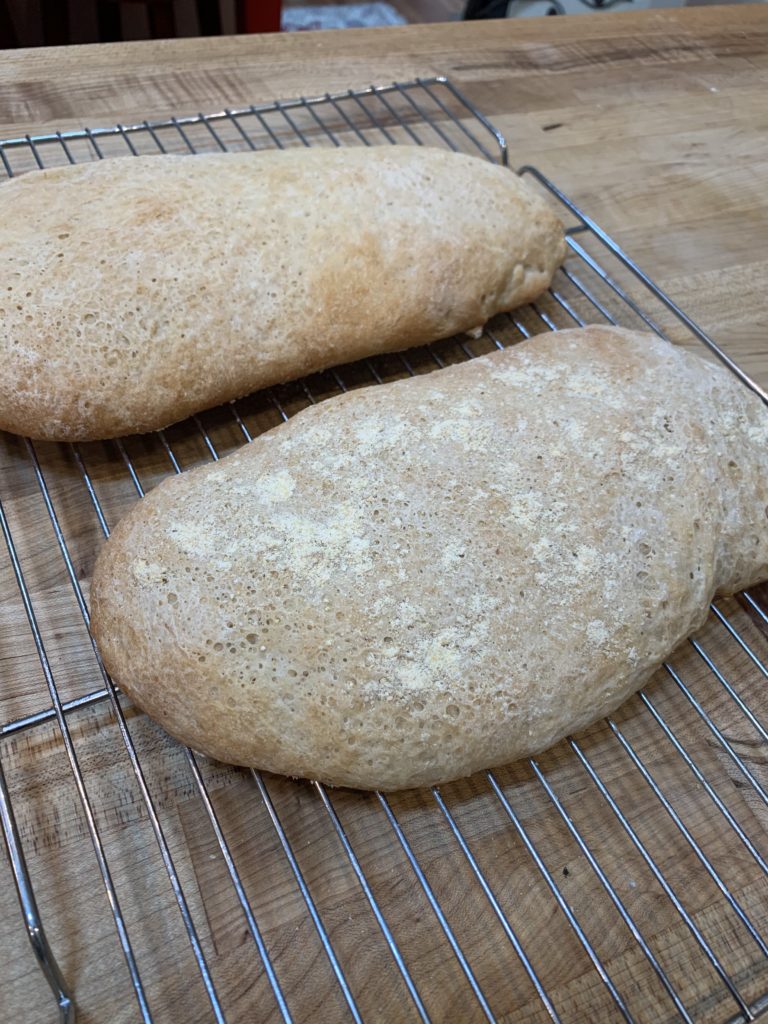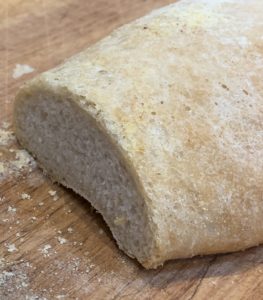 PAUL HOLLYWOOD'S CIABATTA
Ingredients
500

gms

/3 ¾ c bread flour

10

gm

/1 ¼ tsp salt

10

gm

/3 tsp yeast

1 2/3

c

water
Instructions
Put the yeast, flour and salt in the bowl of a stand mixer (in that order). Add 1 1/3 cups cold water.

Mix on slow speed.

Once the dough comes together slowly add another 1/3 cup of water.

Increase the mixer speed to medium and knead the dough with the dough hook for 8 minutes until you can stretch it easily and it won't tear.

Lightly oil a 3 liter/10 cup square plastic container and place the dough in it. Cover with the lid and leave to rise for 1 ½ to 2 hours until doubled or tripled in size.

Tip the dough carefully out of the container onto a floured board. Cut the dough in half and gently move both loaves to a floured baking sheet. Oil the tops lightly and cover with plastic wrap. Leave to rise again for 30-45 minutes.

Preheat the oven to 500 degrees. Place the loaves in the oven and immediately turn the temperature down to 425 degrees. Bake for 25 to 30 minutes until the dough temperature is 200 degrees and/or the loaves are brown and sound hollow when tapped.