Our Family Table: Recipes and Lessons from a Life Abroad
Want to Order Online? Buy Now Through Paypal
$21.99 Each, plus tax + shipping. Shipping and return policies stated below.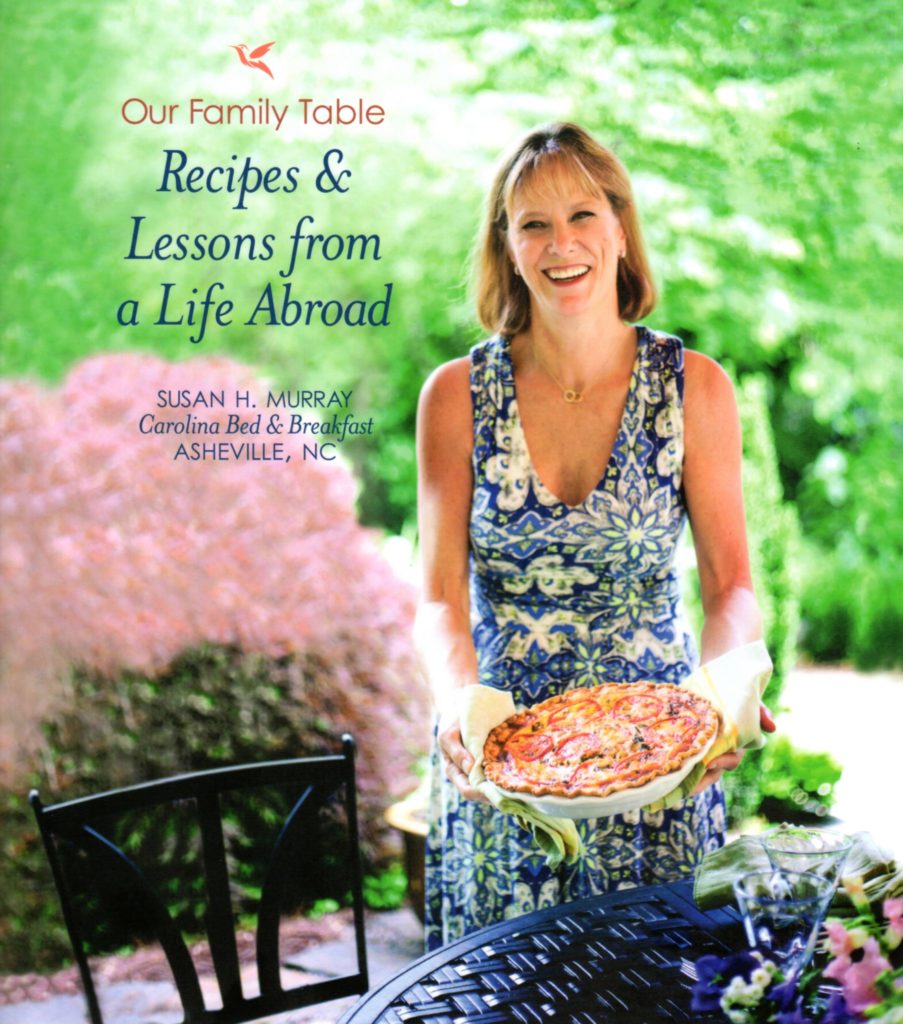 In 27 years overseas I could be said to have eaten my way around the world from the best restaurants in Paris to the smallest Hawker stall in Singapore.  Along the way I picked up tips and recipes which have been adapted and distilled into my own style, one which we share with our guests at the Carolina Bed & Breakfast as well as with our family and friends. In this cookbook, I am sharing it with you as well.
OUR FAMILY TABLE: RECIPES & LESSONS FROM A LIFE ABROAD is a beautifully crafted book filled with more than 100 easy-to-prepare recipes for everything from entertaining to family meals. Enjoy recipes such as Peach Soup (pg. 10), French Eggs in Puff Pastry (pg. 43), Carolina Stuffed Mushrooms (pg. 56),  Greek Lemon Chicken (pg. 81), and Cranberry Pistachio Biscotti (pg. 94).
Quote from Introduction:  Food doesn't need to be complex or elevated to be good.  It shouldn't be scary to cook a meal. .. The fun of creating a great dish and sharing it with others is something everyone should experience.  The recipes in this book are ones I cook on a regular basis.  They are a distillation of all the things I have learned, tasted, seen and done.  When I need to I can, and will, spend three days preparing a special meal.  But that is not this cookbook!  This cookbook is for the everyday cook and for the weekend cook.
Find Our Family Table at the Following Stores:
Malaprop's Bookstore and Cafe, 55 Haywood Street, Asheville NC
Asheville Visitor's Center, 36 Montford Avenue, Asheville NC
New Morning Gallery, 7 Boston Way, Asheville NC
Nest Organics, 51 N Lexington Avenue, Asheville NC
Avedian Coast, 36 N Lexington Avenue, Asheville NC
Duncan and York Modern Market, 33 N Lexington Avenue, Asheville NC
Mountain Made Art Gallery, Grove Arcade, 1 Page Avenue #123, Asheville NC
Also available on Amazon
Want to Order Online? Buy Now Through Paypal
$21.99 Each, plus tax + shipping. Shipping and return policies stated below.
Sample Recipes from the Book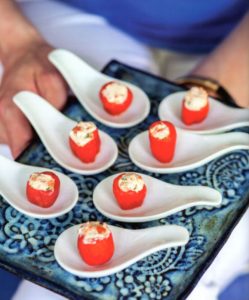 Pimiento Goat Cheese Stuffed Peppadews
Ingredients
4

oz

goat cheese softened

1

red pepper

2-3

slices

of crisp bacon chopped very finely

1

tbsp

finely chopped fresh basil

24

or more peppadew peppers
Instructions
Preheat oven grill to high.

Place red pepper on a foil lined baking sheet and grill until charred on all sides. Cool in a plastic bag for five-ten minutes then peel and chop.

Mix together with the goat cheese and bacon. Season with salt to taste.

Put mixture in a gallon size Ziploc bag with a small hole in the end and pipe into peppadews.

Place in refrigerator to firm up before serving.
Recipe Notes
Note: you can use jarred roasted red peppers for this but I find the flavor of a freshly roasted pepper to be worth the extra work.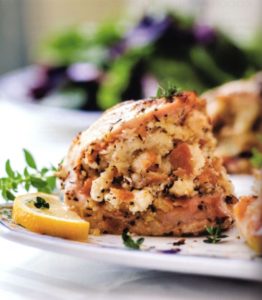 Greek Lemon Chicken
I have a real beef with most chicken sold in the USA. Who decided that all chicken breasts should be skinless? And why can't we buy a leg and thigh joint in one piece? The quality of your ingredients matter. Try and buy free-range or organic chicken. Bigger is definitely not better! This recipe can be made with a skinless chicken breast but the meat will be moister and the flavor better if the skin is on it. This may mean you have to buy the whole breast and bone it yourself. Use a sharp knife and scrape the meat away from the bone.
Ingredients
2

whole boneless chicken breasts

cut in half

2

cups

fresh breadcrumbs made from a crusty white bread

¼

cup

chopped spring onions

2

cloves

of garlic

minced

1

jar of feta in oil (275 grams)

or 1 cup cheese

4

lemons

Salt and pepper

to taste
Instructions
Preheat the oven to 350°F and lightly oil a medium-size baking dish.

Cut a deep pocket in the side of each breast half, being careful not to cut through to the other side.

Drain the feta and reserve the oil. Crumble the feta into a bowl and add the breadcrumbs, spring onion, and the grated zest and juice of one lemon. Add about 2 to 3 tablespoons of the reserved oil and herbs to the breadcrumb mixture. Mix it all together. If it seems dry add a little more oil.

Firmly press the stuffing into the pockets of the chicken breast halves. Arrange the stuffed breasts, skin sides up, in the baking dish (If you have extra stuffing, place it under the chicken). Mix together the grated juice and zest from the remaining 3 chickens with ¼ cup of the herbed oi from the cheese. Brush 1/3 of this over the chicken breasts.

Bake for 45 minutes or until browned and cooked through, basting the chicken twice more with the remaining oil during the cooking process.
Recipe Notes
TIP: If you can't find the feta in oil, make a mixture of ½ cup good olive oil and 1 tablespoon each of dried herbs (oregano, basil and thyme). Give the cheese a good toss in the oil and proceed with the recipe
Shipping / Handling / Returns
Shipping:  We will gladly ship to anywhere within the United States. Shipping rate quoted is for anywhere in the lower 48 states.  Shipping to Hawaii, Alaska and overseas will be determined by the postal rate.  Please email or call for a quote.
Handling: We ship daily except Sundays and US holidays. Most orders go out within 1-2 business days, and all go out within 48-72 hours. You will receive a confirmation email when your order has been shipped.  If there is problem we will contact you immediately.
Returns/Exchanges: You're welcome to return damaged or defective merchandise for a full refund (minus shipping charges) within seven days of delivery. The item must be returned to us in the same condition you received it before we can issue a refund or an exchange.
For any questions or to inquire about your order and returns, please email susan@awomancooksinasheville.com
Order Online Now!
$21.99 Each, plus tax + shipping.