I'll admit it.  I am a sucker for the fruits of summer.  Don't ever leave me alone in a Farmer's Market or I will return with half bushels of peaches, tomatoes and plums, a dozen (or more) ears of corn and at least one large watermelon.  Not to mention berries of all sorts.  As if I don't have enough in my own garden!
There comes a time when it is necessary to use these wonderful products or watch them go bad.  Sometimes it calls for a touch of ingenuity, sometimes it just needs luck. A go-to of mine has always been quick bread.  Quick breads are made with baking powder or baking soda instead of yeast.  They can be sweet or savory and they easily accommodate the addition of fruits and nuts.
Having just discovered how easy (and tasty) it is to make a concentrate of watermelon and being left with some blackberries and a couple of peaches, I decided to see what I could make happen. I decided to make a Jumbled Up Fruit Bread.
Watermelon is pureed and reduced on the stovetop to one cup.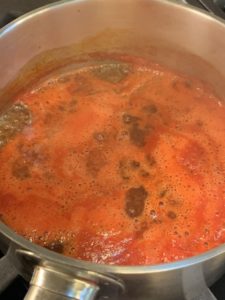 Berries and peaches are halved and diced.
Butter and sugar beaten together.
In go the eggs.
And now the watermelon and lemon juices.
Flour, baking powder and salt added.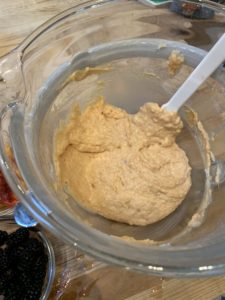 Fruit folded in.
And the top sprinkled with sugar.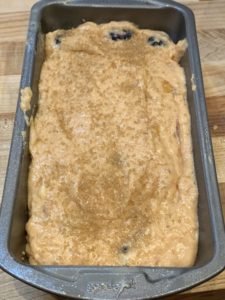 Viola!  Peach, blackberry and watermelon bread out of the oven, just in time for the sticky little hands of my two year old granddaughter to pickup and enjoy!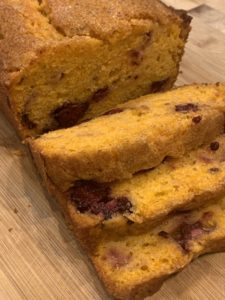 PEACH, BLACKBERRY AND WATERMELON BREAD
Ingredients
2

c

diced watermelon

½

tsp

lemon juice

½

c

butter

softened

2

eggs

2

c

flour

2

tsp

baking powder

¼

tsp

salt

¾

c

diced peaches

¾

cup

blackberries

2

tbsp

Demerara sugar

optional
Instructions
Puree the diced watermelon in a blender and place in a small pan. Bring to boil and boil for ten minutes until the liquid is reduced to one cup. Let cool before continuing.

Preheat oven to 350 degrees. Spray an 8X5 loaf pan with baking spray.

Beat the butter and sugar together until light and fluffy, about 2 minutes.

Add the eggs one at a time beating well after each addition.

Mix in the watermelon juice and lemon juice.

Stir in the flour, baking powder and salt.

Carefully fold in the fruits until well mixed.

Pour the mixture into the prepared pan and sprinkle with Demerara sugar (optional).

Bake until a toothpick inserted into the center comes out clean or the center reaches a temperature of 200 degrees. 60-70 minutes. Cover for the last five to ten minutes if top if browning too much.

Let cool in the pan for 15 minutes before turning out onto a wire tray to finish cooling.