Hey!  Did you march with the women in January?  I did.  This year I was in Asheville.  The march was a lot smaller than the one last year in DC but no less meaningful or heartfelt.  And it meant a lot to me.
2017 was a difficult year for so many reasons.  There was a pocket of true and unforgettable joy when my daughter got married but otherwise the year seemed and felt like an unending series of hard moments both on the national stage and in my personal life.
Returning to march again with the women, children and men of Asheville renewed me and gave me energy to work towards a more loving and inclusive world for all of us.  I looked around at the 1000s of people who were at this event that was organized by a group of 15 and 15 year old high school girls and I felt hope that we can fix this mess of distrust and polarization we are in.  And after the march was over I walked home with my girl friends and I felt their acceptance and love.


So I did something that afternoon that was a first for me.  I went to the movies by myself! A small milestone, I know.
And then I came home and made some cookies to share all of the feelings of fun, spice, sweetness and goodness I found in this day.
First I took some White Cheddar popcorn and whirred it around in the food processor until it was crumbled. (Watch out when you do this, there is a reason styrofoam pellets are sometimes called "popcorn"!)
Popcorn ready for the batter…
Cookie Batter
Then I added it to my cookie batter along with some chopped chipotle spiced peanuts.  And toffee!  Great big chunks of chocolate covered toffee because, you know, toffee!
The cookies were kind of amazing.  You think they shouldn't work but they do.  The popcorn adds texture and the nuts bring a hint of spice.  And the toffee…because TOFFEE!
Sort of like a mouthful of three movie snacks in one!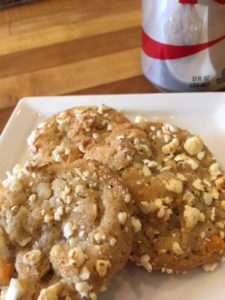 Outrageous Cookies:White Cheddar Popcorn, Peanut and Toffee!
Ingredients
2

sticks

(1 Cup) softened butter

¾

cup

brown sugar

¾

cup

sugar

2

eggs

1

tsp

vanilla

1

tsp

baking soda

¾

tsp

salt

2 ¼

cups

flour

2 1/2

cups

crushed White Cheddar popcorn plus one cup

(about 6 cups whole popcorn)

1/2

cup

chopped Chipotle peanuts

(or ½ cup peanuts plus ½ cup crushed Heath Bars)

1

cup

coarsely chopped Heath Bars
Instructions
Preheat oven to 350 and line baking trays with parchment paper

Beat together the sugars and butter until light and fluffy

Add vanilla and eggs and beat to combine

Add flour, baking soda and salt. Stir together

Add crushed popcorn, nuts and toffee. Stir together (mixture will be stiff)

Roll about 2 teaspoons at a time into a ball and roll in the reserved popcorn

Place on parchment lined sheets and bake 12-15 minutes until lightly browned.

Let cool on tray for a minute ands remove to racks to finish cooling
Recipe Notes
Makes about 5 dozen