It all started with Easter and Hot Cross buns.
I was in Chicago with my daughter, Emily, and we spotted some sweet looking little Hot Cross Buns in a bakery shop window. We both said, "Awww" and then "Nah." Because is there anything more disappointing than a Hot Cross Bun? They sound like they should be neat and special and, like everything else Easter, they should be worth the once-a-year effort. But in essence, Hot Cross Buns are just bread rolls with a little candied fruit and a dab of insipid icing.
Re-imagining Hot Cross Buns has been a yearly quest of mine for as long as we owned the inn (and once or twice before that too).
So I was off and running again. This time I decided to completely ignore the traditional fruits and spices. I thought about the breakfast pastries that are really dear to the hearts of my family and friends and came up with Almond Croissants. Why not fill the buns with almond cream? That has to be good!
I set up my bread machine (because, yes, this is the easy way) and got my dough going.
Then I made the filling. Softened butter, almond paste, and icing sugar go into a bowl. Then beat them together until they are smooth. (You can use a mixer but since I don't have one in my little rental home, I found a spoon did the job just fine). Add eggs, one at a time and some more almond extract, then beat in just a little flour slowly.
When the dough was ready, I rolled out about ¼ cup of dough, placed a heaping dab of almond cream in the center and wrapped the sides up around it.
Baked and topped with a sugar icing flavored with some more almond and they were ready.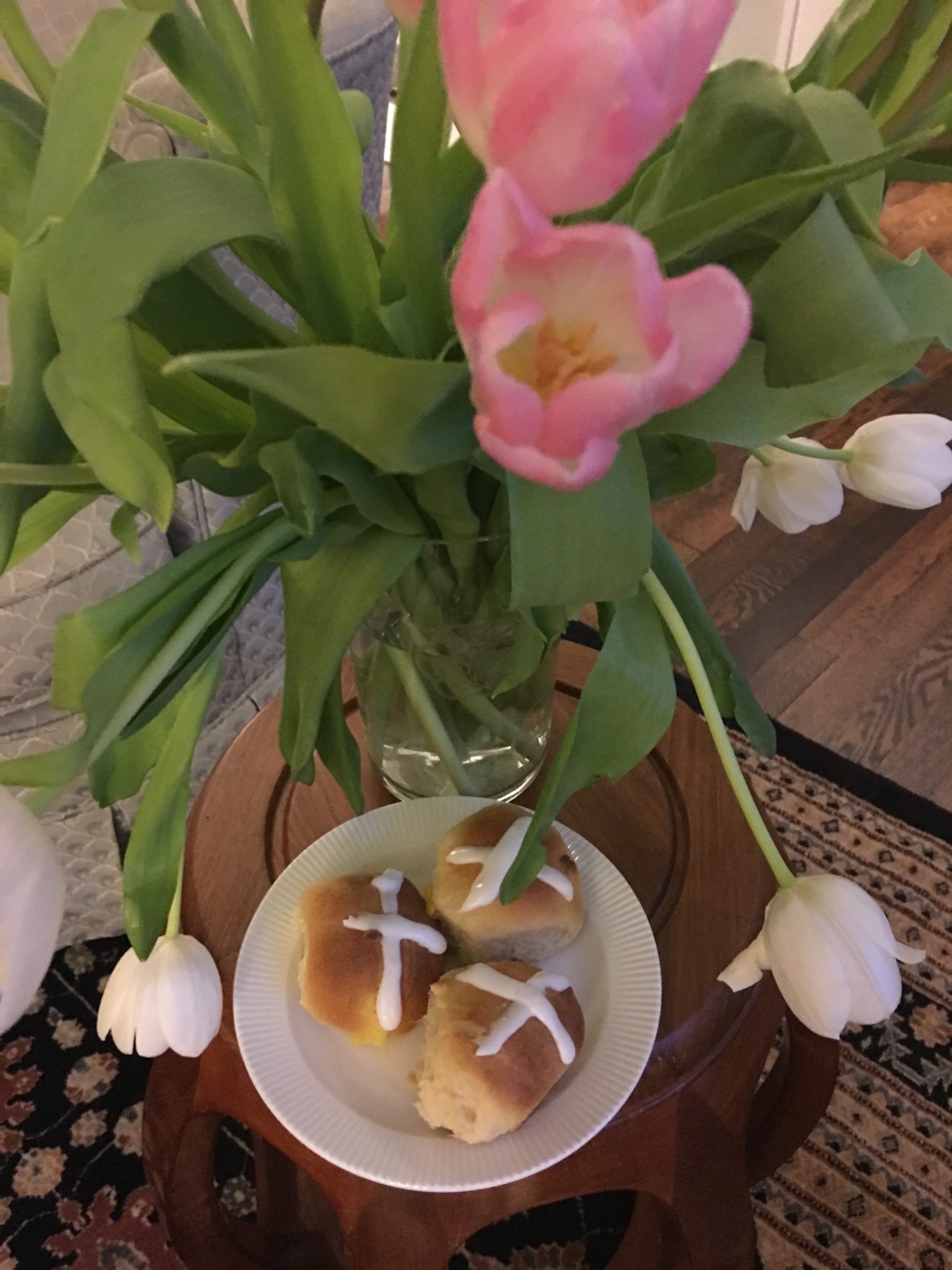 Yes, they are delicious. But why stop at Hot Cross Buns? After all we are looking for "the easy way" and, even with a bread machine, making the dough and shaping the buns is more than most of us are willing to do on a Sunday morning.
Enter frozen puff pastry. Thank god for frozen puff pastry. I have no guilt. As a matter of fact I lived in Paris for four years and, just like all the rest of my French friends, bought all of my pastry dough at the market!
I rolled out the dough and cut triangles for my croissants. Placed a dab of filling on the wide end, rolled them up, and sealed the edges.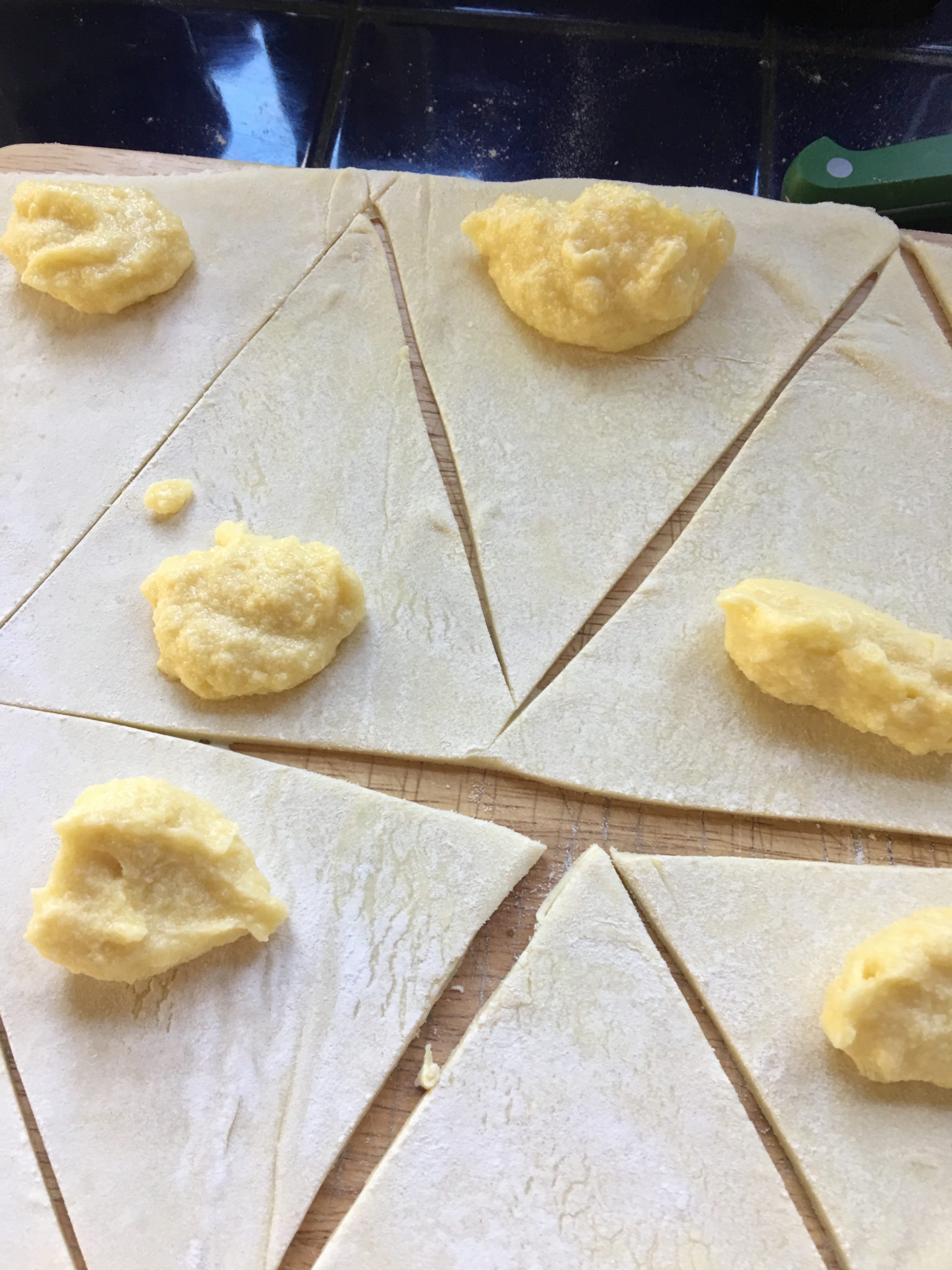 The last step was to brush them with an egg wash and sprinkle with almond slices.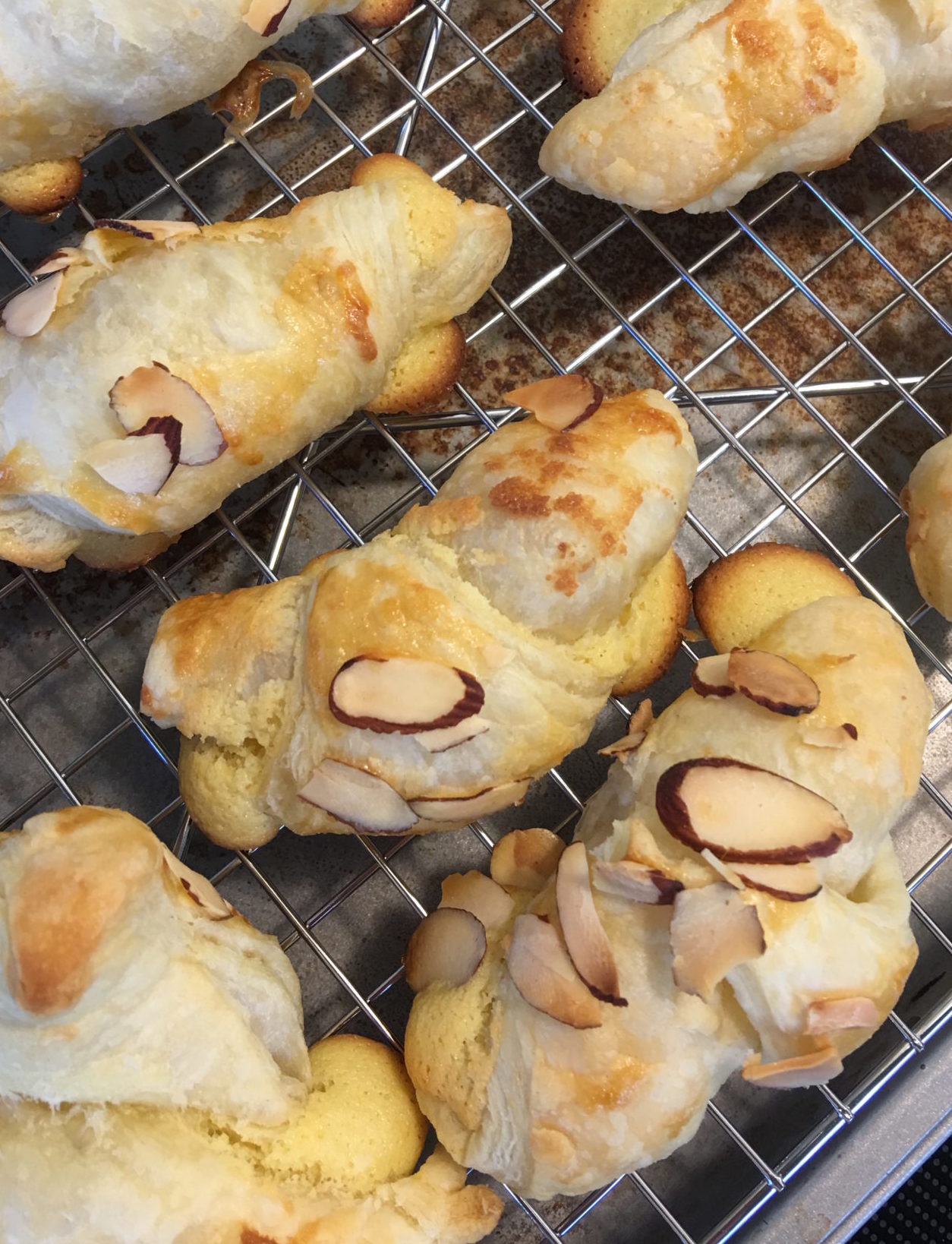 Even easier was to abandon the croissant shape and go full-on French with a Pain Aux Amandes (Almond Bread). I cut the pastry into rectangles and folded it over the filling. It may not be as elegant as a croissant but this is "the easy way"!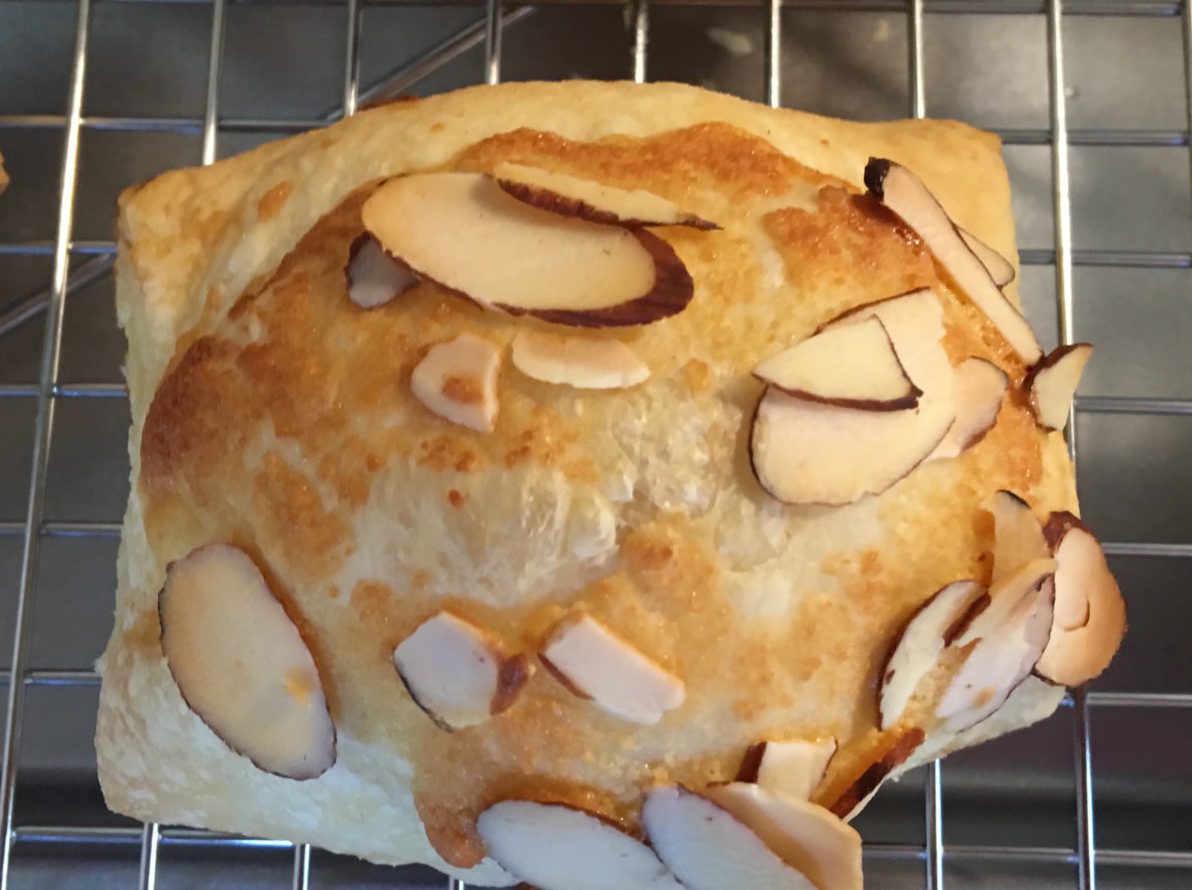 Once the pastries have cooled dust them with icing sugar, make your self a big cup of coffee with milk, put an old Edith Piaff song on your iPod and imagine yourself in Paris. Bon Appetit!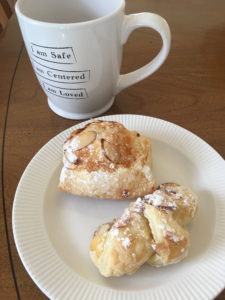 ALMOND CROISSANTS: THE EASY WAY
Ingredients
For the Almond Cream
¼

cup

butter

softened

4

oz

almond paste

¼

cup

powdered sugar

2

eggs

½

tsp

almond extract

3

tbsp

flour
For the Pastry
2

sheets

1 package puff pastry, thawed

or one batch bread dough

1

egg

1

tsp

milk

sliced almonds
Instructions
Preheat oven to 400 degree.

Line a baking sheet with parchment paper
Make the almond cream
In a medium bowl beat together the butter, almond paste and sugar until smooth. Add the eggs, one at a time, beating until incorporated before adding the next.

Stir in the almond extract.

Add the flour, one tablespoon at a time, mixing well.
For Croissants
Roll out the puff pastry on a lightly floured board. Cut lengthwise into triangles or cut into equal sized rectangles. Place a good sized teaspoonful of pastry cream on the wide end then roll up from the wide bottom to the top. Seal the ends and use a little water to secure the point. Shape into a crescent and place on the prepared baking sheet.

Mix the egg with the milk and brush over the croissant. Sprinkle some sliced almonds on top of the croissant.

Bake 18-20 minutes until puffed and brown.

Cool on a rack then finishing with a dusting of icing sugar.
For Pain Aux Amandes (Almond Bread)
Roll out the puff pastry as above. Cut into rectangles. Place the almond cream on the long side of each rectangle then fold over three times. Seal the ends and put the pastry on the baking sheet with the sealed end down.
Recipe Notes
Makes 12 large or 24 small croissants, or 16 Pain Aux Amandes