"ZUCCHINI IS JUST A MAGNIFICENT VEGETABLE"—CHEF THOMAS KELLER
 I love Thomas Keller.  Seriously, he may be my secret celebrity crush.  I am taking an online course of his on MasterClass and his passion for the most simple of vegetables and the purest methods of preparation is just riveting.  Mastery of a profession combined with sincere appreciation of its tools may be one of the sexiest things ever.  So, I love Thomas Keller.
Zucchini, on the other hand, I have mixed feelings about. It's hard to rave about zucchini.  We grow it (or at least some people successfully grow it).  We cook it in multiple ways: sautéed, in quick breads and muffins, breaded and fried and even spiralized into noodles.  But you don't often hear people say "Yay!  Zucchini!".  I wonder if this is because zucchini never disappears from the produce shelves and it suffers from being eaten out of season and is too often well past its prime when bought?
I watched Chef Keller make this dish and I thought I have to try that.  And now I understand the magnificence in zucchini.
As I am sure you are all well aware, Spring has been late in arriving this year.  But it was a beautiful sunny day so I opened the door to my tiny kitchen and pretended it was the middle of July, that my just-picked-from-the-garden tomatoes were still warm from the sun and I really needed to use up some of the copious harvest of zucchini I was facing.
The first thing to do is to prepare the squash.  Cut them in half lengthwise and score them diagonally first one way and then the other to create a crosshatch.  Sprinkle them liberally with salt and set them aside for at least fifteen minutes.  In this particular case longer is better.  The moisture will be drawn out of the zucchini.  You can see it beading up the tops.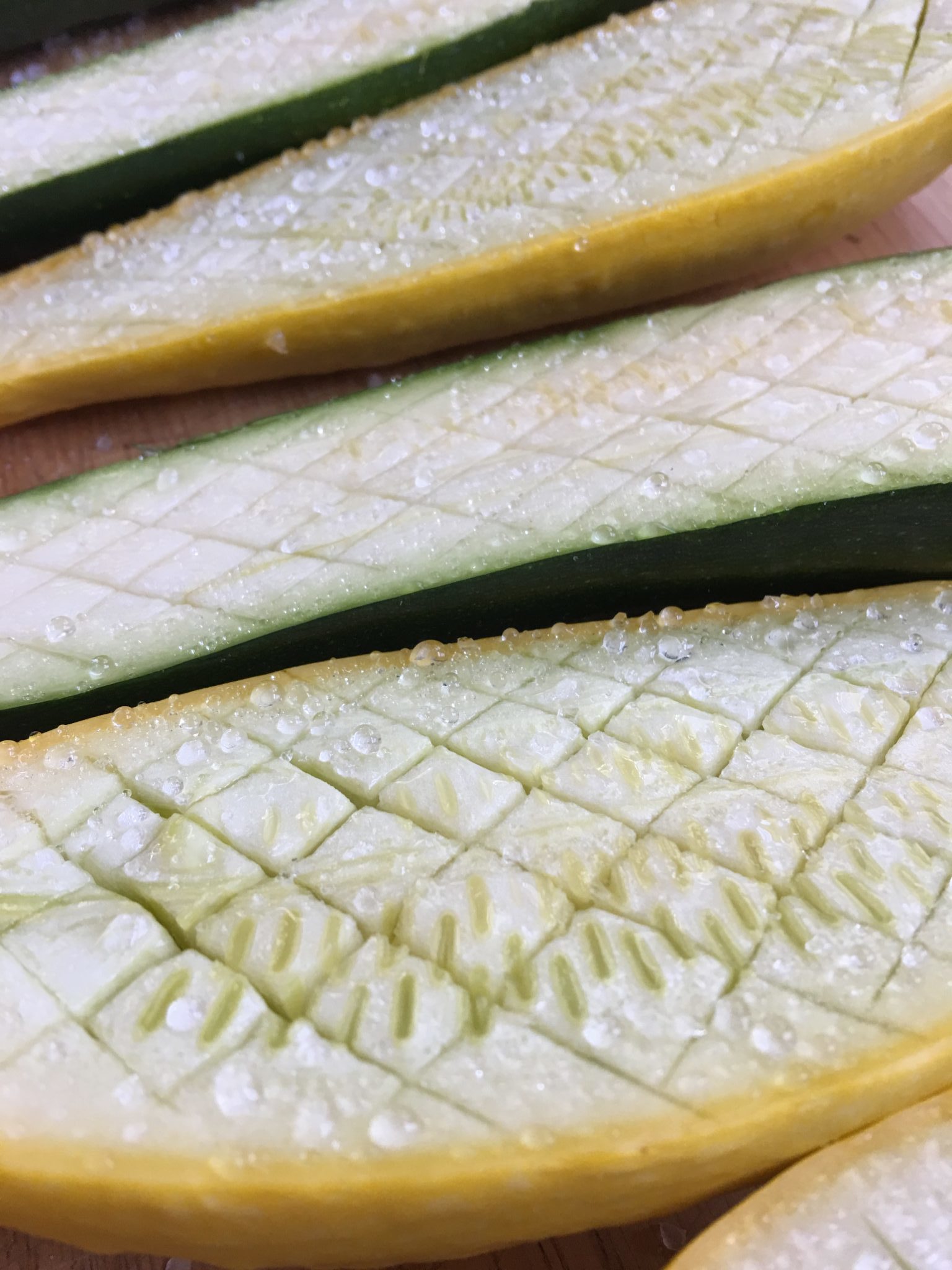 Once the zucchini are ready, blot them well to get the water off and place them cut side down in a saute pan.  Let them sizzle in the oil for about five minutes until they have started to brown then place the pan in a preheated oven for about 20-30 minutes.  (It depends on the size of the squash.  I set my timer for 25 minutes and they really could have come out after 20)
While the squash is cooking, peel, seed and dice your tomatoes.  The easiest way to do this is to score them on the bottoms and plop them in some boiling water until the skins start to peel back.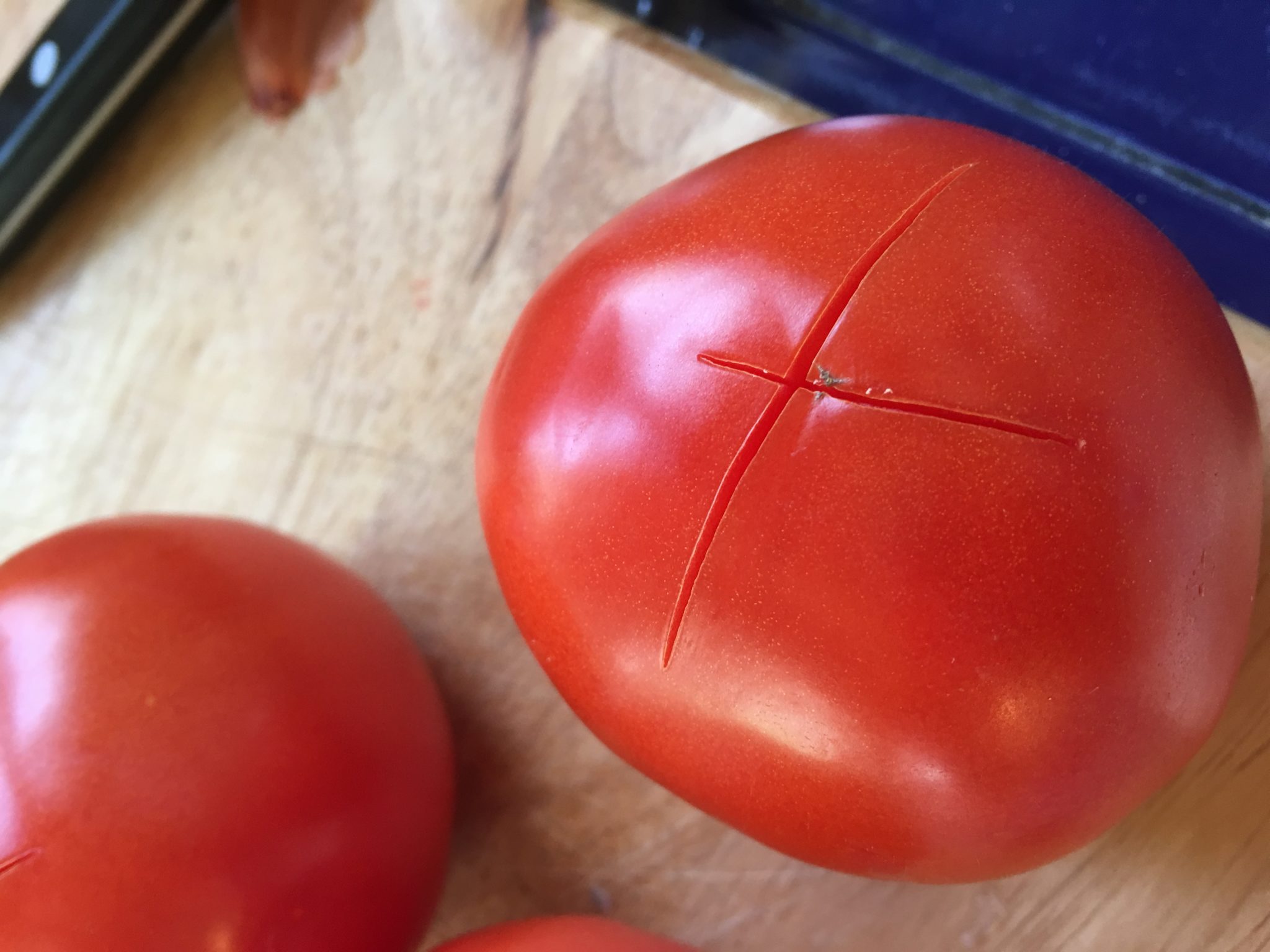 This only takes a minute at most.  Then stop them from cooking by putting them in a bowl of ice water.
Once peeled, seeded and diced, toss them with some minced shallot, some parsley, and some good olive oil and vinegar. Salt to taste and set that aside to keep until the zucchini is ready.
When the zucchini is done place them on a plate and dress with the tomato sauce.  Serve it with some lovely crusty bread to soak up the juices on your plate.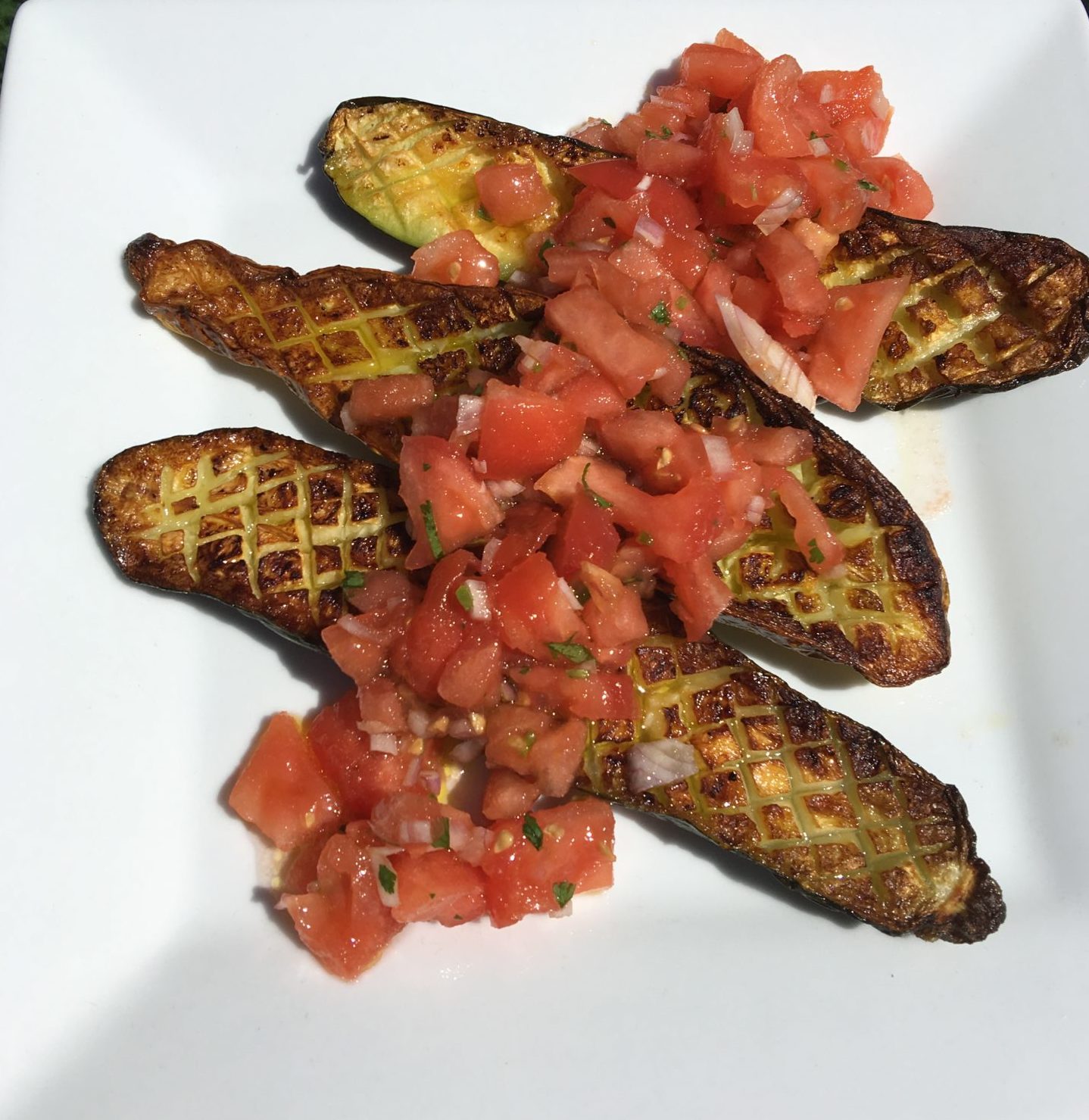 This is good.  I'm not kidding.
Head's up fam!  It's coming to the table this summer.
Oh Thomas!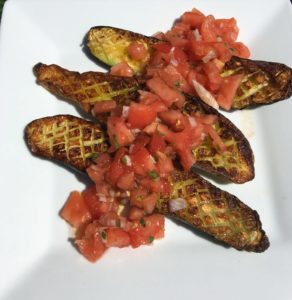 OVEN ROASTED ZUCCHINI WITH FRESH TOMATO SAUCE
Ingredients
For the Zucchini
3-4

zucchini of a similar size

¼

cup

canola oil

Salt

Optional fresh herbs and garlic
For the Tomato Sauce
3-4

large ripe tomatoes

1

medium shallot

finely minced

1

tb

good quality white wine vinegar

3

tbs

extra-virgin olive oil

1

tbs

minced fresh parsley

Salt and pepper
Instructions
Roasted Zucchini
Slice the zucchini evenly in half lengthwise.

Using the tip of your knife, score the zucchini in one direction and then the other, creating a crosshatch design.

Salt the zucchini flesh liberally and set aside for at least 15 minutes or up to an hour.

Preheat the oven to 450 degrees

Coat the bottom of an oven-proof sauté pan with canola oil and heat over medium heat until it shimmers. Place the zucchini flesh side down in the pan and sauté for about 5 minutes until the flesh is nicely browned. (If you want, here is where you can add some fresh herbs and garlic)

Place the zucchini in the oven and roast for 20-30 minutes until the flesh is soft.
Fresh Tomato Sauce
Bring a large pot of water to a full boil. Also have ready a bowl of ice water.

Make a cross in the bottom of each tomato.

Put the tomatoes in the boiling water and removed them as soon as the skins start to peel back. This should take no more than a minute at most.

Immediately place the tomatoes in the ice bath to stop the cooking.

Peel the tomatoes and cut in half.

Using a spoon, remove the seeds from the tomatoes and then dice them into ½ inch dice.

Place in a bowl and toss gently together with the other ingredients.
Recipe Notes
Serves 1 for lunch, 2-3 as a side The tomato sauce can be made two or three days in advance and kept in the refrigerator. Bring it to room temperature before using to allow the flavor to shine through.