Let's get one thing straight right away. While this foodie went to Nashville, it was not a foodie trip. Because Nashville is not primarily a foodie destination. Food was important and I will steer you to some great bites but in Nashville it is more often the setting in which you eat that matters.
Let us begin.
We went to Nashville for an early Valentine's Day celebration.  Years of battling crowds and confronting overwork servers and rushed meals have lead me to avoid going out on February 14th if at all possible.  (My daughter's experience this year of having booked a 4 top for Valentine's Day more than a month ago only to be called by the restaurant on WEDNESDAY to be told that they were only accepting reservations for 2 tops on that coming Friday the 14th, and her reservation was cancelled, is a case in point!)  So Nashville the week before sounded like a good plan.
And it was!
We booked a room at the Hermitage Hotel, Nashville's oldest hotel.
Not that it was in any way dated or tired.   It is a beautiful 1910 building which has been meticulously maintained, with  modern amenities offered to you with the grace and style of the past.
The staff is welcoming and friendly.  There is no air of pretentiousness.   Best of all, we booked this Virtuoso hotel through my daughter.  She is a travel agent and, because we booked through her, we were given free a la carte breakfasts every day, $100 credit for lunch in the Grill Room and $75 to spend in the hotel spa or shop.  I can't tell you how many times we looked at each other and said, "I love this hotel!"
The Hermitage is downtown.  It overlooks the 1845 Greek Revival Style State Capitol Building and is a short walk away from Broadway, home of Nashville's Honky Tonk Bar District and non-stop celebration of Country music.
We began with a Food Tour which we booked with A Little Local Flavor.  It was nominally a food tour in that we ate or drank something at every stop, but it was more of an introduction to Broadway, the bars, the music and a little history.  And along the way we picked up some great tips which helped make our visit even better.
We started at the far end of Broadway, down by the river, at the Acme Feed & Seed.  Located in an old feed warehouse on the "classic rock and country" side of the street.   We ate some bbq ribs (okay) and saw "the most Instagrammed couch in the world"  (unverifiable but fun).
Tip #1, you will find the bars on the left side of the street feature classic music  (Country and Rock) while those on the right serve up more modern tunes.
Then it was on to a quick tour of the area before ending up in another Honky Tonk, this time on 2nd Avenue.  This was Cerveza Jack's.   Here we enjoyed our first bite of true Nashville cooking: Hot Chicken.  Chicken, breaded and fried and served in a hot sauce, in this case on a taco.  Derrin, our guide, said it was a 6 on the 1-10 scale of hot (spicy) for Hot Chicken in Nashville.  It was HOT.  I lived in Asia for 17 years and I am pretty good with hot food.  I loved it but my lips were burning!
And here was where we got Tip #2: the musicians on Broadway are not paid.  They live off the tips. And they can be very aggressive about soliciting tips.  The artists on the side streets are paid (a little) and they tend to be better. Head to Second Avenue, off Broadway for better music, better food and cheaper drinks and then head back to Broadway for unbelievable people watching.
Also worth a visit on Second Avenue is  Benchmark Bar.  Try the Fried Pickle Chips and the BBQ Sandwich.
Obviously, Broadway is a must but one can't sit in a bar all day and night.  (Well, maybe you can, but I can't!). So we did book some other things to do and found a few more along the way.
Friday night we went to the Grand Ole Opry.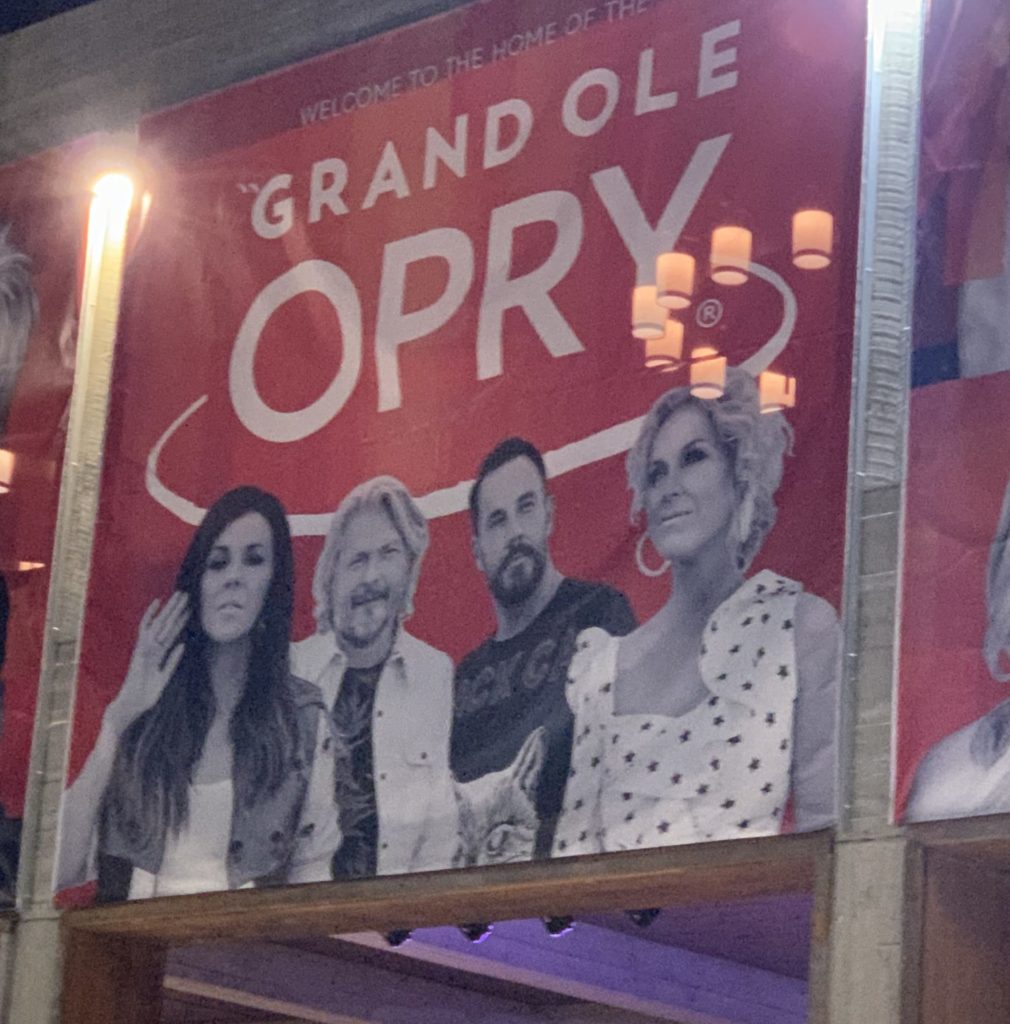 Check and see who is playing.  There are usually at least 5-10 different performers in an evening and you may get lucky. The Opry moved from its old home in the Ryman Theater in 1974.  It is now situated a little bit out of town next to The Opryland Hotel, a behemoth which is a tourist attraction of its own. It even has a river running through it!  Also next door to the Opry House is a shopping mall with some unusual restaurants which are fun places to eat before the show.  We found ourselves munching on burgers surrounded by a huge aquarium.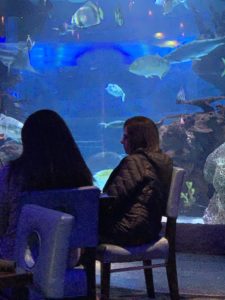 Saturday we visited the Country Music Hall of Fame.  It is worth a visit for a quick retrospective of the history of country music but, unless you are a diehard fan, you may find the endless displays of guitars and colorful cowboy shirts wears thin after a while.
Looking to your right when you exit the museum you will see a large pedestrian bridge leading to the Nissan Stadium, home of the Tennessee Titans.  The John Seigenthaler Pedestrian Bridge is one of the longest pedesterian bridges in the USA.  It's a pleasant walk with great views of Nashville.
Once you have your fill of shopping for boots and hats on Broadway, head for the 12 South District.  Here you will find a string of good boutiques, including the Flagship store of Draper James, owned by Reese Witherspoon.  You may also want to visit Finnley's  for affordable and fun clothing.
And if you are hungry, the best restaurant we found in Nashville is a the far end of 12 South.  Epice is an authentic Lebanese Restaurant which is worth heading to for it's delicious food, warm ambiance and flare.  Try the Hummos Beyrouti and you will never think of hummos in the same way again!
We ended our day with a long walk around the Nashville Capitol Mall, also known as the Bicenntenial Capitol Mall State Park (what a mouthful).  Multiple monuments and plaques are placed through the park which surrounds the stunning 1845 Greek Revival Style Capitol Building.  It is a beautiful spot and a nice break from the craziness of Broadway.
But ultimately that craziness is what we came for, so after enjoying the sunset we headed back to the bacholerettes, the music, the party buses, the Cinderella carriages and all the music of Nashville!
Have fun!