Fresh Dill, Sharp Cheddar Cheese and Nutty Pecans combine to make a savory quick bread that is perfect for a winter day.
There are two things I know:
Never go shopping on an empty stomach, and
The best time to read a cookbook is when you are hungry.
Both of these things grow from the same stem.  Because when you are hungry everything looks good to eat!
I have been traveling a lot since January and while I'm not complaining (really!) it does mean that I have fallen behind a bit on cooking for my blog.  But now I am home and I have been itching to get back into cooking and exploring foods and flavors. So I sat down with a new magazine that I have been getting: Bake From Scratch (#thebakefeed)    I was hungry and shortly I found that I had a handful of things I wanted to make.
Then I heard that it was supposed to snow!  So I headed to the store, not for bread and milk, but for flour and cheese, green onions, fresh herbs and nuts.
Because is there anything better than baking in a warm kitchen while snow falls gently outside your window?
If you haven't figured it out by now, I love quick breads.  They are easy to make and I love to fill them up with nuts, and dried fruits and flavors.
I also love cheese and savory dishes.
So the first recipe on my list was Cheddar-Pecan Loaf.  The recipe was part of a full page advertisement for Sunnyland Farms Raw Georgia Pecans  My mother used to buy fresh pecans by mail-order from Indian River in the 1960-70's so if you have a chance to use high quality nuts, I know it's worth it.
The snow was definitely coming down when I set my oven to preheat and gathered my ingredients.
Dry ingredients whisked together in one bowl.
Egg, buttermilk and oil beaten together in another.
You may not want to purchase buttermilk just for this recipe so you can create an acceptable alternative by adding a teaspoon of vinegar to some whole milk.  It really is fine to do this.  I have done it many times. However, I do love the rich thickness of real buttermilk.
I grated cheese, chopped green onions and minced fresh dill. My kitchen smelled divine.  And the snow fell gently outside my window.
The batter has two leavening agents: baking soda and baking powder.  It comes together thickly, almost like a biscuit batter.
Grease and flour a pan and then place a piece of parchment paper in it and let the edges of the paper hang over the sides.
Spread the batter in the pan, using your spatula or a knife to level it off and fill the corners of the pan.  Now top it with some more cheese and chopped nuts.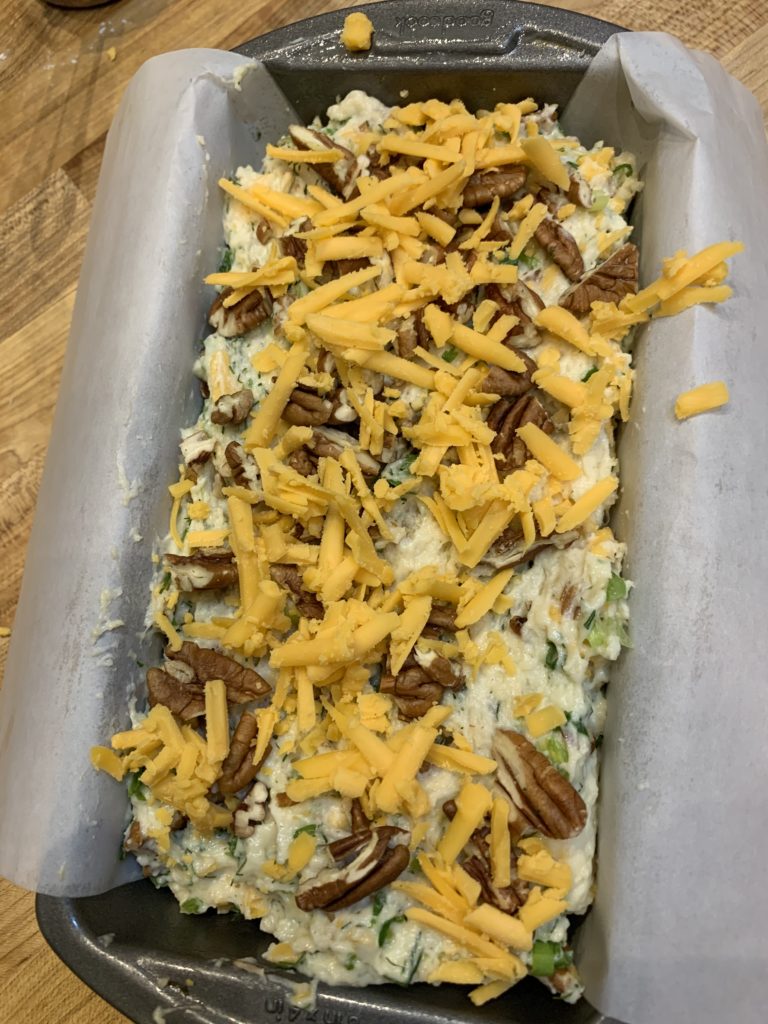 Place the pan in the center of the oven and bake it for a little more than an hour. Here's a new trick.  You can test the bread the old fashion way by piercing it with a toothpick and checking to see if the batter is still moist and sticking to the toothpick when it comes out. The toothpick will be dry or have a few crumbs on it when the bread is done.  Or, you can use your instant read thermometer and remove the bread from the oven when it reaches 200 degrees (f).
This bread is delicious.  It's wonderful cold, it's wonderful warm.  Serve it with butter or melt some cheese on top.  Try it with soup, try it with a poached egg.
The Cheddar-Pecan Loaf is a solid "YES!"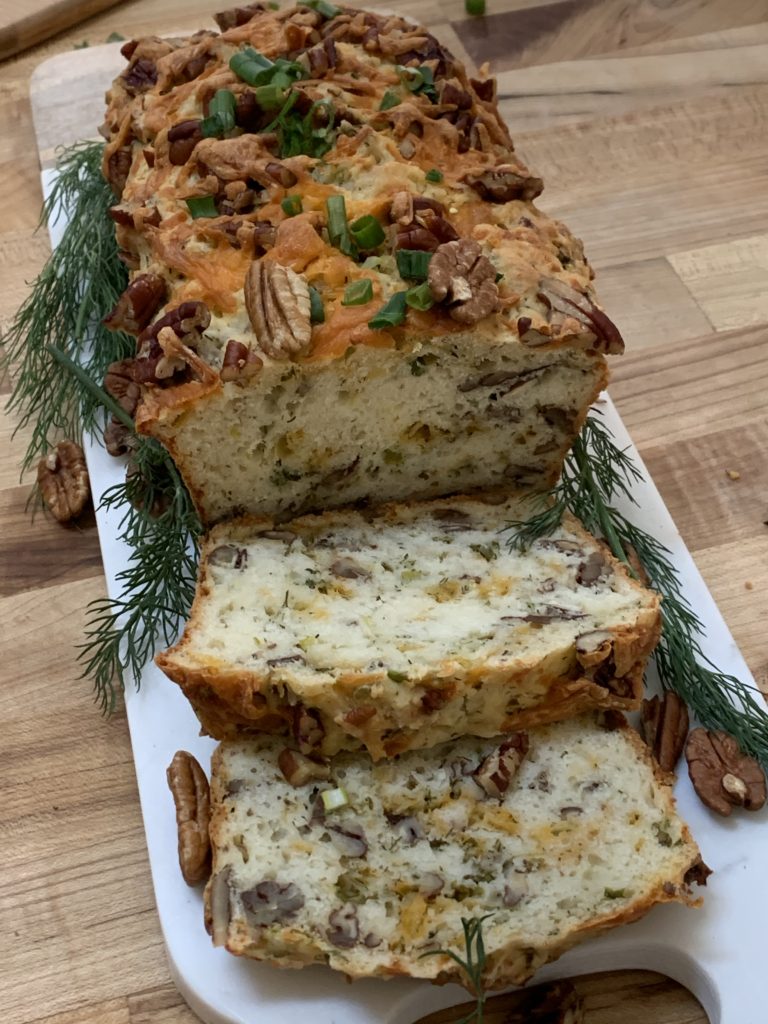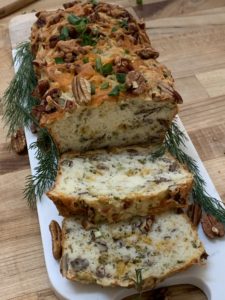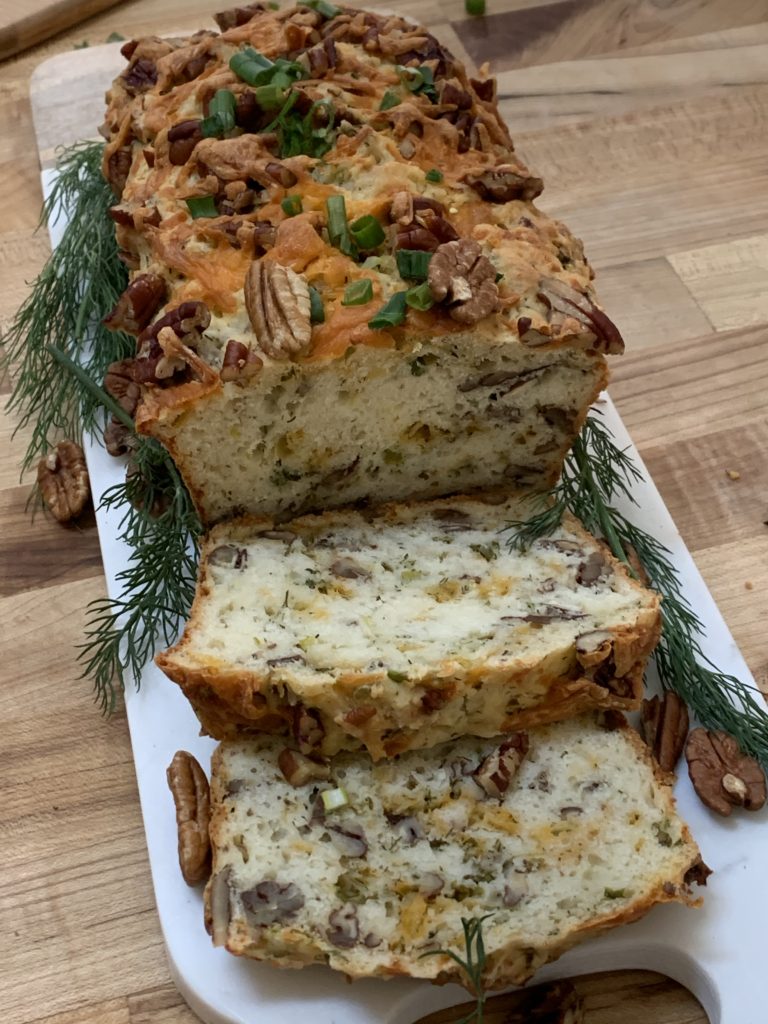 CHEDDAR-PECAN BREAD
Ingredients
For the bread
2 ½

c

flour

3

tbsp

sugar

1 ½

tsp

baking powder

1

tsp

salt

1

tsp

garlic powder

¼

baking soda

1 ½

c

buttermilk

room temp

¼

c

vegetable oil

1

egg

1

cup

chopped pecans

2/3

c

sharp cheddar cheese

shredded

½

green onion

finely chopped

¼

c

fresh dill leaves

chopped
For the topping
¼

c

pecan halves

coarsely chopped

3

tbsp

cheddar cheese

grated
Instructions
Preheat oven to 350 degrees. Grease and flour an 8X4" loaf pan. Cut a piece of parchment paper to line the pan with the edges hanging over the sides.

Whisk together the dry ingredients in a large bowl.

In a medium bowl, beat together the egg, buttermilk and oil until well mixed.

Add the egg mixture to the dry ingredients and stir until well combined.

Fold in the chopped pecans, cheese, dill and green onions.

Spoon the batter into the prepared pan and use a spatula or knife to spread it evenly to the corners and level the top.

Sprinkle with the additional ¼ c pecans and 3 tbsp cheese.

Bake in the center of a 350 degree oven 60-70 minutes, until it is risen and a toothpick comes out clean when inserted in the center. Alternatively use an instant read thermometer to test for doneness. The bread is done when it reaches an internal temperature of 200 degrees.

Remove from oven and cool in the pan for 5 minutes. Lift the bread out of the loaf pan using the hanging sides of the parchment paper and cool on a wire rack.