When you think of tea and the English do you think of a large Manor House with immaculately groomed lawns, ladies in long dresses and hats and gentlemen standing behind them?  The High Tea of Downton Abbey!
I think of a roadside sign on a back road leading to a charming cottage with a few tables set out on a rose flanked patio.  The sign simply reads "Cream Tea".
Cream Tea is a summer institution in the United Kingdom.   Cream Teas can be found at the best restaurants and in small tea shops.  They are available in cities and in the countryside. They are most common in Devonshire and Cornwall where the cottage mentioned above will probably be found. Here, the finest strawberry jam (often homemade) is served with a crumbly scone (kind of a sweet biscuit) and topped with Devon Cream (also known as clotted cream).
The scone is smaller, less sweet than its American counterpart and rarely includes anything more than some raisins or currants.  The rich, thick  Devon cream is the perfect foil for sweet jam.
You don't need to go to England for a cream tea.  You can make it yourself.
The jam you can easily buy and clotted cream can often be found at specialty stores.  I have found it at my local Whole Foods.  A passable substitute is Mascarpone cheese, a slightly sweet Italian cream cheese.
The scones you will need to make.  It's not hard.  The trick is to handle the dough as little as possible.
Cold butter is pulsed together with flour, sugar, baking powder and salt until it looks like sand.
Turn this into a bowl and add milk.  Buttermilk is even better if you have any.  And if you want to include some raisins or currants, add them as well.
Stir it until it is mixed and turn it out onto a floured board.
Flour the top and knead it lightly a few times (NO more than ten and less if possible).  The dough should come together although it may still be sticky.
Roll it out into a circle that is about 1.5 inches thick.  You can use your hands to press it into a circle if you prefer.
Use a round cookie cutter or biscuit cutter to cut out your scones. Make sure you press straight down on the cookie cutter.  Don't twist it. The straight edges will help the scones keep their shape and rise straight up. Gather the scraps together and pat them out so you can cut a few more scones.
Brush the tops with an egg wash and bake until raised and golden.
Serve with strawberry jam and clotted cream, preferably in a flower-filled garden!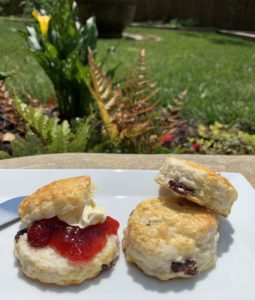 ENGLISH STYLE SCONES
Ingredients
2

c

flour

2

tbsp

sugar

4

tsp

baking powder

½

tsp

salt

4

tbsp

cold butter

2/3

c

buttermilk

½

c

raisins or currents

optional

1

egg yolk beaten with 1 tbsp milk

Strawberry jam

Clotted Cream
Instructions
Preheat oven to 425 degree and line a baking sheet with parchment paper.

Pulse the flour, sugar, baking powder and salt once or twice in the bowl of a food processor to mix. Add 4 tablespoons cold butter cut in eight small chunks and pulse 7-10 times until the mixture looks like sand.

Transfer the flour and butter mixture to a large bowl and slowly stir in the buttermilk. Add the dried fruit, if using, and stir to mix them in. The dough will be sticky.

Turn the dough out on to a lightly floured bowl and, using a gentle hand, knead the dough about ten times until it comes together. You can add a little flour if need be but be careful as flour will make the dough heavy.

Roll out the dough or use your hands to press it out into a circle about 1 ½ inches to 2 inches thick.

Use a round cookie cutter to cut out the scones. Push the cookie cutter straight down into the dough and don't twist it. Twisting the cookie cutter will stop the scones from rising properly.

Place the scones on the prepared baking sheet and brush with the egg and milk mixture.

Bake 12-15 minutes until golden.

Serve the scones with good strawberry jam and clotted cream.
Recipe Notes
Note: Clotted Cream or Devon Cream can be found in specialty stores and grocery stores with international food sections. If you can't locate any you can substitute Mascarpone Cream or even whipped cream.