Garden peas and fresh herbs are quickly combined to make a fresh and versatile sauce for pasta or fish.
Many years ago we lived outside of London in a lovely house with a large walled garden.  It was a rental and in order to ensure the garden was well maintained the owners required us to use their gardener, the eponymously named Mr. Green. Much of what I do now I learned from him.
The quarter acre was lush with fruit trees, wild flowers and a small rose garden which he lovingly tended. In addition to this, Mr. Green kept us well supplied with home grown vegetables.
An early lesson for me was in the unexpected pleasure of homegrown peas and radishes. Up until then my experience with peas was limited to a side vegetable on a plate which came from a bag in the freezer.  Radishes were a sorry and unwanted garnish. Today peas and radishes are a must have in my garden.  Not only are they a deliciously different food when freshly picked and served but they also provide an early harvest while I wait for the bounteous garden gifts of July and August.
In the past my pea harvest was never enough for more than just a simple salad of greens and peas or a side dish of peas quickly sautéed in a little butter.  This year the weather has been perfect, warm days, cool nights with plenty of sunshine and ample rain and as a result I have peas to play with.
The abundance of fresh pastas available at our local supermarkets lead me to the idea of making a fresh pea sauce to complement a ricotta and lemon zest ravioli (from Trader Joe's).  You can use fresh peas to make this sauce if you have them, although frozen peas will work just as well.  If you don't have access to fresh pasta you could serve the sauce with linguine adding some bacon or pancetta for salt and flavor.  I chose to use tarragon as the fresh herb in my sauce, mint, thyme or basil will work too.  In short, this sauce is flexible!
Reserve a handful or two of peas for garnish and cook the remainder briefly in boiling water until soft and then shock them in cold water so they keep their color.  Drain the peas and put them in the bowl of your food processor or blender along with the minced herbs and garlic.  Add the water and give it a whirr to loosen it then add the cream and process (or blend) until smooth.
I put this mixture through a sieve to obtain a smooth puree.  If you would like a bit more texture and bite to the sauce, you can skip this step.
Return the sauce to the heat and warm gently, add salt to taste.
The sauce can be made ahead and will keep in the refrigerator for one to two days.  I chose to serve the sauce with pasta but it also works well as a base for salmon or scallops.
Place the sauce in the bottom of a bowl or plate and put the ravioli on top. For added richness brown a little butter over a low flame and drizzle over the pasta. Finish with some fresh peas and slivers of Parmesan Cheese.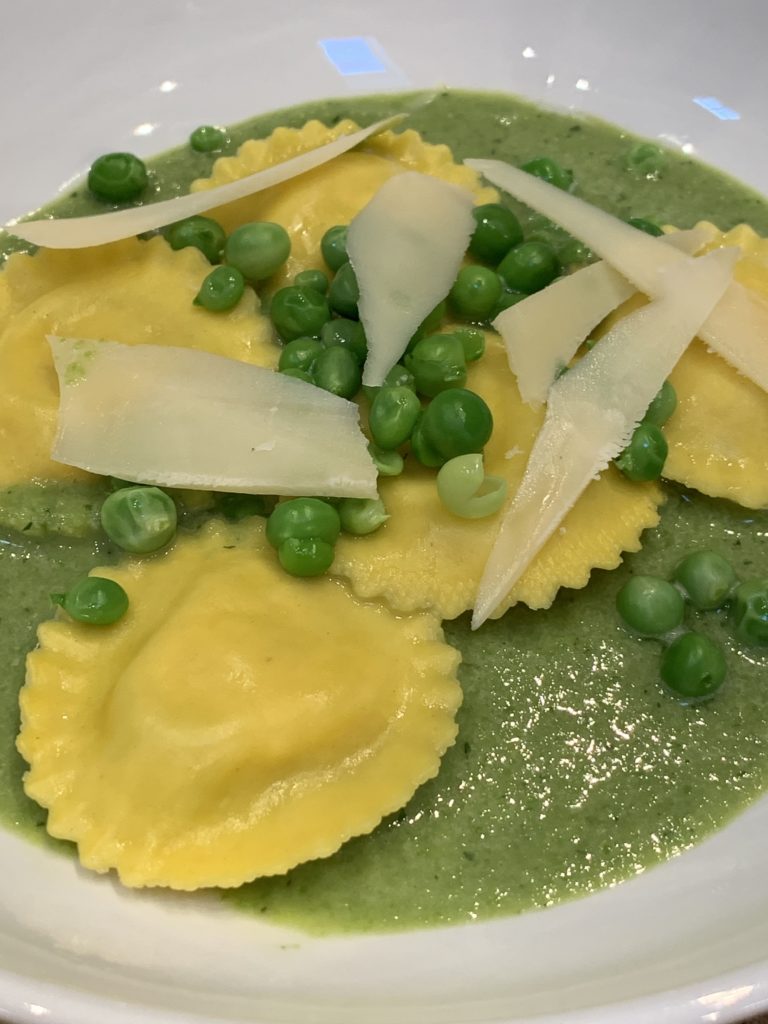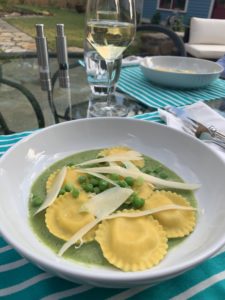 FRESH PEA SAUCE
Ingredients
2

c

peas

fresh or frozen

2

tbsp

fresh chopped tarragon

1

clove

garlic

minced

¼

cup

water

¼

cup

heavy cream

½

tsp

salt

½

stick butter

melted and browned (optional)
Instructions
Put the peas in rapidly boiling water and cook for 2 minutes until the peas have softened. (Frozen peas will take 3-4 minutes). Drain the peas and immediately put them in cold water to stop the cooking and keep them a bright green.

Drain the peas and put the peas, herbs, and garlic in the bowl of a food processor or blender. Add the water and pulse once or twice to loosen. Add the cream and process or blend until smooth.

If you would like a smooth sauce, pass the mixture through a sieve pressing down with a rubber spatula until only the pea skins are left. Skip the step if you want a thicker sauce with more texture.

Put the mixture in a saucepan and heat gently, taste and adjust the salt as needed.

For the brown butter, melt the butter over a medium low heat until it foams up. Allow the continue cooking over low heat until the butter is golden brown.

Serve the sauce with pasta or fish and drizzle with brown butter to finish.
Recipe Notes
The sauce will keep in the refrigerator for one to two days