A Basic Quick Bread Recipe is used to make a sweet, moist bread featuring fresh nectarine puree and dried Mandarin oranges.
People often comment on how unusual my life has been: the many places I have lived and how different that is from their lives.  It is true I have lived and traveled all over the world.  But what I noticed is, that while the setting was different, the things we were doing, wherever we were, were the same things our families were doing back home.
Thus it was that I sat on a beachside terrace in Bali and listened to my brother-in-law explain chemical equations to my puzzled daughter as being recipes for matter.  What I was doing in the kitchen when I put flour, eggs, and butter together with yeast or baking powder was not really very different from what she was doing in a lab when she added one chemical to another.  The equation was just a short hand for the recipe.
I thought about that in my kitchen in North Carolina as I pondered making a Quick Bread with Nectarines and Mandarin Oranges.
I love quick bread.  Easy to make and open to endless variations in flavoring and added ingredients, they are the cornerstone of my go-to breakfast.  A slice of warm bread and a piece of fresh fruit sets me up for the morning. I decided that what I needed was a basic recipe to which I could add whatever fruit or vegetable I was inspired by at the time.  Dried, diced or pureed, I was looking for a recipe that could take it in and deliver it back to me with flavor and texture.  With the right equation I could indulge in an endless exploration of spices, extracts and produce turned into quick bread!
This was not as easy as I had expected.
My first loaf tasted good but was too dry.  The second loaf was dense and moist but missing on the flavor.  It took a third try to marry the two into a loaf I was proud of!
You will see when you read the recipe that it's a "Plug and Play".  Aside from certain basic ingredients you choose the flavors and add-ins.  I'm going to tell you about my choices but feel free to play around as you wish!
NECTARINE AND MANDARIN ORANGE QUICK BREAD:
As always, start by mixing together the dry ingredients:  flour, sugar, baking soda, baking, powder, salt and spices (or herbs).
I was making an orange-nectarine bread so I choose nutmeg and cardamom, ½ tsp of each.
Then in a large bowl mix together the wet ingredients: milk, eggs, a fruit puree or grated vegetable (if using), flavor extract and some melted butter.
For this I chose a fresh nectarine which I pureed in my food processor and ¼ tsp of almond extract.
Fold the dry ingredients into the wet.  When it is almost mixed in add the (optional) extra ingredient. Be careful not to overmix it.  Stop when everything is just folded in.
For my quick bread the extra ingredient was some chopped dried Mandarin Oranges.  The Mandarin Oranges were the reason I made this bread.  I found them at Trader Joe's.  They are not at all bitter.  There is no rind or pith.  It is just the dried slices of oranges.  They are delicious, sweet and chewy and so orangey in the best way. If there is no TJ's near you, you can also find them on Amazon.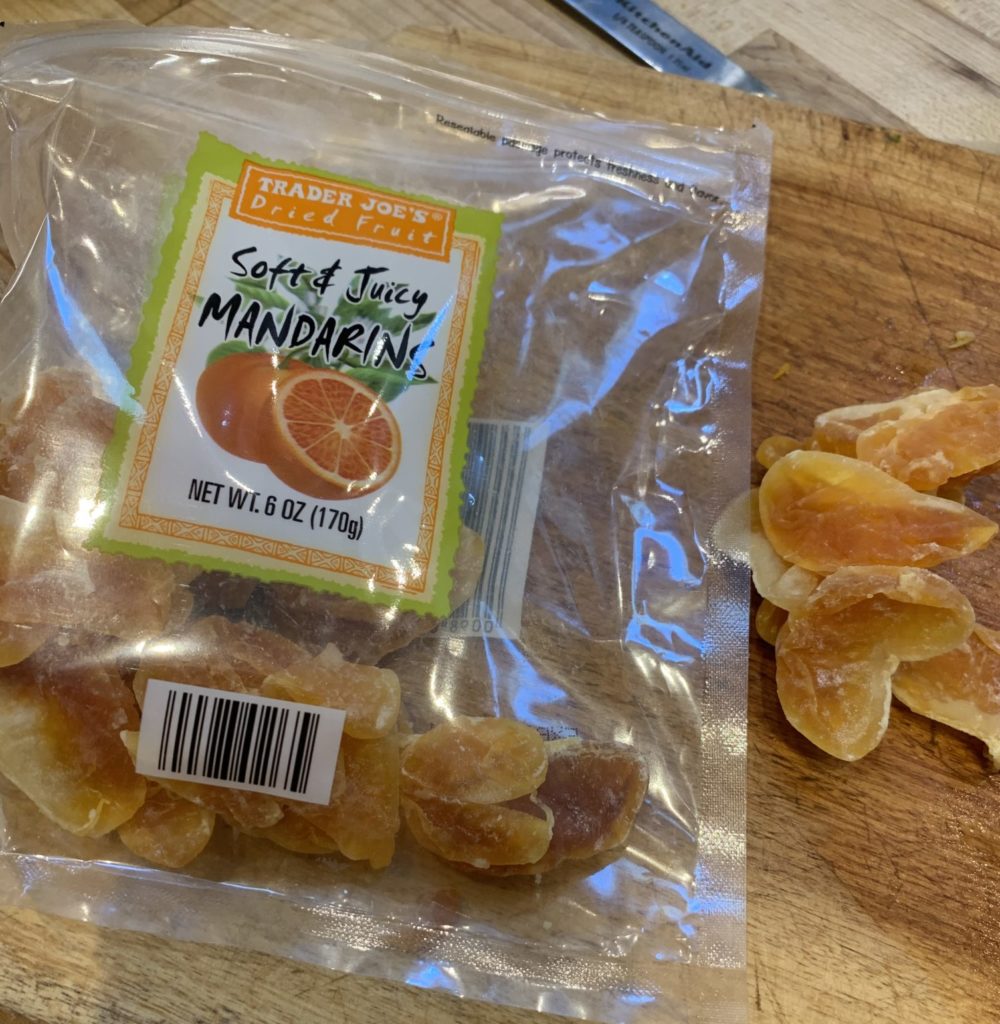 Pour the batter into a greased and floured 9 X 5" pan.  Sprinkle the top liberally with some Demerara Sugar and bake in a 350 degree oven to 50-60 minutes.
The bread is done when it reaches an internal temperature of 120 degrees or when a toothpick inserted into the center comes out clean.
Let it cool for 20 minutes in the pan and then turn out onto a wire rack to finish cooling.
I hope you will have fun experimenting with different flavors and add-ins.  Please let me know how your bread comes out!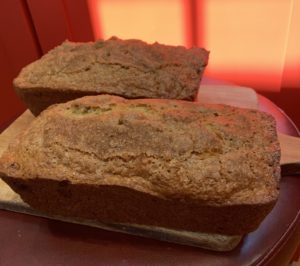 Basic Quick Bread Recipe
Ingredients
2

c

flour

¾

c

sugar

1

tsp

baking powder

½

tsp

baking soda

½

tsp

salt

Spice

optional ¼ to 2 tsps (see note #1)

2

eggs

1

c

liquid or wet ingredient

see note #2

¼

cup

melted butter

¼ to 1

tsp

flavor extract

see note # 3

1

tbsp

citrus zest

optional

½

c

to 1 cup dry add-in

see note #4

2

tbsp

Demerara sugar
Instructions
Preheat the oven to 350 degrees

Grease and flour a 9X5" loaf pan

In a medium bowl, mix together the dry ingredients (flour, sugar, baking powder, salt and spices).

In a larger bowl beat together the eggs, liquids, and flavor extract(s).

Add the dry ingredients to the egg mixture and fold it in until it is just mixed in.

If you are adding a zest and/or dry add-in, add them slightly before the dry ingredients are fully mixed in.

Bake in a 350 degree oven 50-55 minutes until a tester comes out clean and the center reaches an internal temperature of 200 degrees on an instant read thermometer

Cool in the pan for 20 minutes then turn out onto a wire rack.
Recipe Notes
Notes:
#1. Use one or more spices in combination up to no more than 5 different spices.
#2. Liquid ingredients include milk, buttermilk, or sour cream. Wet ingredients include fruit purees, grated vegetables, bananas, etc. The total wet mixture should not exceed one cup.
#3. Flavor extracts are things like vanilla, almond, coffee, etc.
#4. Dry add-in include raisins, dry fruits, nuts, chocolate or peanut butter chips, etc.