This week madness reigns in my kitchen.  My refrigerator is full of luxury foods, truffles, lobster, caviar and foie gras, and every counter in my kitchen is covered with pots and bowls and dishes in various stages of construction.  Saturday night is the night of Sarah's Annual "Dinner from a Cookbook" when she makes a multicourse meal using the recipes from a chef or restaurant's cookbook.
Previous dinners have used cookbooks by Otto Lenghi and Chef Gabrielle Hamilton of Prune in New York City.  So it really shouldn't be a surprise that this year Sarah chose The French Laundry Cookbook by Thomas Keller.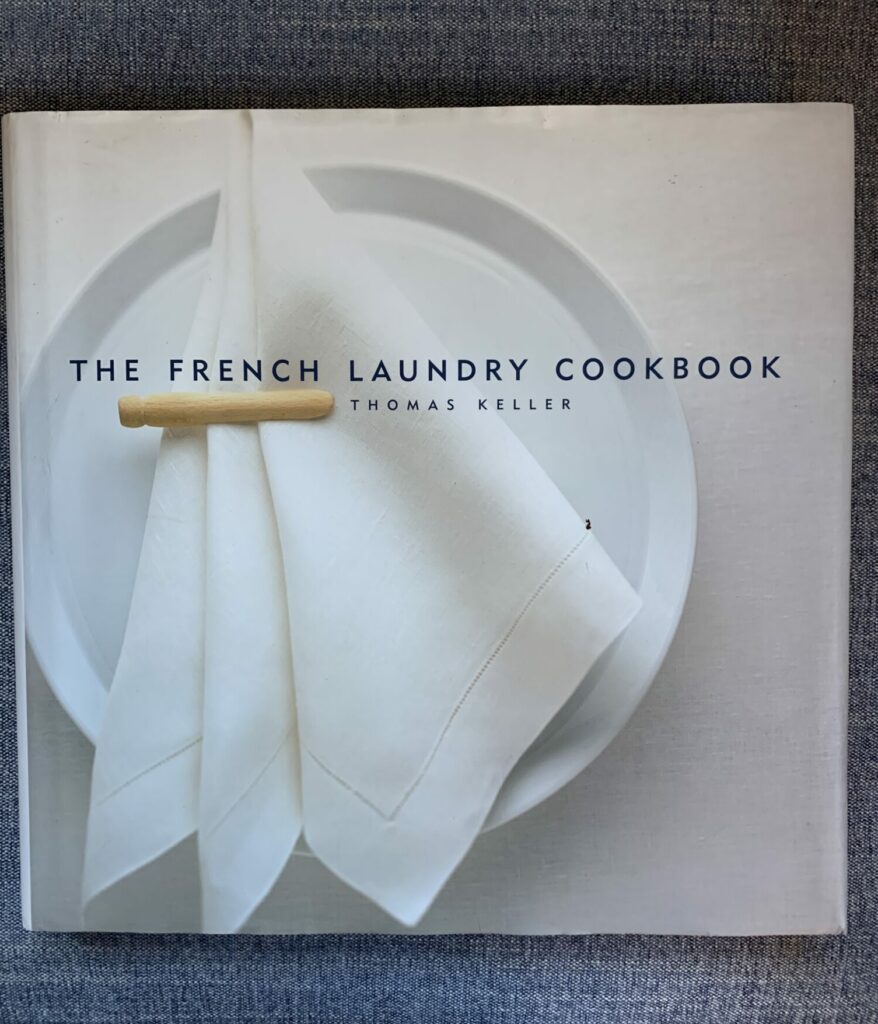 It is very French and very elegant.
Whimsy brackets this classic French meal.  We start with tiny ice cream cones of Salmon Tartare and Sweet Onion Mascarpone
and end with Peanut Butter and Jelly, i.e.  Peanut Butter Truffles and Concord Grape Pate de Fruit.
I'm not great with chocolate work and I found the truffles to be a challenge—specifically coating the peanut butter filling with dark chocolate.  If you try this recipe from The French Laundry Cookbook make sure the filling is super cold and the chocolate well melted and runny!
But the Jellies are easy to make.  They keep well and are a treat all by themselves. Once you have the technique down you can experiement with different flavors.
For the purposes of thie dessert, Peanut Butter and Jelly, grape was the obvious flavor choice.
Start with the juice.  Chef Keller offers two options: juice your own grapes or buy unsweetened Concord Grape juice.  I tried the juicing process and while it is definitely legit I felt that the purchased grape juice had a stronger flavor and better color.  And one of the first things a cook needs to know is that some things are just as good (if not better) when purchased at a store!
Chef Keller calls for apple pectin to make the jellies.
The jam makers among you know that pectin is the ingredient that makes jams and jellies set and get hard.  Apples are very high in pectin and their juice is often added to fruits which are naturally low in pectin to help them set.  Long ago, jams and jellies were boiled with sugar until they were concentrated and reached a temperature at which the natural pectin was activated.  But today, most of us buy commercially available pectin.  Commerical pectin is usually made of a number of fruits, citrus and apple among them.  To find apple pectin you may need to go to a specialty kitchen store, gourmet shop or order it online.  Chef Keller believes it is a more delicate flavor but I made these jellies both ways, with fruit pectin and with apple pectin, and it was there was no overwhelming difference.
Heat the juice, sugar and corn syrup in a saucepan.  Once it reaches a boil, reduce it to a simmer and use a spoon to skim off any scum that rises to the surface.  Let it simmer for about ten minutes until it is clear.
Combine the pectin with some sugar in a heat proof bowl and slowly stir in about half the hot juice.  Stir it constantly to disolve the pectin-sugar mixture.
Add this back to the juice in the saucepan and return it to the heat, boiling it for 5-10 minutes until it reaches 220 degrees on a jam thermometer or instant read thermometer.
Pour the jelly into a  pan that you have lined with plastic wrap and spread it smooth with an offset spatula.  Let it sit for at least an hour until it is completely set.
Once it is set turn it out and trim the edges.  Cut it into small cubes and dust with sugar. (I used a lavendar colored sanding sugar but any sugar will do).
The jellies will keep for a week or more in an airtight container at room temperature.  If you find the sugar has melted, roll them again before serving.
FRENCH FRUIT JELLIES (PATE DE FRUIT)
Ingredients
2

lbs

Concord grapes or 2 cups unsweetened grape juice

2 ¼

c

sugar

3 ½

tbsp

sugar

½

c

light corn syrup

2

tbsp

pectin

apple or fruit

Sugar for dusting
Instructions
If you are using grapes, place the grapes in a plastic bag and squish them to break them up and release the juices. Let them rest in the bag for at least two hours or longer. Strain the grapes and measure out two cups.

Line a 9X13" baking pan with a rim with plastic wrap.

Combine the grape juice, 2 ¼ cup sugar and corn syrup in a pan and set it over medium heat. Stir to dissolve the sugar and bring to a boil. Reduce to a simmer and simmer for 10 minutes. Use a spoon to remove any scum that rises to the surface. Continue to skim it until it is clear.

Mix the pectin and 3 ½ tbsp sugar together in a large heat proof bowl. Whisk in half of the hot grape liquid and whisk until the pectin is dissolved. Return the mixture to the saucepan with the remaining liquid.

Bring to a simmer and cook, stirring constantly until the liquid reaches 220 degrees and the jelly has thickened.

Pour the jelly into the prepared pan and smooth with a knife or offset spatula.

Let this set until firm, at least one hour.

Turn the jelly out and remove the plastic.

Trim the edges to make them even and cut the jellies into 1" squares. Roll the jellies in sugar before serving.

The jellies can be stored in an air tight container at room temperature.
Recipe Notes
Serve them with Peanut Butter Truffles from The French Laundry Cookbook or Mini Peanut Butter Cups for "Peanut Butter and Jelly".