"Hello"
The message popped up on my Instagram account.
"Have you ever worked with red wattle pork before?"
"No. I can't say that I have." I replied.
Red Wattle Pork, for the uninitiated, is considered by many  chefs to be the finest pork meat available. I was intrigued. And so, one dark and rainy day not long after, I found myself  driving up a small dirt road in Big Sandy Mush Valley on a visit to the home of Sugar Creek Meats.   Tyler De Francisco, a Sicilian transplant from New Jersey, is passionate about his pigs and his meat.  Actually, Tyler is passionate about food in general and his talent for flavor combinations adds extra flare to his produce.  He had invited me out to see his farm and try his products.
As he scooped coffee into an old-fashioned percolator, he explained to me that the meat from the Red Wattle Pig is redder and leaner than the pork from modern pigs.  It has been described as having a beef-like quality and has been declared "the porkiest pork you can get" .
Tyler pulled out a slab of bacon from his refrigerator and began to slice it.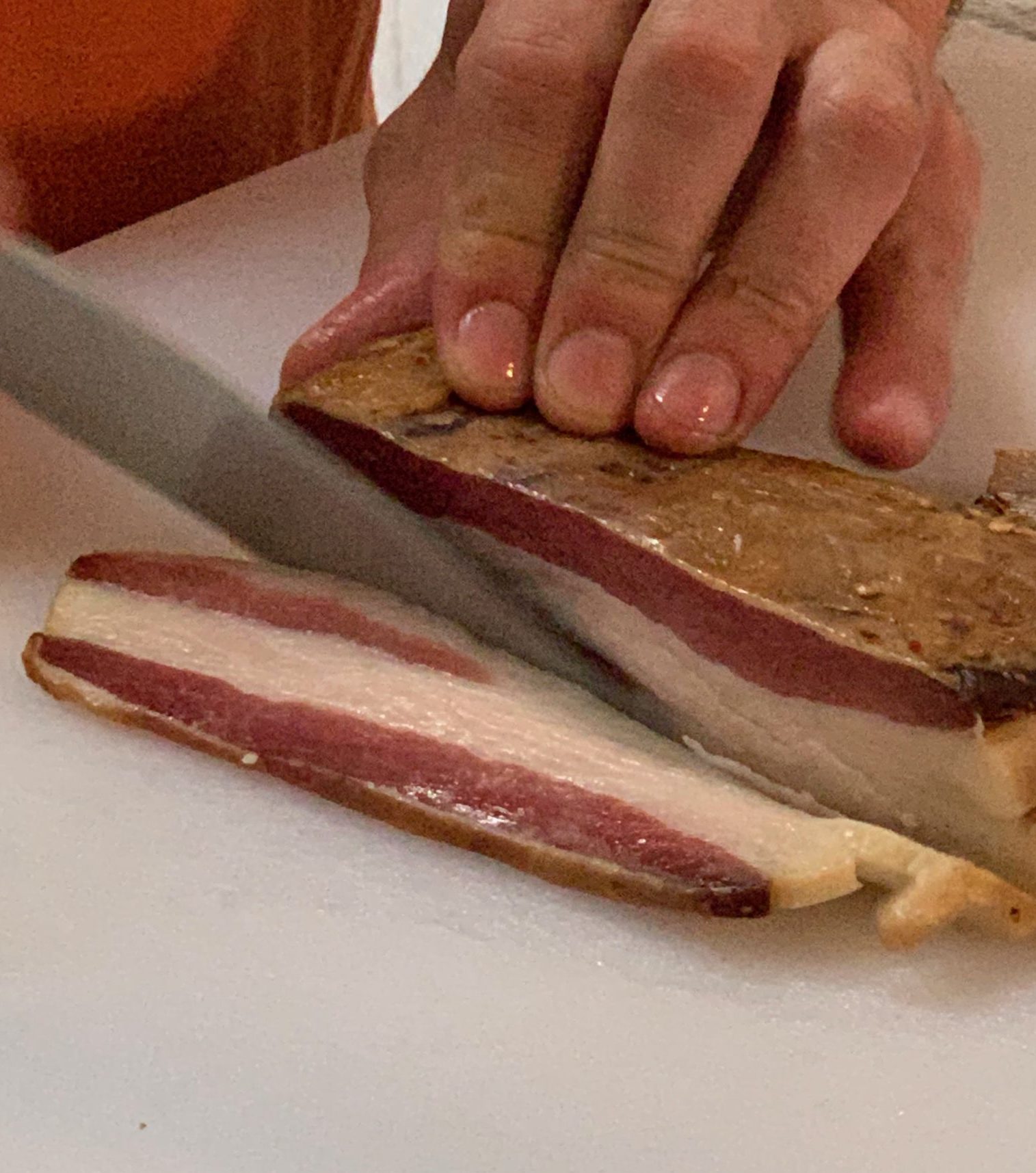 The meat was a beautiful deep red, reminiscent of the dried hams of Europe: German Speck or French Jambon Cru. He had cured it with a rub of dried shitake mushrooms and ghost peppers.   I sniffed, carefully, at the rub.  The mushroom scent of umami held the undertones of heat from the pepper and I sneezed a few times.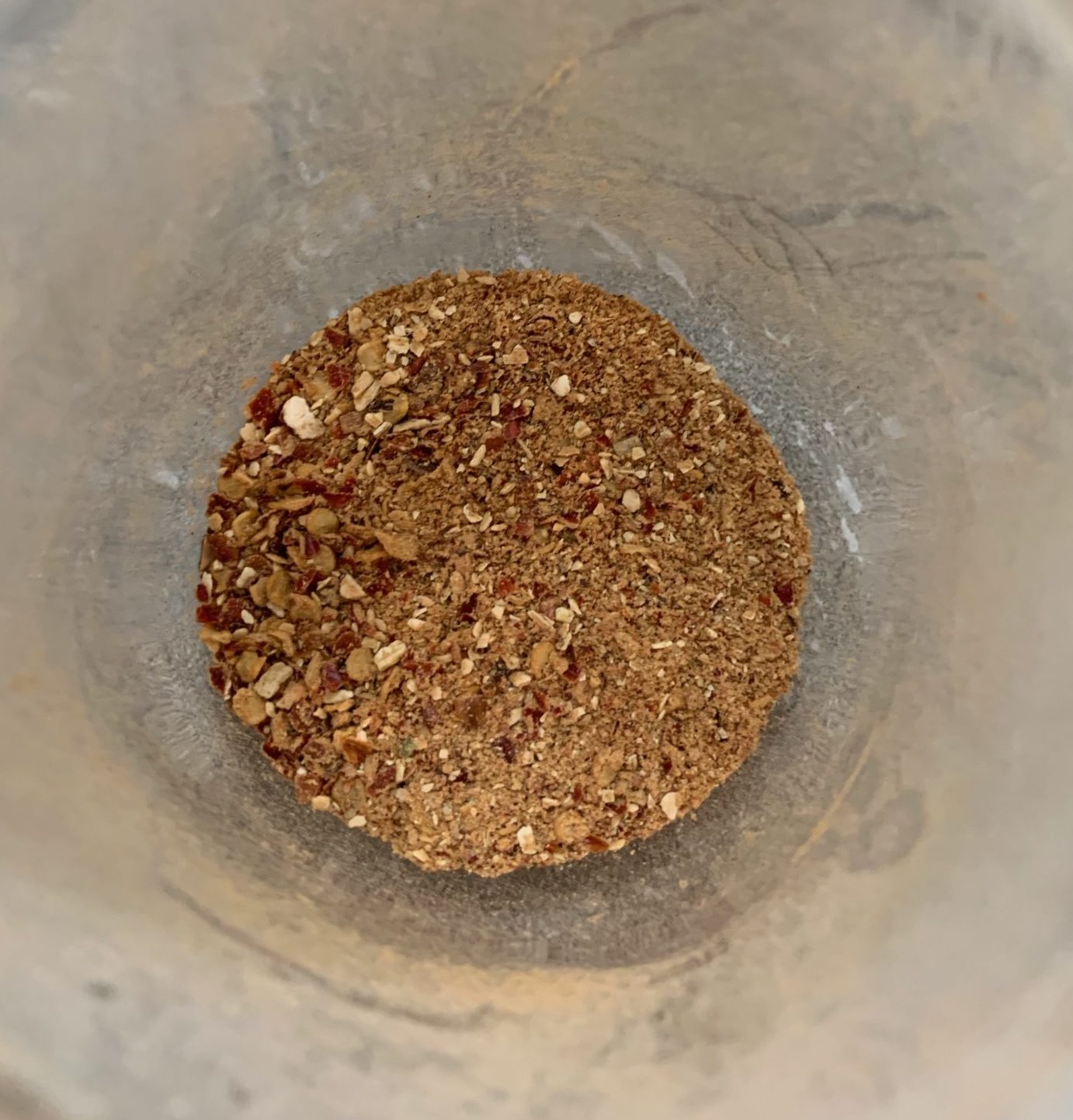 Diced and fried to a crispy finish, Tyler placed the bacon before me with a steaming hot cup of coffee.  It was heavenly.  I could not stop eating it.  Salty, a little sweet, and earthy with a peppery finish.  I was in foodie paradise.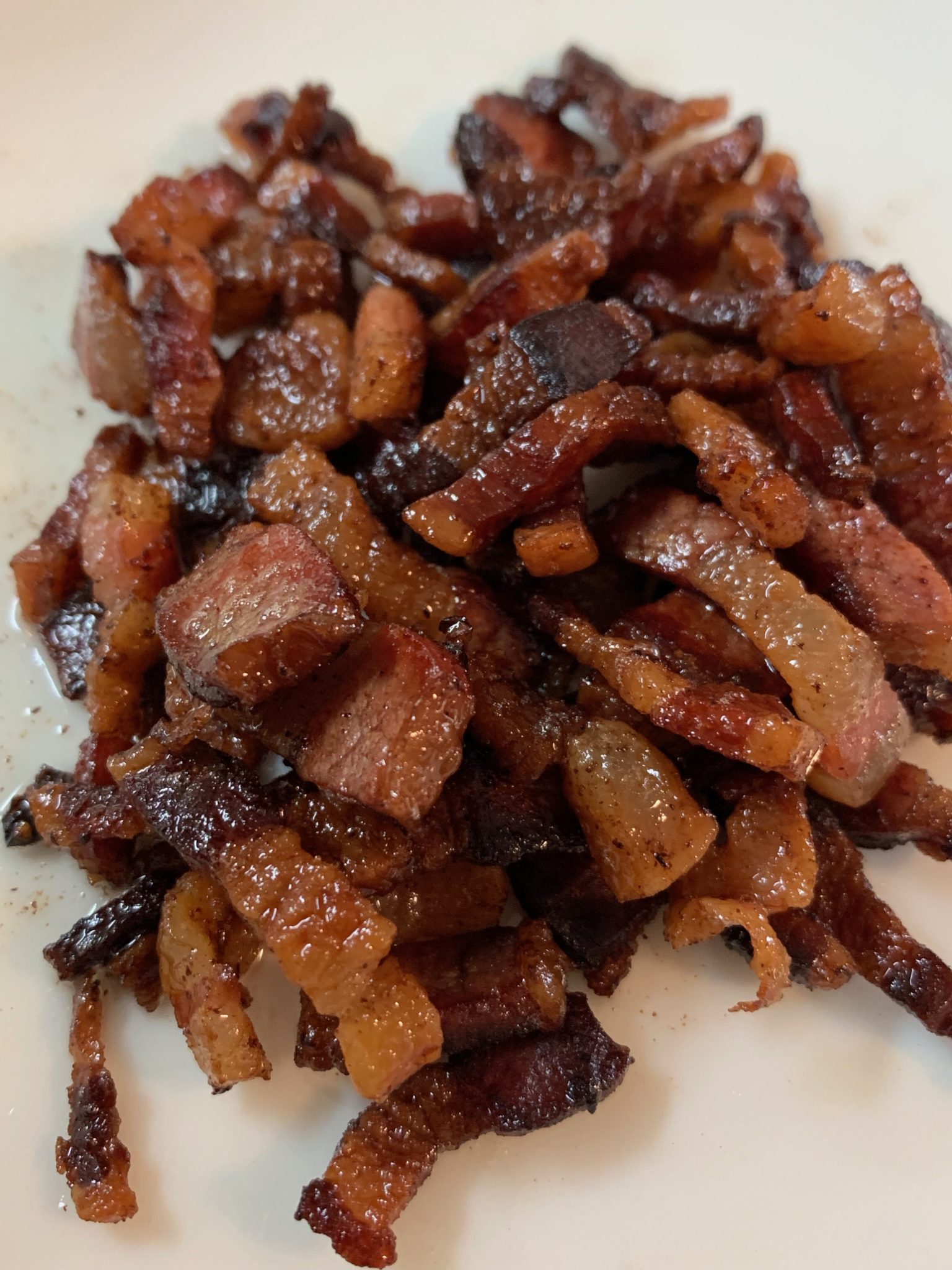 Onions were next in the frying pan and while they sautéed, Tyler turned back to his fridge and brought out a packet of ground pork.  Unlike many pork producers, Tyler does not use any scraps for his ground pork.  It comes directly from the pork shoulder.  This makes sure it is well marbled with lovely taste-enhancing fat. He was making a red sauce (Sicilian style) for guests to his farm that night.
While the sauce simmered, Tyler shared with me some of his other food interests.  He has been busy experimenting with bourbon barrels for aging and flavoring honey and Soy sauce among other things. Soon, like Winnie the Pooh, I was sticky and happy from tasting orange and citrus honey, a rare almond flower honey and wildflower honey aged in bourbon barrels.  We talked about how the foods animals (and bees) eat can be tasted in the final products.  Tyler is currently feeding a hog blueberries in great quantities  for a chef who heard about blueberry bear meat in Alaska and wanted to see if it would work with pork.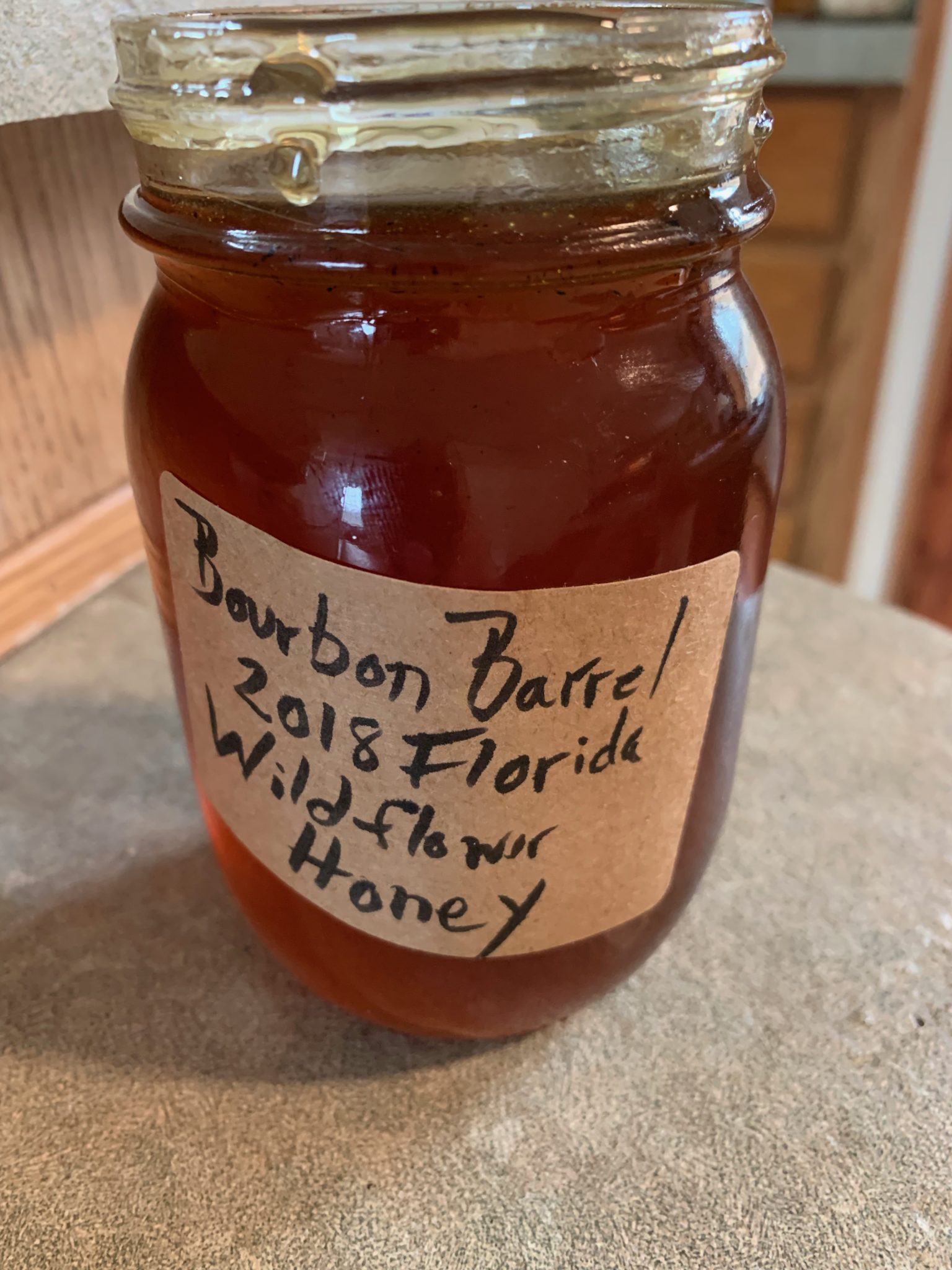 It was a mind-boggling afternoon: Tyler is one of those wonderful Western North Carolina craftsmen who is passionate about his products and whose  talent is inspiring.
I left the farm with a packet of ground Red Wattle pork to try at home.
I wanted to respect the meat and try in as pork-forward a way as possible.   I decided to make a simple ground pork sandwich: good bread, mayonnaise, tomatoes and arugula.
First, I thought I would compare it to ground pork from one of my local markets. Except, none of the markets carried it.  I would have to go to a butcher shop to get it and since I already had high-quality ground pork from a butcher, I settled on plain sausage meat.
The difference was clear from the beginning.  The packet of ground pork from Sugar Creek Meat listed one ingredient, pork.  The package of plain sausage from my market listed 13 ingredients including water, corn syrup and assorted chemicals and preservatives.
Visually, the sausage meat was bright red with large flecks of fat. The ground pork was pink with the fat distributed throughout, almost as a part of the meat.
When cooked the sausage rendered up little of its fat while the pork sizzled quickly as the fat was released.
The taste was the real test.  The sausage meat tasted of pepper and spice with a chemical tang at the finish.  The pork tasted like meat.  It had wonderful crispy brown edges.  I added a little salt but that was all it needed.
I spread two slices of lightly toasted Rosemary Focaccia bread with mayonnaise, sliced some tomatoes and topped it with a little arugula. Then I added the sautéed pork.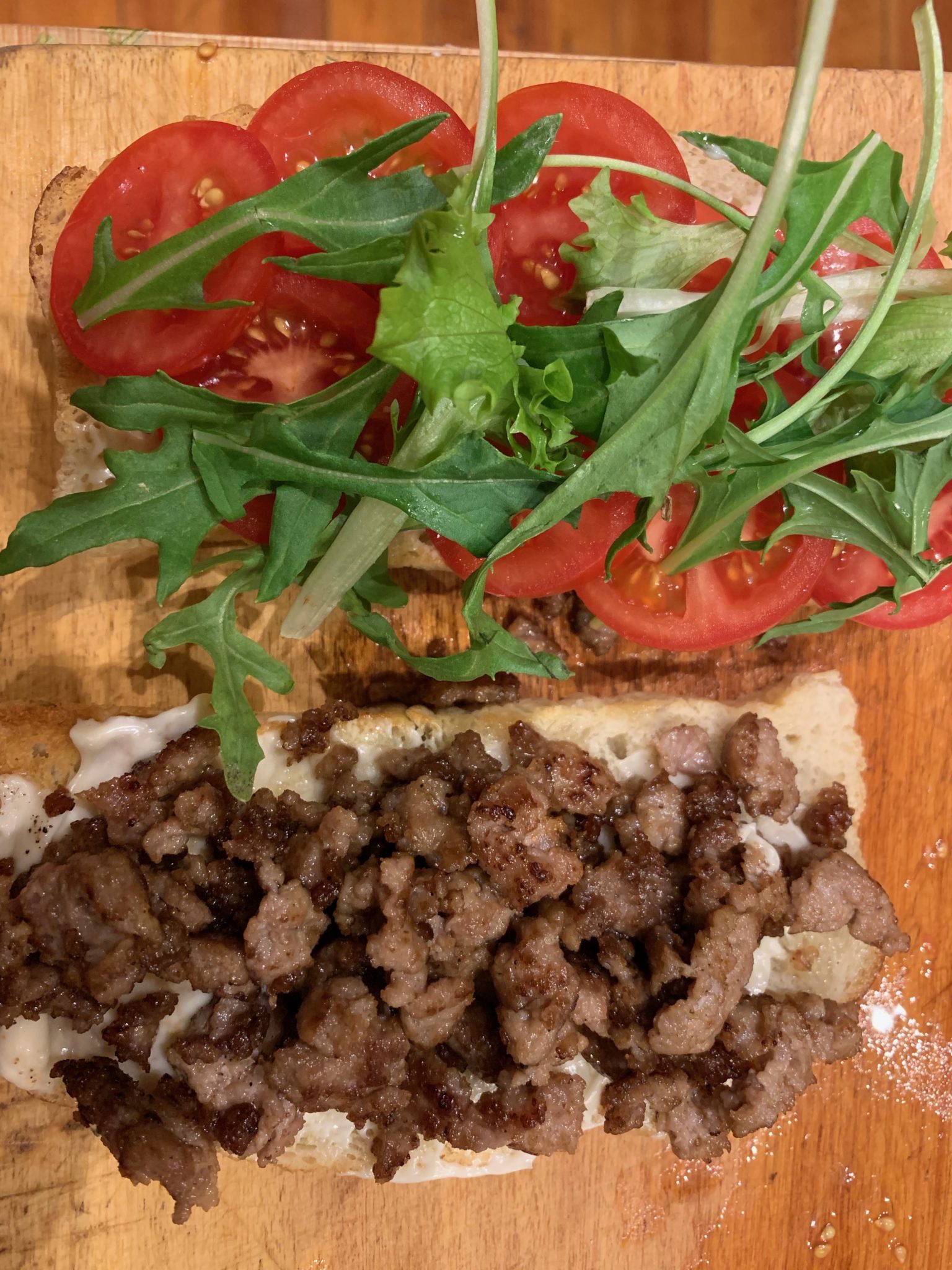 It was magic. The fat from the pork seeped into the bread and the crispy bits were little explosions of flavor.  The tomato and arugula add sweetness and bitterness and the mayonnaise gave it a rich mouth feel.
If you are in Asheville and would like to try some Red Wattle Pork from Sugar Creek Meats you will find it served at the Admiral, Smokey Park Supper Club, The Princess Anne Hotel and Bone and Broth.  In addition, the soon to open Sawhorse Restaurant will also feature the meats.  You can visit the farm by contacting them at 828-623-0072.  As for me, I'm going back for some of that bacon!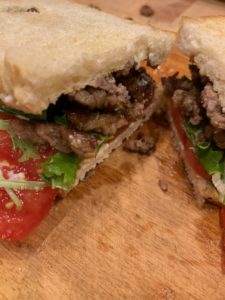 BEST PORK SANDWICH EVER
Ingredients
½

lb

high quality ground pork

4

slices

good bread

1

ripe tomato

Handful of arugula

Mayonnaise

Salt

Pepper

optional
Instructions
Saute the pork over medium heat until cook through with some crispy browned bits. Season to taste with salt. Add pepper if desired

Lightly toast the bread.

Spread two slices of bread with mayonnaise, then layer with pork, tomato and arugula.

Top with the remaining two slices of bread.
Recipe Notes
Note: this sandwich is about the ingredients. Try and use the best quality meat and produce you can find.