I read in the paper this week that the tourists were gathering in the Great Smokey Mountains to watch the fireflies.  And I thought how grateful I was that I don't have to fight for a space or sit with a crowd to see the fireflies.  I look out my window at the grass and trees surrounding me and I can see them rising from the ground to hover in the air.  The occasional firefly makes it in through my screen which interests my cat until he tires of chasing the light.
My daughters say my house in Asheville reminds them of their grandparents' house in Connecticut where they spent many lovely summers growing up.  I tell them that's because I don't use the air conditioner unless I absolutely have to.  A large box fan in an upstairs window acts as an attic fan to pull the cooler air through the house in the evening and ceiling fans do the rest.  I wake to the birdsong in the morning and go to sleep to it by night.  (Of course, I also wake to the University students partying late almost any random night of the summer and to the broken mufflers of their cars and mopeds but no pain, no gain, right?)
Summers of our childhoods haven't really changed very much: fireflies in jars, fireworks on the 4th of July, and watermelon, corn on the cob and fresh tomatoes eaten almost every day!
This is a fun cake which was all over Pinterest about five years ago.  The recipe called for cupcakes but I have turned it into a single layer cake which resembles the slice of watermelon it tastes like.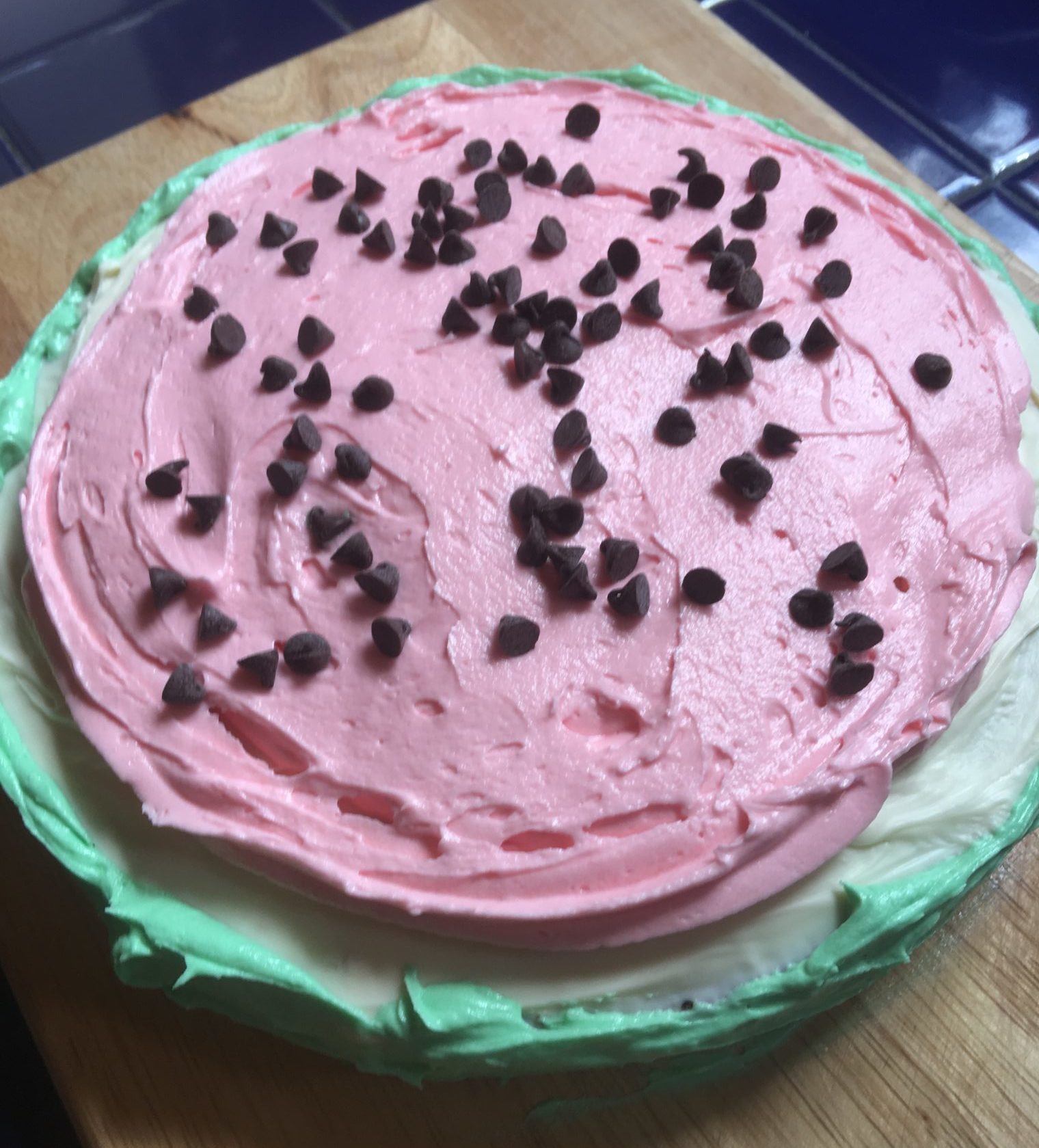 The taste?  It's created from pretty much the same flavorings which go into a Jolly Rancher.  And like that sweet and sour candy, it's not a sophisticated recipe.  This recipe unashamedly uses box cake mix, Jell-O packets and Kool-aid.  It's for your children, your grandchildren and the child in you.
The recipe makes enough for two single layer cakes or 24 cupcakes (or one layer and 12 cupcakes—live dangerously!)
Put the cake mix, eggs, oil, water and lime jello mix in a bowl and mix it for 2  minutes until it is thick and creamy.  If you want a really green "rind" you can add a few drops of food coloring too.
Pour it into your prepared cake pans and bake according to the instructions on the box.  When it is done, let it cool before continuing.
Melt the white chocolate in your microwave or over a bowl of hot water until it is smooth.  Spread the chocolate on top of the cake layers, right up to the edge.  It doesn't matter if it drips down a little, you will cover it with icing.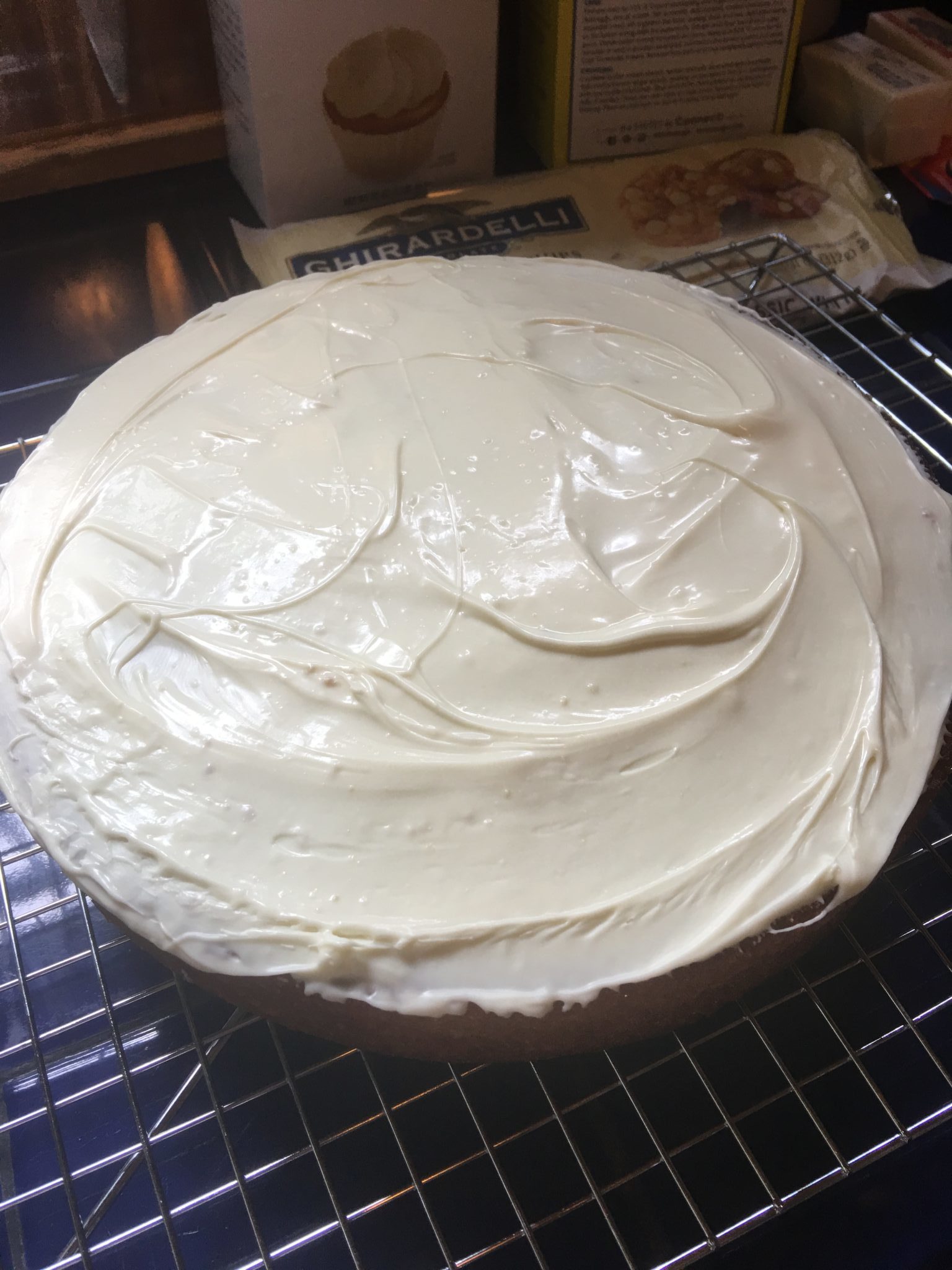 Set the white chocolate covered layers aside to set while you make the icing.
In a large bowl beat together the softened butter, icing sugar and milk for about 5 minutes until it is white and fluffy.  Now separate out about 1/3-1/2 cup of icing per layer and put it in a small bowl. (skip this step for cupcakes). Pour the Kool-Aid mix into the remaining icing and mix well.  It will turn a bright pink.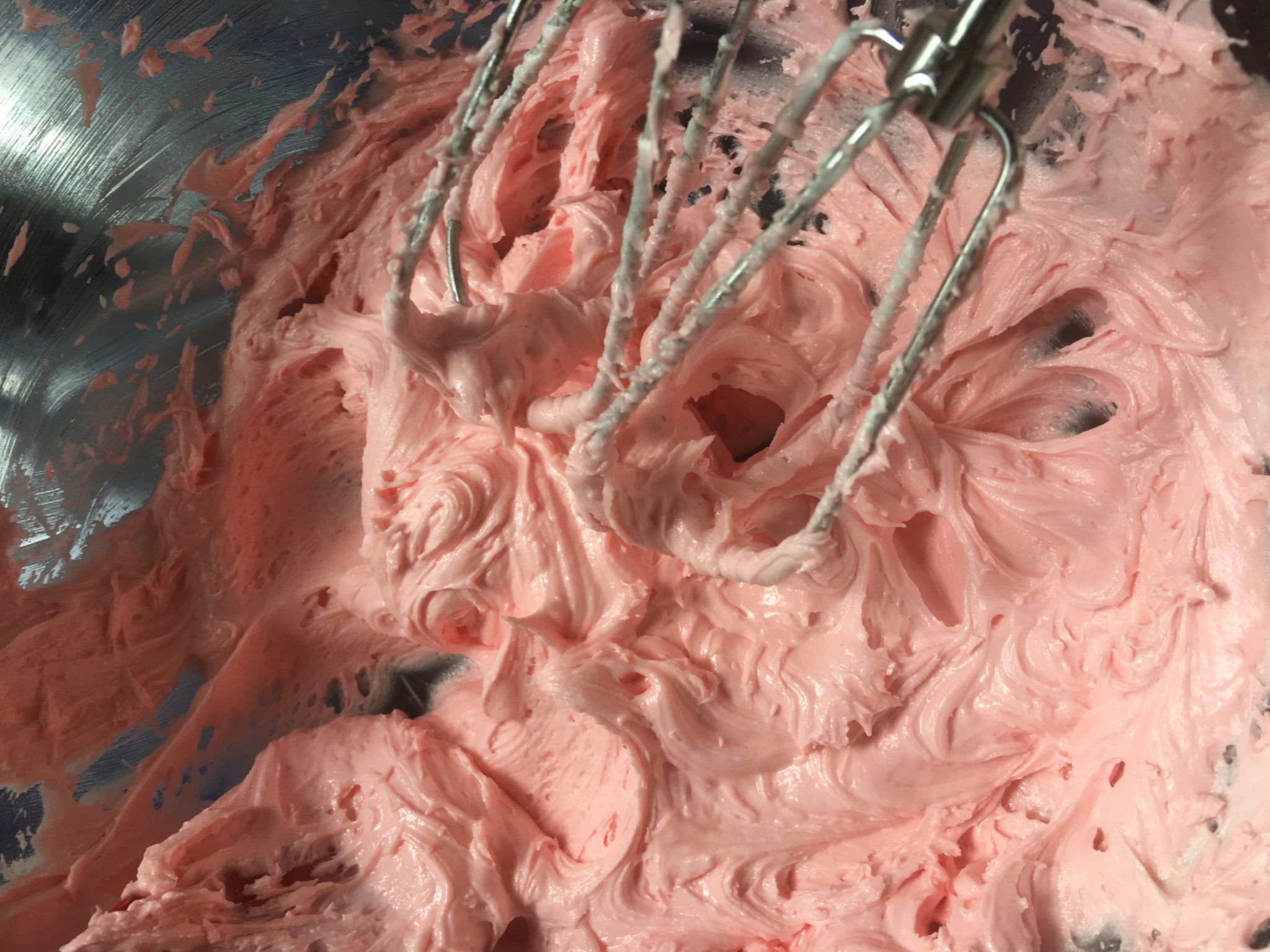 Put 5-10 drops of green food coloring into the small bowl with the other icing and stir it together until it is well mixed and you like the color.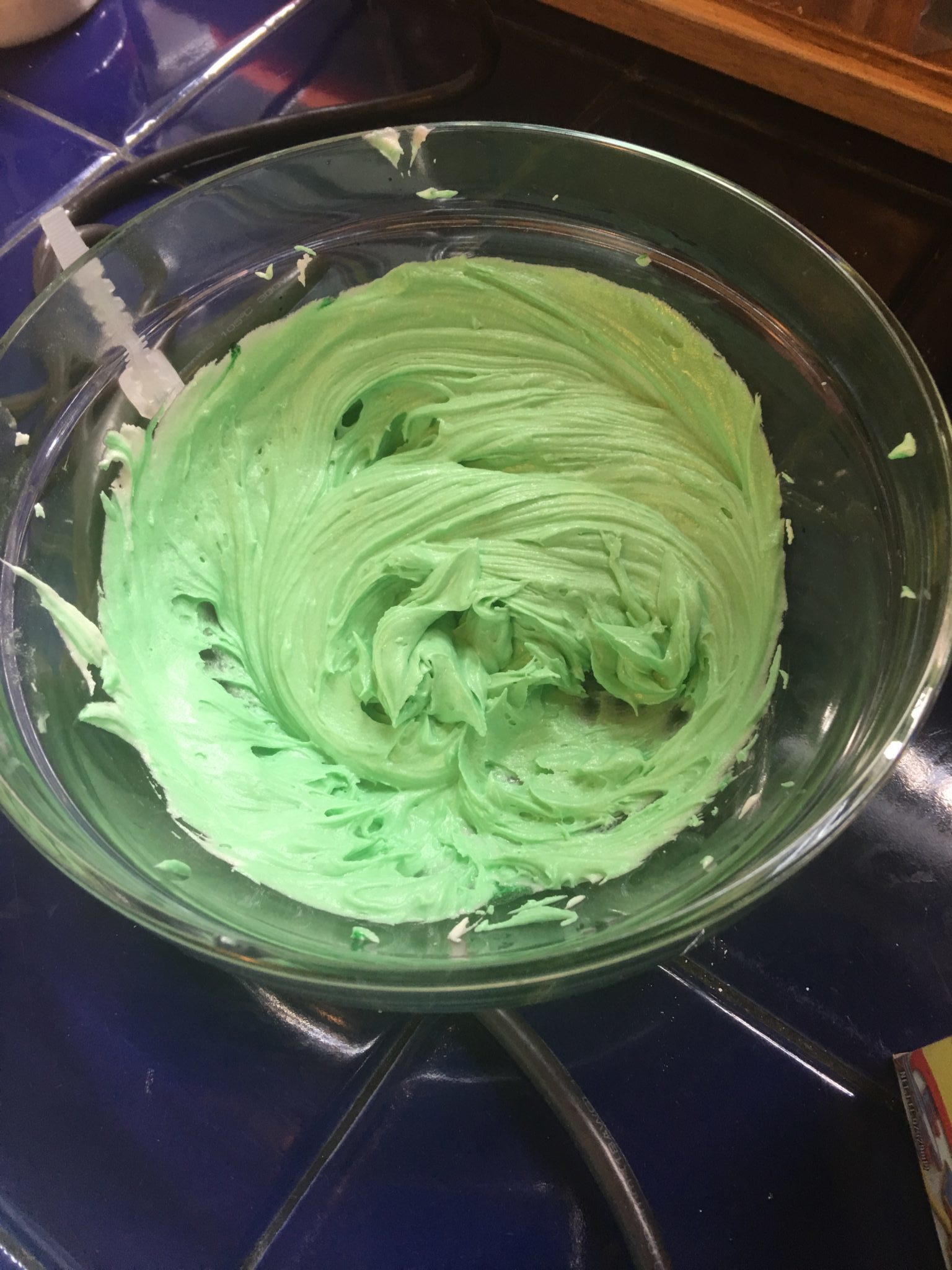 Assemble the cake by spreading the green icing on the side.  I make a little lip on the top so it can be seen from there as well.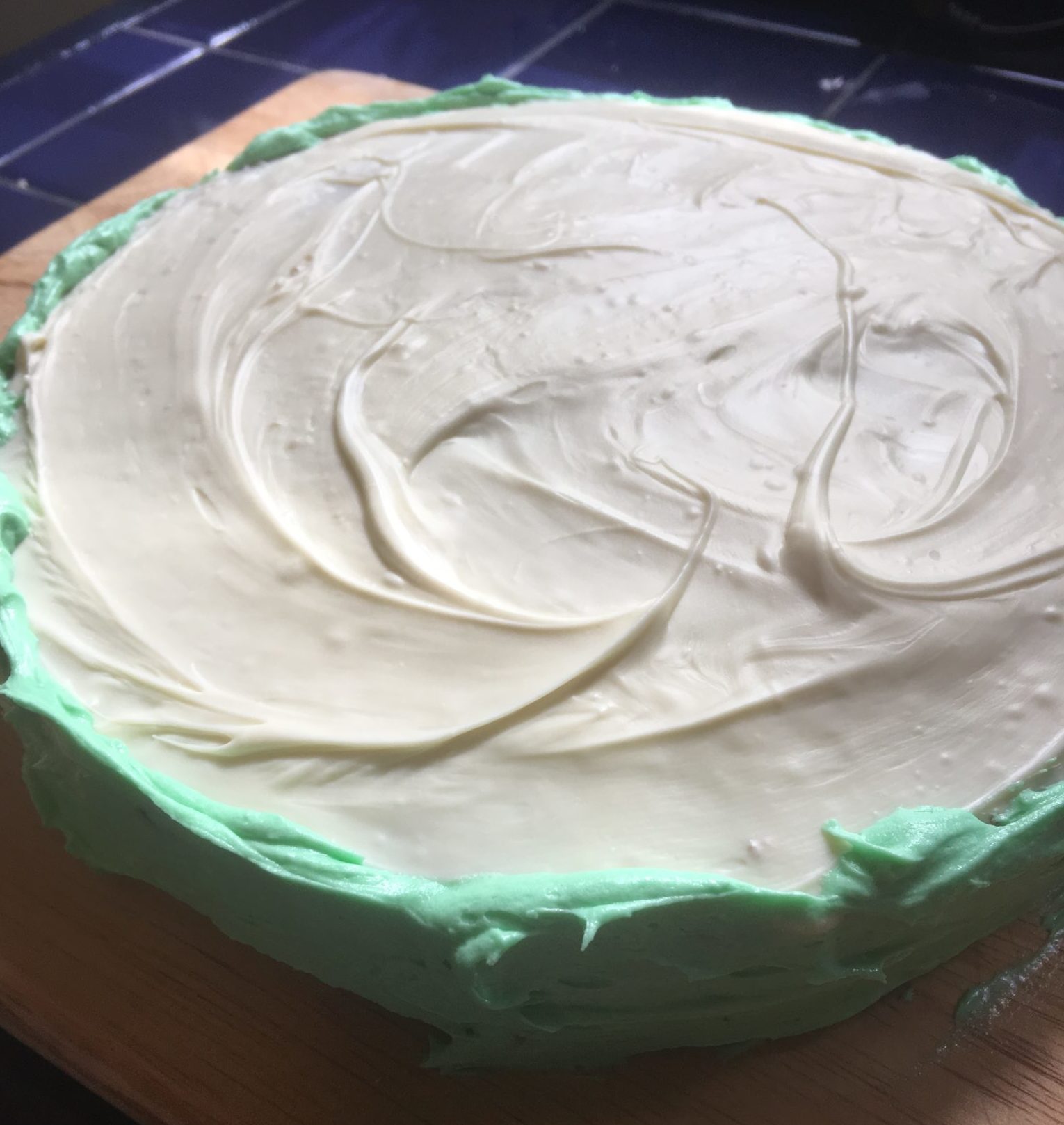 Then spread the pink watermelon flavored icing in the center, leaving a ring of white chocolate showing around the edge.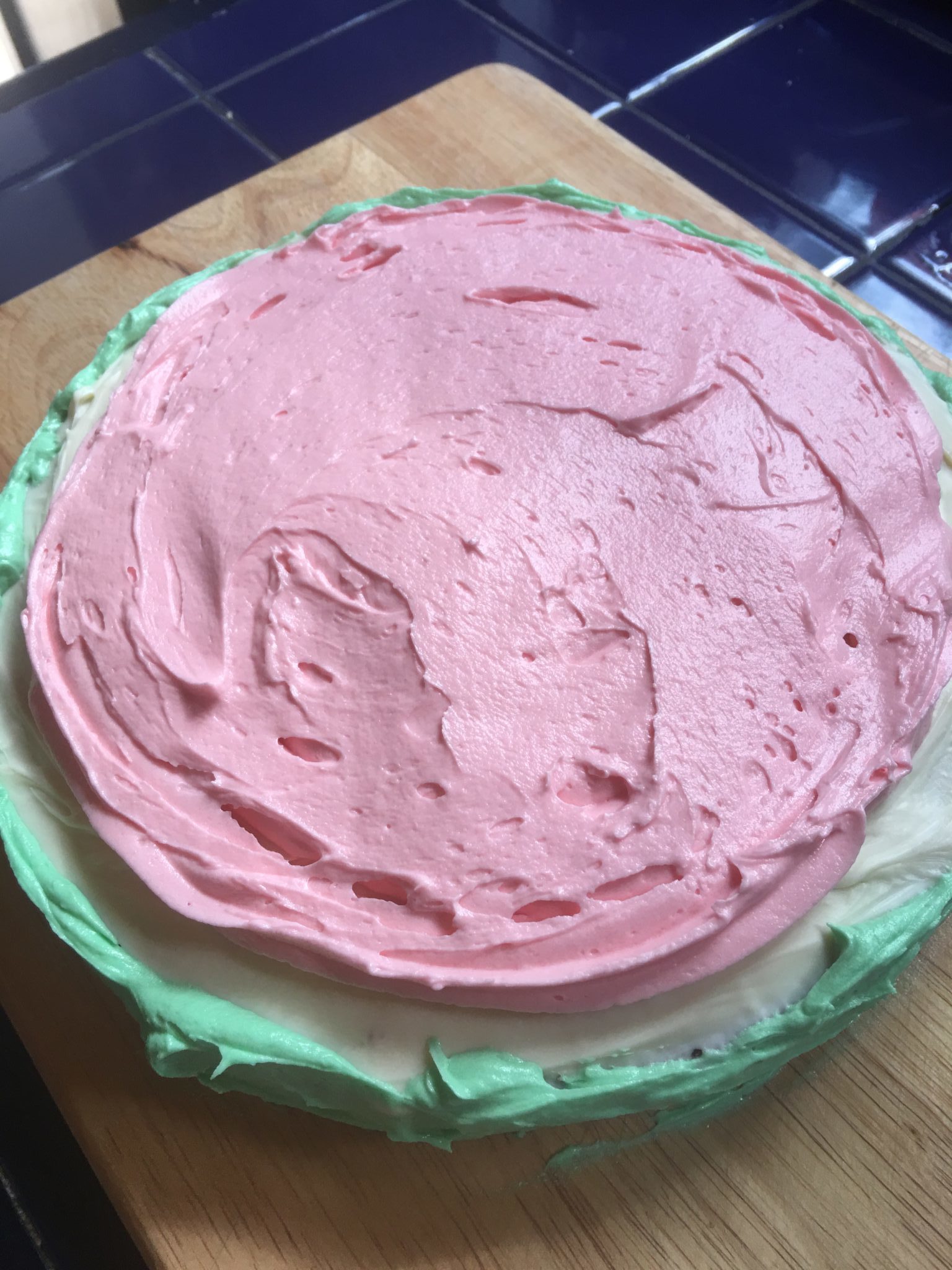 Finally sprinkle mini chocolate chips in the center for seeds.
If you are making cupcakes, you don't need the green icing.  Spread (or dip) the white chocolate on the top and then finish with the pink icing and the chips.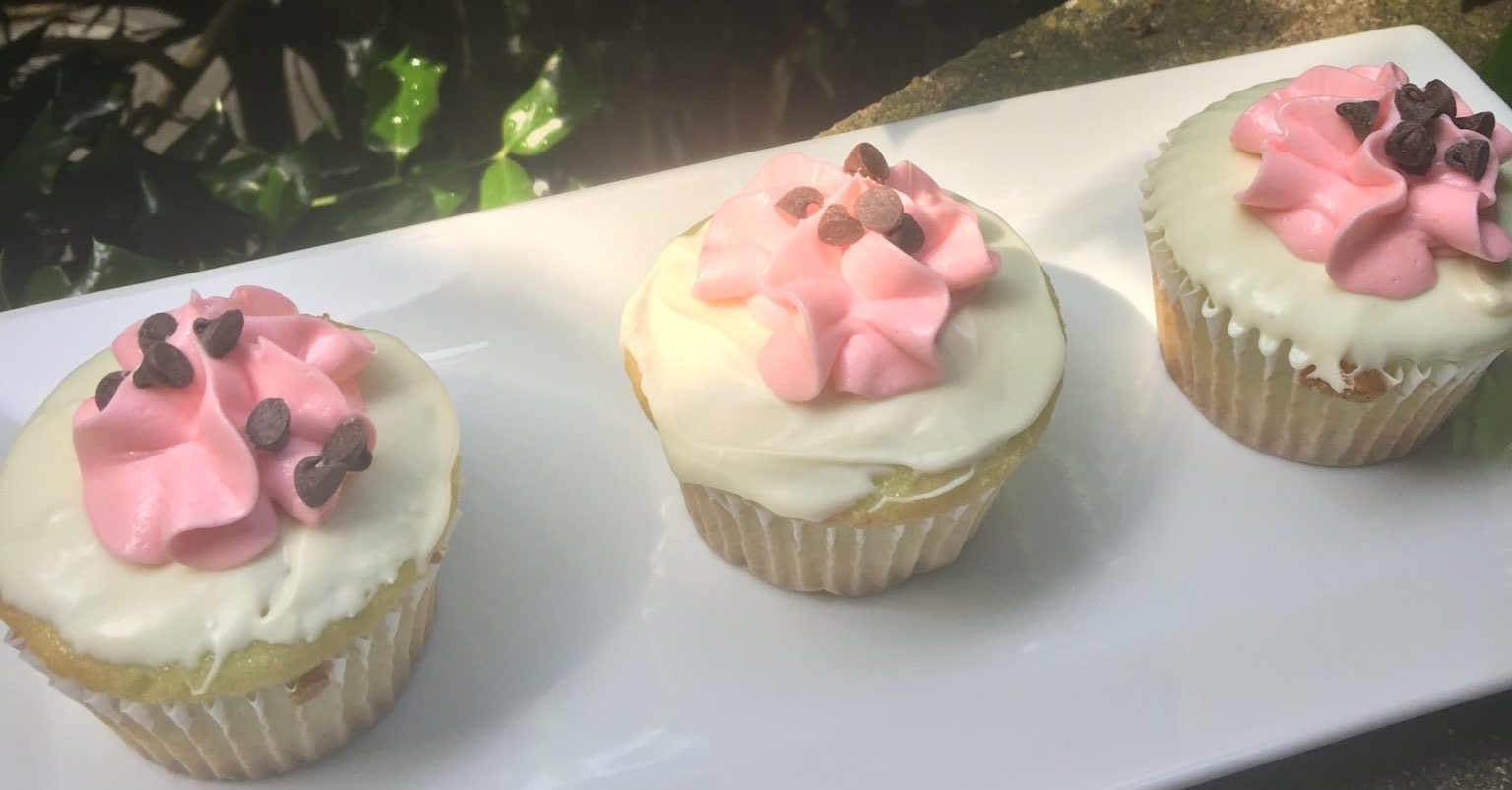 This cake is best served at room temperature.  The chocolate is hard to cut straight out of the fridge so take it out about an hour before you want to serve it.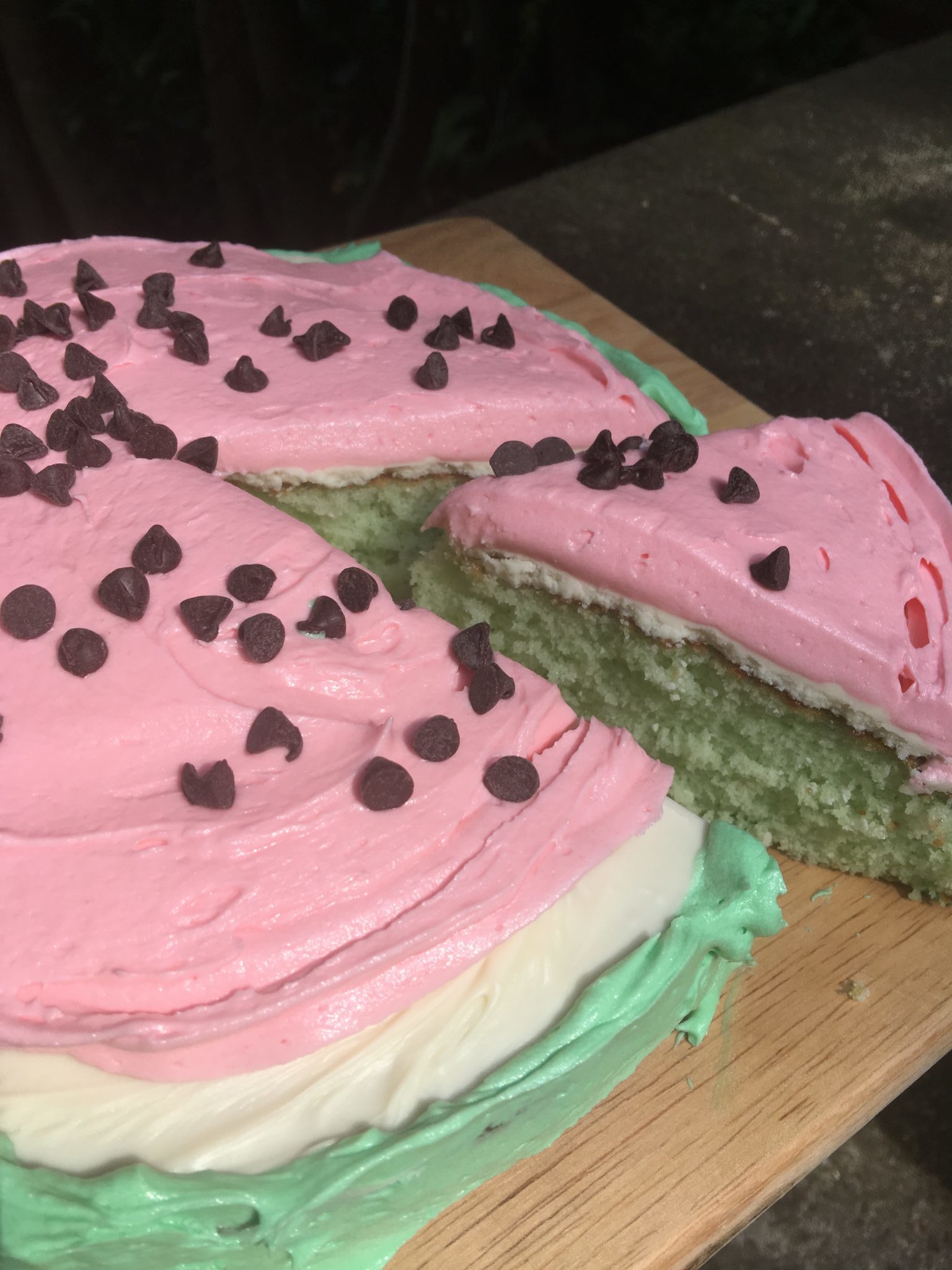 Happy Summer!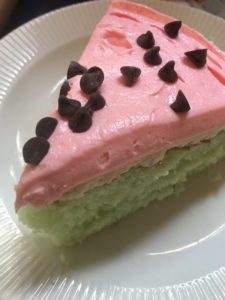 WATERMELON CAKE
Makes enough for two single layer cakes or 24 cupcakes
Ingredients
1

box white cake mix

1

box lime gelatin

3

eggs

1/3

cup

canola oil

1 ¼

cup

water

1

bag

12 oz white chocolate chips

½

cup

butter

softened

4

cups

powdered sugar

3-4

tbsp

milk

1

packet watermelon flavor Kool-Aid

Green food coloring

for cake

½

cup

mini chocolate chips
Instructions
Preheat oven to 350 degrees

Grease two round cakes pans (8" or 9") or line 24 muffins tins

Mix together the cake mix, gelatin, eggs, oil and water.

Beat together for two minutes.

Fill your cake tins and bake according to package directions.

Cool completely

Once cakes have cooled, melt the white chocolate.

Spread a thin layer over the top of the cake layers or cupcakes

Beat sugar, butter and milk together on medium high speed for 5 minutes until very light and fluffy.

(For the cake, separate and reserve I cup icing. Add 5-10 drops green food coloring for watermelon "rind")

Add watermelon Kool-Aid to icing and mix well.

To assemble the cake: Spread green icing around the cake sides and make a tiny lip on top. Carefully spread watermelon icing in center of each layer leaving a ring of white chocolate showing around the edge. Sprinkle randomly with mini-chocolate chips for "seeds".

To assemble cupcakes: Pipe (or spread) watermelon icing in center of each cupcake leaving a little of the white chocolate showing in a ring around the outside. Sprinkle with mini chocolate chips for "seeds".