High on a mountainside about ten minutes from downtown Asheville is a stately Southern mansion, with sweeping porches, endless views and carefully tended grounds.  It is a beautiful spot. But it wasn't always this way.  Ten years ago The Reynolds Mansion was falling apart.   Time and neglect had brought this once beautiful house to its knees.  And that is when my friend, Billy, saw it.
Billy loved the house and the house needed love and that was what it took.  Today, The Reynolds Mansion, once home to Senator Reynolds and the Hope Diamond, is considered to be one of the finest Bed & Breakfasts in the United States.  Full credit for which goes to my friend Billy Sanders.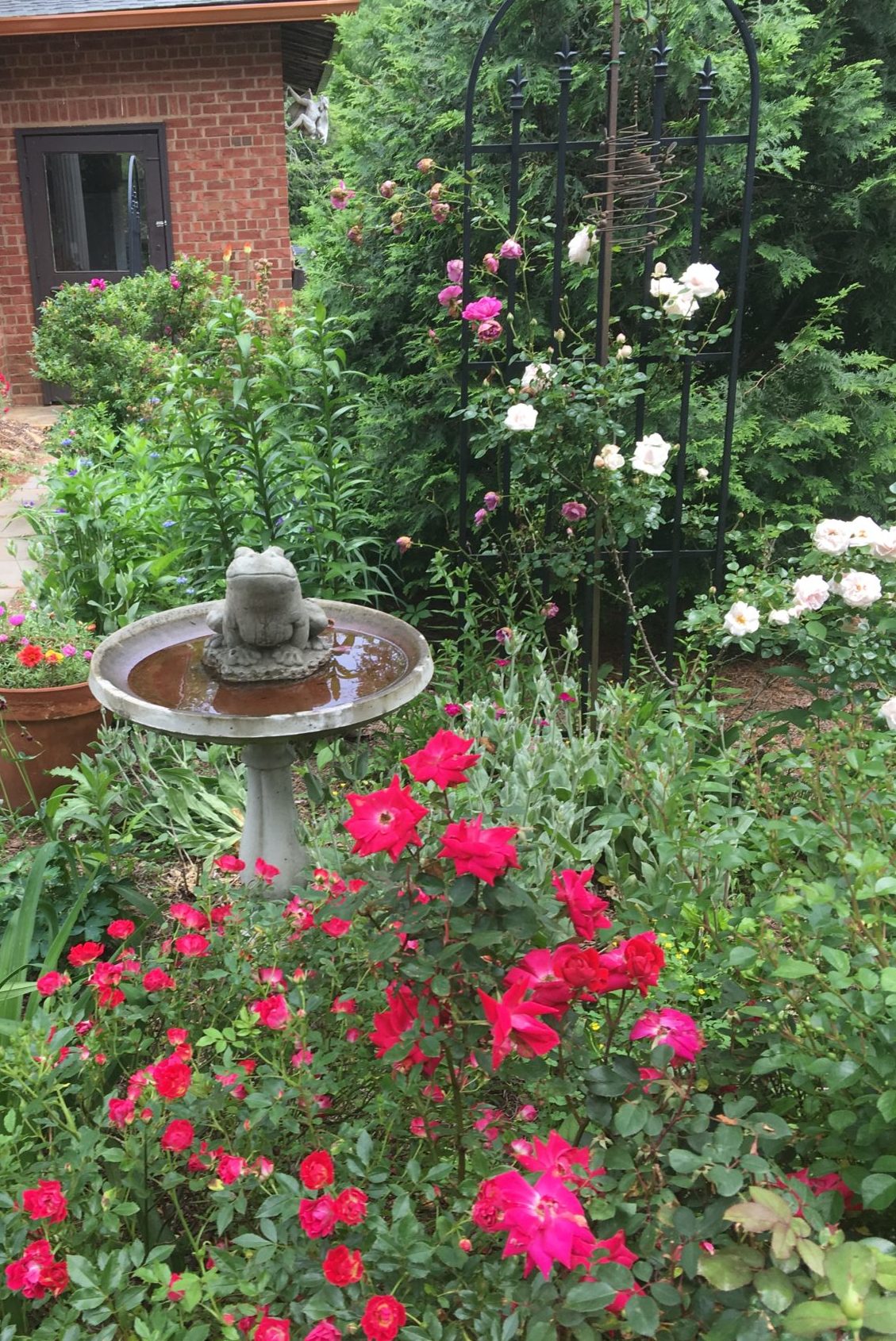 Billy has a wonderful garden and, best of all, he has honey bees.  Honey is one of those foods which is altered for the the worse by mass production: pasteurized and  filtered and blended for uniformity of flavor.  It's still honey but you haven't tasted honey until you have been served honey by a beekeeper.  Billy prefers the taste of wildflower honey so he has planted flowers all over the grounds but his lawn is a mass of clover and sometimes, like last year, the bees get to the clover first.  And, as Billy says,  you can't tell a bee where to gather pollen.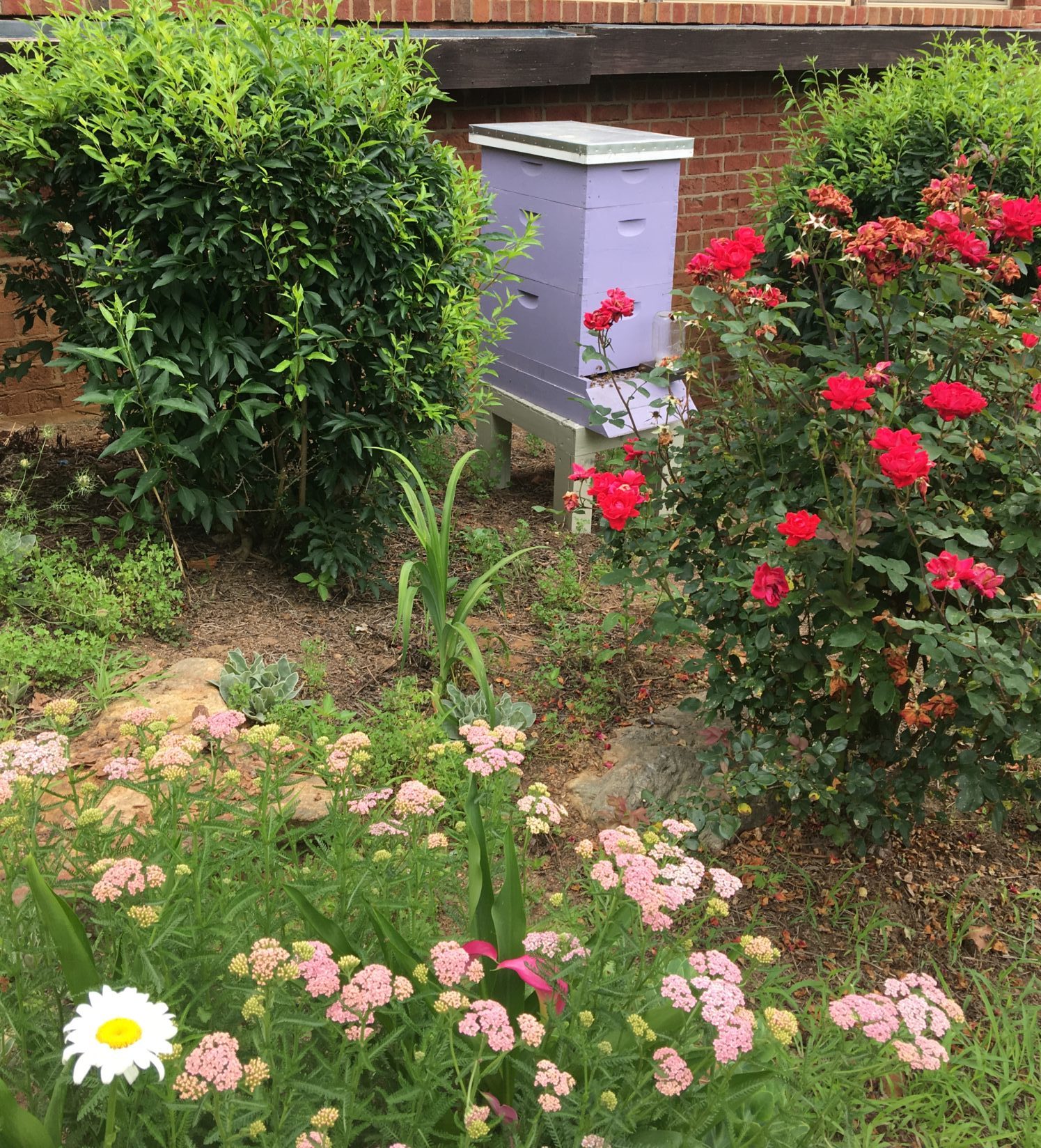 I joined Billy in his small but efficient kitchen to watch him cook and learn some of his secrets.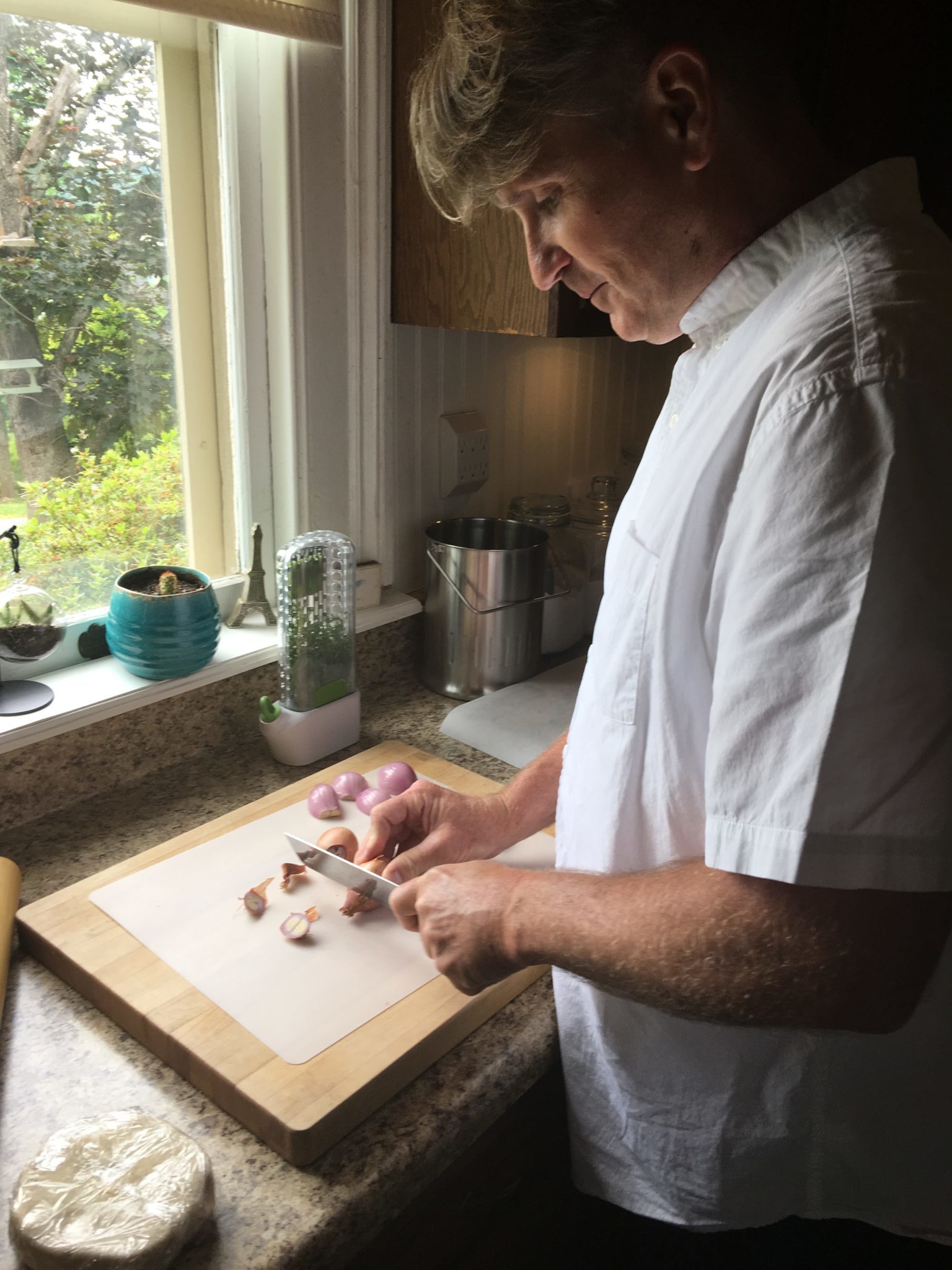 Billy had planned two dishes for us, a smashingly beautiful tomato galette and some baked goat cheese rolls in filo pastry to eat while the galette was cooking.  ( I promise the galette will make an appearance on this blog in time for your tomato harvest. But while we wait for the tomatoes in our gardens to ripen, we can enjoy the goat cheese rolls.)
As always, I learn something when cooking with a friend.  In this case it was about phyllo dough. (Phyllo or Filo?  And how one pronounces it depends on which it is!)  I have worked with phyllo dough before, carefully spreading melted butter between each layer, and it can sometimes be a bit difficult to handle.  Billy told me that he doesn't spread butter between each layer unless he is making something like Baklava which calls for a deeply buttery pastry.  For this dish he layers three sheets of Filo then butters the top one and, before adding another layer, he sprinkles fresh thyme leaves over the butter.  When he places the next layer the thyme leaves can be seen through the translucent sheet.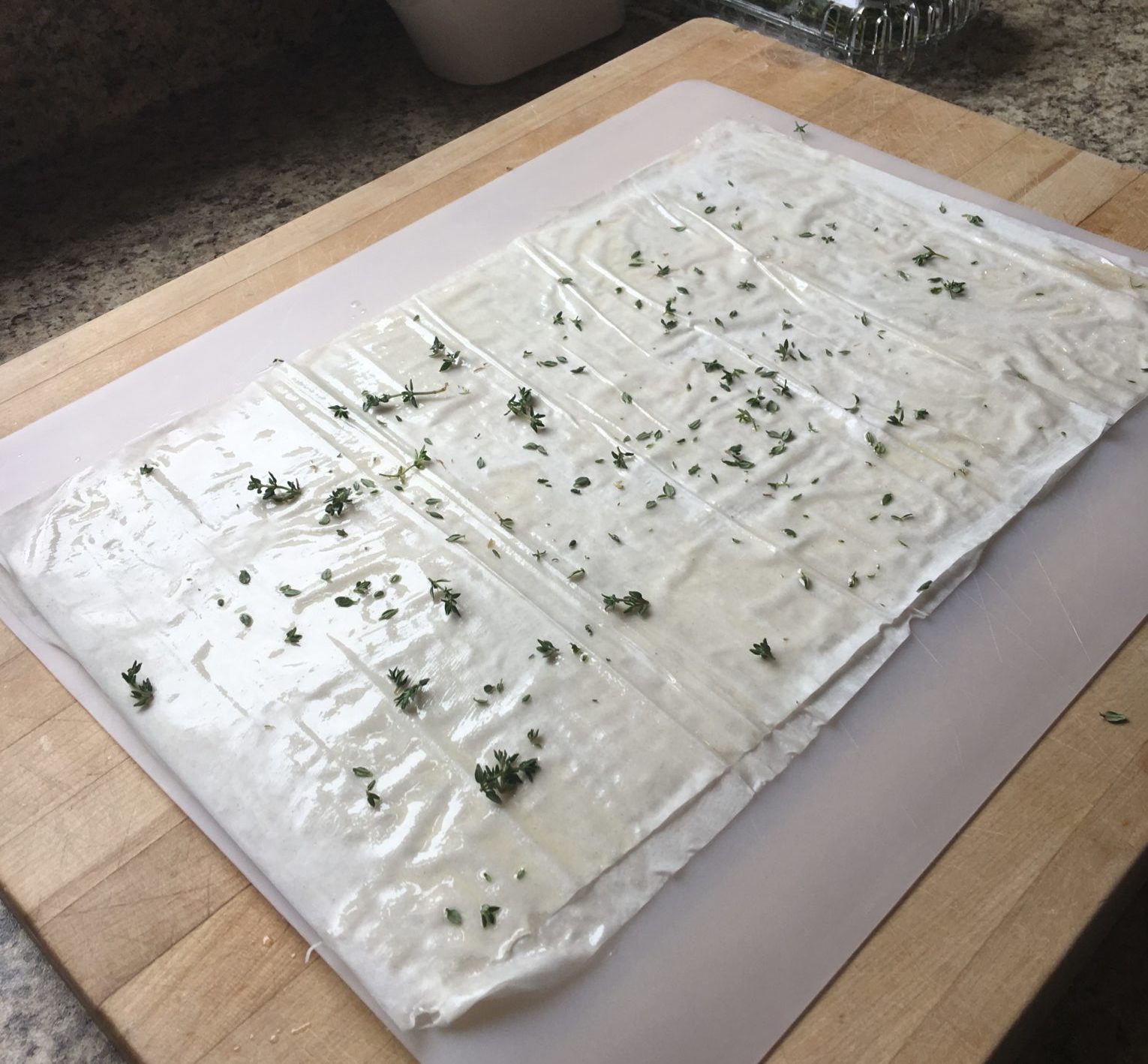 Brush this sheet with butter and then cut the filo rectangle into four pieces.  Crumble some goat cheese on one end of each square then roll it up,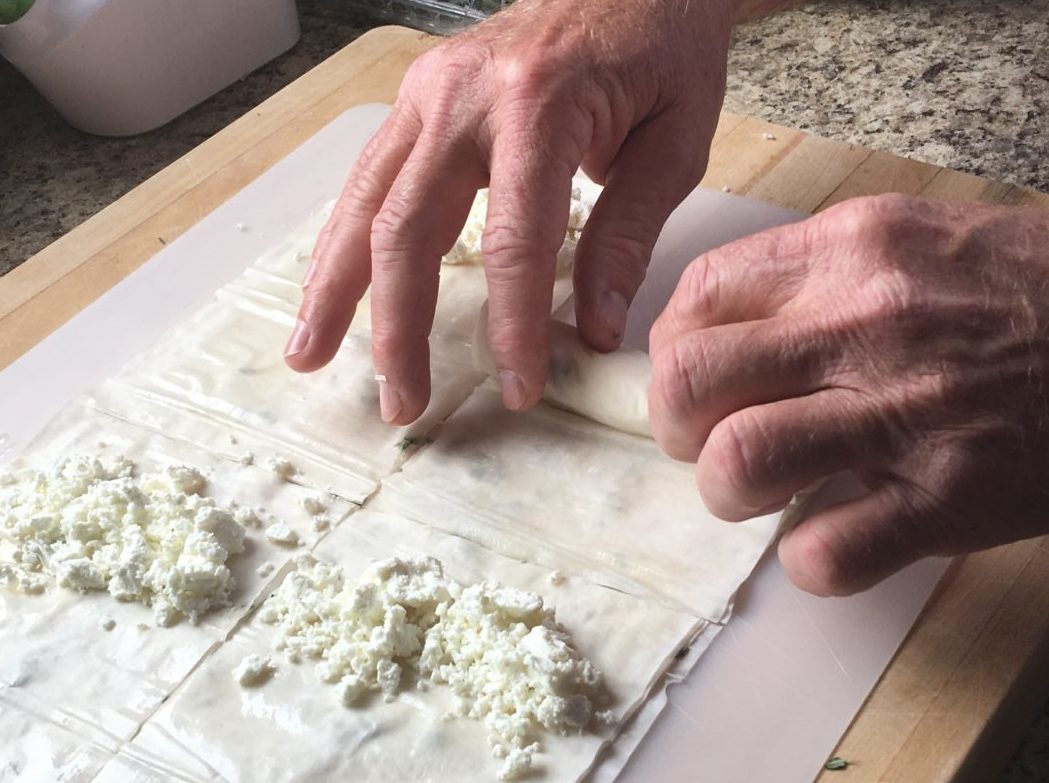 tucking in the ends and sealing the join with a little butter.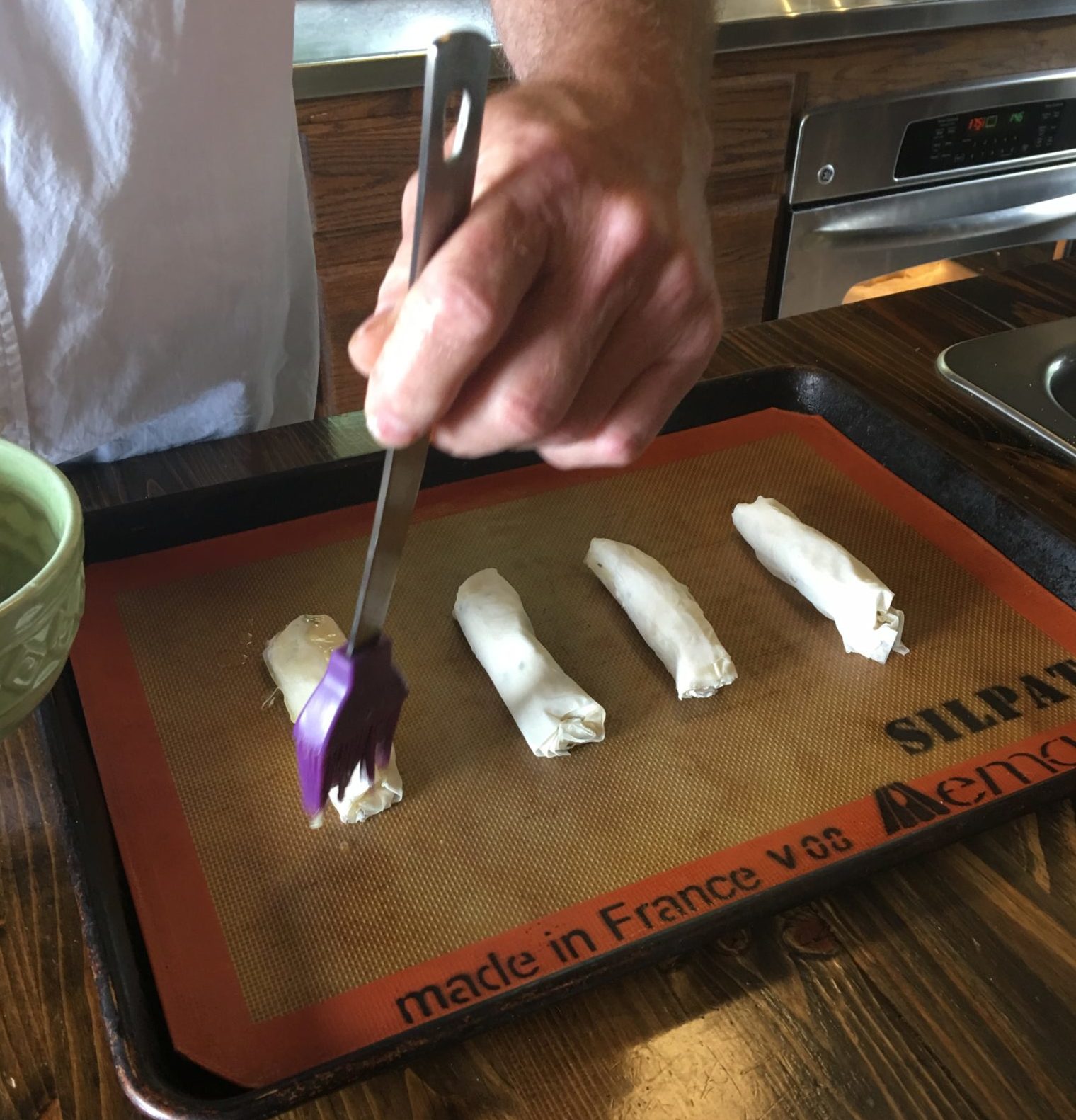 Put it on a parchment lined sheet (or Silpat) and bake for about 20 minutes until the pastry is brown and crispy.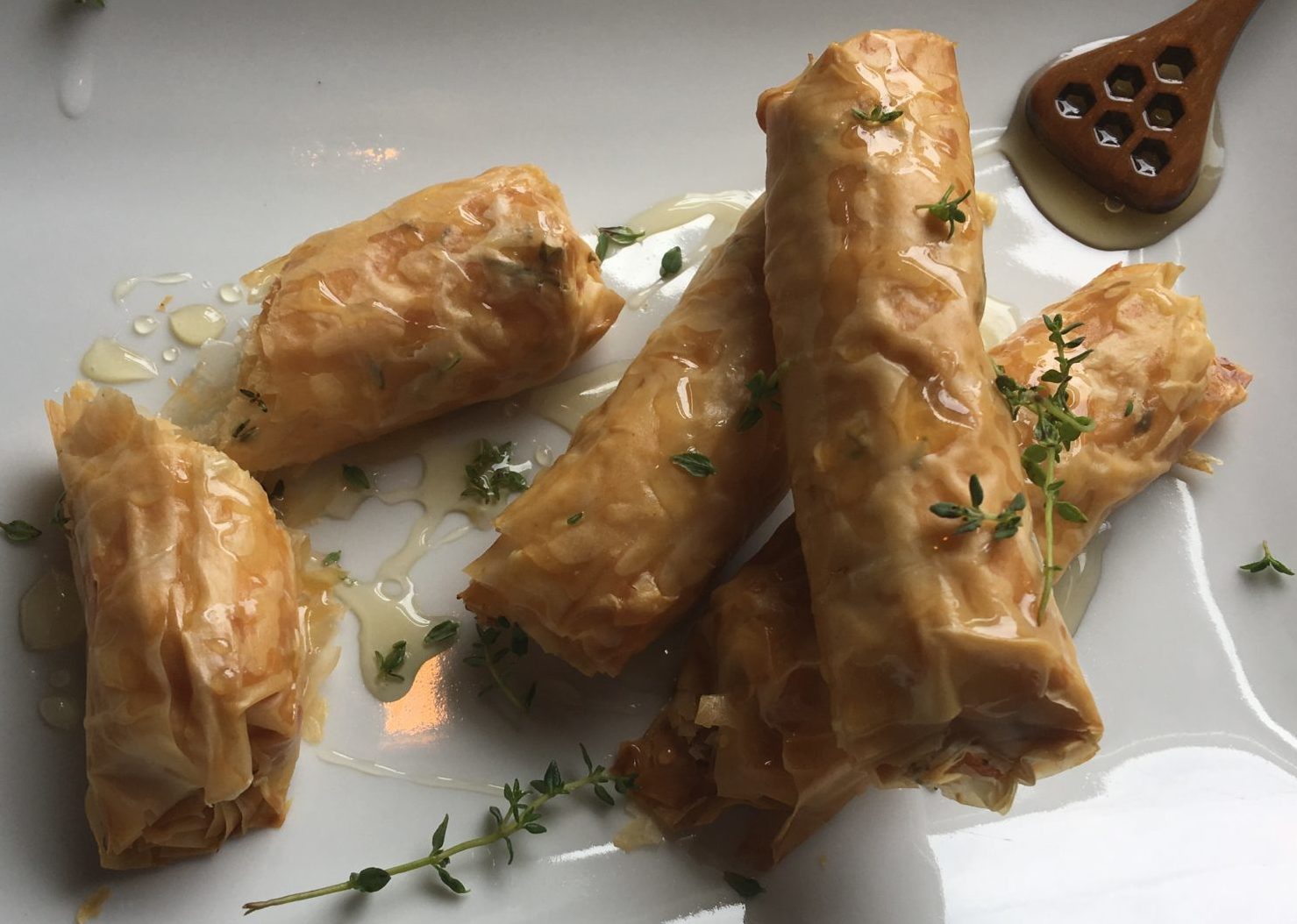 Drizzle with a little honey and serve as is for an appetizer.
I liked it so much that I couldn't wait to get home and use the rolls as a crunchy, hot, melted cheese topping on a green salad with roasted beets.
About The Reynolds Mansion
100 Reynolds Heights
Asheville, NC 28804
828-258-1111
The Reynolds Mansion is a top rated Asheville bed and breakfast that is also an iconic North Carolina landmark. Featuring 8 rooms in the Main House and 3  Carriage house Suites.  Extensive grounds and gardens.  Swimming pool. Step out of your vehicle and into a place with historical beauty so dramatic, it quiets the mind and stirs the heart.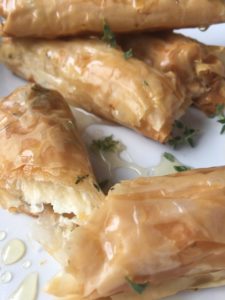 Baked Goats Cheese Rolls with Honey and Thyme
Ingredients
1- 2

rectangular filo sheets depending on the size of your sheets

Leaves

from 8 sprigs of fresh thyme

4

tbsp

butter melted

5

oz.

soft goat's cheese

4

tsp

honey
Instructions
Cut the filo sheet in half lengthways, and in half crossways to make 4 rectangles measuring approximately 15x20 cm (6"x8").

Brush the rectangles generously with butter, ensuring that about 1 tbsp. is saved to brush the tops.

Sprinkle some thyme leaves along the long length of each pastry rectangle and cover with another sheet to encase it. Crumble some goat's cheese in a line along the opposite short side of the pastry. Starting at the goat cheese end, roll the pastry once over the goat cheese and carry on rolling all way to the thyme, sealing the join.

Repeat the process to make 4 rolls.

Place on a baking tray lined with baking paper and brush once more with the remaining butter.

Bake in a pre-heated oven at 375°F for 15-20 minutes or until golden and crisp.

Serve immediately with a drizzle of honey on top.