Zesty Key Limes are the base for this melting bite of cookie with crackle crust.
Thanksgiving has come and gone and we can move from pies to cookies.
The Christmas cookie is a tradition beloved by bakers and eaters alike. It is a tradition of long standing.  Cookies came into being as a part of the Winter Solstice Celebrations when people would gather to celebrate the changing seasons.  As Christianity flourished, the cookie became one of the traditional foods served at Christmas feasts.  Queen Elizabeth I is credited with inventing the Gingerbread man when she had gingerbread cookies made in the shape of her favorite courtiers.
With so many varieties, shapes and flavors to choose from, cookies make a wonderful gift, easily transported and shared during the holidays.
My family, like so many families, has its favorites but my favorite is trying new recipes and seeing which ones should be added to the collection.  Over the next few weeks I will be trying some new recipes and sharing them with you.
I am starting with Key Lime Krackles, the inspiration for which came from the Food Network Holiday Cookie Cookbook
What is a Krackle (or Crackle) Cookie?  It is a cookie that cracks when you bake it.  A coating of sugar on the outside of the cookie creates a crust which cracks and separates as the cookie expands when it cooks.
Lemon, limes and oranges along with the other citrus fruits are winter fruits, once rare and therefore special, which are often paired with the warm (and once exotic) spices and flavors of Christmas.  Key Limes are small limes, originally from Mexico,  which have a stronger flavor than the larger limes more commonly found in our markets.You can use regular limes for this recipe but will get a bigger punch of lime flavor with the admittedly extra work of zesting and juicing Key Limes.
I start with butter, creamed until light and fluffy.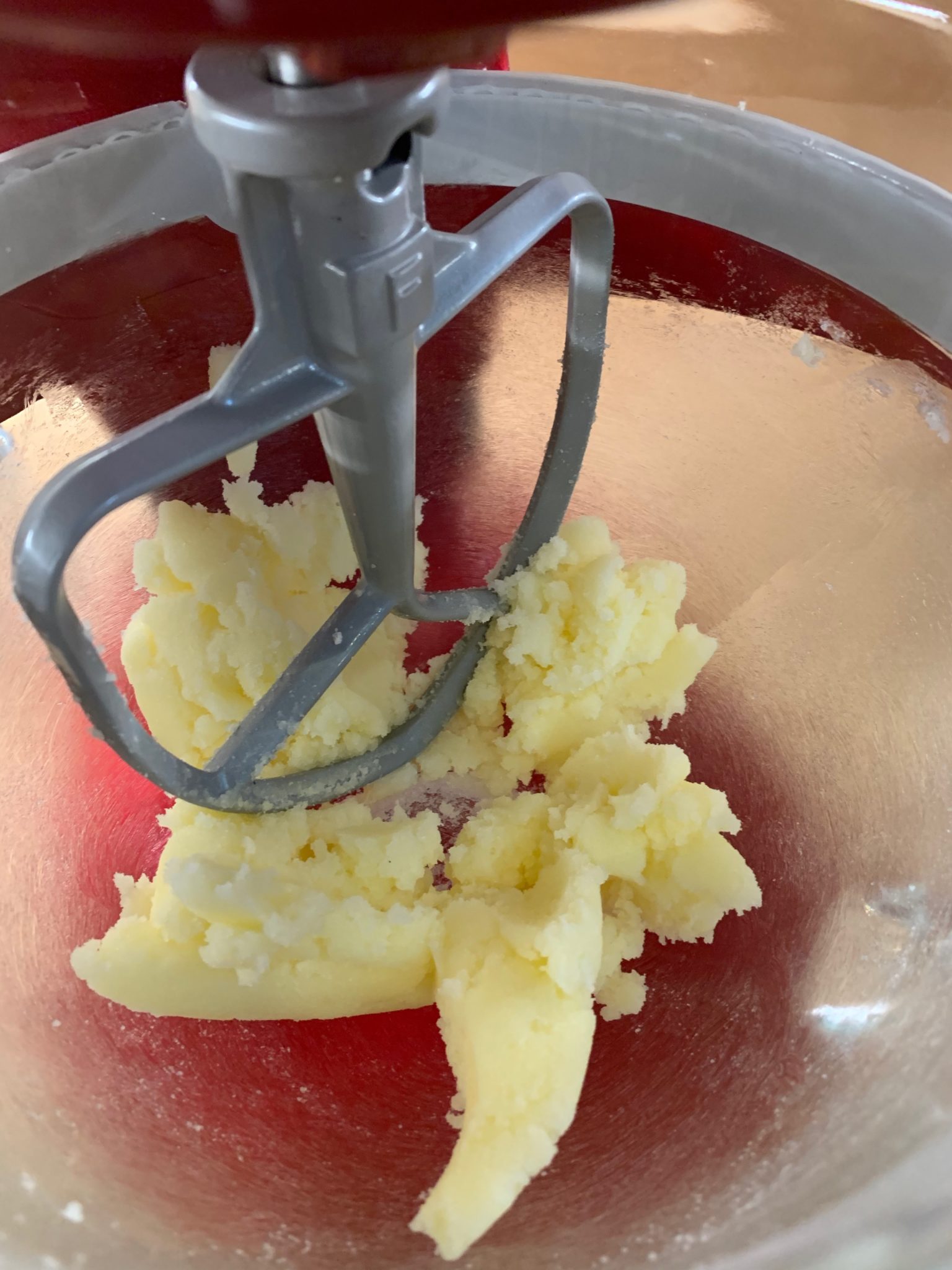 Add eggs, one at a time, followed by Key Lime zest and juice and, yes, green food coloring!
In goes the flour and then we let it cool in the refrigerator.
When it is time, make small balls of batter and roll those puppies in a blend of confectioner's sugar and green decorating sugar.
They puff up when they cook and then settle down when they cool.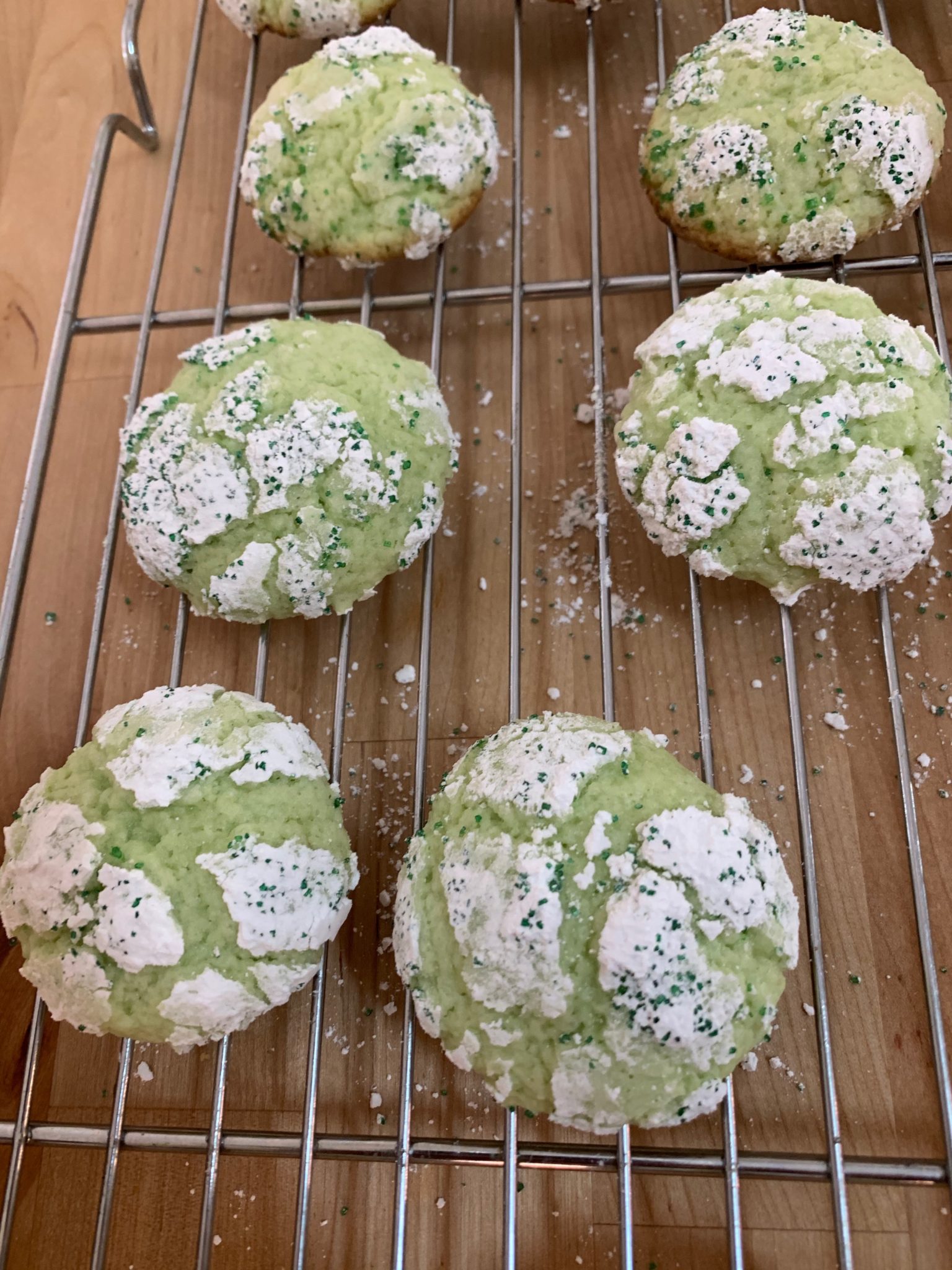 At the end you have a lovely little bite of lime sweetness to share and savor!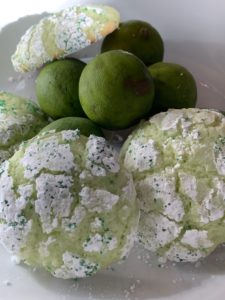 KEY LIME KRACKLES
Ingredients
½

c

butter

softened

1 ¼

c

sugar

2

eggs

12-15

Key Limes

4

drops green food coloring

2 ½

c

flour

1

tsp

baking powder

½

tsp

salt

½

c

confectioner's sugar

2

tablespoons

green decorating sugar
Instructions
Zest 3-4 of the Key Limes to get 1 tsp zest. Squeeze them and the remaining limes to get 3 tablespoons of lime juice.

Beat together the butter and sugar until light and fluffy.

Add the eggs, one at a time, beating well after each one.

Beat in the lime zest and juice, followed by the food coloring.

Sift together the flour, baking powder and salt. Add the flour mixture to the batter and mix until combined.

Refrigerate the batter for an hour.

Preheat the oven to 350 degrees and line baking sheets with parchment paper.

Sift the confectioner's sugar into a small bowl and stir in the green decorating sugar.

Roll the dough, 1 tablespoon at a time, into a ball.

Roll each ball in the sugar mixture, covering it well with sugar.

Bake on prepared sheets, for 16-18 minutes, watching that the bottoms don't burn.

Cool on racks.

Store the cookies in an airtight tin for up to five days. Cookie can also be frozen for up to a month.