Yesterday I decided it was time to inaugurate my new oven.  Which of course meant that once I was ready to get baking I discovered I had to wash all the parts and run it for two hours at a high temperature to burn off the factory oils.  But once that was done I was ready to go.
It's pumpkin season, have you noticed?  Pumpkin pie, pumpkin cookies, pumpkin coffee, pumpkin candy, and more, fill the stores and shops and pages of magazines.  But is it pumpkin flavor? No.  It's pumpkin spice. That's because, to my mind, pumpkin doesn't actually taste like much so we add lots of flavoring to give it a punch.
There is a squash which is similar to pumpkin which has more flavor: Butternut Squash.   It tastes like pumpkin but sweeter and without the stringy bits, and it tastes like sweet potatoes but not as sweet with a slightly nutty overtone.  Seems like a better alternative to pumpkin in my mind!
Just like pumpkin we need to cook it first.  You could boil it but I like the added flavor of roasting it.  And in the interest of ease, I am not at all against using ready-peeled and chopped squash from the market.
Tossed the squash in a little olive oil and brown sugar and spread it out on a foil lined baking sheet.  It will take about 30-40 minutes in the oven.  Cook it until it is soft and easily pierced by a fork.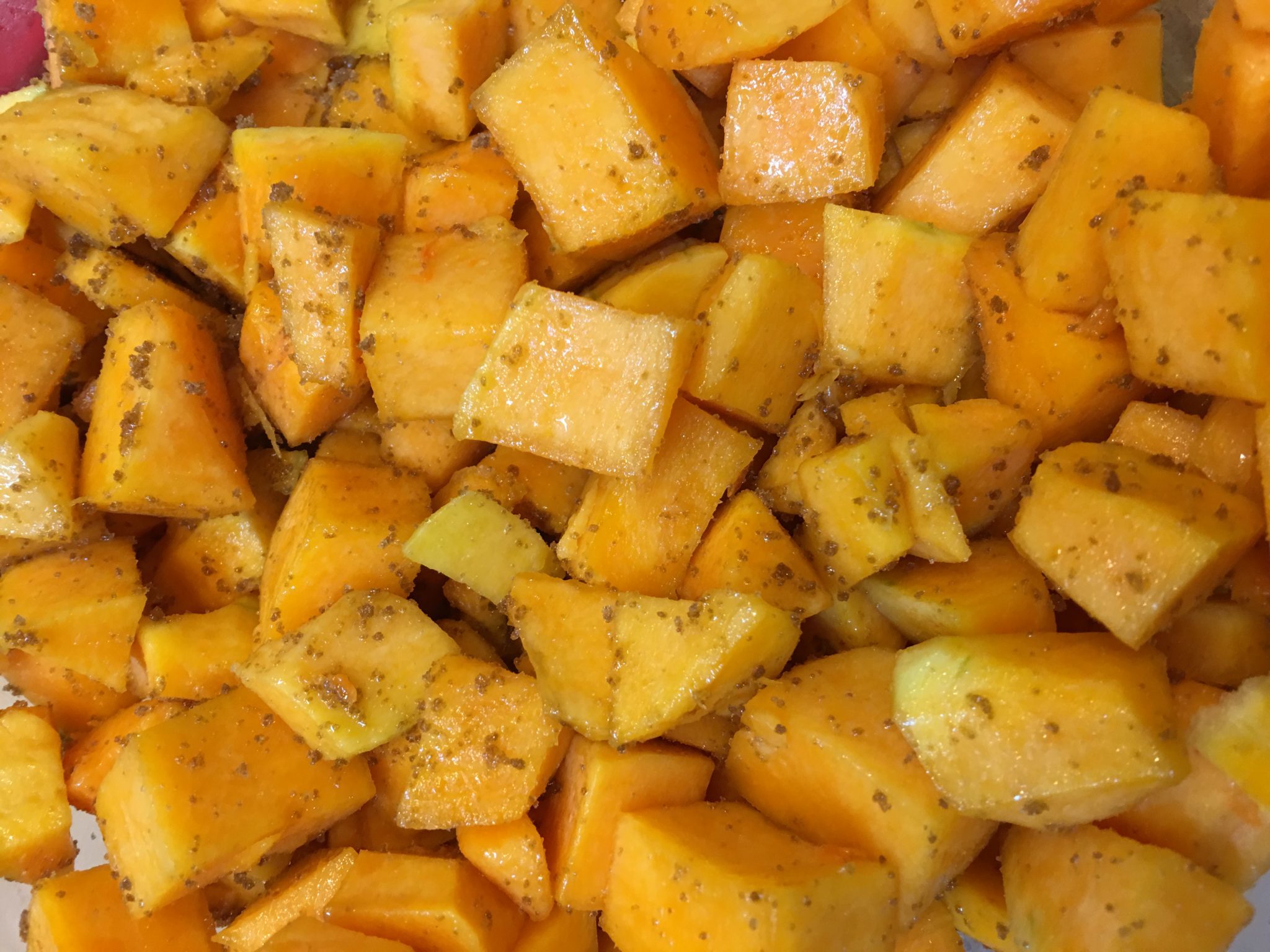 Let it cool and then puree it in a blender or food processor.  (If you are a real purist you can force it through a sieve)
Oven is ready. Squash is ready.  Let's go!
Mix the dry ingredients together. All those wonderful winter spices: cinnamon, nutmeg, ginger and cloves. Breath in and smile.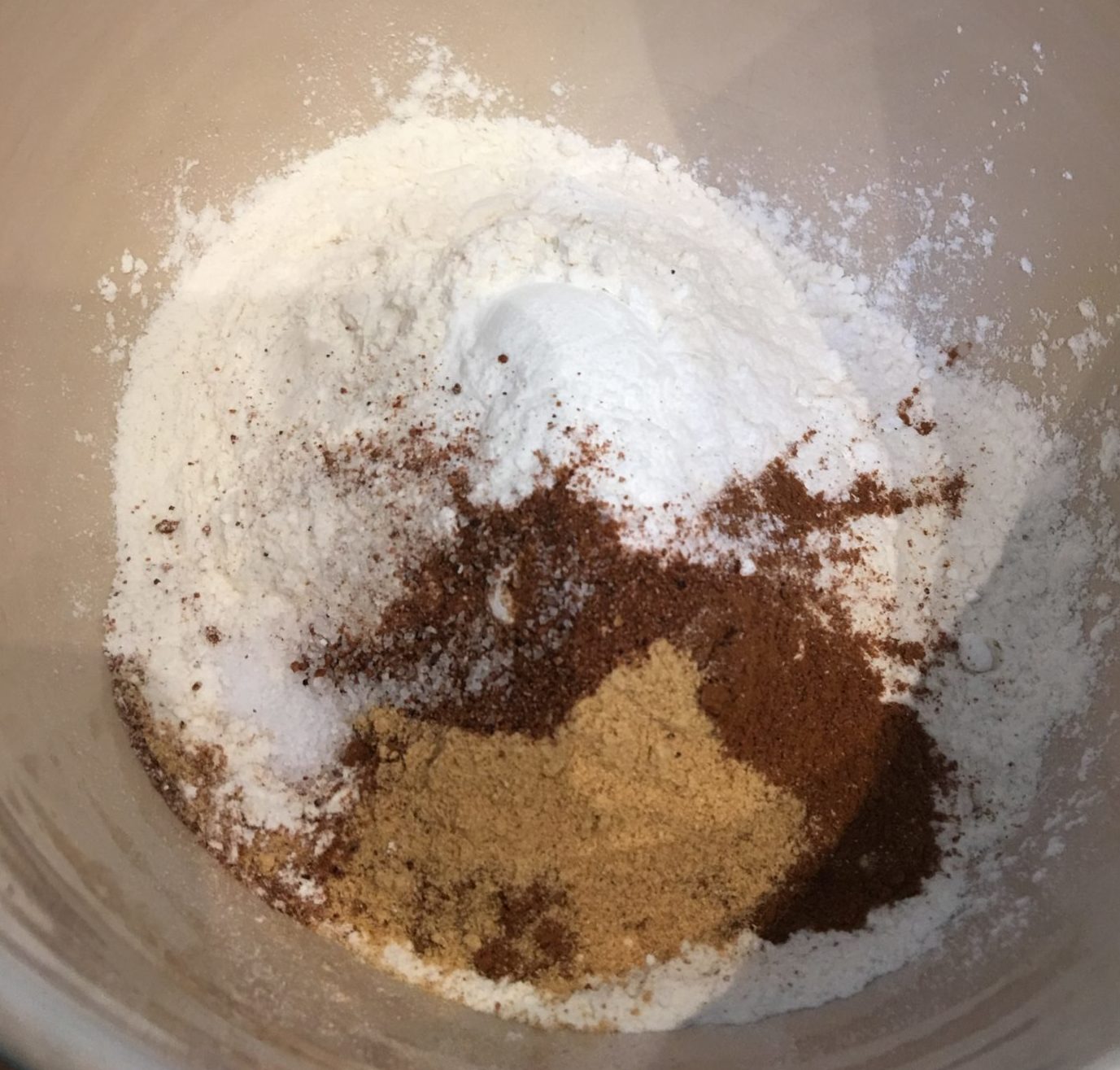 Cream the butter and sugar and add the eggs. (If you are interested in the science behind why we beat the butter and sugar together and how long to do so, here is a great explanation from Stella Parks at Serious Eats. )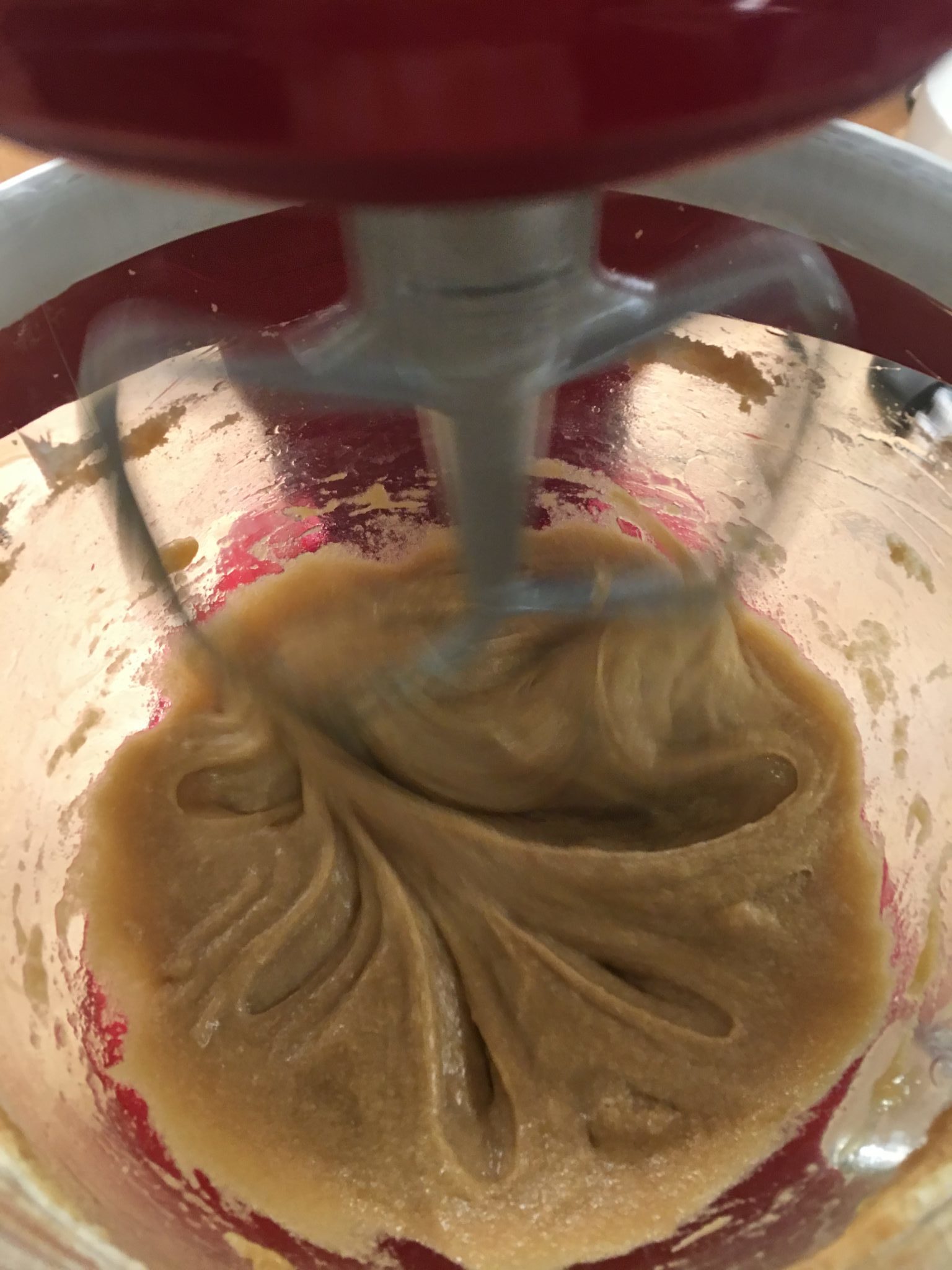 Mix in the squash and then add the dry ingredients.  You don't want to overmix this so stop before the dry ingredients are fully incorporated and add the dried fruits.  The flour mixture will be fully mixed in as you stir in the fruit.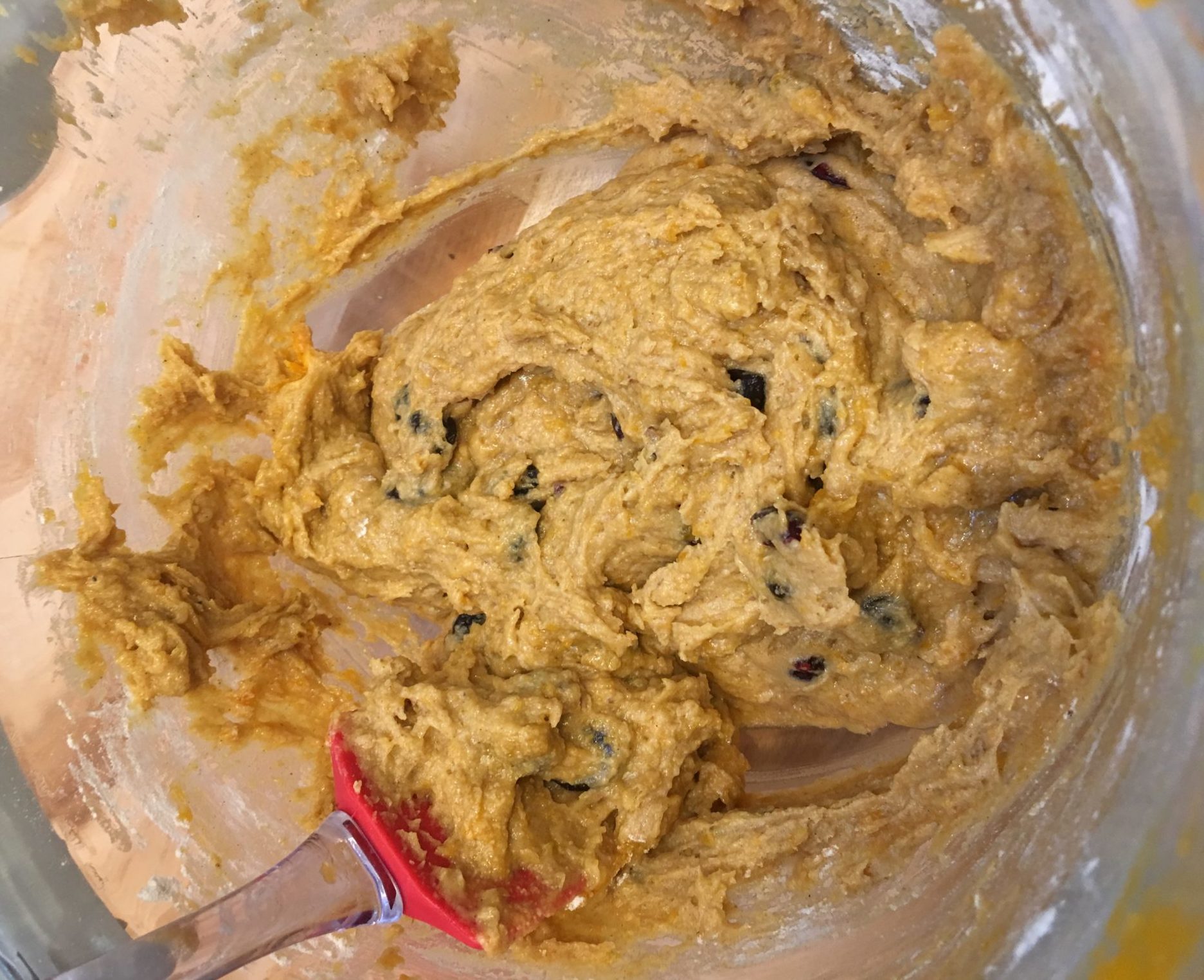 I chose a mixture of cranberries and dried cherries.  You could use raisins or just cranberries, pretty much whatever you like.
After the batter is scooped into the muffin tins, I sprinkle them liberally with Demerara sugar.  If you have never used Demerara sugar it's worth giving it a try.  It's a large grained sugar with a slight toffee flavor. It adds a nice crunch and bite to quick breads and muffins (and cookies!).
Bake it and that's it:  muffins for breakfast, yum!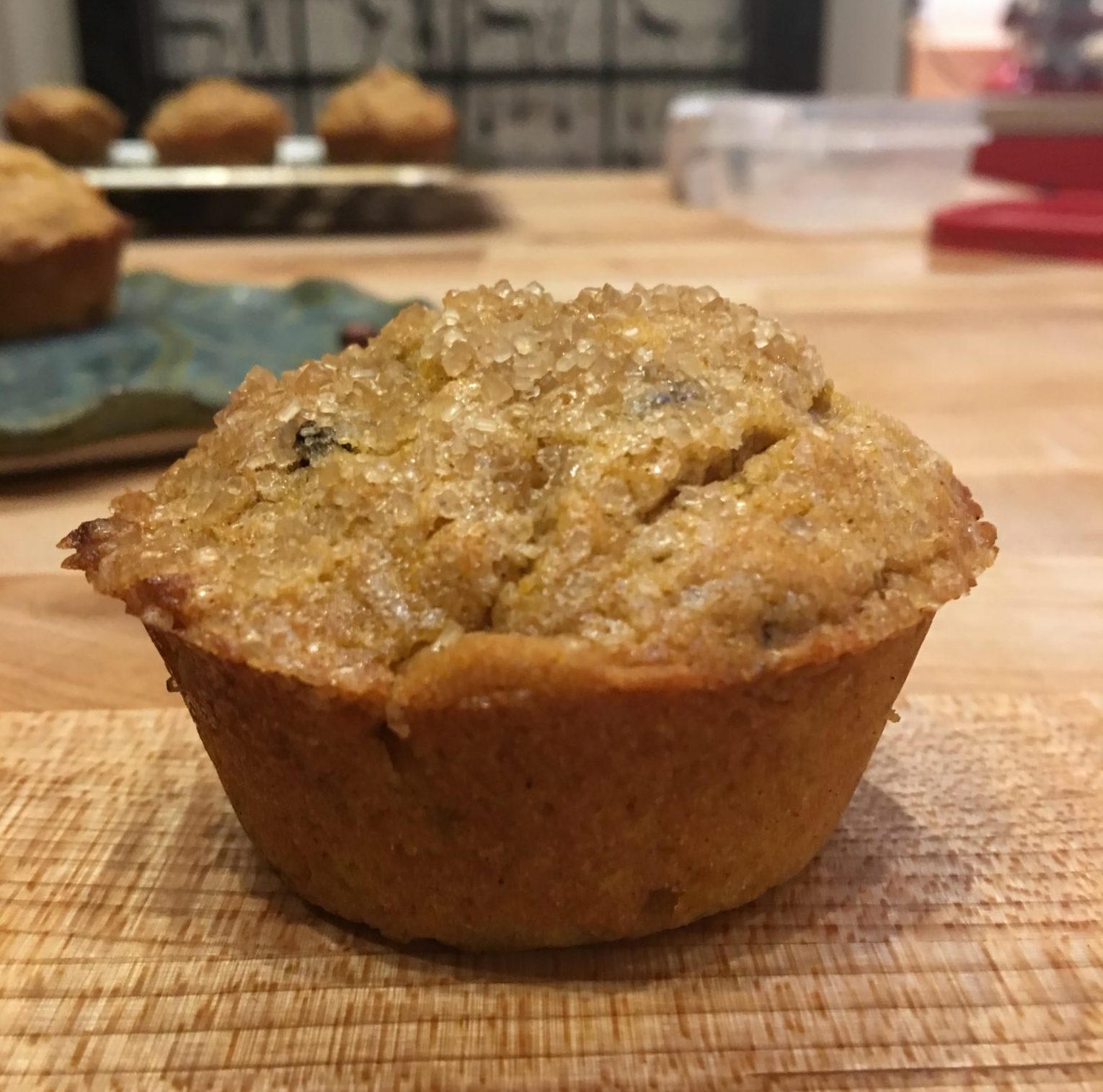 (Before we get to the recipe, here's a reminder.  Starting Sunday November 4 I'll be doing a series of posts on pies for Thanksgiving.  How to and why to!  Sign up for my blog at the top of this page so you don't miss a post!)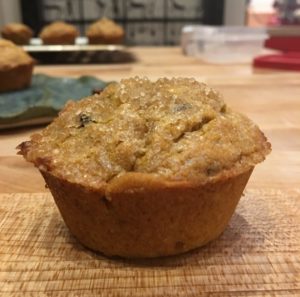 CRANBERRY CHERRY BUTTERNUT SQUASH MUFFINS
Ingredients
For the Squash Puree
1 ½

lb

butternut squash

peeled and diced

1 ½

tbs

olive oil

2

tbs

brown sugar

Salt
For the Muffins
1 ¾

cups

flour

2

tsp

baking powder

1

tsp

cinnamon

½

tsp

ginger

¼

tsp

nutmeg

½

tsp

salt

6

tbs

butter

softened

1 1/3

cup

brown sugar

2

eggs

1 1/3

cup

butternut squash puree

1

tsp

vanilla

½

cup

dried cranberries

½

cup

dried cherries

2

tbs

demerara sugar
Instructions
Cook the Squash
Preheat oven to 375 degrees

Line a large cookie tray or roasting pan with foil.

Toss the squash in olive oil and brown sugar.

Spread out in a single layer in the prepared pan and sprinkle with a little salt.

Roast 30-40 minutes until squash is soft and easily pierced with a fork.

Let cool and then puree in a blender or food processor.
For the Muffins
Preheat oven to 350 degrees.

Grease or line a 12-muffin tin.

Put the flour, spices, salt and baking powder in a bowl and stir them together with a whisk or fork.

Cream together the butter and sugar on medium speed in a mixer until the mixture is soft and fluffy. It will lighten in color and become smooth. (about 2-3 minutes).

Beat in the eggs, one at a time.

Add the pumpkin and vanilla and beat until well combined.

On low speed add the flour and spice mixture.

When the flour is almost combined add the dried fruits. Mix until just incorporated. Be carefully not to overmix this.

Fill the muffin tins equally, about ¾ full.

Sprinkle the muffins liberally with demerara sugar.

Bake 18-20 minutes until the tops bounce back when touched and a toothpick inserted into the center comes out clean (or barely crumbed).

Let muffins cool ten minutes and then turn out to dry on a rack.
Recipe Notes
Squash can be prepared ahead and refrigerated or frozen until needed.