It's hard to believe that I am sitting at my desk in the library of my new home!  In front of me is a huge window which looks out on the front of my house.  It's 4PM and the sun is pouring in the other window to my left while Peat, my cat, sleeps on the sofa behind me.
It is almost a year ago exactly that I started working on the design and layout of the renovation, nine months since we started the demolition and one week since I met the movers at my front door. Three days ago this room was piled high with boxes.  My daughter, Abby, and I spent most of Saturday opening, shifting, sorting and unpacking while Joe, her fiancé, hung pictures all around the house.  This is the first room to be completely unpacked and ready.  Of course, because I was doing that I wasn't cooking!
But never mind, I saw this coming.
Last weekend I was in Washington, DC to help celebrate a baby shower for my niece.  Her mother, my sister-in-law, Peggy is one of my favorite people ever and she shared with me this recipe for Buffalo Chicken Mac and Cheese. And now, I would like to share it with you!
Peggy originally found the recipe in an early Food Network magazine.  The dish uses the elements of Buffalo Style Chicken wings (hot sauce, blue cheese and chicken) to create a pasta dish that is good for a large group or family anytime!
Mac and cheese generally breaks down into three (or four) elements.
The pasta is pretty straight forward.  Just cook it the way the package says.  Peggy likes to use Orecchiette pasta instead of the traditional elbow macaroni.  I like to use bowtie pasta for my mac and cheese.  Feel free to use whatever makes you happy!
The recipe calls for rotisserie chicken.  You can use one or two chickens, depending on how much chicken you want in the dish.  It's really kind of optional.
For the hot sauce, she uses Franks, although this is your choice.
Cook the onions and garlic,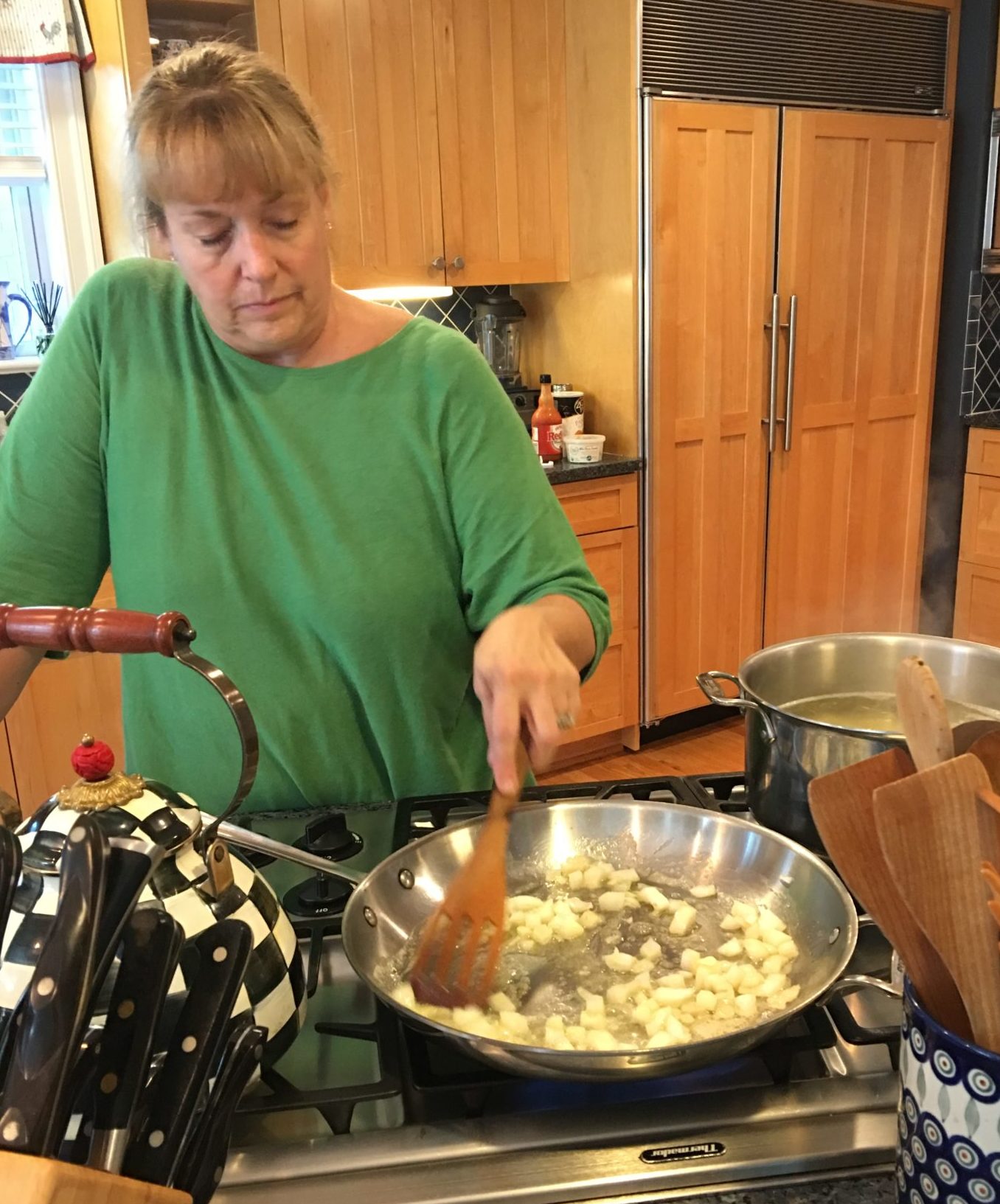 add the chicken and some of the hot sauce and let it all cook together.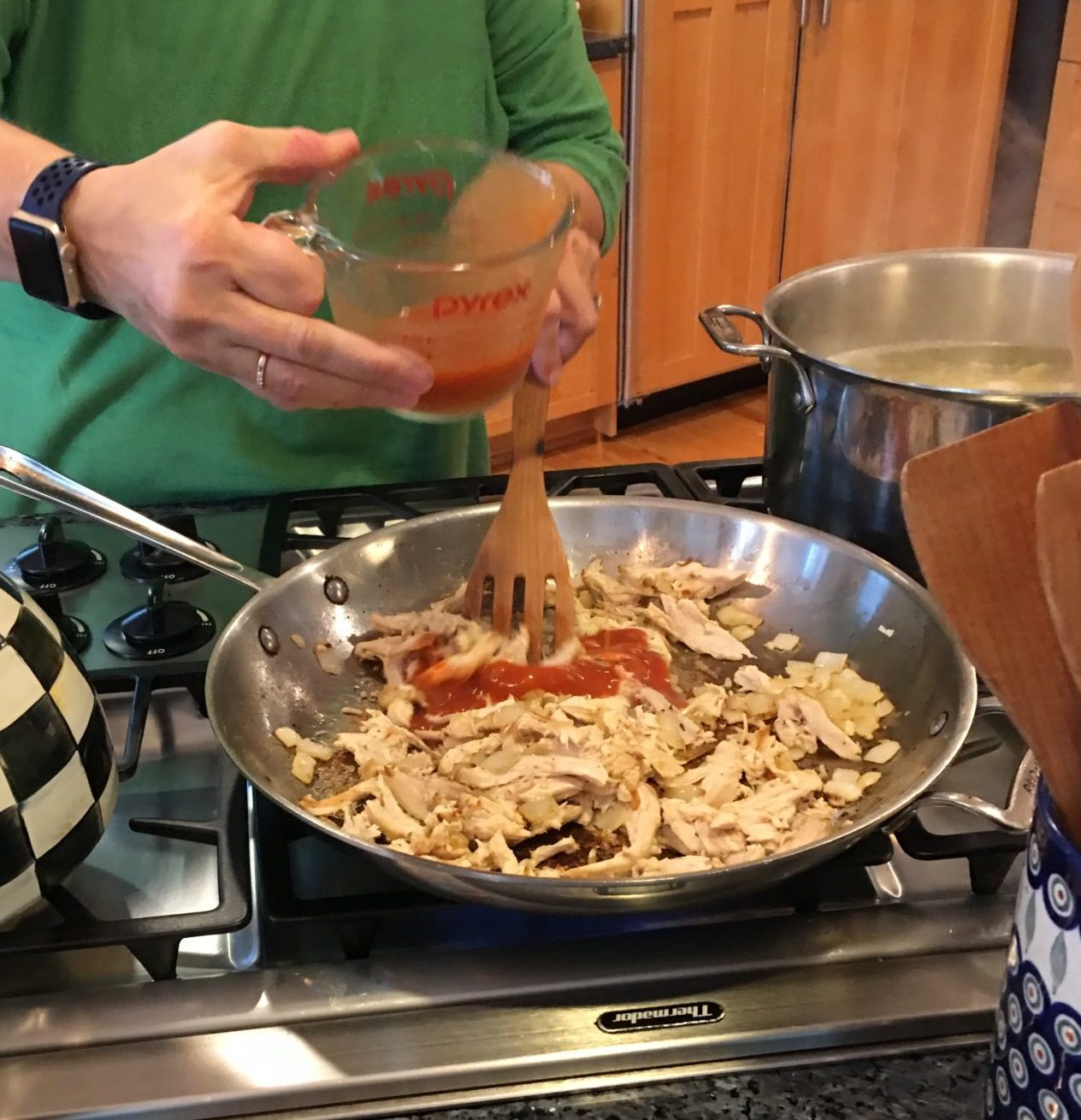 The hardest part of the whole thing is the cheese sauce.  It starts with a béchamel sauce.  Flour, butter and the dry mustard are cooked together in a sauce pan until they form a smooth paste.  Slowly add your cream, whisking the whole time and then the hot sauce.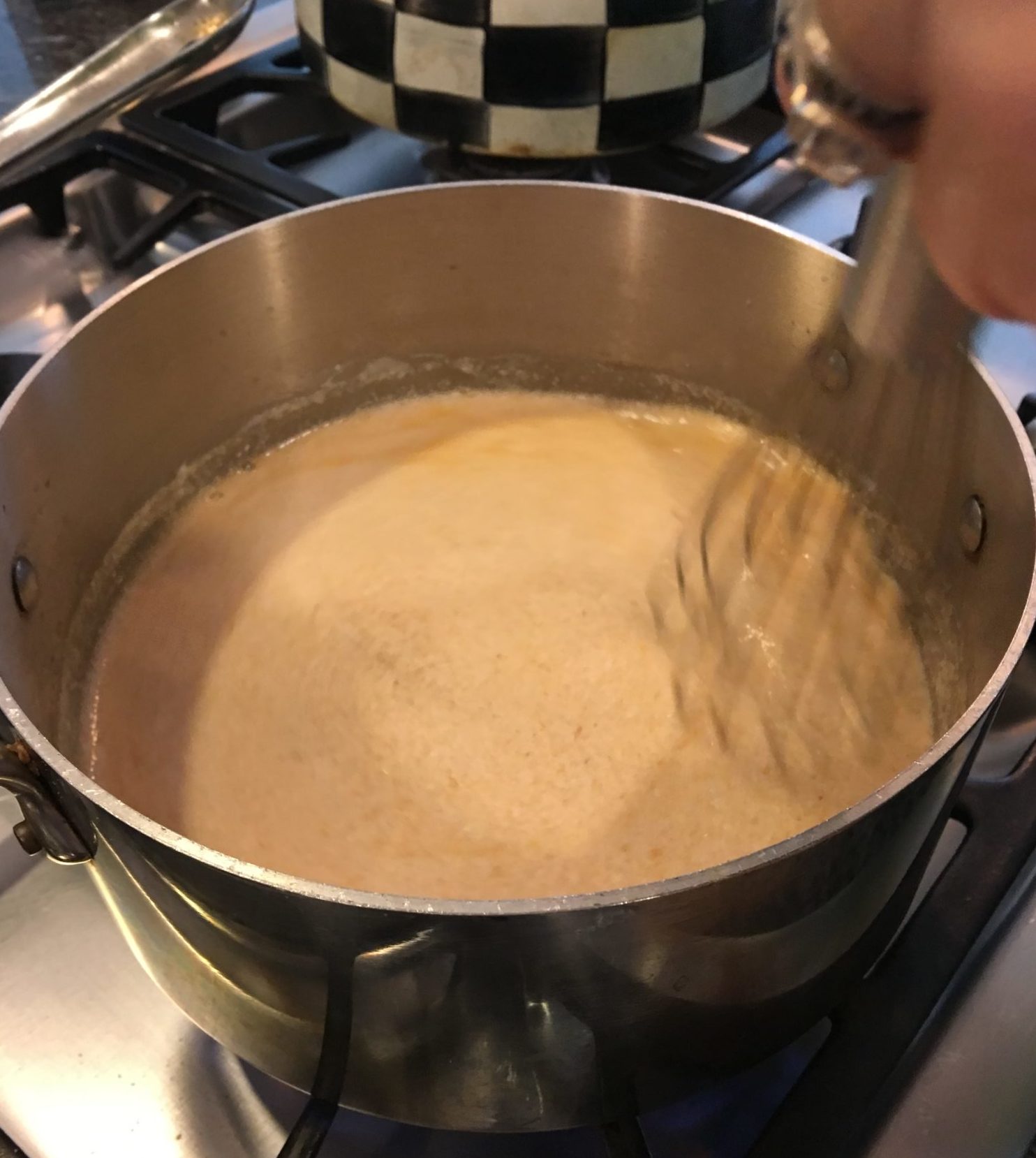 The cheese goes in next, by handfuls, letting each one melt before adding the next.  Whisk until the sauce is smooth.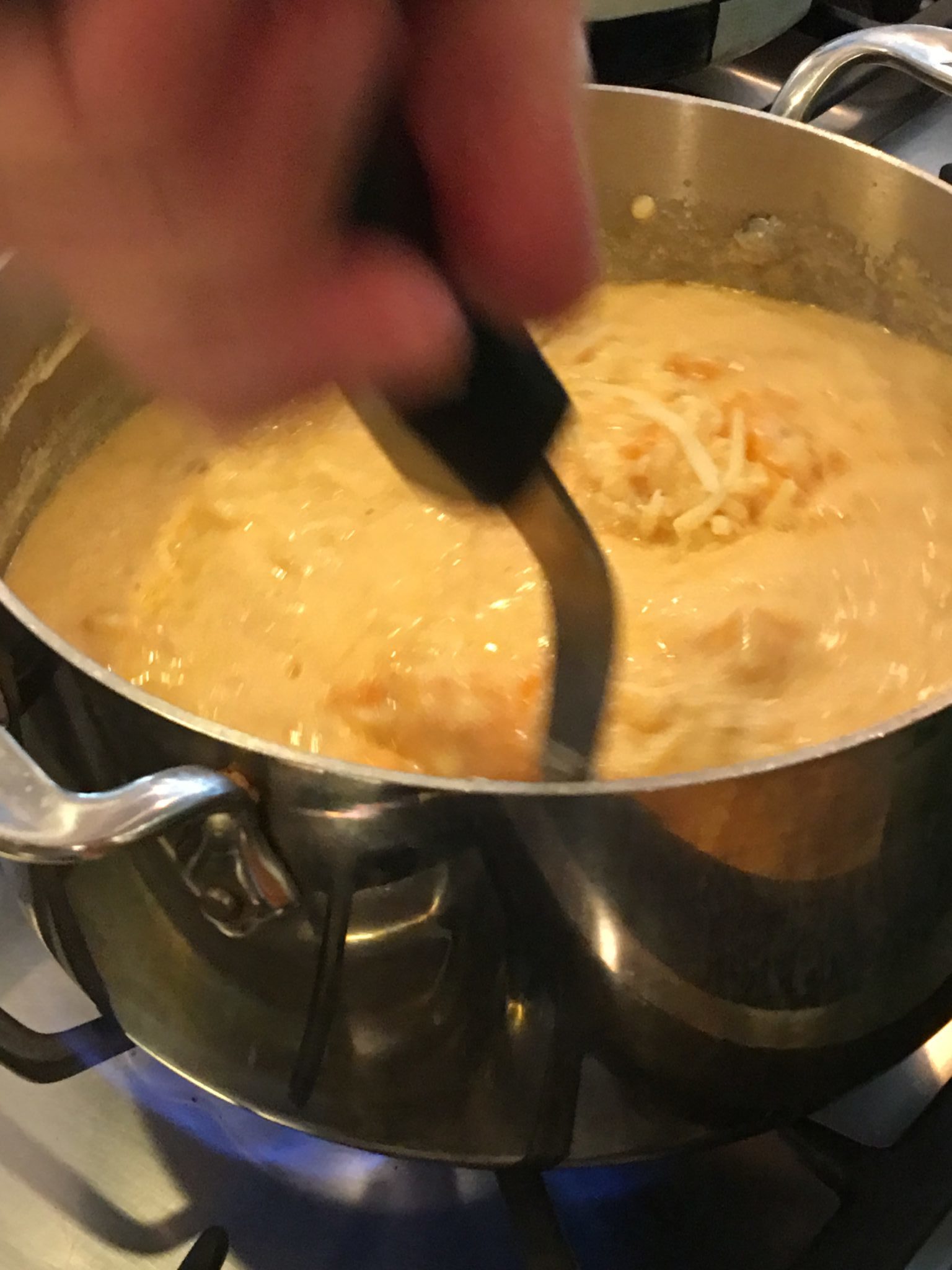 Toss the pasta, and chicken  together and spread it in a greased baking dish.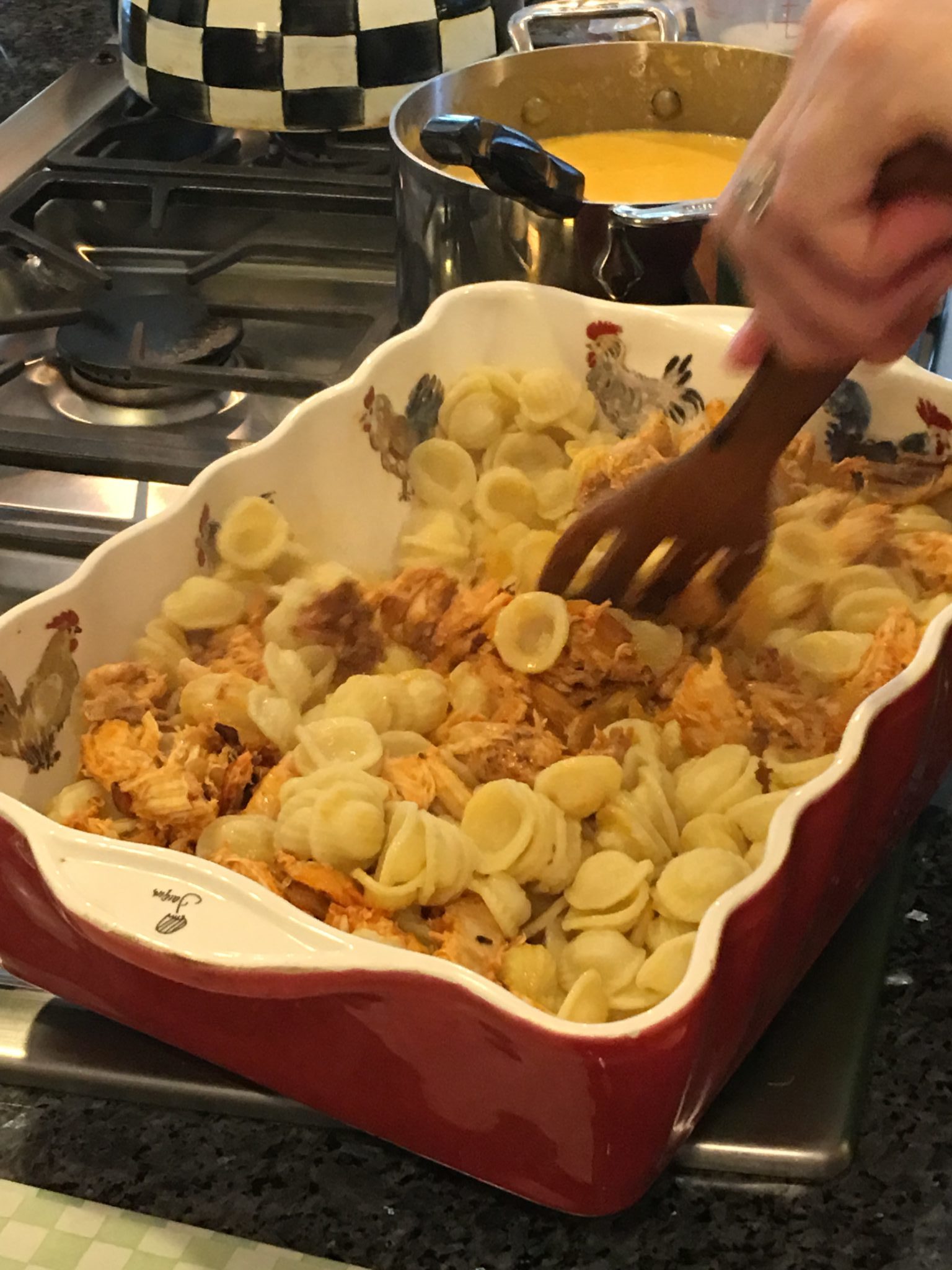 Pour the sauce evenly over all of it.
Finally, make a topping with panko bread crumbs, blue cheese and parsley. Spread it all over the top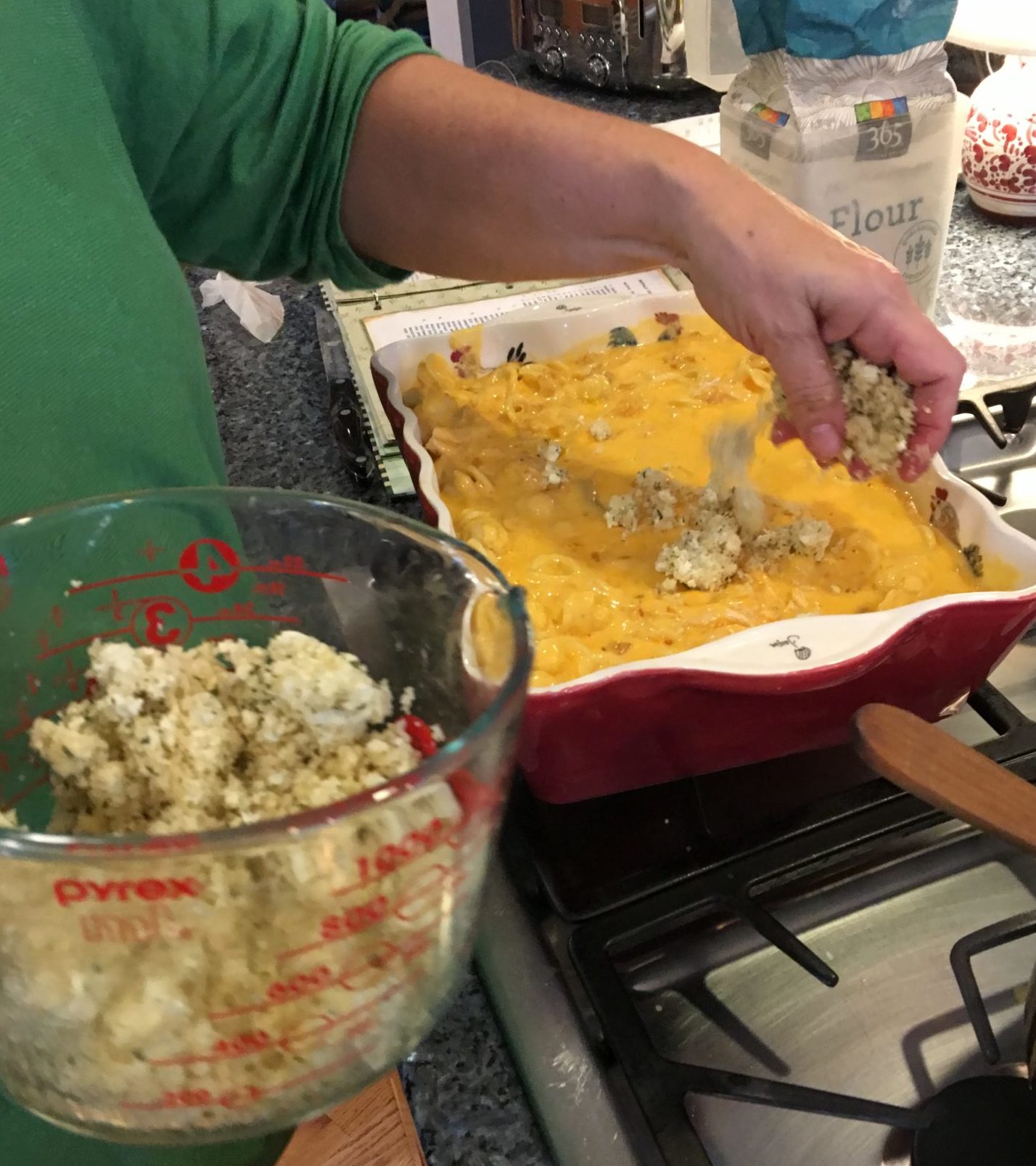 and cook the dish until it is brown and bubbly!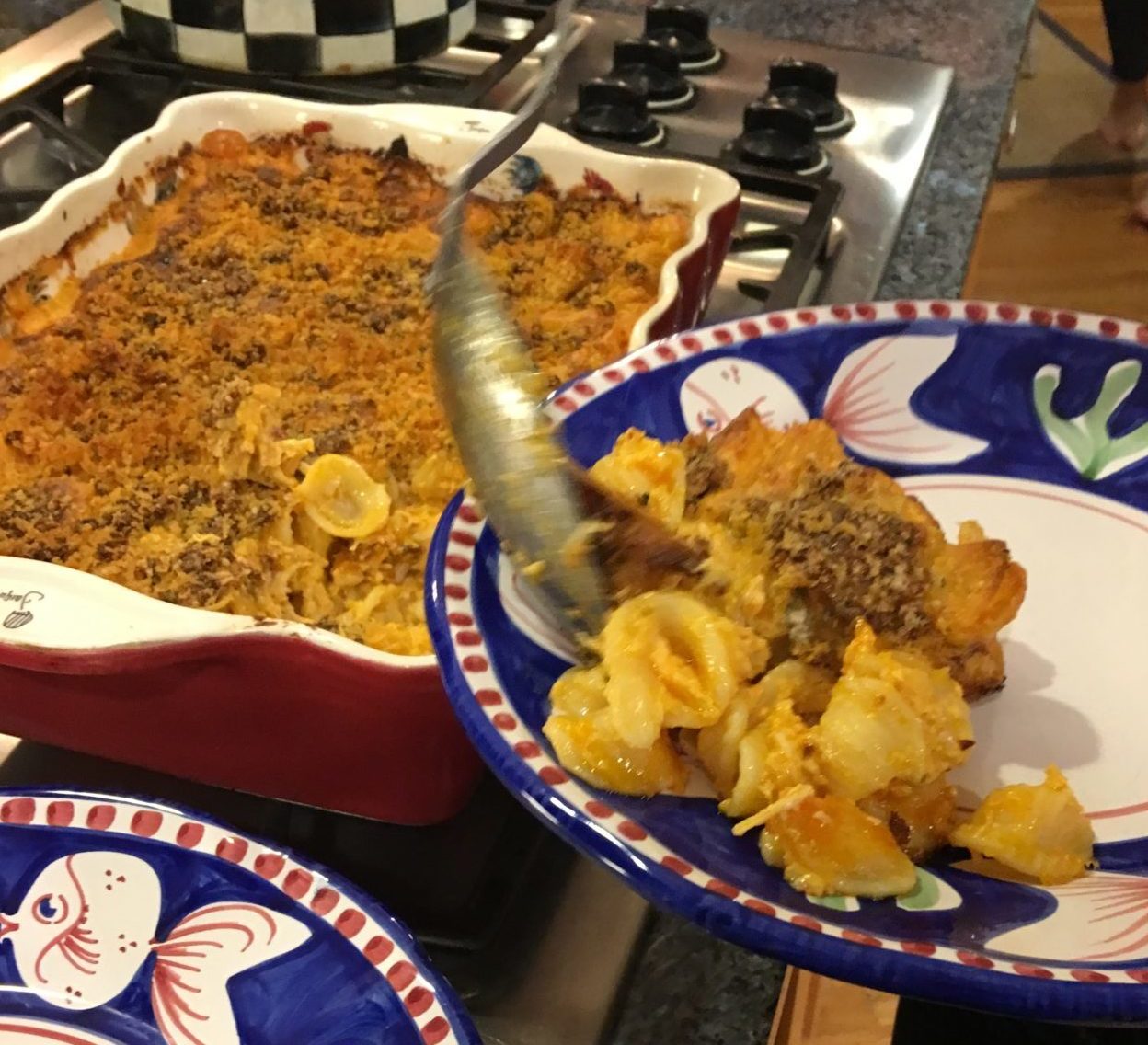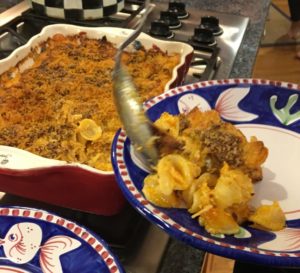 PEGGY'S BUFFALO CHICKEN MAC AND CHEESE
Ingredients
7

tbsp

butter

1

lb

pasta

Small onion

finely chopped

1-2

rotisserie chickens

shredded

6

cloves

garlic

minced

¾

cup

hot sauce

2

tbsp

flour

2

tsp

dry mustard powder

2 ½

cups

half and half

1

lb

sharp cheddar cheese

grated

½

lab Pepper Jack cheese

grated

1

cup

Panko Bread Crumbs

½

cub blue cheese

crumbled

2

tbsp

parsley

chopped
Instructions
Preheat oven to 350 degrees and butter a large baking dish.

Cook the pasta according to the package directions, drain and reserve.

Melt 3 tbsp butter in a large skillet over medium heat, add the onion and garlic and sauté until soft and translucent. Stir in the chicken and hot sauce and cook two-three minutes until it is warmed through and well mixed.

In a saucepan, melt 2 tbsp butter over medium heat. Add the flour and mustard and stir until it forms a smooth paste. Slowly whisk in the half and half and remaining ¼ cup of hot sauce and continue to stir constantly until the mixture is thick. (2-5 minutes). Stir in the cheeses by handfuls and continue to stir until the cheese has all melted and the sauce is smooth.

In your baking dish, mix together the pasta and chicken, then pour the cheese sauce evenly over the whole thing.

Melt 2 tbsp butter and stir it together with the panko, blue cheese and parsley.

Sprinkle the topping over the macaroni and cheese mixture.

Cook 30-40 minutes until hot and bubbly. Let it rest for 10 minutes or so before cutting into it.
Recipe Notes
Macaroni and cheese can be prepared a day or two in advance. Refrigerate until needed and adjust the cook time by adding an extra 30 minutes if cooking from cold. Cover it with foil for the first 30 minutes of cooking time.