Inspired by a walk through the markets of Paris in the Spring of 1984, these thin cookies snap when bitten revealing an interior filled with the flavors of almond, strawberry and toffee.
 Thanksgiving 2021 was very special at my house.  All three of my daughters were present, each with a lovely baby boy born this year.  And as if that weren't special enough, we were also joined by my middle daughter's British in-laws who were seeing them for the first time since 2019.  Gratitude was definitely on the table!
It was such a treat to be able to feed all of them and host them at my house, but it was also a lot of work.  My girls are usually all-stars in the kitchen, helping to plan menus, shopping, and cooking.  But this year they were fully occupied with the little ones, so I threw myself into the task of feeding and caring for the mothers and fathers.
Which lead me to a realization:  Christmas is going to be equally busy and crazy, so I need to focus on that this year. Which means something else may have to go.  In short,  I can't promise I will be sending you any recipes this month.
But before I go, here is a cookie recipe I created back in January while waiting the for birth of the first of the three boys.  I have named them French 84's.  The inspiration for the cookies came from my days in Paris walking through the markets and past the pastry shops with my first baby, Sarah, born in 1984.
Start with butter and sugar, and a little honey for flavor.  Beat them together for longer than you would ever think possible. I can't stress this enough.  You can't overbeat them!  They will get lighter and increase in volume until you ask yourself, "Why have I never done this before?"
Mix in the flours and leavening agents and then fold in the good stuff: toffee bits and dried fruit.  For an authentic Paris feeling, I love to use dried strawberries.  But those can be hard to find so dried cherries make a good alternative.
Put the batter in the fridge for at least hour.  The cookies will spread, chilling the dough limits it the amount.
Finally bake them.
I knew these were good cookies when the plate was cleared in less than a day!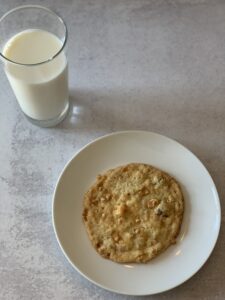 FRENCH 84's
Ingredients
1

c

unsalted

cultured (European Style) butter, room temperature

1 ¾

c

sugar

1

tbsp

honey

1

egg

½

tsp

vanilla

1

c

flour

1

c

almond flour

½

tsp

baking powder

½

tsp

baking soda

1

tsp

salt

1

c

Health Bar Toffee Bits

½

c

chopped dried strawberries
Instructions
Cream the butter and sugar together at medium high speed for 3 minutes, stopping once to scrape down the bowl.

Scrape down the bowl again and add the egg and vanilla on slow setting. Increase the speed of the mixer to medium high speed and beat for 8 minutes, scraping the bowl once in the middle of the process and again at the end. The mixture should be very light in color and increased in volume. Check that all of the butter and egg is fully mixed in. Beat for another minute or two if you see any streaks of unmixed ingredients.

In bowl, mix together the flours, baking soda, baking powder and salt. Add them to the creamed butter and mix on the lowest setting until they are just mixed in (about 20 seconds). Add the toffee bits and the cherries and fold in with a rubber spatula until just incorporated. Do not overmix.

Refrigerate the dough for at least one hour or until the dough is cold.

Preheat the oven to 350 degrees and line your cookie sheets with a silpat or parchment paper.

Using a tablespoon or small cookie scoop place balls of dough on the sheets, well separated. They will spread. I got eight cookies on a half sheet and 6 on a quarter sheet.

Bake 10-12 minutes until brown around the edges and lightly browned on top.

Cool on the tray until set and then remove to a wire rack to complete cooling.
Recipe Notes
Note: Chopped Heath Bars can be used if there are no toffee bits available. And while I love them with dried strawberries, you can substitute dried cherries if need be.