Every Thanksgiving I find myself faced with people who actively want a pumpkin pie.  And every Thanksgiving I search for a way to make it better because I'm not a big fan of pumpkin pie.
Last year I experimented with a homemade squash puree.  It was good but not, to my mind, memorable.
This year I decided to use some of the skills I learned in my Master Class with Christina Tosi; specifically, how to test a number of options and flavors without having to make four or five different pies.
I combed through cookbooks and magazine for suggestion then refined the ideas into things I thought might work.  I was interest in  two aspects of the pie: the flavor and the texture.  I wanted a pie that hinted at spice and tasted of pumpkin, and I wanted a pie with texture to compliment the smooth mousse of the filling.
The winner?
A pie with a pumpkin puree filling on a ginger and brown sugar tart pastry, topped with a soft pecan praline.  It looks spectacular and has the extra sweetness and crunch to take the dessert to the next level.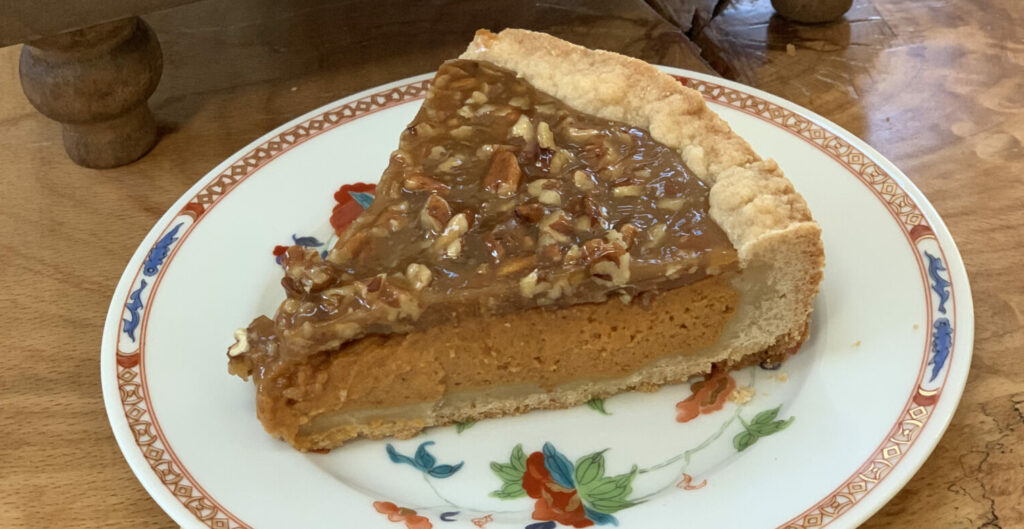 And, although it sounds difficult, it is surprisingly easy.
Start with the pastry.
Mix together flour, sugar and spice and pour in some melted butter.  Use a fork to mix it until it is clumpy and put the mixture in a deep-dish cake or pie tin.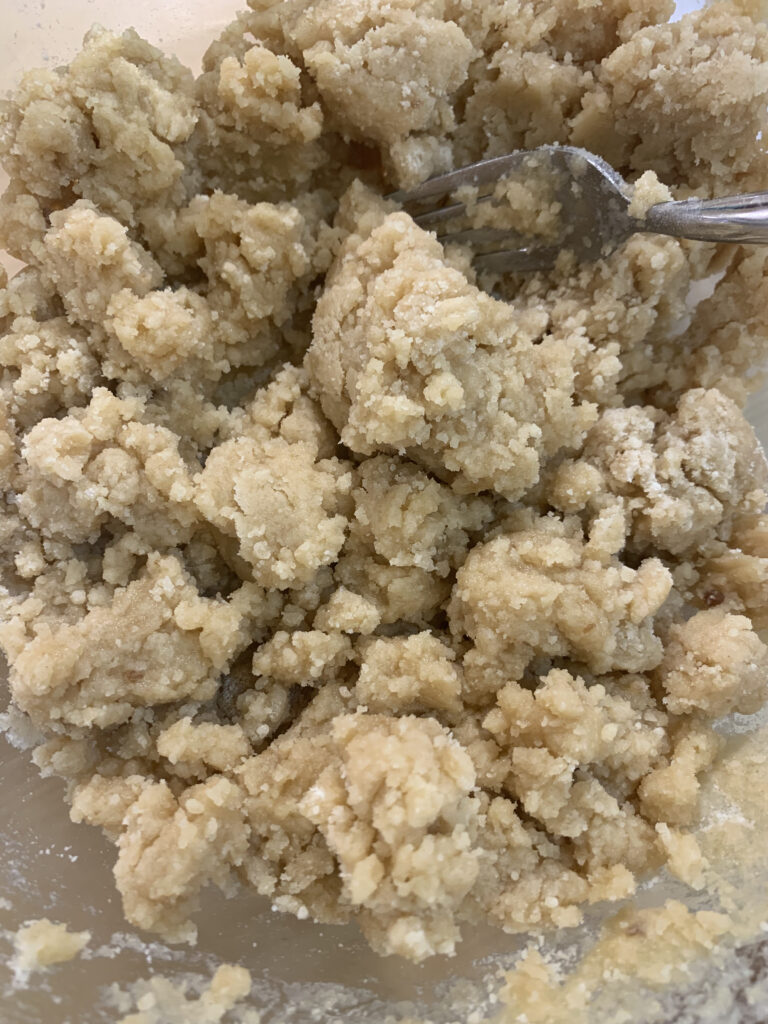 Use your hands to spread it evenly making sure to get the sides well.  I used a springform pan, spreading the crust about halfway up.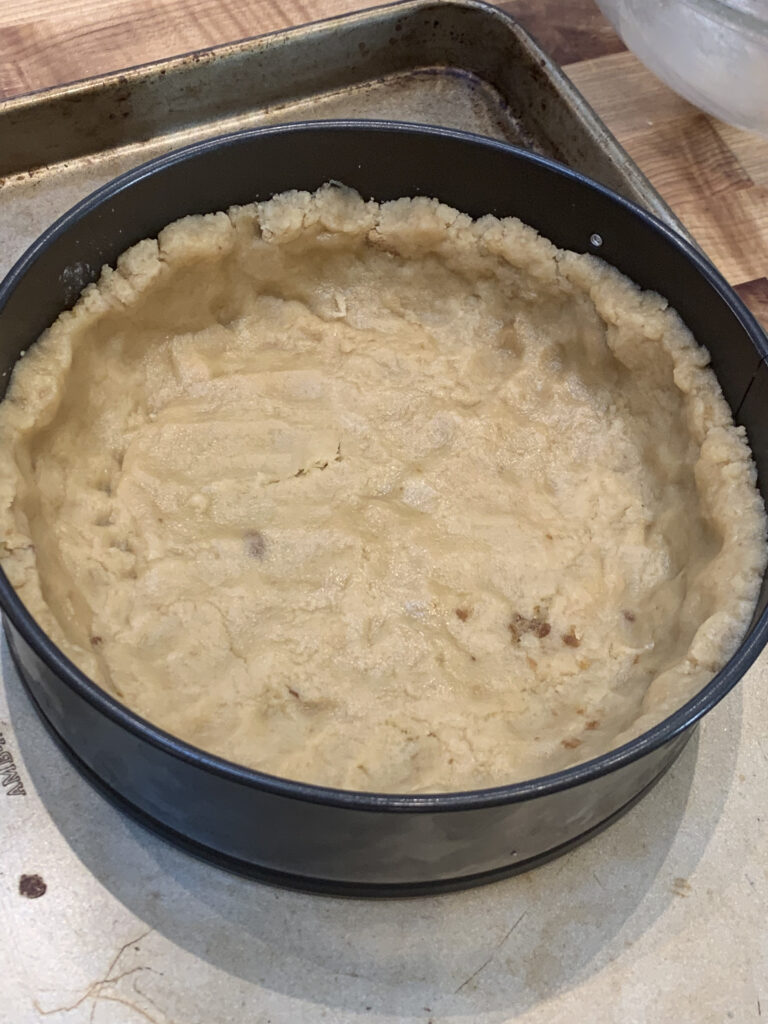 Make the pie filling and pour it into the pan.
Bake it until it is done and then let it cool for an hour or more.
Finally make the praline topping.  I admit to being a little intimidated at this. Candy making is not something I undertake very often.  But this turned out to be quick and easy.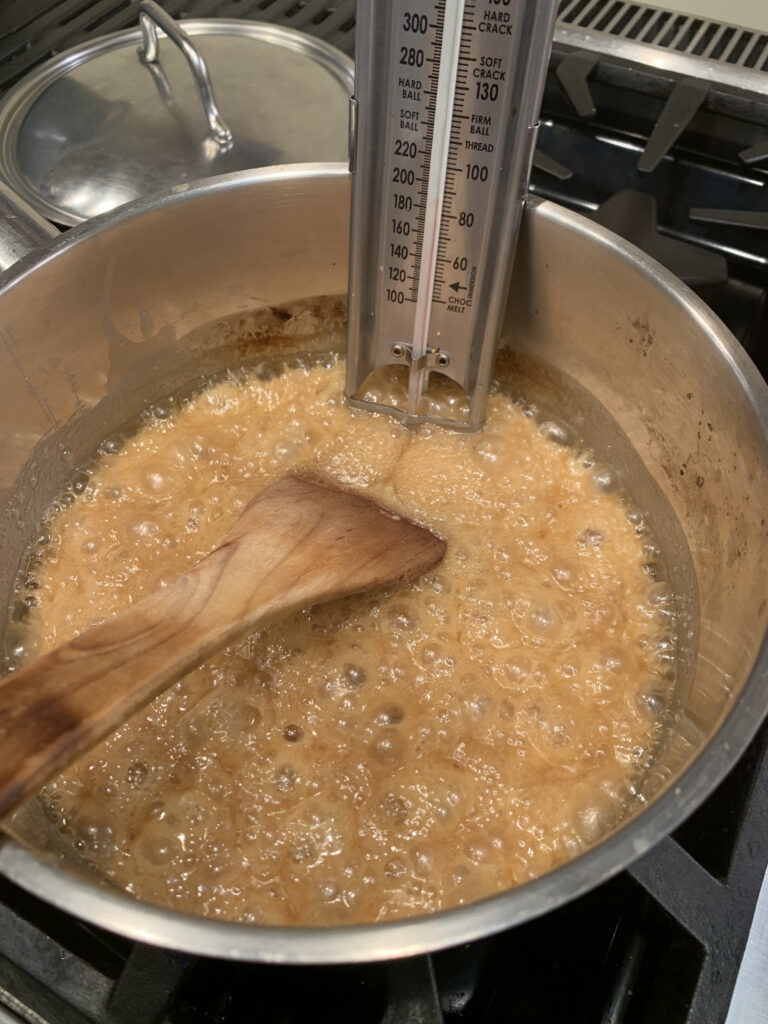 Put brown, sugar, cream, corn syrup, butter, and vinegar together in a deep pan.  Bring it to a boil and boil it, stirring occasionally until it reaches "soft ball" stage or 235-240 degrees.  It is easiest if you have a candy thermometer, but an instant read can do the trick as well.  And if you don't have either of those, have ready a glass of cold water.  The mixture is at the right temperature when a drop placed in the water forms a "soft ball" (hence the name!).  Just be careful not to go over the soft ball temperature or it will be too hard to eat with the pie. (It will still be good just not fork ready)
Let it cool and then be ready to listen to everyone ohhh and ahhh!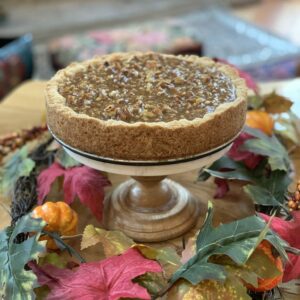 PUMPKIN PRALINE PIE
Ingredients
For the crust
2 2/3

c

flour

½

c

brown sugar

¼

tsp

salt

1

tsp

ginger

20

tbs

melted butter
For the filling
2

eggs

1 15

oz

can pumpkin puree

1 14

oz

can sweetened condensed milk

1

tsp

ginger

½

tsp

nutmeg

1 ½

tsp

cinnamon

½

tsp

salt
For the praline
1

c

packed brown sugar

¼

c

heavy cream

2

tbs

light corn syrup

1

tbs

white vinegar

1

c

chopped pecans

1

tbs

vanilla
Instructions
Preheat the oven to 325 degrees
Make the crust
Stir together the flour, sugar, salt, and ginger in a bowl. Pour in the melted butter and use a fork to mix it together until it sticks together in clumps. Put it into a deep-dish pie pan or a springform cake pan (spray the inside with cooking spray if you are using the springform pan). Use your fingers to press the pastry into the pan evenly and up the sides.
Make the Filling
Stir together all of the filling ingredients until they are smooth and well mixed.

Pour the filling into the prepared crust.

Bake at 325 degrees for 60-75 minutes until the center is set.

Remove the pan from the oven and let cool fully on a wire rack. If using a springform pan, remove the sides to help it cool.
Make the praline
Once the pie has fully cooled, make the praline topping

Put the sugar, cream, corn syrup, butter and vinegar in a heavy pan. Bring it to a boil, stirring until the sugar has dissolved and the butter melted. Continue boiling until it reaches 235-240 degrees on a candy thermometer. (Soft ball stage).

Immediately remove it from the heat and stir in the pecans and the vanilla.

Pour the topping over the pie at once before it sets.

Refrigerate until firm.

This pie can be made the day before and kept in the refrigerator.