Not a cake baker? Let's make cookies for Valentine's Day.  A little oatmeal brings a nutty crunch to this raspberry jam-filled sandwich cookie.  Cut a little heart in the top cookie so the jam peeks through.  Every child and adult in your life will love you for it!
When I was a little girl, Valentine's Day brought  color and fun to the otherwise dreary, cold month of February in Connecticut.  My mother was too busy with our family of six children to do much more than give us each a hug and kiss but school stepped in.  We bought boxes of simple valentines and laboriously labelled them for our friends, choosing the fireman puppy dog for one, the kitten on a heart for another.  Shoe boxes were turned into mailboxes, covered with colored paper and glitter. They were placed on our desks, ready to receive the offerings of our classmates.
There was a "party" at school.  Someone's mother sent in cookies and there was some sort of pink or red punch to drink out of little paper cups. And if we were lucky, we received a small package of "Conversation Hearts", a chalky confectionary chosen more for its message than its flavor
Holidays have gotten bigger and glitzier since then but a homemade gift still says "I love you" in a way that warms the heart. It takes a little more effort but that's part of the gift.
Fortunately, these cookies can be made in advance and frozen until you need them.  You can spread out the making over a few days.  And, I am going to give you a couple of options for finishing them. One is the easy traditional one and the other is a glitzy 2023 cookie!
Step One: Make the cookie dough.
Mix together the dry ingredients. Beat the butter and sugar for at least five minutes, add the eggs and vanilla and beat it again.  You need to cream the butter, sugar, and eggs for at least eight minutes until it is super creamy and white
Step Two: Rest the Cookie Dough.
Wrap the dough in plastic, or put it in an air-tight container, and set in the refrigerator for at least an hour, or until the next day.  Resting the dough will make your cookies brown more evenly and will let the flavors ripen, resulting in a better cookie.
Step Three: Roll, Cut and Bake the Cookies.
You can find heart shaped cookie cutters almost anywhere.   It's your choice whether you want a few large cookies (statement pieces!!!) or up to two dozen smaller cookies (spread the love).
Split the dough into four equal pieces and leave the ones you are not working with in the refrigerator.
Working with one portion at a time roll the dough out on a floured surface and cut out 2" (or larger) hearts.  You need two hearts for each cookie.  Cut out a smaller heart in the center of half the cookies.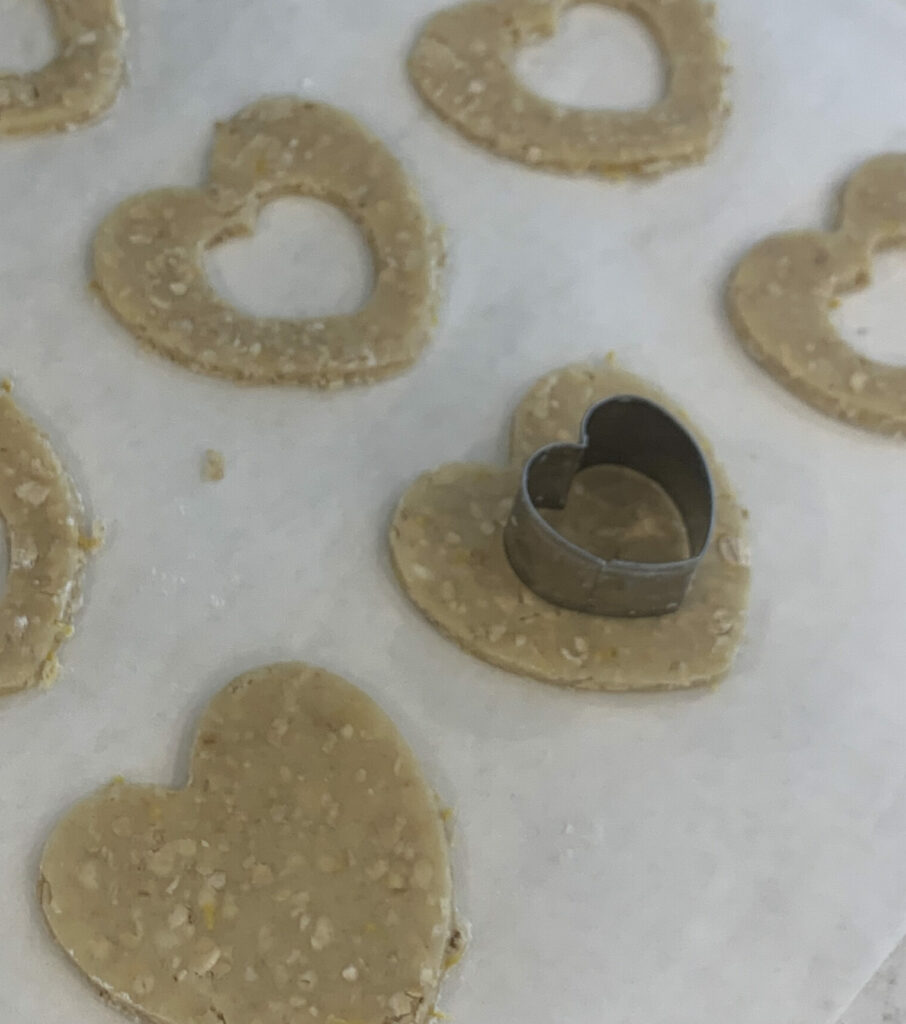 You can bake the cut-out center pieces for tiny bite-sized cookies or reroll them with the remaining batter.
Let the baked cookies cool completely before continuing with the recipe.  They can be frozen for a week or two until you are ready to continue.
Step Four: Assemble the Cookies
There are a number of ways to finish the tops of the cookies,
The easiest, and most traditional, is to dust it with powdered sugar.
Some other options are to dip the tops in melted chocolate.  Dark or milk chocolate is the easiest to work with. White chocolate is tricky.  It burns easily and is sometime hard to melt completely.  If you are up for it, it does look nice to pipe some white chocolate over the dark chocolate dipped cookies.  You can also finish the dipped cookies with some heart sprinkles.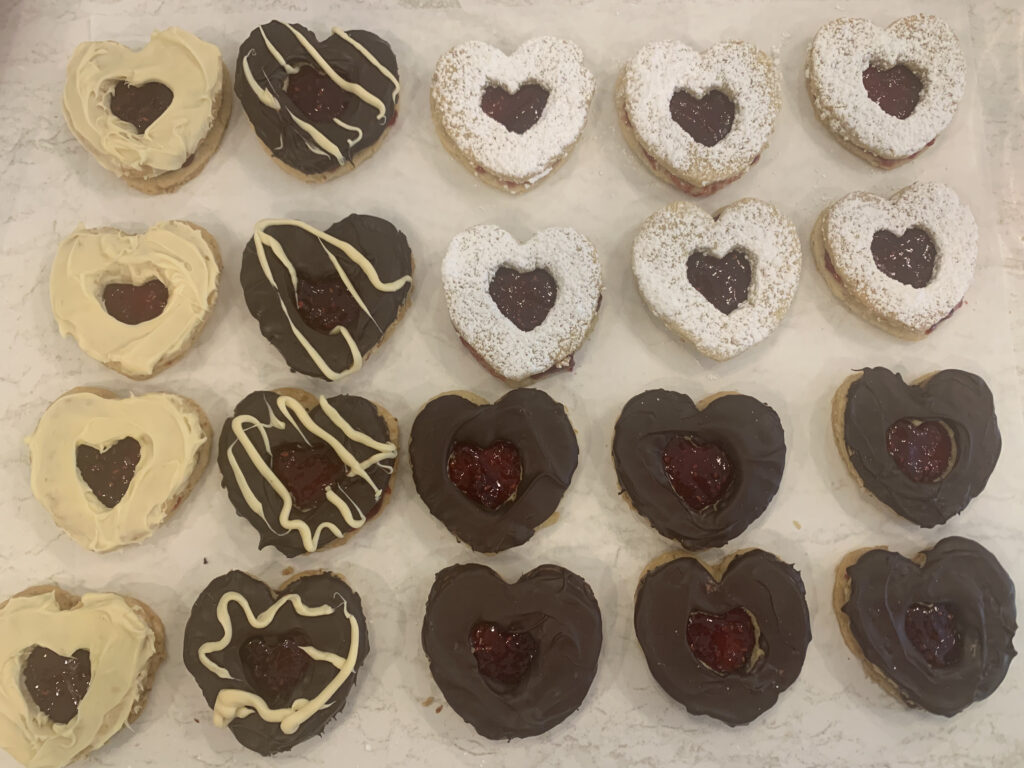 Decorate the tops of the cookies before assembly.  Let the chocolate set before continuing.  I put mine outside on a cold porch to speed up the process.
Once the tops are ready, spread 1-2 teaspoons of jam on the bottom cookies and top each one with a cut-out cookie.
Make little cookies out of the small hearts by sandwiching them together with a little jam and sprinkling with powdered sugar.
Serve the cookies right away or freeze them until you need them.  Defrost the frozen cookies by placing them on a tray for an hour or two at room temperature.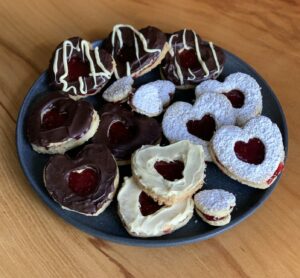 OATMEAL LINZER COOKIES
Ingredients
For the Cookies
2

c

flour

1 ¼

c

oatmeal

2

lemons

grated peel only

1

tsp

baking soda

1

tsp

salt

¾

c

butter

softened

1

c

sugar

1

egg

1

tsp

vanilla
For the Topping and Filling
½-1

c

powdered sugar

8

oz

dark chocolate

2/3

c

-1 c raspberry jam
Instructions
Make the Dough
Mix together the flour, oatmeal, lemon rind, baking soda and salt.

In the bowl of a stand mixer beat the butter and sugar together on high speed for 5 minutes, scraping the bowl sides and bottom once or twice. Add the egg and vanilla and beat it on high for a further-2-4 minutes. The mixture should be very light and creamy and doubled in volume.

Beat in the dry ingredients and mix well.

Wrap the dough in plastic and chill for at least an hour or until the next day.
Bake the Cookies
Preheat the oven to 350 degrees. Line baking sheets with parchment paper.

After the dough has chilled, divide it into quarters. Working with one quarter at a time, roll the dough thinly to 1/8" thickness. Cut 2 hearts for each cookie, rerolling the dough as needed. Cut a smaller heart out of the center of half of the cookies. Either add the small cutout hearts to the dough being rolled or reserve them and bake them to make tiny sandwich cookies.

Place the cookies on the parchment lined sheets and bake for 8-10 minutes until just browning. When done, remove the cookies to a wire rack to cool completely.

The cookies can be frozen for up to a month before assembling.
Assemble the Cookies
For Traditional Powdered Sugar cookies: Use a sieve to sprinkle a layer of powdered sugar over the tops of the cookies. Spread one to two teaspoons of raspberry jam on the bottom cookie. Place a sugar top on the jam filled lower cookie and press lightly together.

For Chocolate Covered Cookies: Chop 8 oz of good quality dark chocolate into small pieces. Place in a microwaveable bowl and microwave for 30 seconds on high. Stir the chocolate and microwave for a further 30 seconds. Stir and continue to microwave in short bursts until the chocolate is melted through. (See note for white chocolate) Dip one side of the top cookies in the chocolate and place on a tray to dry. Once the chocolate has set, spread jam on the lower cookie and top with a chocolate covered cookie.

Optional" Sprinkle the chocolate with red sprinkles or heart shaped ones while it is still wet. You can also pipe white chocolate over the dark chocolate in a decorative pattern.
Recipe Notes
Note: For a more sophisticated flavor, add a teaspoon or two of a sweet liquor to the jam before spreading it.
To use white chocolate for the icing, use fresh white chocolate. Melt it at 50% power in 15 second bursts until it has melted. White chocolate burns easily and will seize if over-heated.
Finished Cookies can be frozen for up to two weeks