You've heard it said before: you eat with your eyes first.
It's why I walk through a restaurant and look at the plates  on the tables around me, and ask myself "What looks good?"  It's why we linger in front of bakery shop windows with their displays of carefully constructed tarts, cakes and pastries.  And it's why we are so disappointed with something doesn't taste as good as it looks.
The winter holidays are upon us.  It's a time when bakers like to shine, dusting out their recipes for pies, cakes and cookies.  Every holiday table finishes with a flourish of dessert.  We've beaten, whisked, whipped and folded.  Melted, separated, dusted and infused.  Anxious moments spent turning out baked goods, checking for the set of a custard and hoping it worked have reached their culmination in your finished dessert.
Now comes the hard part!  Decorating your offering.
It doesn't have to be a daunting task of melting sugar and tempering chocolate to put the finishing touch on your dessert.  I am here to offer up a pretty easy way of adding some pow to the look of your hard work:  sugared fruits.
You have seen them before: shining cranberries piled on top of tarts and cakes,  sweet grapes shimmering in the light, gooseberries and kumquats glistening.
Here's how to make them.
Sort your fruits to make sure they are clean and unblemished.  They will keep for a week or so in an airtight container so it's okay if you have more than you need.  They also make a really nice treat by themselves.  The slightly sour pop of cranberry or grape combined with the sweet crunch of sugar is hard to resist.
Make a simple syrup  by heating a 1:1 ratio of sugar and water over medium heat, stirring until the sugar is completely dissolved.
Let it cool to warm.  You don't want to cook the fruit!  Toss the fruit in the syrup
and place the fruit on a wire rack and leave it to dry for at least an hour.
Once the fruit is tacky to the touch, roll it in sugar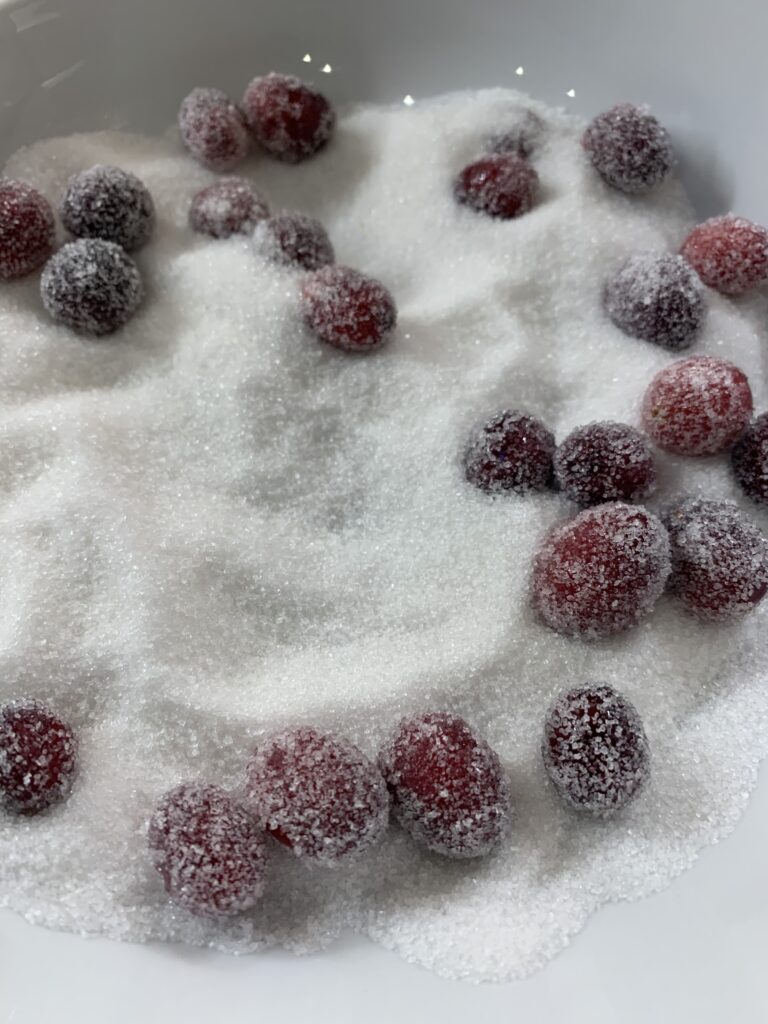 and place it back on the rack for an hour or two.
Once you have made the fruits, they will keep in an air-tight container for a number of days.  You can always reroll them in sugar if you need to.
Put the fruit on your dessert shortly before you plan to serve it.  It will be fine for  4 hours or more but eventually the sugar will take on the moisture from the dessert (and the air) and start to dissolve.
If you like you can add some sprigs of fresh herbs, rosemary is one of my favorites, to add some "greenery".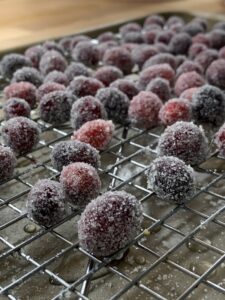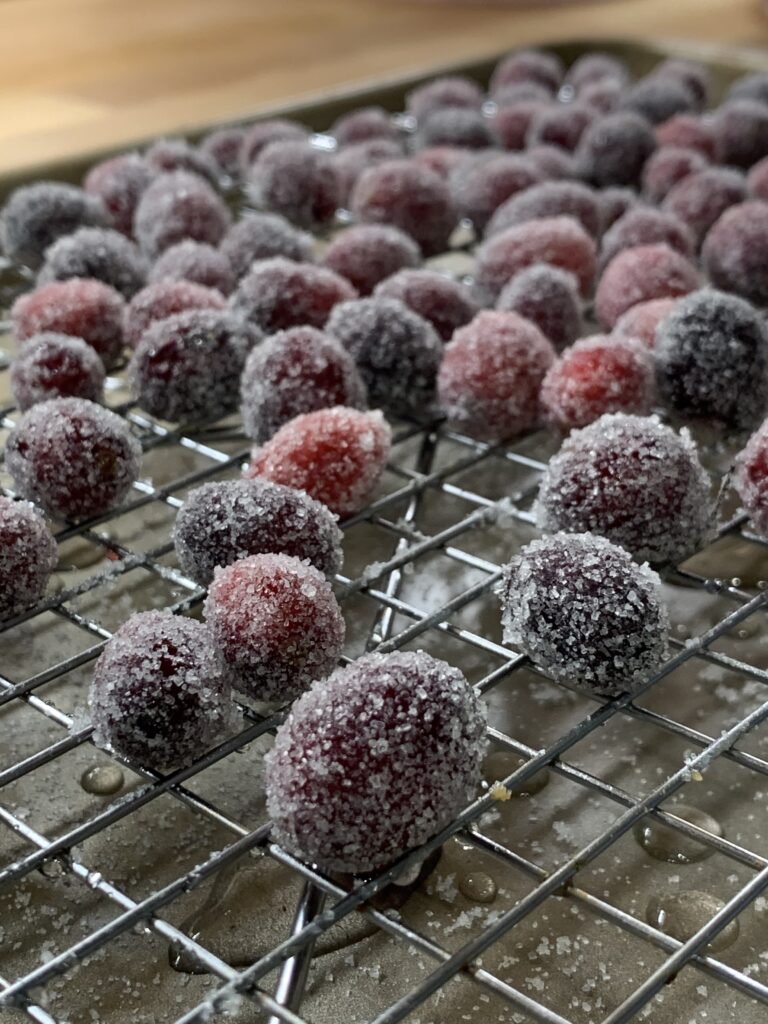 SUGARED FRUIT
Ingredients
¼

cup

sugar

¼

cup

water

2

cups

fresh fruit

Sugar for dusting
Instructions
Put ¼ cup of sugar into a medium saucepan along with ¼ cup of water. Heat, stirring until the sugar is dissolved.

Remove from the heat and add the fruit. Stir until it is well coated.

Use a slotted spoon to transfer the fruit to a wire rack. Let the fruit dry for at least one hour.

Spread some sugar in a low, flat, bowl or on a plate. Toss the fruit in the sugar until it is well coated. Return it to the wire rack and dry for at least one hour or until the sugar has hardened on the fruit

Fruit can be sugared the day before and stored at room temperature in an airtight container.
Recipe Notes
Notes:
If you are using the fruit to decorate a tart or cake, do so within 4 hours before serving. If refrigerated or left to stand too long the sugar will start to dissolve.