January.  It's a hard-to-sell month.
For most of us the weather sucks and we are cold and dreary and longing for hearty, stick-to-the-bone, comfort food just at the time we are trying to regain our balance after the excesses of December. Friends don't want to meet for a drink because  it's "Dryanuary" and our cupboards are full of left over cookies and candy which we attempt to ignore (or failing that, eat them).
But there is also a lot to be said for the first month of the year.  With little else to do, I organize my shelves and try to make a little order out of the chaos.  This year my chaos is even more chaotic because I moved right before the holidays began and some things might have been shoved into shelves and closets without any pretense toward order or reason.
My cookbooks, for example, were placed on the shelves as they came out of the boxes and I have been spending way too much time searching for the book I needed.  That means, however, that from time to time I come across an old friend and go wwwaaaayyyy back into my past.  One of these old friends was the Sunset Cook Book of Breads.  It was given to me, along with a very large proofing bowl, as a wedding present.  I read with fond remembrance the inscription from "Aunt Marg and Uncle Bill" and thought back to my early days of bread making.  I am sorry to say that I was not much of a success at making yeast-based loaves at that time but the pages on quick breads and muffins are stained with splashes and drips from my baking.
This recipe for Bran muffins was one of my favorites.  You can make the batter in advance and keep it in your refrigerator for two weeks or more, dipping into it to make freshly baked muffins as you wish and desire.  I used to love to make a muffin while I was getting dressed in the morning and leave the house with it warm in hand to eat while trudging through the city snow and slush to the subway.
The original recipe starts with a cereal which was popular in the late 60's and 70's:  All Bran. All Bran is a whole bran cereal, filled with fiber, with an earthy, malty flavor. And it makes muffins which are hearty and healthy and down-to-earth.
Then, last night, in the middle of the night, I thought "What would happen if I used different cereal?" And I channeled my inner Christina Tosi (creator of Milk Bar and the concept of cooking with cereal milk) and went to town with some Fruity Pebbles. It works!  The resulting muffin is light and airy with a definite flavor of Fruity Pebbles– a sweet, distinctive, breakfast cereal flavor.
I used the same process for both, just making a few flavor adjustment for the Fruity Pebble Muffin.  The cereal is moistened with water which makes the grains swell and break down so that when they are mixed into the batter they disappear into it adding flavor throughout the muffin.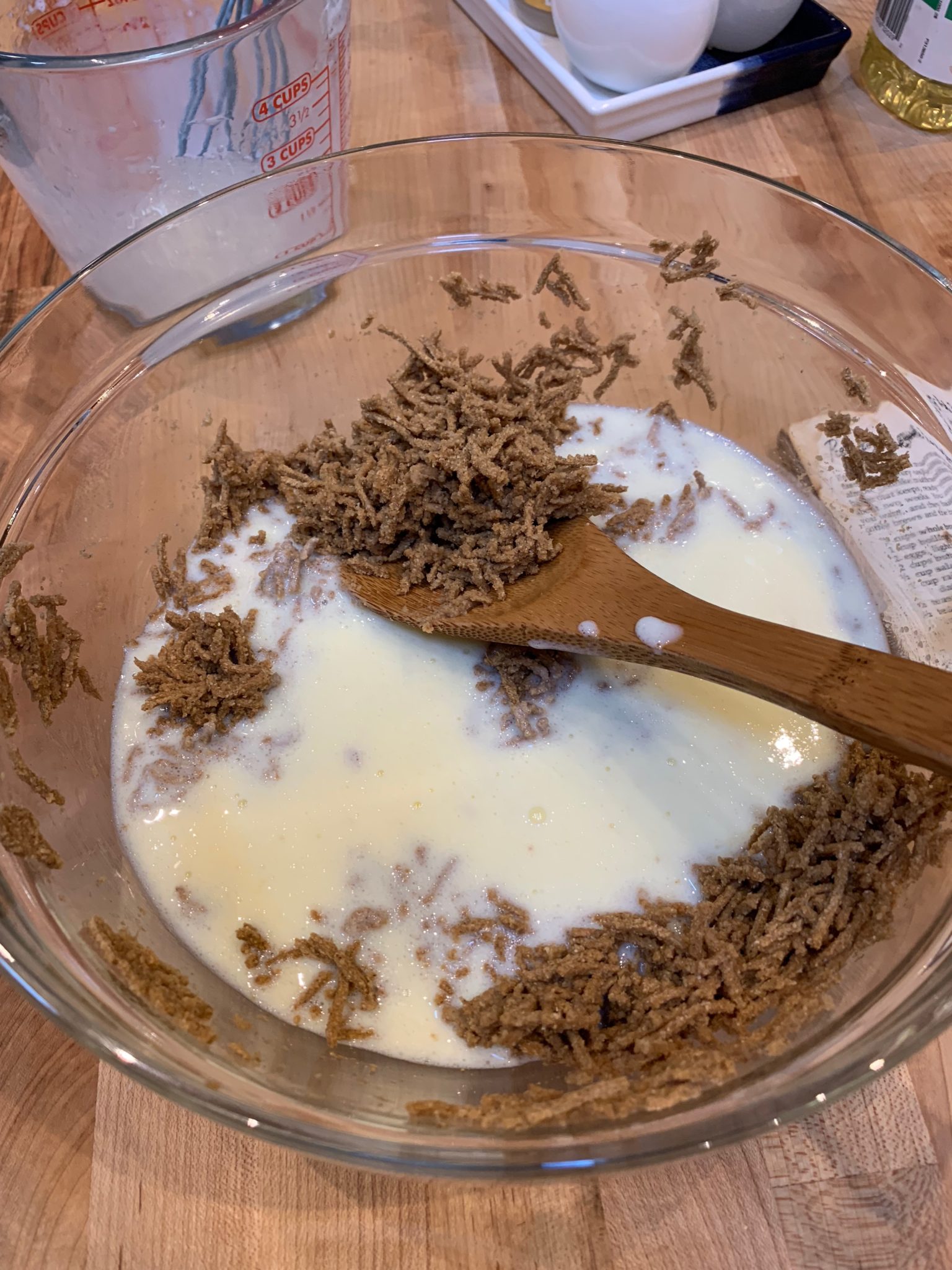 The liquids are mixed in and then the fruit and the dry ingredients.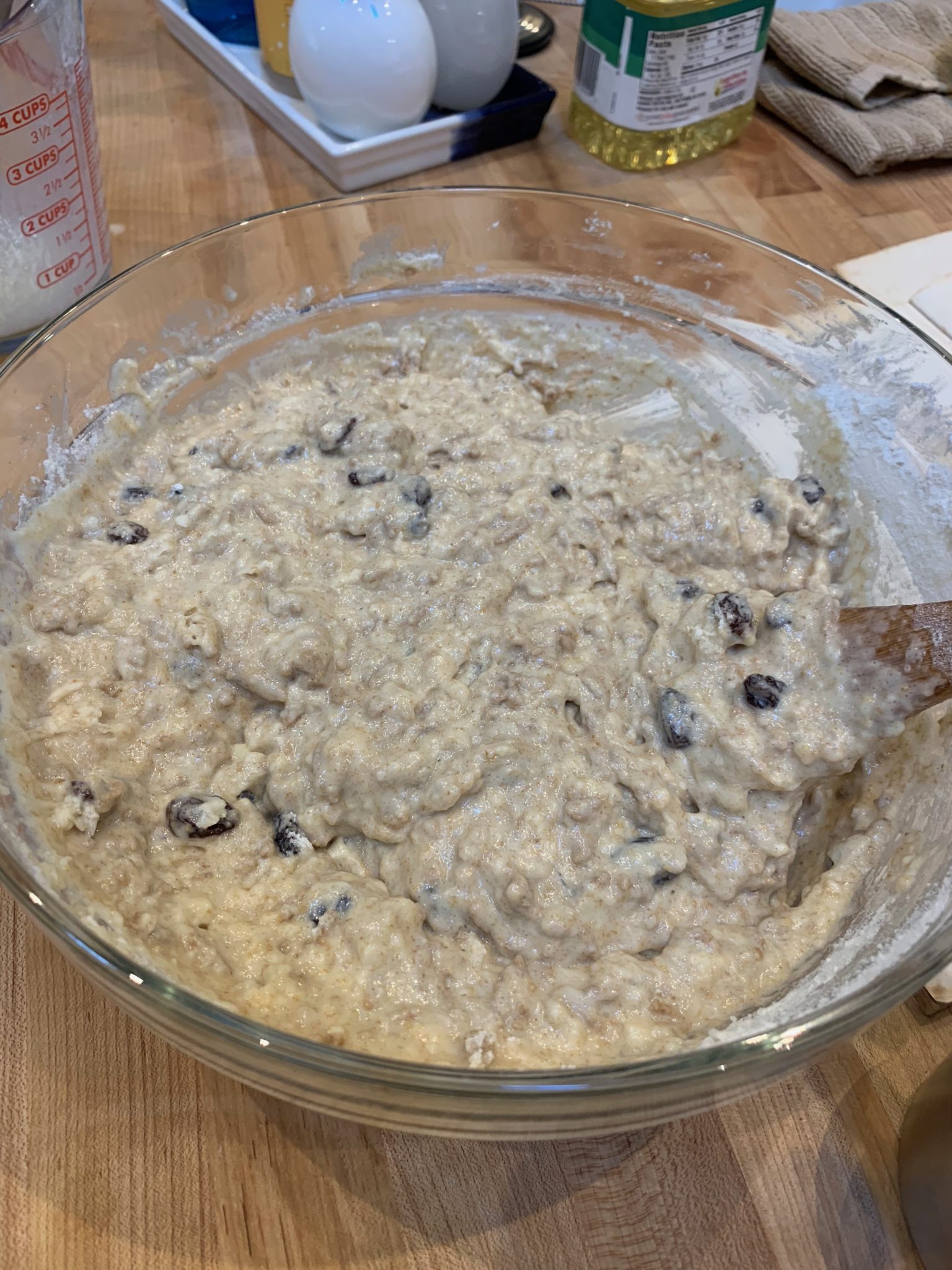 Once it's all together you could cook the muffins right away but I like to let the batter sit for at least 24 hours.  That way the dried fruit plumps up from the liquid in the batter and is even more delicious when baked into the muffins. When you are ready to cook them just scoop them out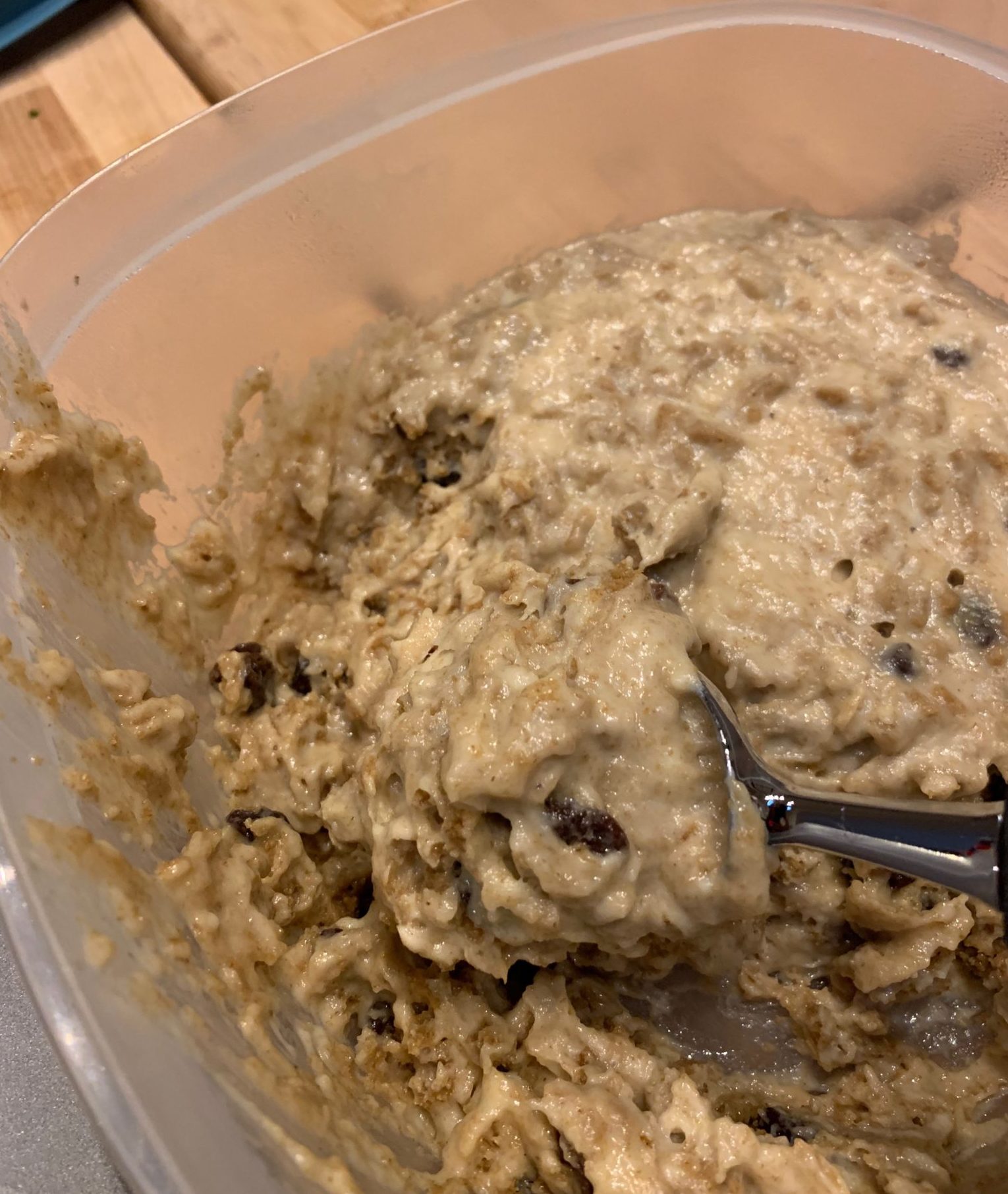 and into a greased muffin tin (one or many, it's up to you).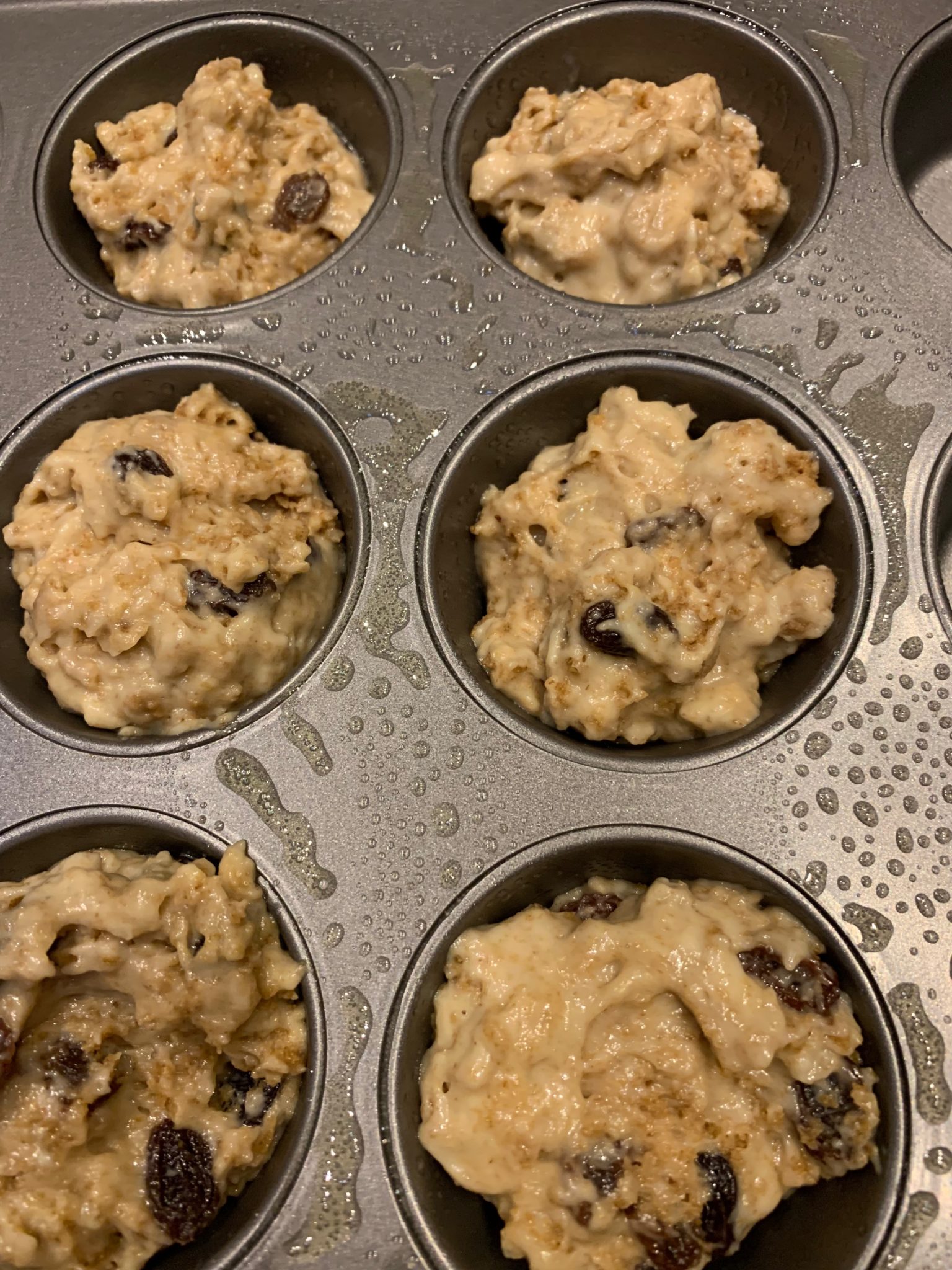 The batter will stay good in your fridge for up to two weeks if you don't use it all up right away.
Eat and be healthy! (Or not.  It's your choice!)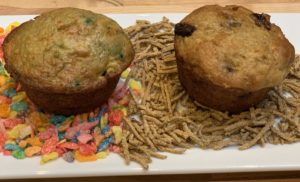 CEREAL MUFFINS
Ingredients
3

cups

dry cereal

1

cup

boiling water

2

eggs

2

cups

buttermilk

½

cup

canola oil

1

tsp

vanilla

sweet cereal

1

cup

dried fruit

2 ½

tsp

soda

½

tsp

salt

1

cup

sugar

2 ½

cups

flour
Instructions
Put the cereal in a bowl and pour the boiling water over it. Stir and set aside to cool.

Beat the eggs together with the buttermilk, oil and vanilla (if using). Add this to the cereal along with the dried fruit and mix well.

In another bowl stir together the flour, salt, sugar and soda.

Stir the dry ingredients in to the cereal batter until just mix.

If you are not cooking the muffins right away put the batter in an airtight container and refrigerate overnight or up to two weeks.

To bake the muffins preheat the oven to 425 degrees and lightly grease a muffin tin. Bake on the center shelf for 15-18 minutes or until the muffins have risen and spring back when lightly touched.
Recipe Notes
I used raisins for the bran muffins and apricots for the fruity ones. You can substitute whatever dried fruit you like.