This has been such a long January. And it only just started. I am restarting my restart for the second time!  And the weather is not cooperating.  Rain and cold and the long days seem endless.
Everything would be better with a rich, hearty bowl of soup. Except I am trying to recover from the wonderful joyous eating of the holidays which was just topped off with a week of eating mindlessly as we dealt with the emotional loss of my daughters' grandmother. So "rich and hearty" is out of the question.
Fortunately, there are vegetables which can be cooked and pureed in broth which will create a creamy base for a vegetable soup. Warm spices layer on flavor and not calories.  I like to make a big bowl of this soup and eat it for dinner.  It makes "eating healthy" into "eating happy".
Start with cauliflower, zucchini and onions.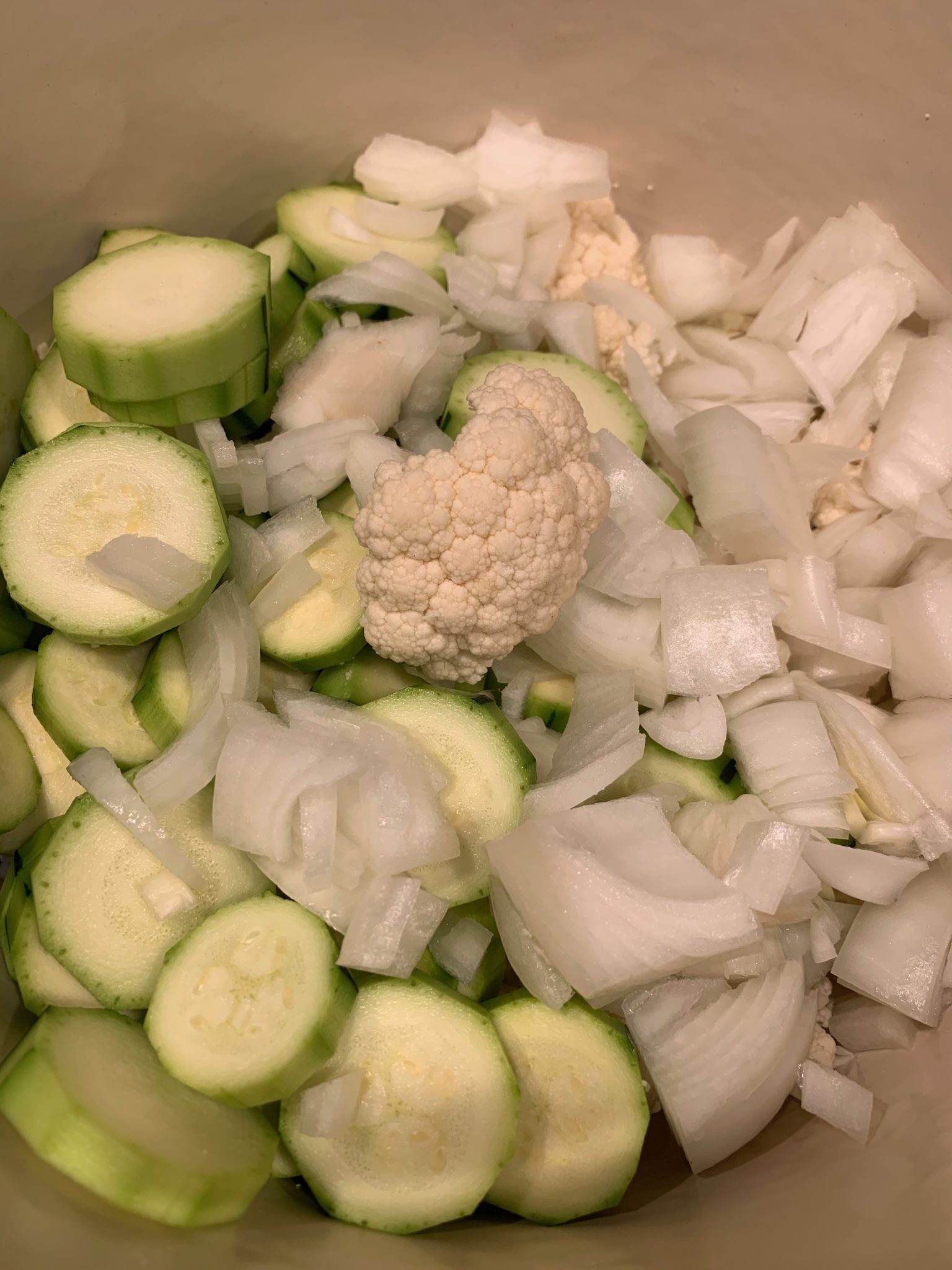 Chop them and put them in a soup pot, just barely covering them with stock.  Bring it to a boil and let the soup cook until the vegetables are soft.
Then, using an immersion blender, or an old-style regular blender, puree the mixture until it is thick and creamy.  Taste it and add salt as needed.
While the base is cooking roast your vegetables.
This time I am roasting parsnips because I like their earthy, umami flavor. Red peppers for color and onions for depth.  And I am throwing in a little more cauliflower to bring it all together. On another day, I might choose carrots and butternut squash.  I even bought some swiss chard to add but decided to save that for another dish.
Toss them together with a little olive oil, some cumin and salt until they are evenly coated.  Then spread them out on one or two baking sheets.  You want to give them plenty of space, so they roast instead of steaming.  Watch them carefully and stir them once or twice.  The small dice will cook quickly.  They are done when they are browned around the edges.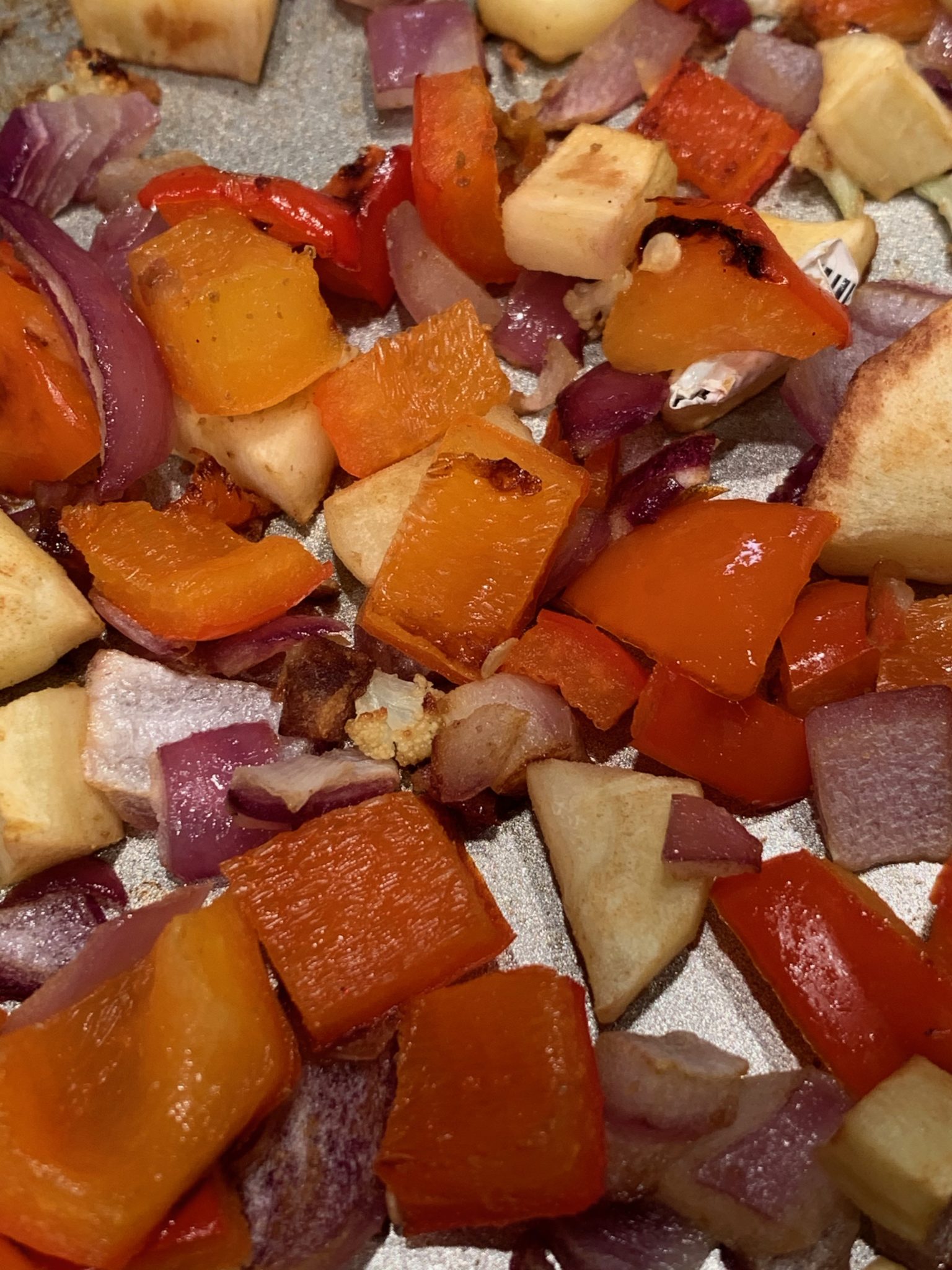 Add them to the creamy base and thin it with a little more broth.
The soup will freeze for up to a month so go ahead and make a big batch!  You will be glad you did.
(I know I am.  I'm back on a plane.  This time to Chicago to help out with my granddaughter who is home sick from daycare and there is no sitter to be found!  There are worse things in life than being needed!)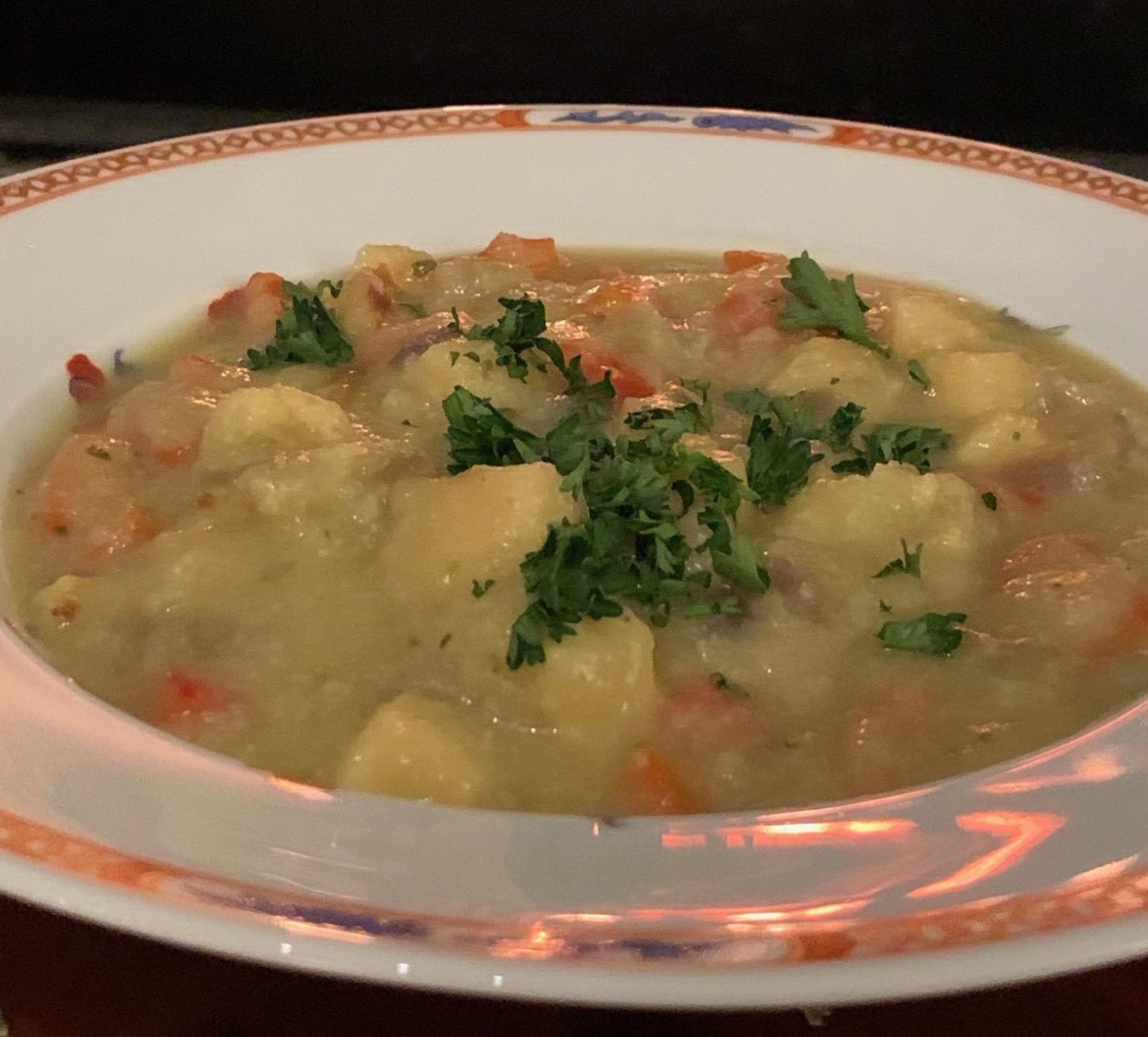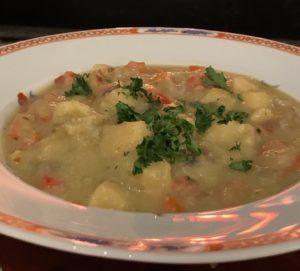 LOW FAT/ LOW CAL ROASTED VEGETABLE SOUP
Ingredients
For the soup base
1

head of cauliflower

2

large zucchini

1

onion

2

cloves

garlic

2

cups

chicken broth

2

cups

water

1

cup

skim milk

½

tsp

salt

1

tsp

fresh thyme leaves

1

tsp

garlic powder

1

tsp

onion powder
For the roasted vegetables
1

onion

2

parsnips

2

red bell peppers

1

cup

small cauliflower florets

1

tbsp

olive oil

1

tsp

cumin

½

tsp

salt
Instructions
Make the base
Chop the cauliflower, onion and garlic coarsely. Peel the zucchini and cut into ½" slices.

Put the cauliflower, onion, garlic, zucchini, and thyme into a large pot. Add the broth and water.

Bring to a boil, cover and let simmer vigorously for 20 minutes until vegetables are soft.

Remove from the heat and add the milk, garlic powder, onion powder and salt. Puree the soup in a blender or using an immersion blender.
Roast the vegetables.
Preheat the oven to 450 degrees

Dice the vegetables into small dice. Place in a large bowl and toss with the olive oil, cumin and salt.

Spread the vegetables well apart on one or two baking trays. Roast for 15 to 20 minutes being careful not to burn the vegetables. Stir once during baking.

Add the vegetables to the soup base and adjust the seasoning