There are people who like Key Lime Pie and there are people who LOVE Key Lime Pie. Silky smooth, just a little tart in flavor, with buttery graham cracker crust, what's not to love?
Down on the southern coast of North Carolina, just across the bridge from the Island of Sunset Beach, there is a fish market which has been there for 40 years: Bill's Seafood.   Everything there is fresh. The shrimp boats we see offshore bring their catch to Bill that same day.  And once you have tasted shrimp that fresh, which has never been frozen, you will understand my foodie heart.
If you are like my family, you will feast on fresh-caught shrimp and crab, picked-that-day corn on the cob and rich ripe tomatoes, so red and luscious you will want to eat them whole like an apple.  Finally, as the sun sets over the water in a spectacular red ball of fire, and you are so full you think you can not eat any more, someone will bring to the table one of Bill's Key Lime Pies.
Many have tried to get the recipe but it is a closely guarded secret.  And many have tried to duplicate the recipe with varying degrees of success.
It shouldn't be hard.  At its heart a Key Lime Pie consists of four, maybe five ingredients (not including the Graham Cracker crust).
Which is why every ingredient should be the best you can make it.
Start with the crust.
A Graham Cracker crust should add a rich, buttery crunch to every bite of the pie.  Unfortunately, I have yet to find a store-bought crust with any butter in it.  I have read a kitchen hack which suggests brushing your store bought crust with butter before baking it.  Which made me laugh.
A graham cracker crusts calls for graham cracker crumbs, melted butter and a little sugar.  (And if you are looking for convenience, it is perfectly okay to buy a box of Graham Cracker Crumbs!) Mix everything together with a fork and use a flat bottomed glass to press it into the pie tin
Pre-baking the crust will help it hold together when you slice it.
While the crust is baking, start preparing your filling.
Which means squeezing limes.  Lots of little Key Limes.
Please don't use bottled lime juice for two reasons: sodium metabisulfite and sodium benzoate.
These are two of the preservatives which are added to lime juice when it is bottled.  It's perfectly safe, the quanitites are quite small.  But some people can taste them.  It's an odd slightly off flavor.  You might not notice it in a teaspoon of juice but this pie calls for 1/2 cup. If you do purchase bottled juice, read the label carefully.  Key Lime juice is not the same thing as "Key West" lime juice.  One uses key limes, the other is the name of the company selling lime juice!
The second ingredient is sweetened condensed milk. No substitutes needed!
The third ingredient is either egg yolks or another dairy item.  I have seen recipes with sour cream, yogurt and cream cheese.  Depending on which you use the resulting pie will be different. I made one of each.   My preference was for the pie with egg yolks.  It had a cleaner flavor.  The lime came through a little more.  And the the eggs resulted in better set.  The egg-free pie is very creamy and very rich. I decided to put the two together.
I added some sour cream to the egg pie recipe!
The fourth ingredient is optional: fresh lime zest.  Some pies have it, some pies don't.  I am on the fence.  I like the way the little green flecks look in the custard but I prefer the unbroken creaminess of a pie without zest.  In this case, it is okay to use regular (or Persian) limes.  Key Limes are hard to zest!
Whisk the egg yolks to light yellow and add the lime juice and condensed milk and sour cream (and the zest if you are using it).  Whisk them together until smooth and set it aside for 10 minutes or so to thicken.  It will start to thicken almost immediately as the lime juice interacts with the milk.
Pour the filling into the cooled crust and cook it until it is set, just a little wiggly in the center.
With so few ingredients, each one matters.  And taking a short cut, or two, will affect the flavor.  It will still be a good pie. But will it be a great pie?
My pie was silky smooth and tart, holding it's shape well but delivering on thick luscious flavor.  Is it is as good as Bill's pie?  I think it comes close.  This is a pretty good pie!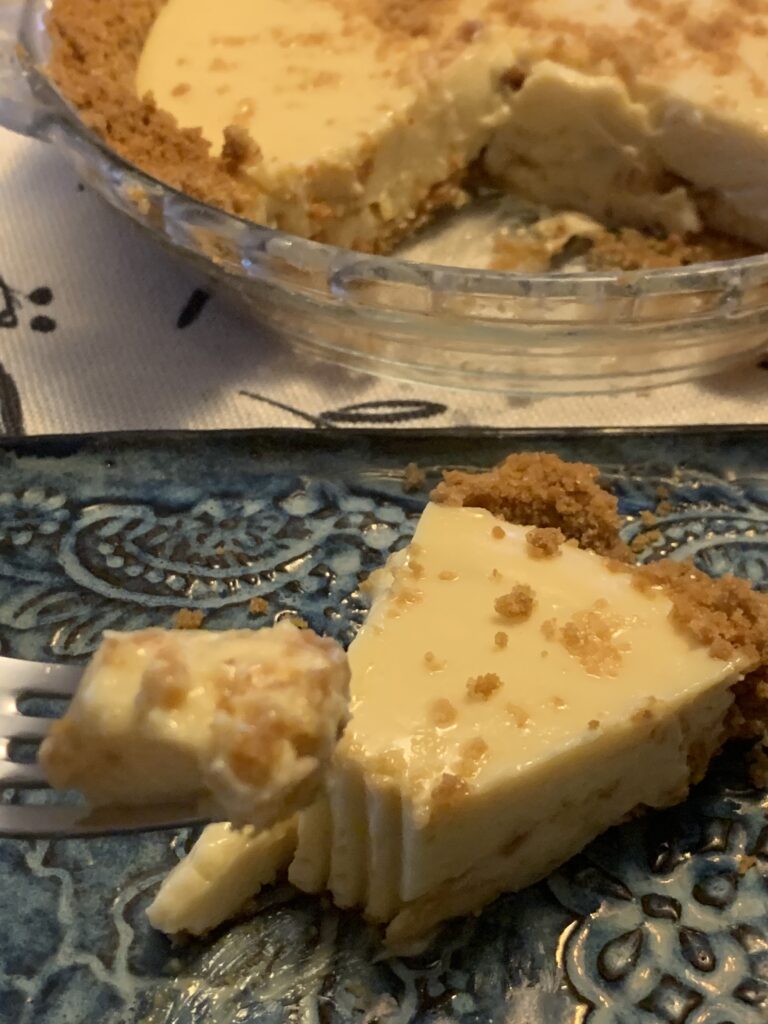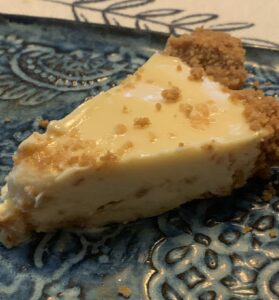 KEY LIME PIE: AS IT SHOULD BE
Ingredients
For the Crust
1 ½

c

Graham Cracker Crumbs

2

tbs

sugar

3

tbs

light brown sugar

1/3

c

butter

melted

Pinch

of salt
For the Filling
½

c

fresh key lime juice

from 15 key limes

4

eggs yolks

1 ¾

c

sweetened condensed milk

1/4

c

sour cream

Grated zest of one lime

optional
Instructions
Make the crust
Preheat the oven to 375 degrees

Put all of the ingredients in a medium bowl and stir together with a fork until well mixed.

Put the mixture into a 9" pie pan and use a flat-bottomed glass to press the crumbs into the bottom and sides of the pan. (Optional: reserve one or two tablespoons of the crumbs for garnish)

Bake for 10 minutes, until the crust is lightly browned.

Remove and cool before continuing with the pie. The crust can be baked in advance.
Make the filling
Preheat the oven to 350 degrees.

Whisk together the egg yolk until they have lightened in color. Add the condensed milk, sour cream, lime juice and the lime zest (if using) and whisk it all together. It will start to thicken as you do. Set aside for 10 minutes before continuing.

Pour the filling into the prepared pie crust and spread evenly. Sprinkle the top with additional crumbs if desired.

Bake the pie for 17 minutes until the center is set but wiggles a little when you shake the pie.

Cool the pie to room temperature than refrigerate for 2-3 hours until it is well chilled.