Some time, during the 27 odd years I lived outside of my home country, a new lemon came to town and it was all people could talk about it.  I came back to the United States and I remember thinking "What's all the fuss about a Meyer Lemon and what is a Meyer Lemon anyway?"
Every year, when Spring rolls around, I start seeing posts on social media from friends and other foodies who are so excited that their Meyer Lemon trees are producing orange-colored lemons for their enjoyment.  This year was no different except this year my local supermarket had them in stock.
This year is the year I decided to explore the Meyer Lemon.
Why is it called a "Meyer" lemon when it originated in China?
In 1908 Frank N. Meyer was sent to Asia as an "Agricultural Explorer" by the US Department of Agricultural.   And there he found a small citrus tree much prized by the Chinese.  Its fruit is a hybrid of a lemon, a mandarin orange and a pomelo. He brought this back to the USA and in the late 1990's it was "discovered" by Alice Waters and Martha Stewart quickly making it a darling of American foodies.
I bought some Meyer Lemons and lay them out on the counter next to some garden variety lemons.  With its soft, thin, orange-colored peel and round shape, it could be mistaken for an orange.  Cutting into it I noticed a slightly floral scent.  The flavor is  lemon, but sweeter and more mellow.  At this point I under impressed. But having heard it was much loved by dessert chefs, I decided the proof, as it were, is in the pudding!
A Lemon Bar, properly made, is a fruit-forward dessert.  It should be sweet but have a definite tangy punch. Too often lemon bars promise much but deliver little in lemon flavor. Would Meyer Lemon Bars pass the test?
First a shortbread cookie dough for this delicate hybrid.
Soft butter, icing sugar and flour were a given.  Then, because I wasn't reading a lot of the tangy lemon flavor I like in my lemon bars in the Meyer lemons, I decided to add some grated lemon peel.
As I grated the peel the scent was more citron than lemon although not unenjoyable.
This makes a thick cookie dough. Break it into pieces and drop them in your pan.
Then wet your hands and pat it down to spread it evenly.  Wetting your hands will keep the dough from sticking to them and make it easier to spread.  It's a thin layer but that's okay.
Bake it until is lightly browned around the edges and puffed up.
While the base layer is baking make the filling.
Still worried about the lack of punch in the lemon flavor, I put one of the lemons in my processor and pulsed it until it was a thick puree.
I added this to a sugar, egg and lemon juice base, gave it a good stir and poured it over the baked layer.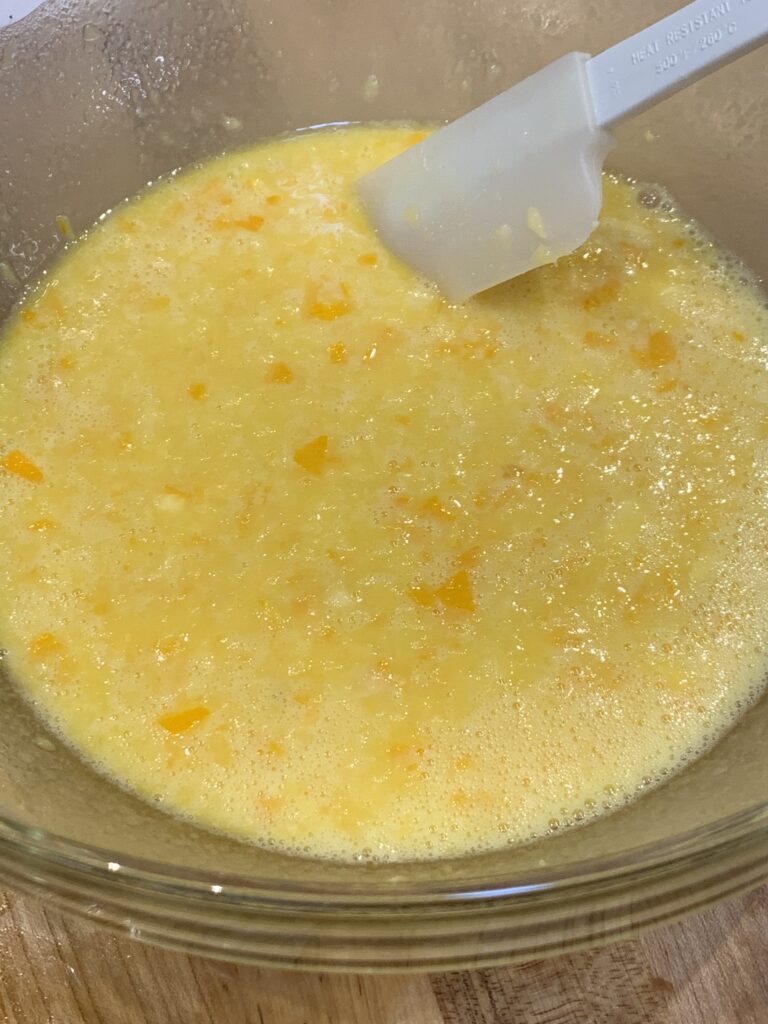 Bake it until it is set.  Cool it, cut it, and dust the tops with that all important layer of icing sugar.
How did the Meyer lemon do?  I was surprised at how present the lemon flavor was. It was clean and sharp as if the underlying floral notes pushed the sugar aside and said, "I'll take care of this, Thank You!".  I am now impressed!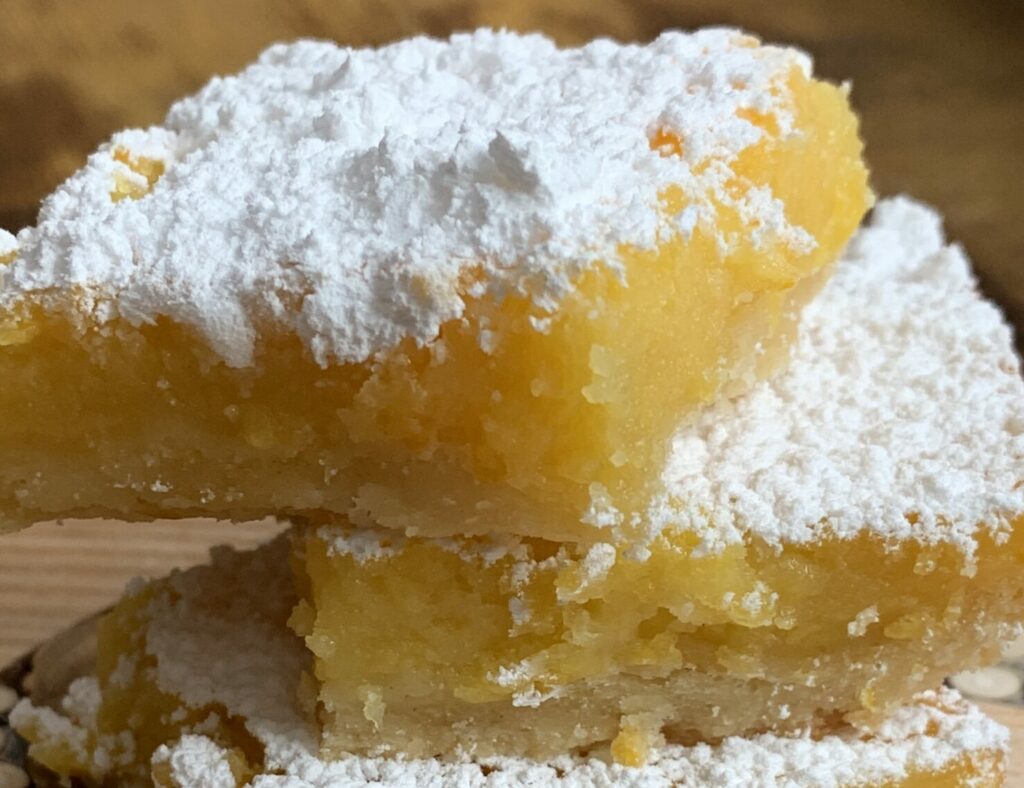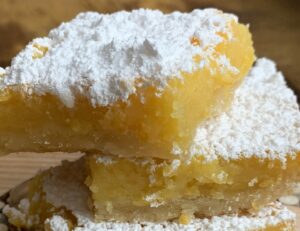 MEYER LEMON BARS
Ingredients
For the Shortbread Cookie Base
¼

C

powdered sugar

½

c

1 stick butter, softened

1

c

flour

Zest of 1 Meyer lemon

¼

tsp

salt
For the Filling
¾

c

sugar

¼

c

plus 1 tbsp flour

¼

tsp

salt

3

eggs

½

cup

Meyer Lemon Juice

4-5 lemons

1

whole Meyer Lemon
Instructions
Make the Base
Preheat the oven to 350 degrees. Spray a 8" square baking pan with oil and line with parchment paper leaving the ends hanging over.

Put the butter and sugar in the bowl of a stand mixer and mix on high for 3 minutes, stopping once to scrap down the sides.

Add the flour, salt, and lemon zest. Mix it until it comes together. It will make a thick dough.

Drop pieces of the dough into the prepared pan. Wet your hands slightly and press down on the dough until it forms an even layer.

Bake for 20 minutes until the edges are lightly browning.
Make the Filling
Whisk the flour, sugar and salt together in a bowl. In another bowl beat the eggs and lemon juice together.

Cut the whole lemon into small pieces and remove seeds. Put the chopped lemon, rind included, into the bowl of a food processor and pulse for 5-10 seconds until it is well chopped.

Whisk the egg mixture into the sugar mixture until well combined. Stir in the pureed lemon.

When the base is cooked, remove it from the oven and immediately pour the filling over it.

Return the pan to the oven and cook for 20-25 minutes until the center is set.

Use the overhanging pieces of parchment paper to lift the bars out of the pan and cool on a wire rack.

When the bars have cooled, cut them into squares and dust with icing sugar.