Think outside the basket this year and make a "Sug-Cuterie" Board of Easter Candy. A dazzling array of sweets inspired by the Charcuterie Board trend of the past few years, it will be the star of your table!
Growing up, Easter was one of my "Big Three".
Christmas, Halloween and Easter:  each is full of anticipation, tradition and ultimate reward!
Easter started with Palm Sunday.  After a church service filled with song, my sister and I paraded up to the altar to be gifted with a long piece of palm frond, which we waved and curled into shapes before letting them dry in a corner of our bedroom, fading from bright green to a brittle brown.
On the following Sunday we had new dresses for church including, in my youngest years, a new hat and white gloves.  My Aunts and Uncles joined us and we gathered on the grass in front of our house for a family photo.
One year my mother's older sister brought us baby ducks and rabbits.  We were delighted.  My mother much less so.  The ducks were pretty promptly released to the pond near our house.  The rabbits started life in the playroom, in a maze of cardboard boxes attached to each other with doorways leading from one to the next.  In short order they learned to push the boxes apart and disappeared behind our toys and books.  This earned them a new home in a hutch outside. I don't remember what happened to them after that, but I don't think they were around for long.
As for my Aunt, she never again brought live Easter gifts, resorting instead to over-the-top chocolate train sets, huge candy filled-eggs, life size bunnies and panoramic sugar Easter Eggs.  This firmly cemented her in our favor!
Long after our belief in the Easter Bunny had faded, my father continued to hide jelly beans throughout the house.  As we got older, he got more inventive in his hiding places and it was not unusual for an unclaimed jelly bean or two to appear somewhere months later behind a book or stuck to the finger of a small statuette.
Now, of course, I am well past the expectation of an Easter Basket on the end of my bed in the morning but I am most definitely NOT past Easter Candy. Chocolate rabbits, marshmallow peeps, jelly beans of all sorts.  Elegant or mundane,  artisan or commercially produced, the array of seasonal choices that arrive in the stores swiftly after the Valentine's Day hearts have been removed makes me happy with the anticipation of Spring and a frozen Cadbury Creme Egg!
This year, inspired by the Charcuterie Boards of Instagram, I decided to make a "Sug-cuterie" board.  A sugar-filled display of the wonderful candies of Easter.
Start by sorting out your candy.  Look for height, color, shape and texture.
Set up your board.  It can be anything. Any size. Any shape.  I put my board on a tray to make it easy to move and to contain any wandering jelly beans.  I lined the tray with tissue paper and put a textured cloth on the board to help keep things in place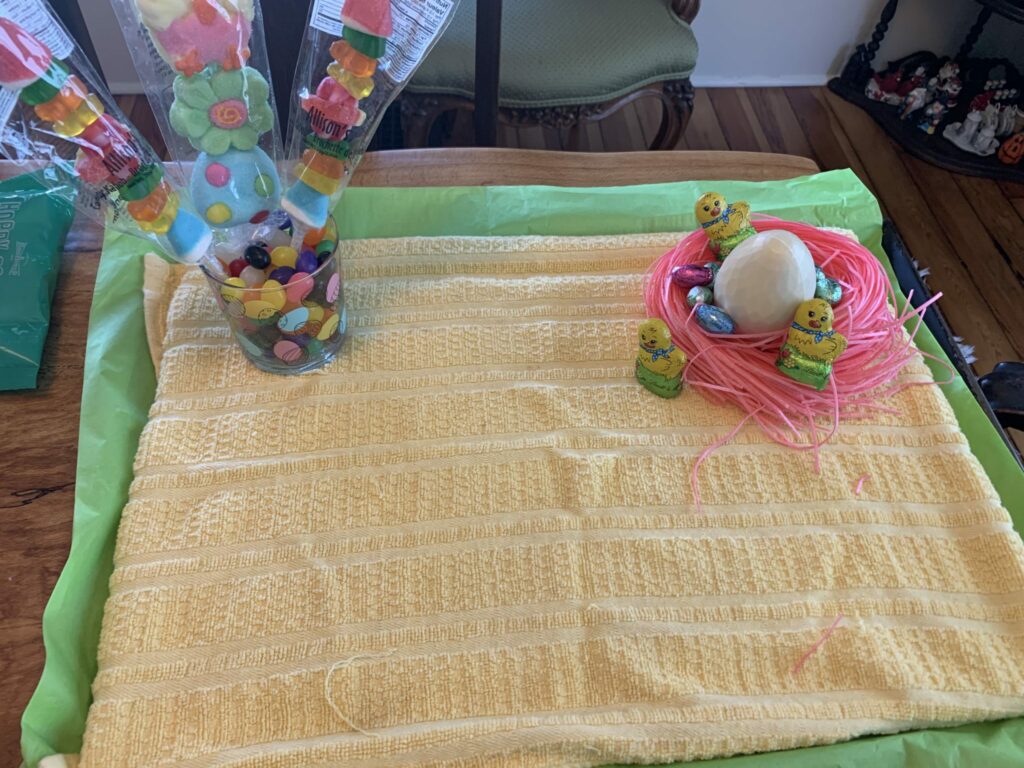 Then comes the fun (as if this isn't all fun!) Arrange the candies on the board.
There really isn't any right or wrong way to do this. I started with larger pieces.  I arranged them on the board and then filled in around them.
Think layers and think generously.  And don't forget the back.  Chances are people will be approaching the board from all sides!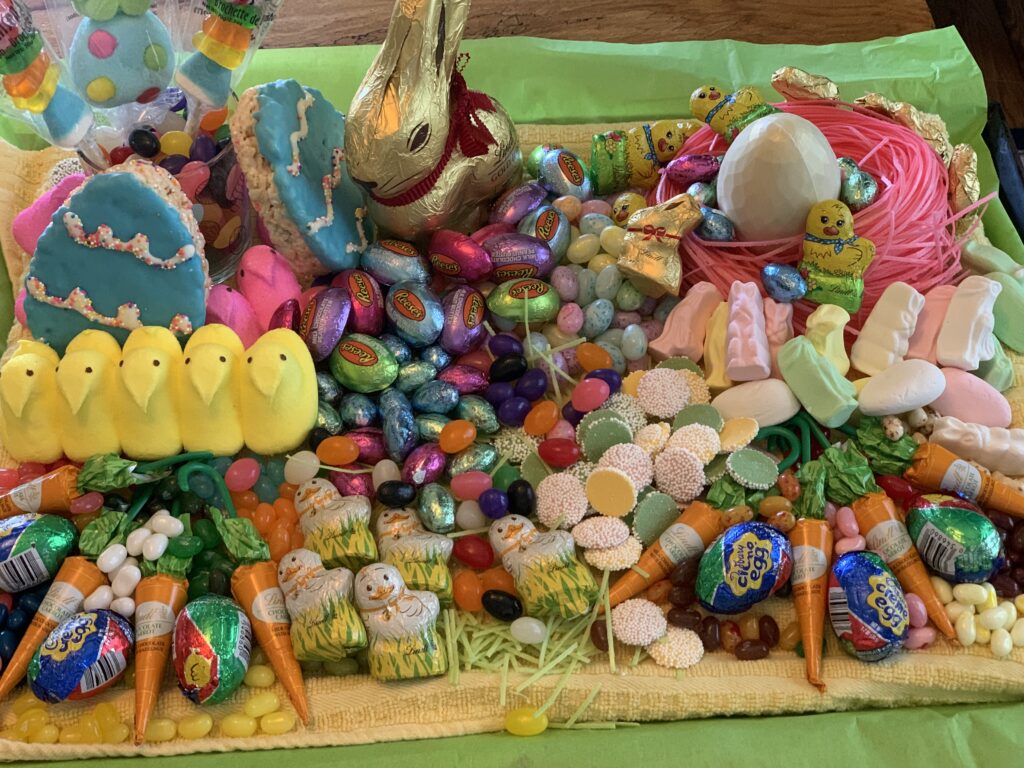 And that's it!  The easiest, most spectacular Easter Dessert in town!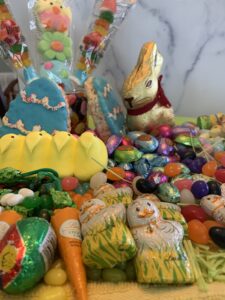 EASTER "SUG-CUTERIE" BOARD
Ingredients
Assorted Easter Candies

A large board

plate or tray

Small bowls and glasses

Tissue paper

Cloth
Instructions
Spread out the candy in front of you and look at the shapes, sizes and colors. Try to get a good balance of texture and type

Pick out the board or plate you want to use. A smaller board will take less candy.

Place the board on a tissue or cloth lined tray. Cover the board with a cloth to help keep the candies in place.

Start with the larger pieces. Place them on the board and then begin to fill in around them. You can use different bowls or glasses to provide interest and variety in the display.

Next fill in around the large pieces.

To finish, fill any empty space with small candies. Try not to leave any of the board showing through.

This will keep for a week or more (unless it gets eaten!)