Just this past week my sister-in-law sent me an article about Grandmothers.  Did you know that Human females are among the only animals on the planet who live for an extended period of time after their ability to reproduce has ended?  And for this, humanity has reason to be hugely grateful to them.  It seems that grandmothers, and their freedom to care for their daughters when their daughters become mothers, are in many ways responsible for the higher evolution of the human species.
The gift of holding one's tiny grandchild and sharing in the love of a family in the making needs to be answered by a return gift of love and care.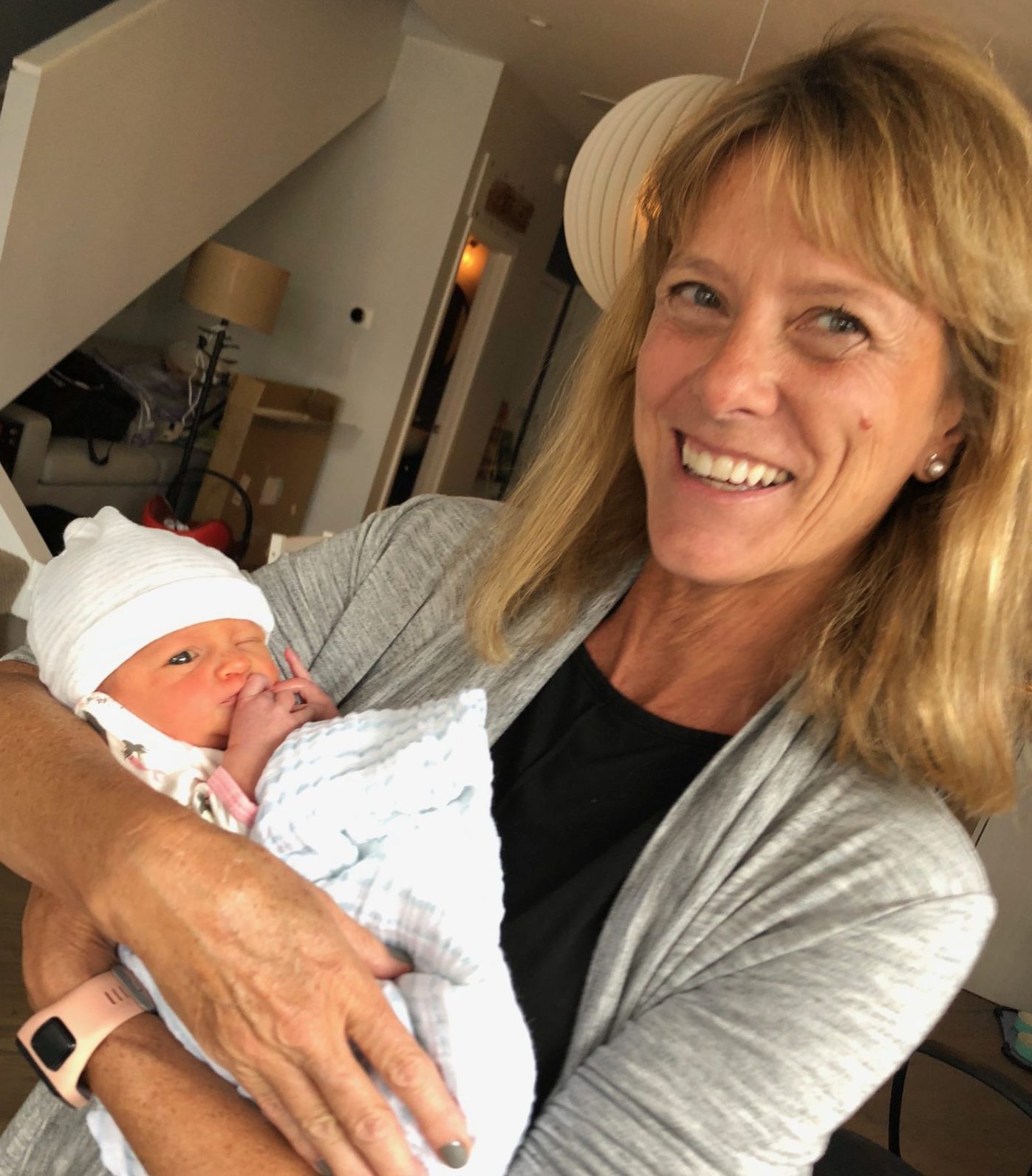 And in the giving, we strengthen the family bond, freeing the parents from the tasks of locating and preparing food, and caring for the home so that they may focus on learning the needs and tricks of caring for the next generation.
So here I am, helping humanity to continue to thrive and evolve.
And enjoying the heck out of it at the same time!
Tiny Maisie was born two weeks early, setting everyone 's plans on end as we accommodated our lives to her early arrival.  Instead of being here at the hospital to see her right after she appeared, I arrived at my daughter's apartment the day after she brought her home.  Maisie's parents were tired but focused on caring for this tiny (5 LB!) child so I set right in to make them dinner.
This required something relatively quick to make which could keep until one or both of them were free to eat.  But I also wanted it to make it elegant and celebratory to fit the occasion.
So chicken breasts: pan seared and topped with prosciutto, sage and cheese, then finished in the oven while I made a pan sauce.  Loosely based on the Italian dish, Saltimbocca, my dish replaces the veal with chicken, adds some cheese and finishes the sauce with mushrooms and white wine.  Add some rice and a salad and you are good to go!
I put the chicken breasts between two pieces of waxed paper and, using a rolling pin, pounded them flat(ter).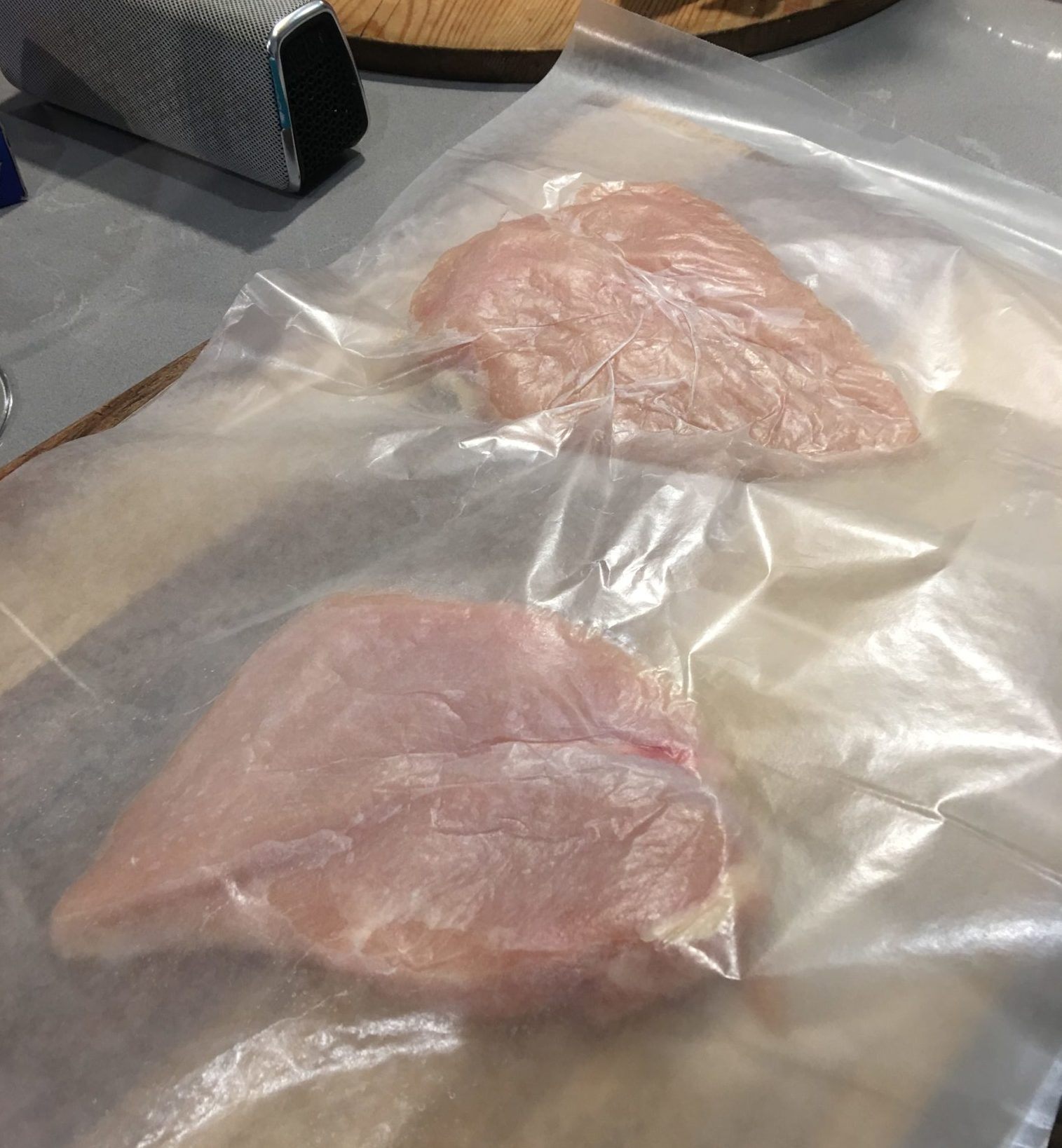 While I was doing this, I brought some butter to singing in the pan.
Salt and pepper liberally and in they go.  I worked in batches so as not to crowd them in the pan, cooking them until they were a lovely golden brown.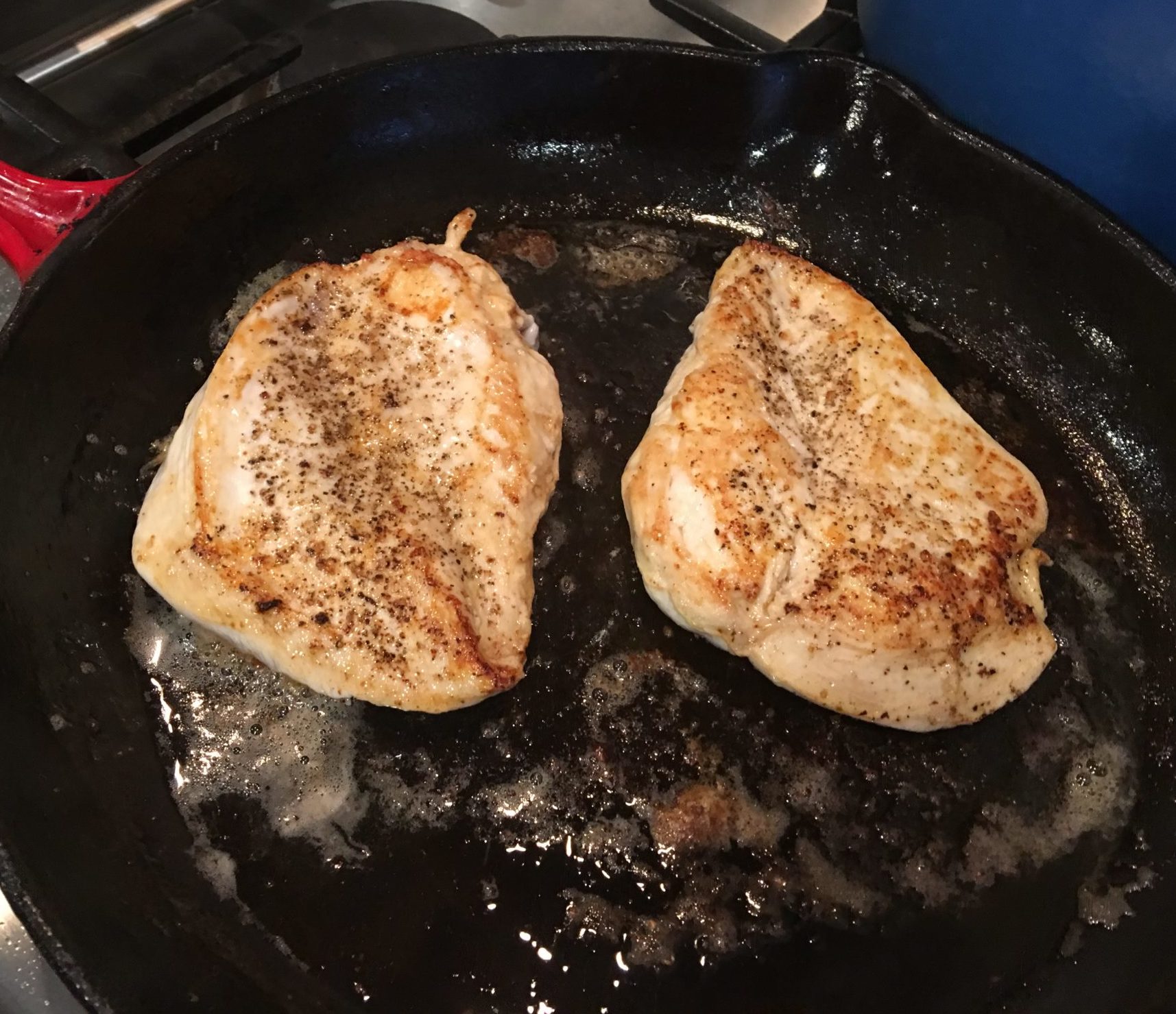 Once browned I placed them on a baking tray and layered each breast with prosciutto,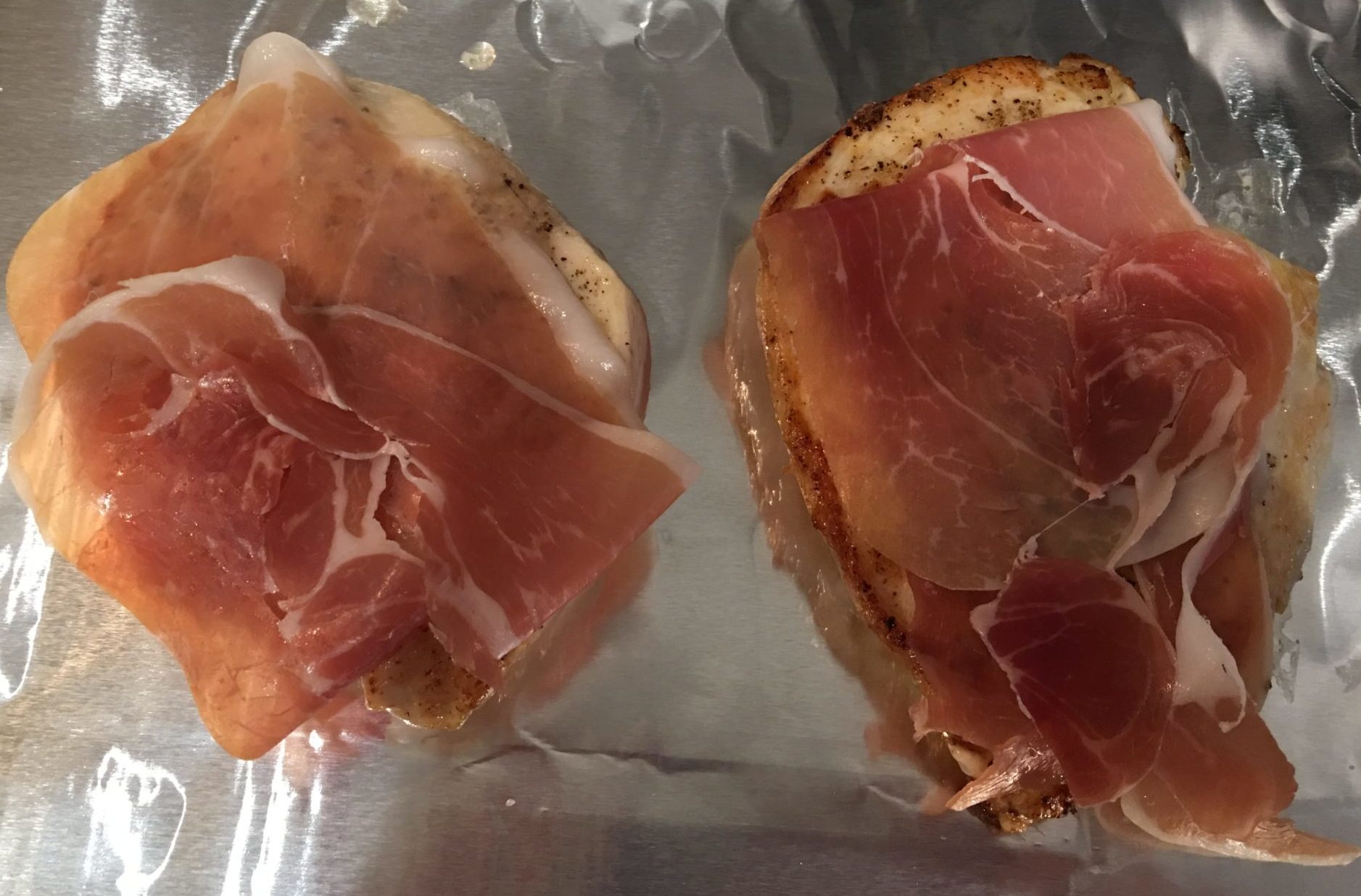 a couple of fresh sage leaves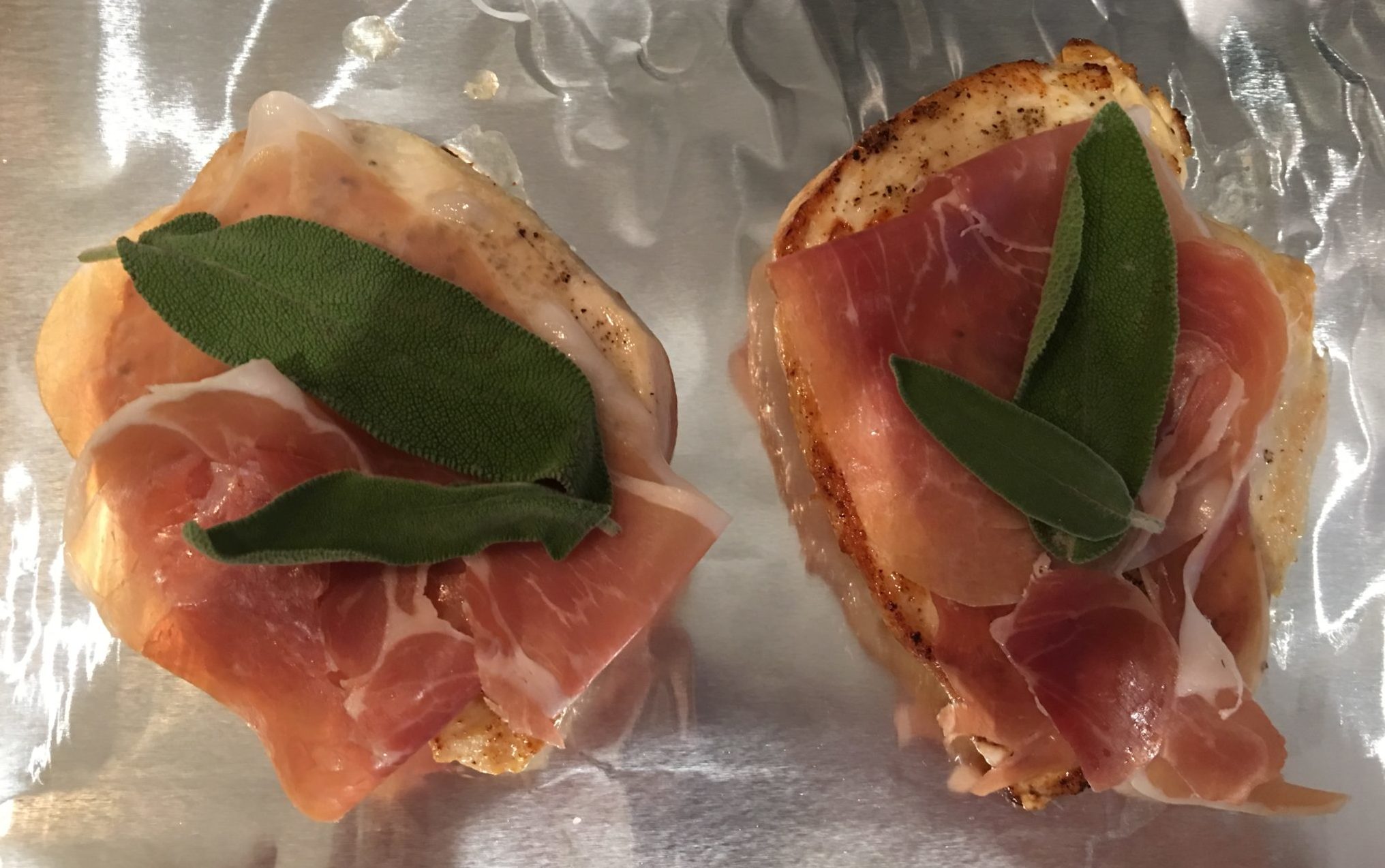 and topped with fontina cheese.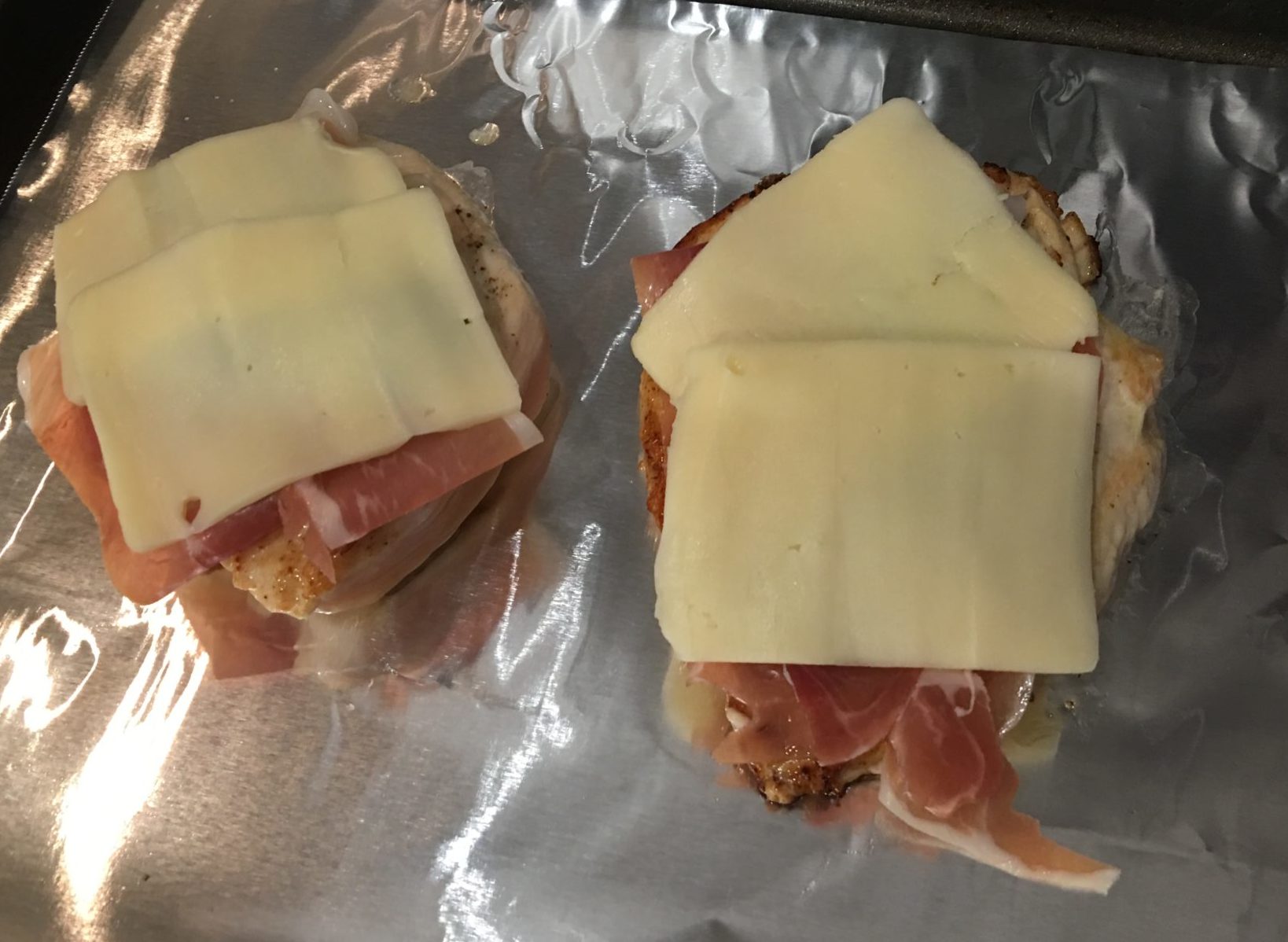 The chicken breasts went into a preheated 350 degree oven to finish cooking while I made the pan sauce.
First a mixture of brown, white and shiitake mushrooms are sautéed in the pan.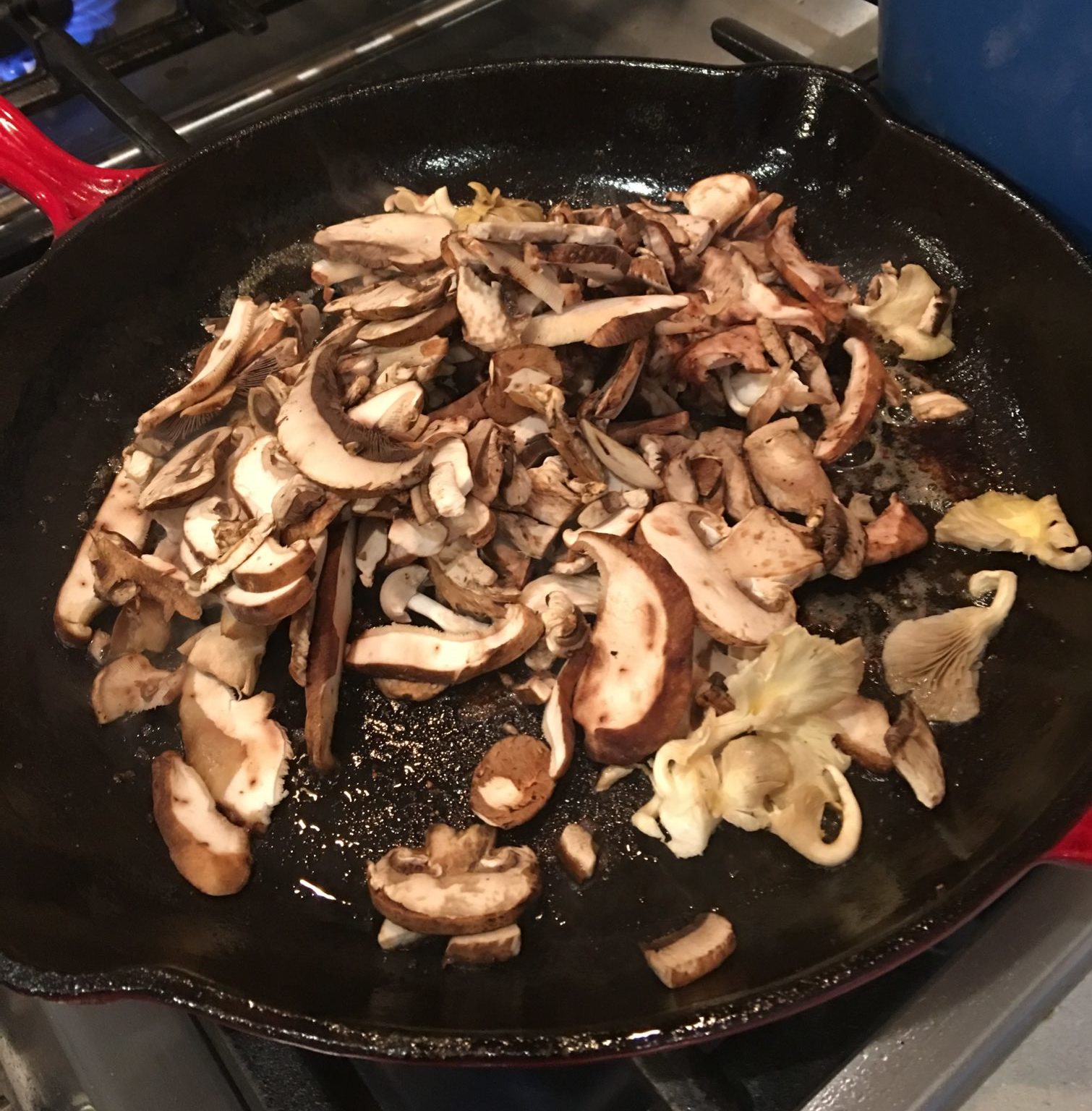 Once they are cooked, I added some white wine and brought it to a boil, scraping up any of the good chicken bits from the bottom of the pan with a wooden spoon.  After a minute or two, when the raw alcohol flavor has burned off, I added some cream and let it simmer until it thicken some.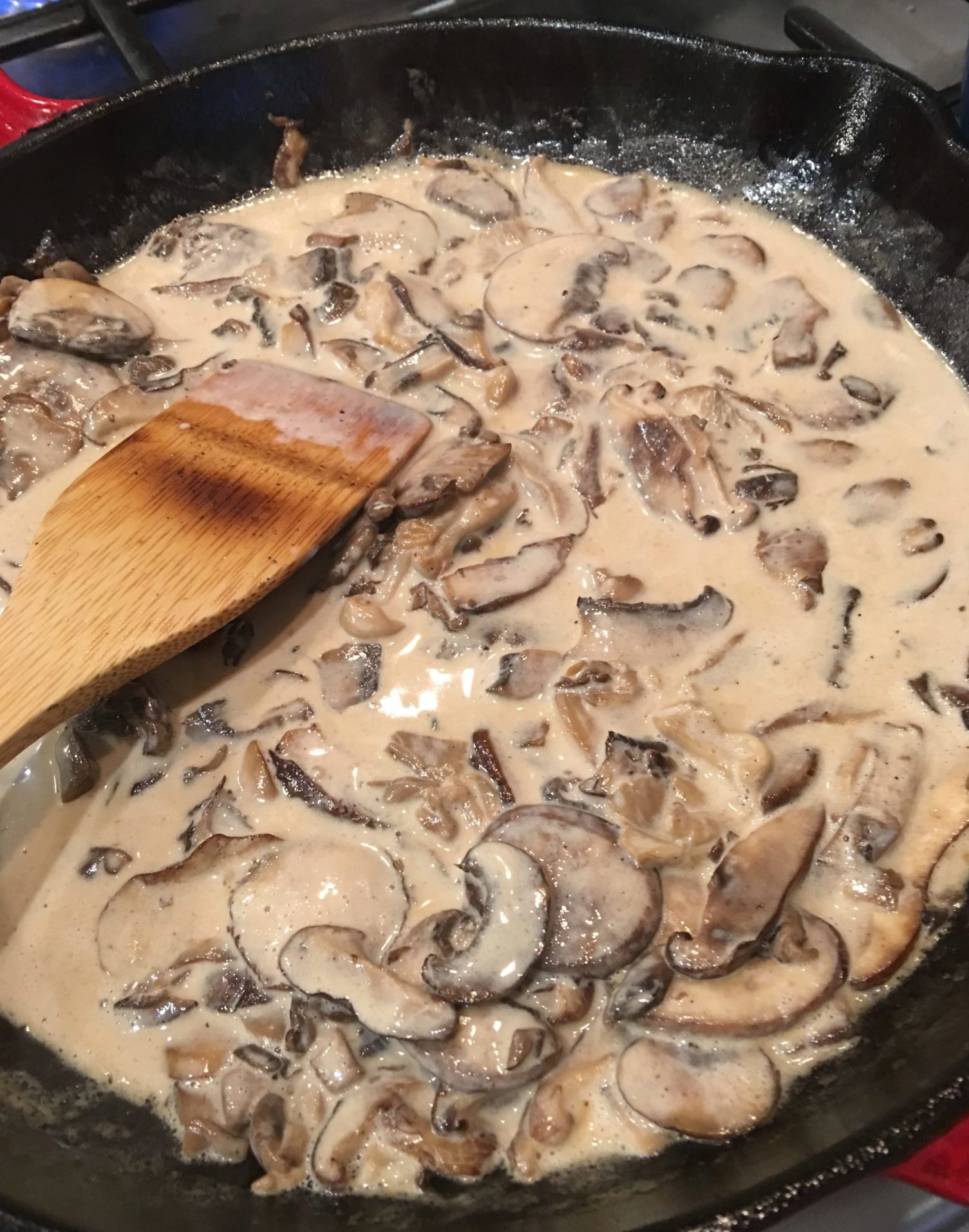 Taste it, season it, and serve it.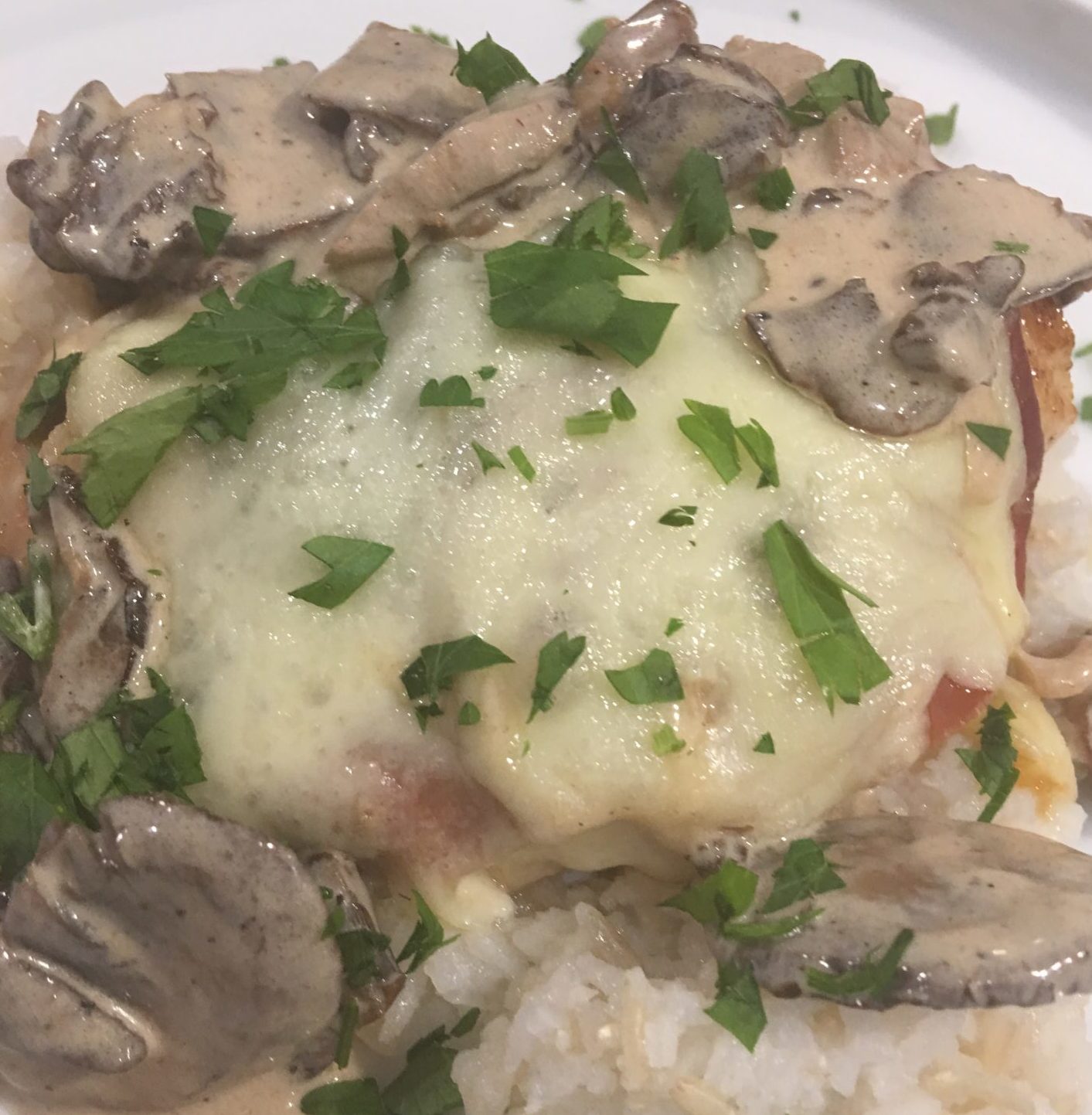 Voila!  Saltimbocca a la Maisie!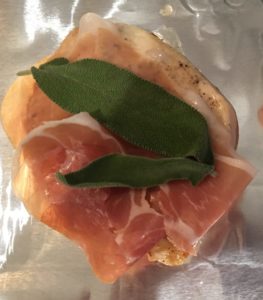 SALTIMBOCCA A LA MAISIE!
Ingredients
4

chicken breasts

skinless, boneless

4

slices

Prosciutto Ham

4-8

Slices

Fontina Cheese

4-8

fresh Sage leaves

¼

cup

butter

half a stick

1/2

lb

mushrooms

sliced

½

cup

dry white wine

½

heavy cream

Salt and pepper
Instructions
Preheat the oven to 350 degrees

Put the chicken breasts between 2 pieces of waxed paper and pound them out flat. Salt and pepper the chicken breasts.

Working in batches if necessary, heat half the butter to sizzling and cook the chicken breasts 3 minutes on a side until golden brown.

Place the browned chicken breasts on a foil lined cooking sheet and top each with a slice of Prosciutto, one or two sage leaves, and some of the cheese.

Place the chicken in the oven for 10-15 minutes to finish cooking.

In the same pan you used to brown the chicken breasts, cook the mushrooms in the remaining butter.

Once the mushrooms are cooked, stir in the wine and boil for two minutes, scrapping up the pan drippings with a wooden spoon.

Add the cream and boil for three more minutes until the sauce has thickened slightly.

Season to taste with salt and pepper.

Remove the chicken from the oven and serve with the mushroom sauce.