It's the first week of January and my cupboard is full of the detritus of holiday baking.  Miscellaneous bags of dried fruit vie for space with walnuts and pecans.  Spice mixes prepared for mincemeat and plum pudding need to be used up as they will not last until next December. In my fridge I have buttermilk and cream crammed in next to an absurd number of eggs. What to do with this mess?  I opt for scones.
Scones are the British cousin to a biscuit.  Unlike muffins or quick bread, they have a gravitas to them.  Slightly dense and crumbly, they suit the cold, dark days of January.
The basic recipe is for cold butter cut into flour and baking powder.  Buttermilk (or cream), eggs and flavorings are stirred in and then, at that point, you can add dried fruits, nuts or chips as desired.  That pretty much hits all my buttons!
The most important thing about making scones is to keep it cold.
Freeze your butter, grate it and then pop it back in the freezer.
Mix together flour, sugar, salt and baking powder.  Add your spices to the mixture.  I choose to use mixed spice, a combination of cinnamon, allspice, nutmeg, cloves, ginger, coriander, and mace.  While little known in the USA, is a staple of British cooking.  You can use pumpkin or apple pie spice in its stead.
Add the frozen butter to the dry ingredients and use a pastry cutter (two knives or your fingers can be used as well)  to mix it in until it looks like small pebbles. Then put it back in the fridge.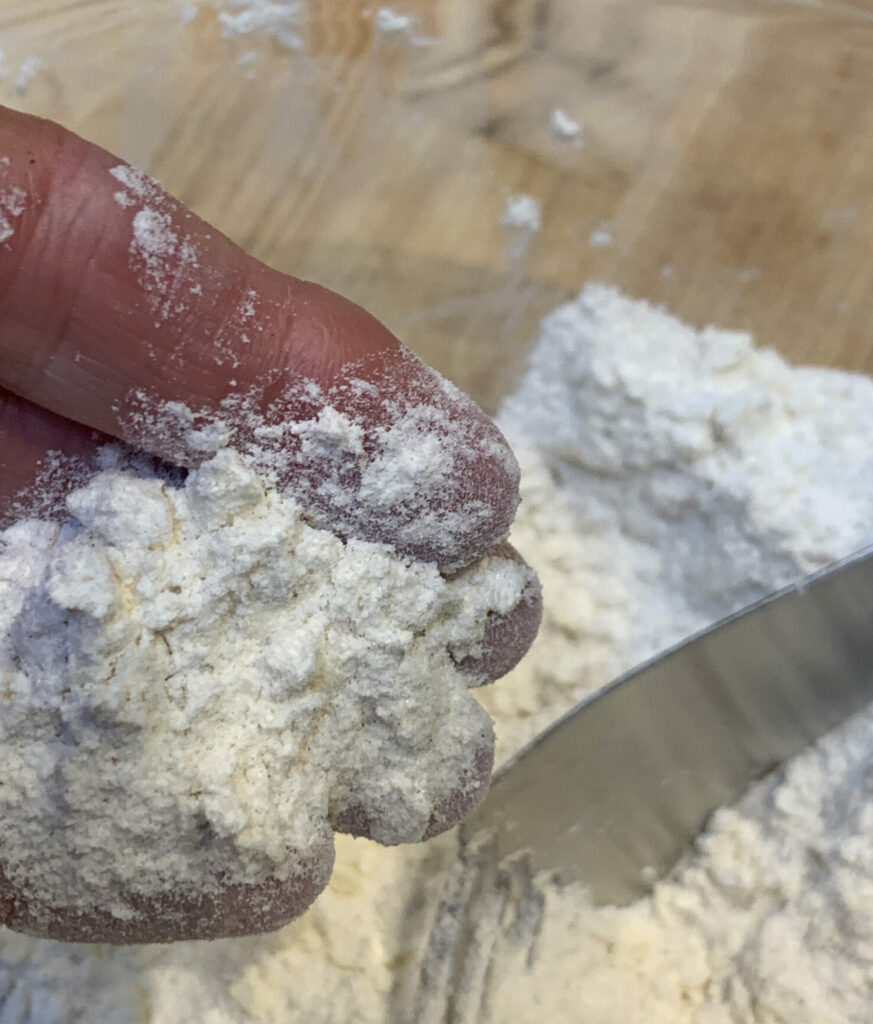 Chop any mixture of dried fruit to uniform size bits about ¼ – ½" in size. Add some nuts if that's your thing.
Whisk together cream (or buttermilk) an egg and vanilla.
Stir this into the cold flour mixture until it starts to stick together.
Stir in the fruits and pour it out onto a lightly floured board counter.  Use your hands to mix it together into a ball.  Work quickly and with a light hand.
You have some choices now.
You can make a drop scone: drop spoonfuls of about ¼ cup of batter onto a lined baking sheet.
You can cut the scones like a biscuit.
Or you can go the traditional route. Form a disk about 8" inches around and place it on the lined baking sheet.  Use a pastry scraper or a knife to cut it into 8 equal pieces.  Separate the pieces a bit with the scraper.  They will come back together in the baking but you will be able to break them apart easily.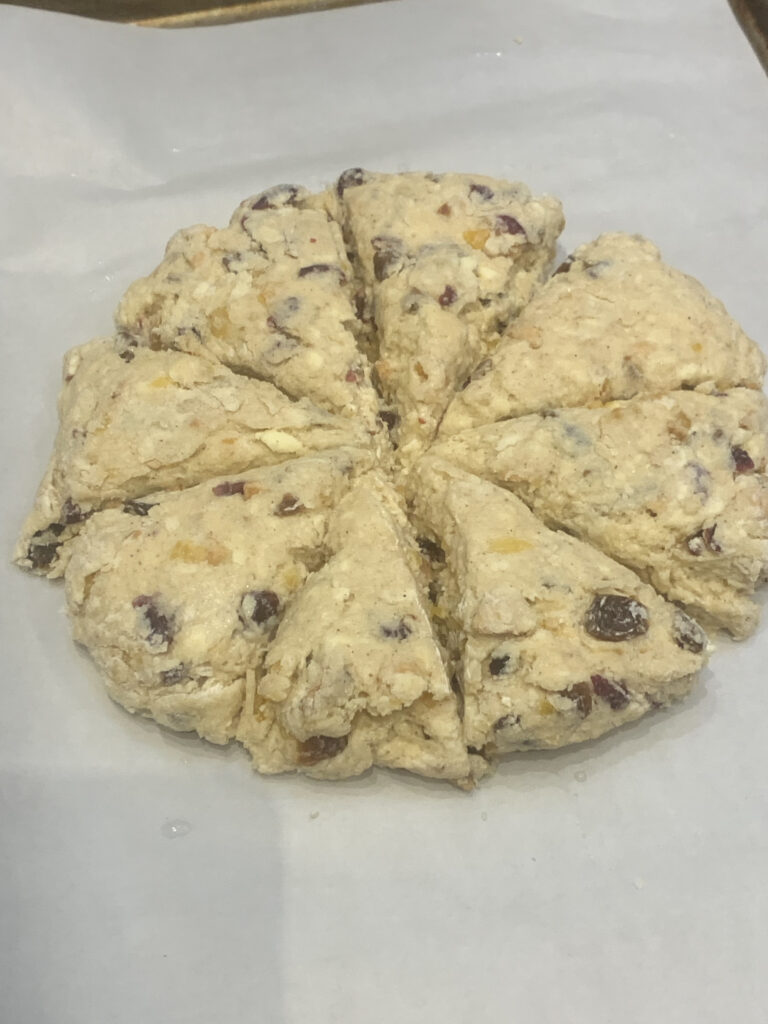 Finish the scones by brushing them with cream and sprinkling with sugar.
I love to eat a scone for breakfast in January.  It's just the right indulgence for a month that can otherwise be pretty bleak!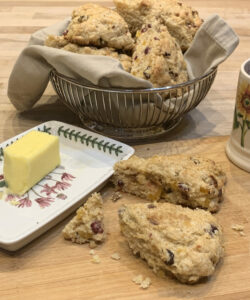 JANUARY SCONES
Ingredients
½

c

butter

frozen

2

c

flour

½

c

sugar

2 ½

tsp

baking powder

½

tsp

salt

1

tsp

mixed spice

see note

½

cup

buttermilk

see note

1

egg

1

tsp

vanilla

1 ½

c

dried fruit

chopped

Demerara sugar

see note
Instructions
Preheat oven to 400 degrees

Grate the butter with the large hole side of a box grater and place it in the freezer while you gather the rest of your ingredients.

In a large bowl, whisk together the dry ingredients (flour, sugar, salt, baking powder and spices).

Add the frozen butter to the dry ingredients and using a pastry cutter, cut in the butter until it is the size of small peas or pebbles. Return this to the refrigerator.

Chop an assortment of dried fruits and nuts, according to your taste, into small dice ( ¼ – ½"). Set aside.

Whisk together ½ cup buttermilk, one egg and the vanilla.

Pour this over the butter and flour mixture and mix it until it starts to come together.

If you are making drop scones continue to mix in the bowl until it forms a dough. Then drop 3 inches apart on a lined baking tray.

For biscuit style scones or traditional scones, turn the batter out onto a lightly floured board and continue to mix by hand until it is a soft dough. Do not over-knead.

Roll the dough out lightly and cut biscuits or form an 8" circle of the dough and cut into eights on a lined baking sheet.

Brush the tops of the scones with a little cream or baking powder and sprinkle with demerara sugar.

Bake 20-24 minutes until lightly browned and a test stick comes out dry.
Recipe Notes
Notes:
Mixed Spice can be replaced with Pumpkin Pie or Apple Pie Spice or ½ tsp cinnamon.
Heavy cream can be used in place of buttermilk.
Regular sugar can be used in place of Demerara Sugar.