A Rich, Satisfying Vegetarian Chili made with Beans, Corn, and Tomatoes
Two weeks into my vegetarian experiment, I have learned a few things.  Namely there is a difference between eating the occasional meat free meal (pasta with fresh tomato sauce, cheese omelets for example) and making a day-to-day commitment to it.  It involves cooking.
It's easy to throw some chicken in the oven or a chop on the grill, but vegetarianism done properly involves combining proteins in order to get all the nutrients you need.  In the same way that one learns which flavors work well when combined with meat, I needed to learn which flavors pair well in vegetables. I also just plain needed to branch out.
An easy first start?  Vegetarian Chili.
There are a lot of recipes out there for meatless chili.  Mine, much like all the others, is open to substitution.  Different beans, different starches, more or less of a spice, you do you.
I started with chopped butternut squash, sauteed in olive oil until it was caramelized on the edges.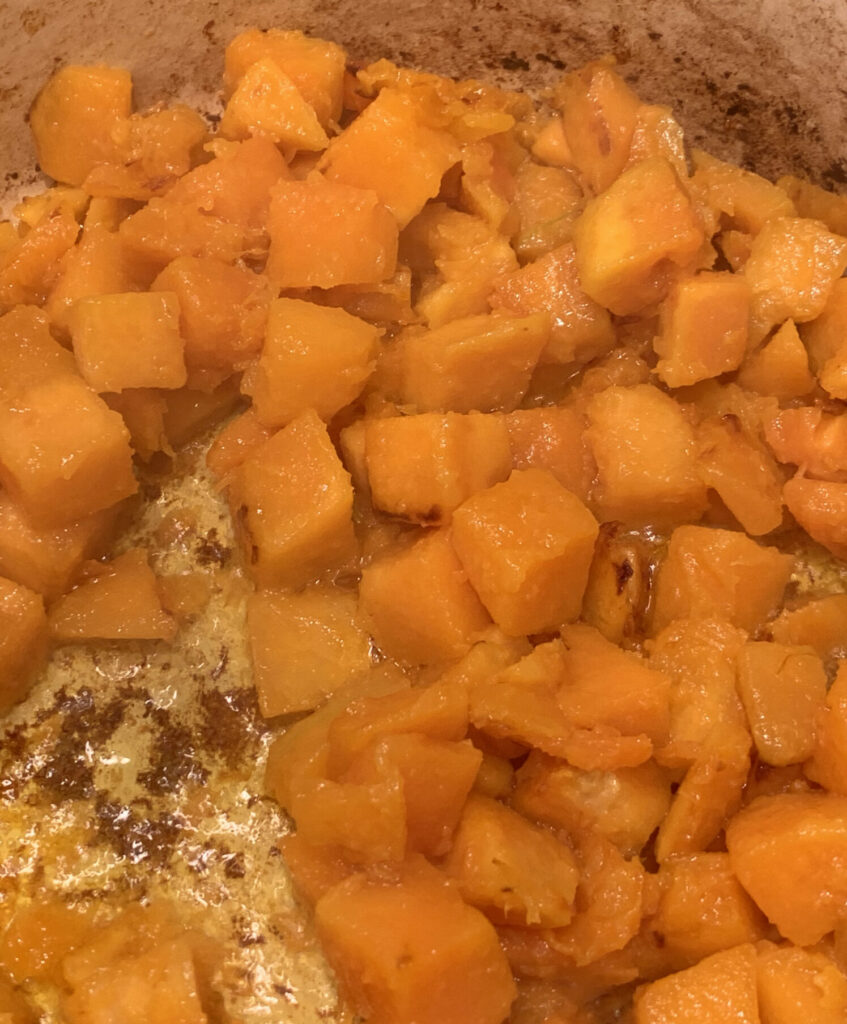 Then I added onion, bell pepper, corn and a fresh jalapeno.
Once these had cooked and softened, I stirred in my spices, cooking them until I could smell the deliciousness.
In go the beans. In this case, black eyed peas which I had soaked overnight.
Cover it all with vegetables stock and crushed tomatoes then let it cook until the peas are soft and the chili has thickened.
I have eaten mine as is with some extra jalapeno and cilantro; topped with cheese and sour cream; and over rice.  It only gets more delicious after a day or two!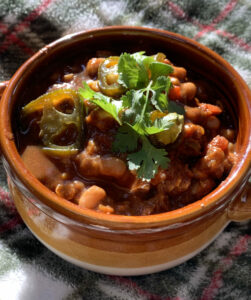 VEGETARIAN CHILI
Ingredients
¼

c

oil

olive or canola

1

lb

4 c diced butternut squash

1

medium onion

chopped

1

red bell pepper

diced

2

cloves

garlic

minced

1

cup

corn

fresh or frozen

1

jalapeno

finely chopped

2

tbsp

cocoa powder

2

tbsp

chili powder

1

tbsp

cumin

1 ½

tsp

ground coriander

¼

tsp

cinnamon

¼

tbsp

oregano

1

c

dried black-eyed peas

soaked overnight

4

c

good vegetable stock

1 15-

oz

can crushed tomatoes
Instructions
Soak the peas overnight in cold water to cover.

In a large pot, heat the oil to shimmering. Stir in the butternut squash and sauté, stirring occasionally, until it is starting to brown around the edges.

Add the onion, corn, bell pepper, garlic and jalapeno and continue to cook until they have started to soften.

Mix in the spices and oregano and stir until they start to release their oils, about 1 minute.

Drain the peas and add them to the pot. Cover with vegetable stock and tomatoes.

Bring this to a simmer and cook, stirring occasionally until the peas have softened and the chili is thickened, about 50 minutes.

Taste and add salt if needed. Then taste it again and add some hot sauce or more chili if you like it hotter.

Serve over rice, with cheese and sour cream or topped with cilantro and more jalapenos.