Fresh strawberries and diced rhubarb are baked into a traybake or "bar cookie" filled with the flavors of Spring.  For an extra pop of flavor, freeze dried strawberries are ground up and added to the crust.  It's a quick and easy early Summer treat.
I spent three weeks perfecting this recipe, taking it from "Okay" to "Yes!"  And now I have procrastinated writing about it for another week.  Honestly if  I take any longer on this the strawberry and rhubarb season will have passed!
Perfection is like that.  Sometimes searching for perfection gets in the way.  You need to step back and relax.  Let perfection find you!
The bars start with the crust.
Sugar,  all purpose flour and almond flour, and butter.  That's good.  But you know what's even better?  Adding some freeze dried strawberries to the processor and whizzing them around with the flours until they are ground up and distributed.
Once everything is mixed together into a nice crumb, spread it in a foil-lined pan, pat it flat and even, and bake it.
While that's baking, prepare the topping.
Whisk eggs and sugar together until just mixed, no need to overdo it. Stir in some flavoring, almond and vanilla.
Add flour, baking powder and salt.
Finally mix in the fruit.
Fresh strawberries, diced rhubarbed and, for good measure, some more freeze dried strawberries.
Pour it over the baked crust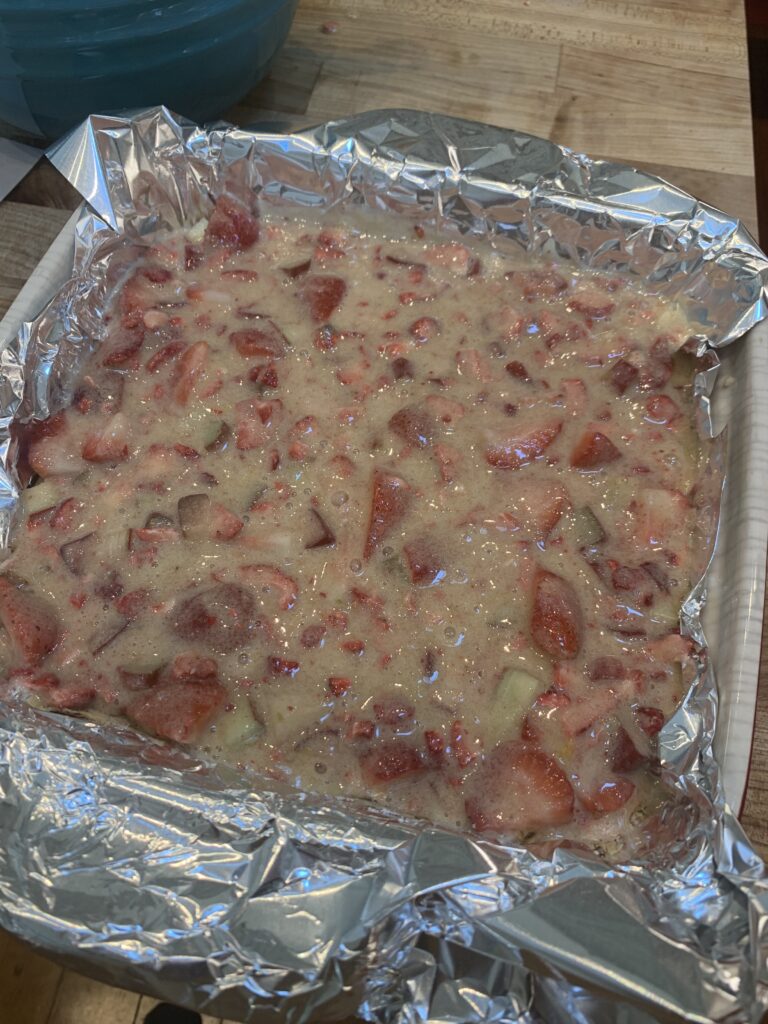 and  bake until it's done.
For good measure, dust the top with a little powdered sugar.
See?
Perfection.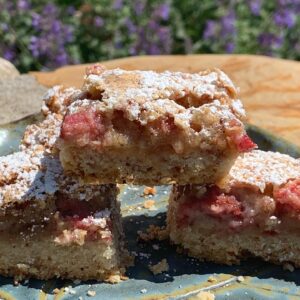 STRAWBERRY RHUBARB BARS
Ingredients
For the Crust
1 ½

c

flour

½

c

almond flour

¼

c

freeze-dried strawberries

¼

c

sugar

½

c

butter

Pinch

salt
For the Topping
1

c

sugar

2

eggs

¼

tsp

almond extract

½

tsp

vanilla extract

1/3

c

flour

½

tsp

baking powder

¼

tsp

salt

½

c

freeze-dried strawberries

chopped

2/3

c

fresh strawberries

quartered

12

" stalk rhubarb

diced

Powdered sugar for dusting
Instructions
Preheat the oven to 350 degrees. Line an 8" baking pan with foil.
Make the crust.
Put the dry ingredients in the bowl of a food processor and pulse 5-7 seconds until the strawberries are ground and well mixed in. Add the butter and pulse until the mixture is beginning to stick together and looks like coarse sand.

Spread the mixture in the prepared pan and pat it evenly in the pan.

Bake for 15 minutes.
Prepare the Topping.
Use a spoon or whisk to mix the eggs, sugar and extracts together. Do not overbeat.

Stir in the flour, baking powder and salt.

Add the fruits and stir until evenly distributed.

Pour the topping over the baked crust and spread evenly.

Bake until a tester comes out clean. 30 to 40 minutes.

Let cool then use the sides of the foil to lift out of the pan and cut into squares.

Dust the tops with powdered sugar