My sister is five years older than I am. I have been eating pie with her my whole life. So it absolutely floored me when she told me that Strawberry Rhubarb was her favorite type of pie.  My mother never made a strawberry rhubarb pie.  I don't think we ever had rhubarb in any form in my childhood.  It wasn't until I was married and in my late 20's that I even tasted rhubarb, occasioned by early food memories of my then-husband and the loving desire to make him a dish he liked.
So, I never saw my sister eat a strawberry rhubarb pie. I never heard her mention it was one of her favorites or saw her make one.  Who knew?  The exploration of food and our relationship to it is endlessly fascinating!
My exploration of rhubarb started with rhubarb sauce (for my ex) and moved to rhubarb muffins (a British recipe) and even rhubarb stuffed pork chops (an Australian dish).  But somehow I never made a strawberry rhubarb pie.
Until now.
I think it might be Instagram and the pictures of hexagonal patterns made of rhubarb on top of uncooked pies (ever wonder why it's rarely shown baked?).  Or it might be my exploration of pastry which has led to a greater confidence in pie making. Or it might be this frightful Spring in which the days have teased us with warmth followed by long stretches of rain and cold until the desire for Spring makes me long for every early fruit and vegetable I can find.
It was time for this pie.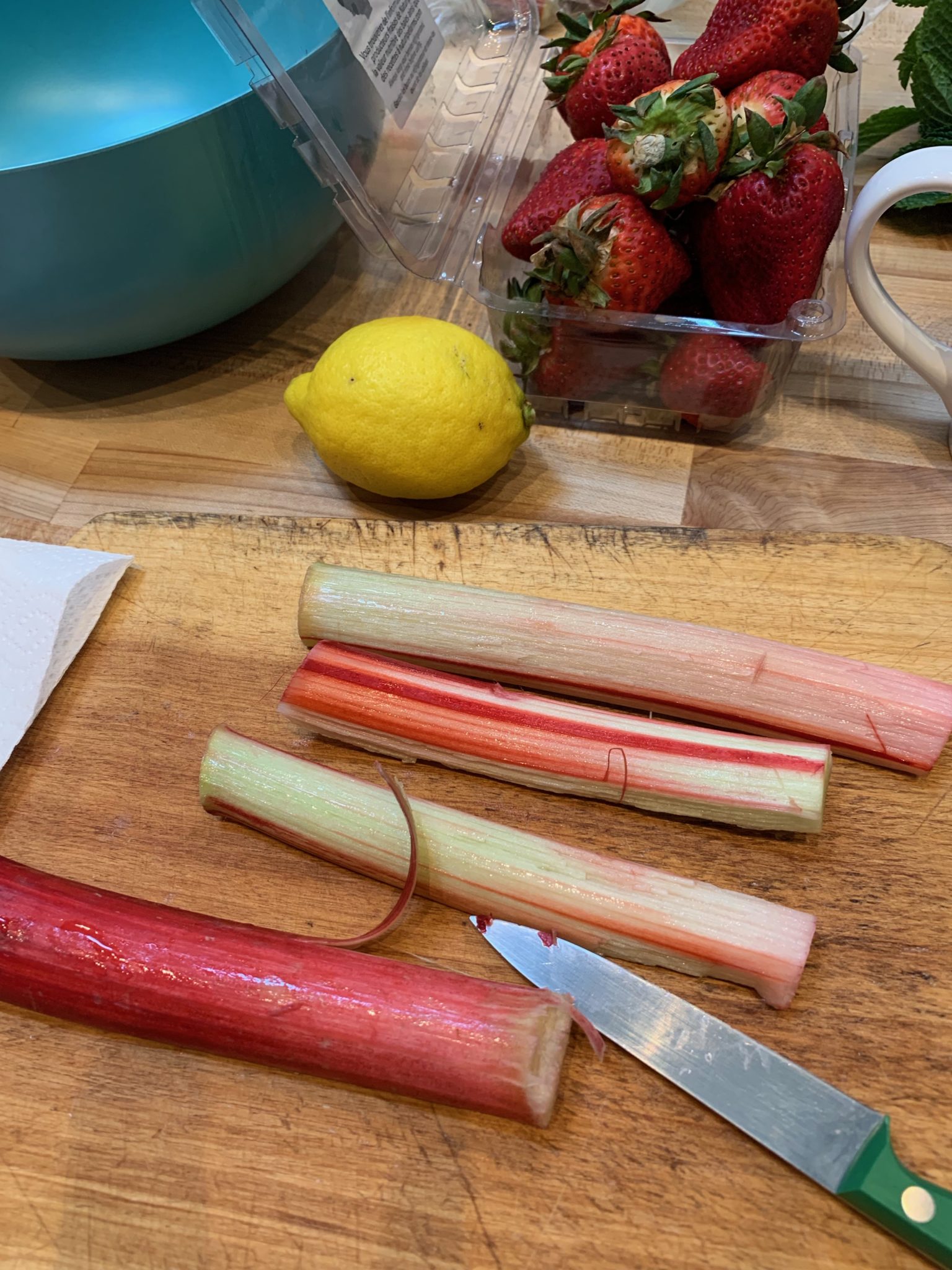 Peel and thinly slice about 1 ½ pounds of rhubarb.  You should have three to four cups. Do the same thing with your strawberries.  Put them together with all the other ingredients in a big bowl and set it aside to let the tapioca soften a bit and some of the juices to start coming out.  (The tapioca needs liquid to cook properly).  And add some mint because all that sweetness needs a little pop.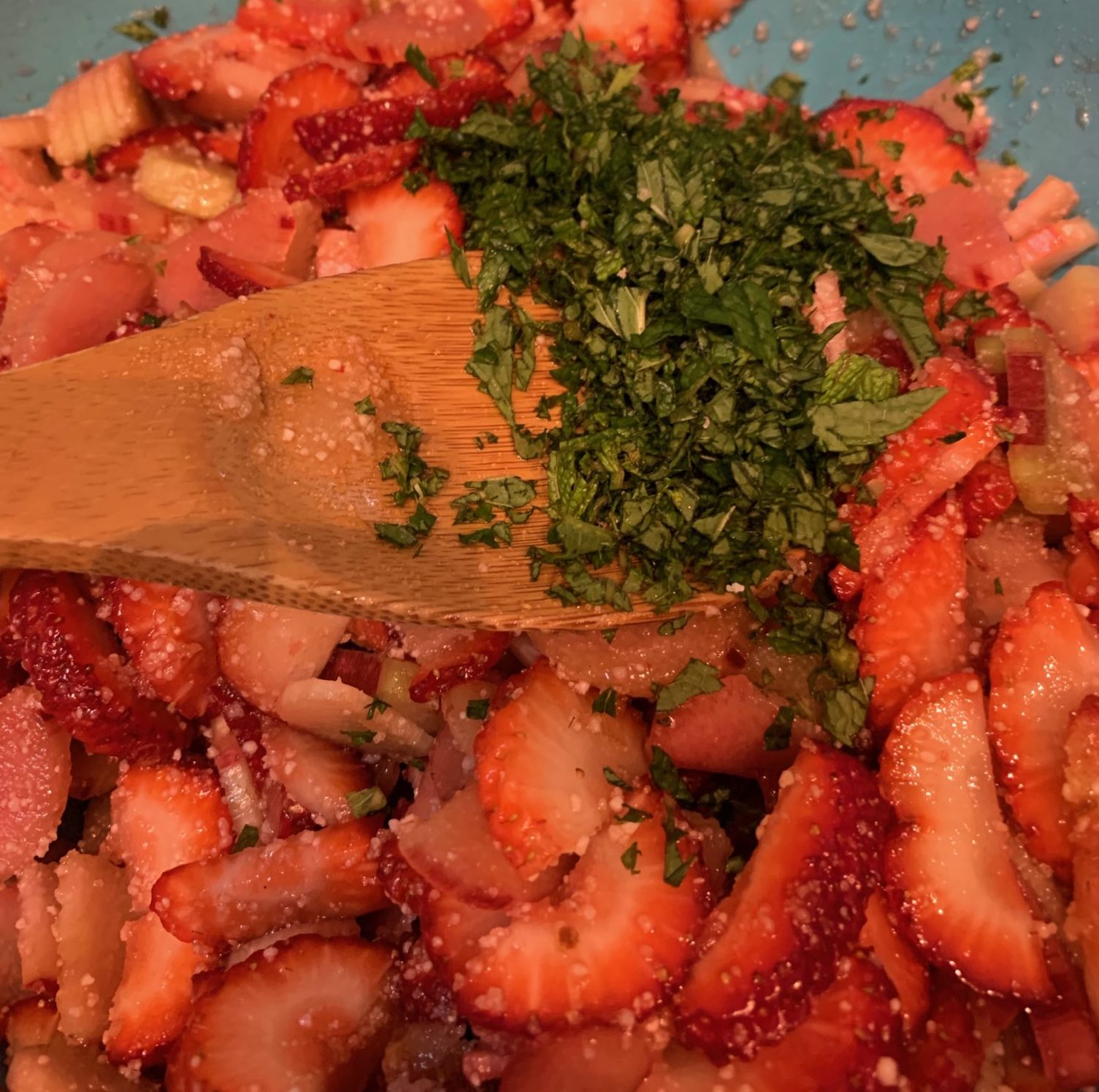 Let it sit while you preheat the oven and roll the pastry.
For pastry you can use my short crust recipe (find it here) or a commercial pastry.
Line the pie tin with the bottom crust and cut thin strips out of the top crust to make a lattice.
Fill the pie tin with the berries, rhubarb and all the juices.  Then dot it all over with about 2 tablespoons of butter.
Starting in the middle of the pie with a long strip of pastry, place  the strips across the pie.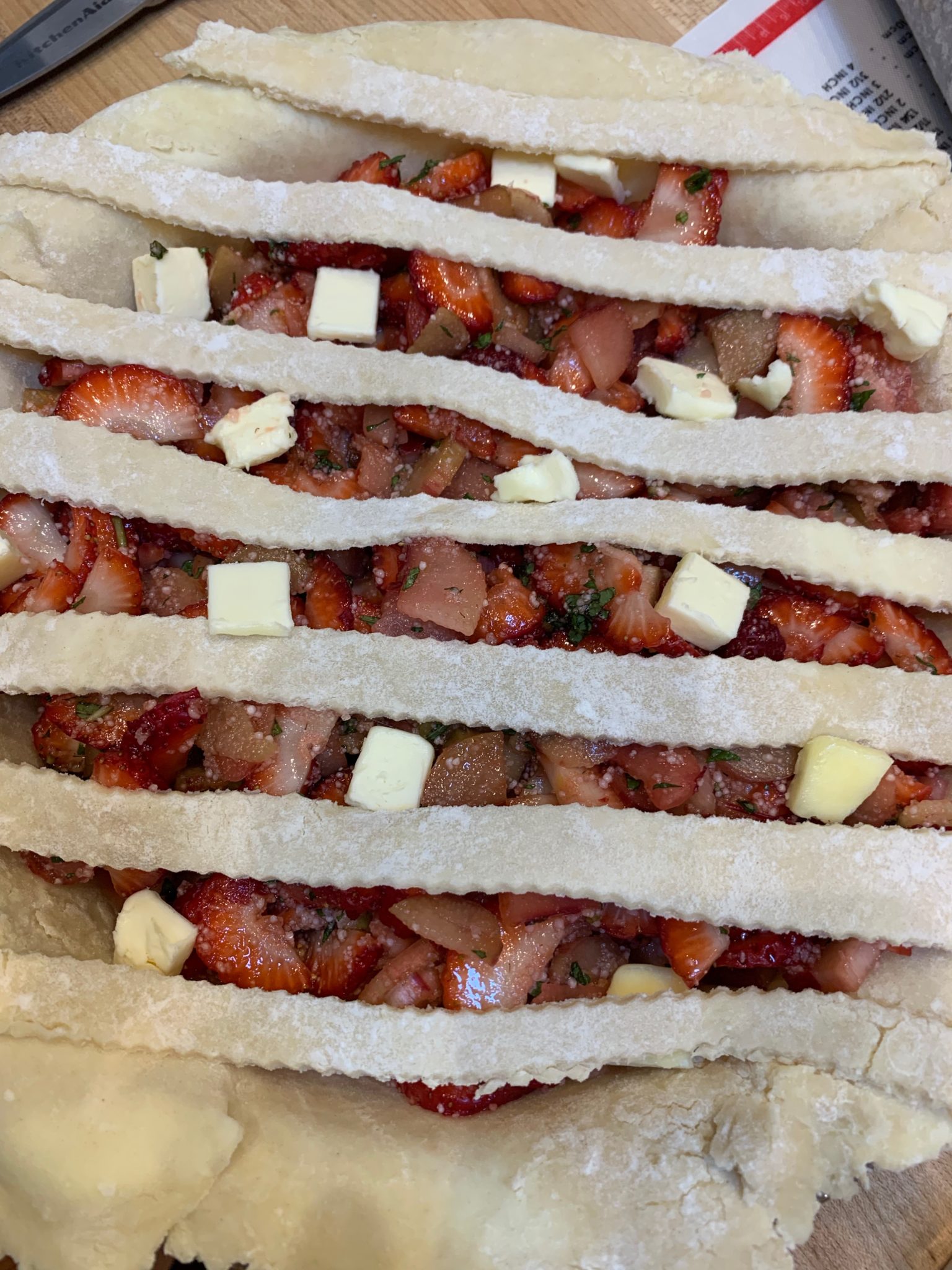 Then fold back every other strip halfway. You are going to do one half at a time.
Put a long strip in the middle then unfold the strips down over it and fold the strips which it is laying upon back over it.  Like this.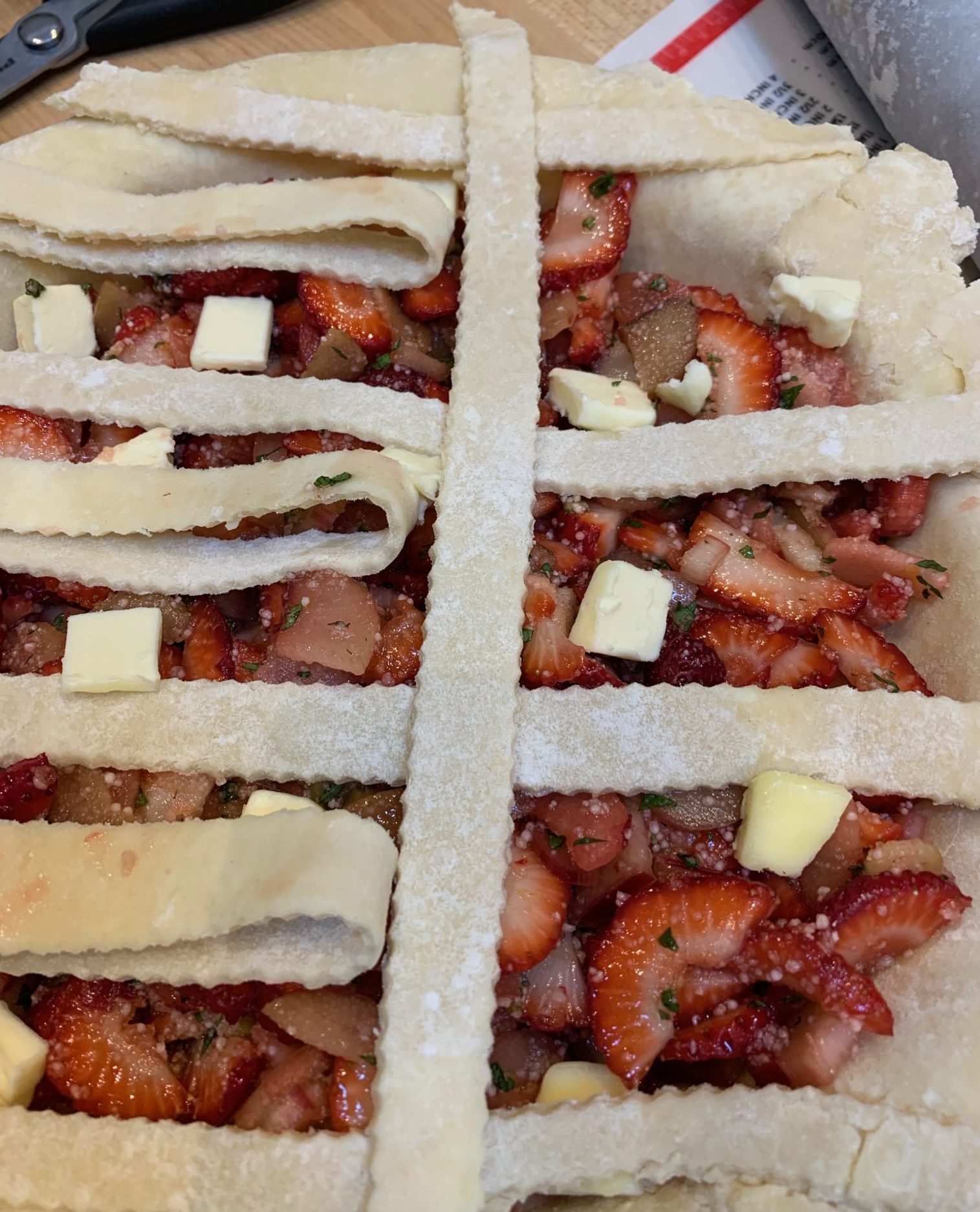 Continue until you have finished the first half then do the same thing on the other side.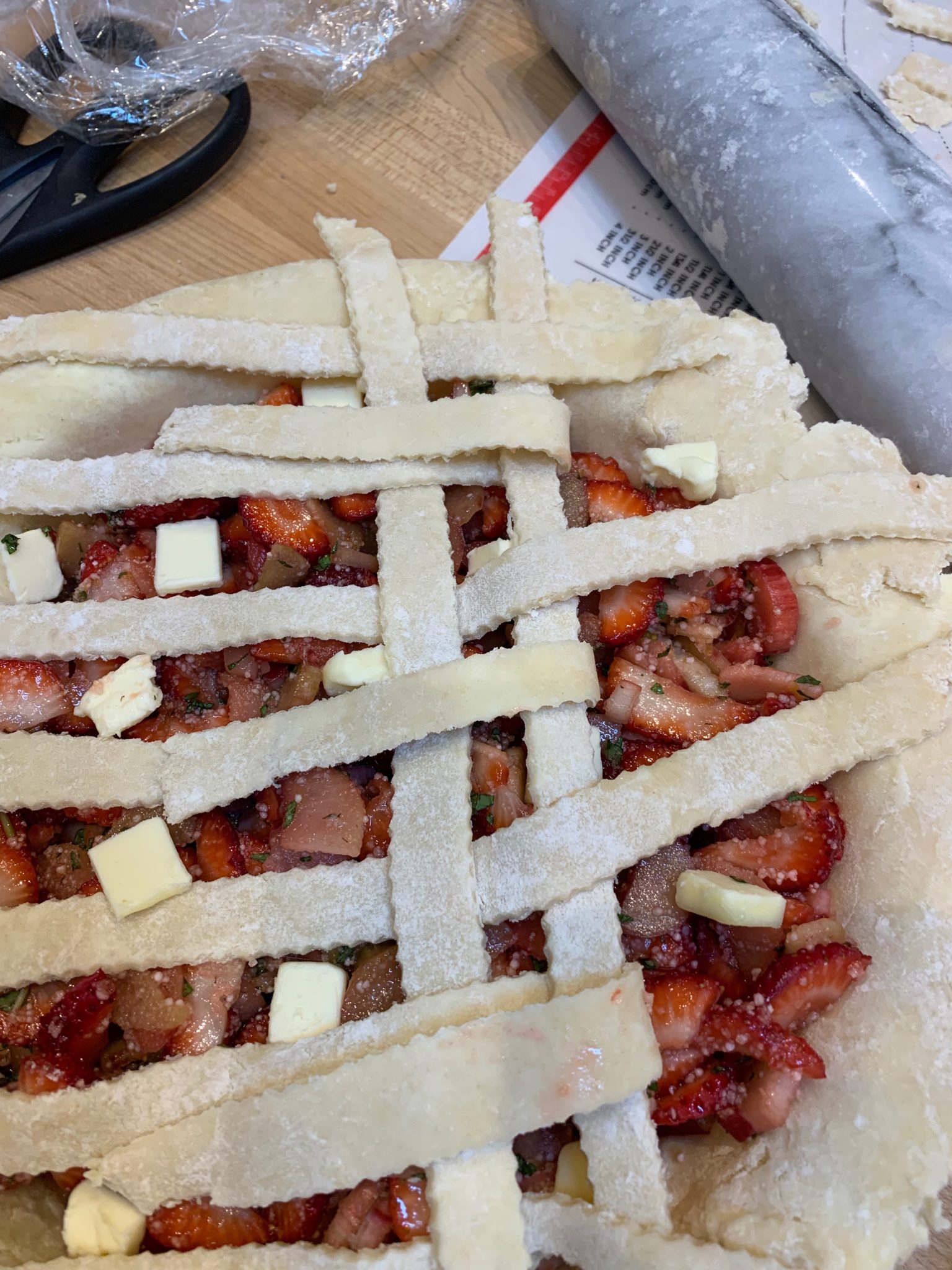 Brush the whole pie with an egg wash and sprinkle it with some demerara sugar.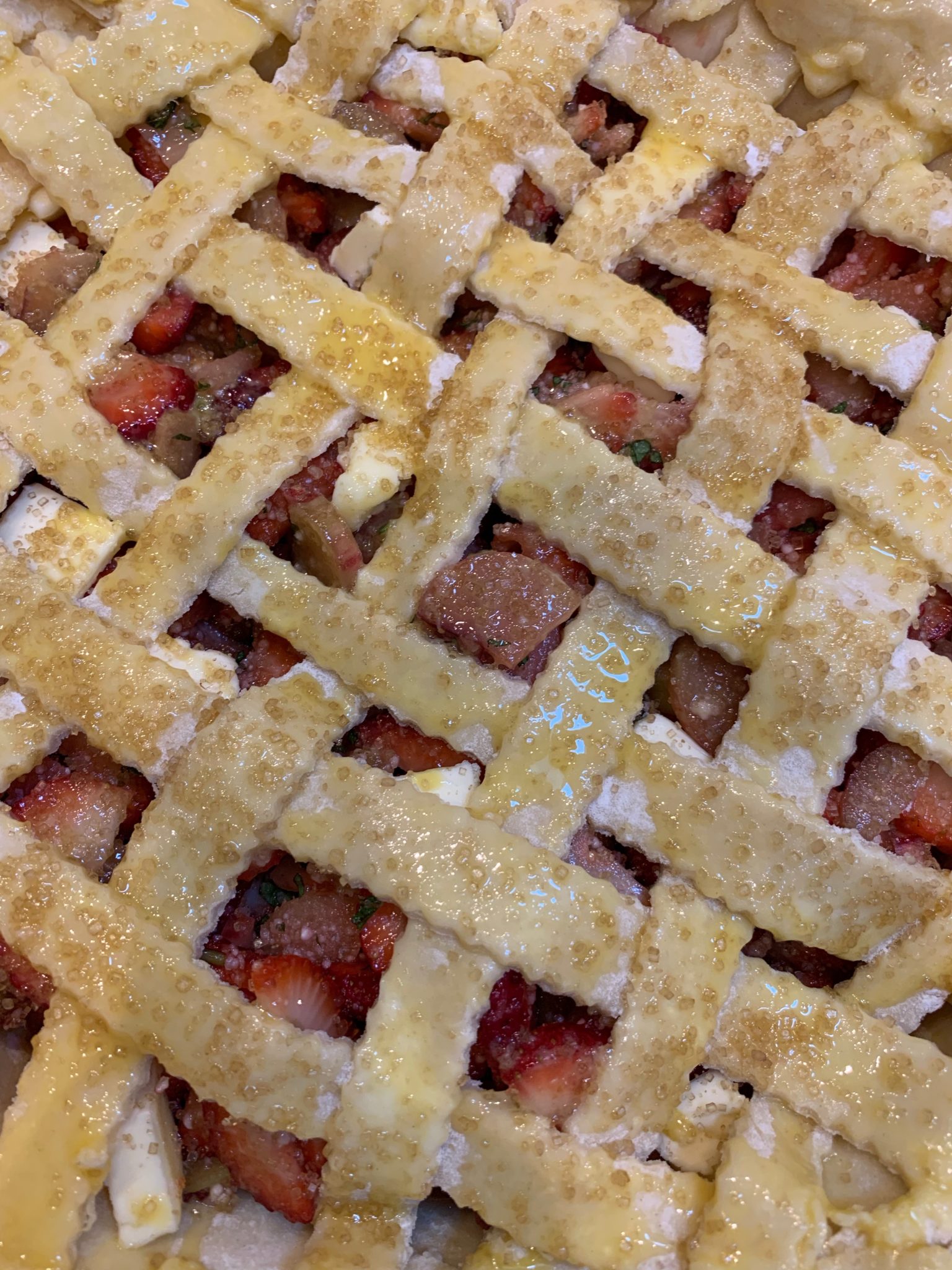 Put the pie on a baking sheet (because it is going to bubble over) and cook it to a beautiful golden crust with juices bubbling up.  Let it cool to room temperature to set.
Then go find a friend and introduce them to the delights of strawberries, rhubarb, Spring and pie!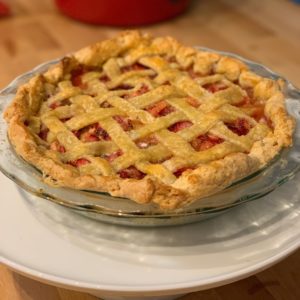 STRAWBERRY RHUBARB PIE WITH MINT
Ingredients
Short crust pastry or commercial pie dough

3-4

cups

rhubarb

peeled and sliced thinly

3-4

cups

strawberries

hulled and sliced thinly

2

tbsp

fresh mint

chopped finely

½

cup

white sugar

¼

cup

brown sugar

1

tbsp

fresh lemon juice

Zest of one lemon

Pinch

of salt

¼

cup

plus 1 tbsp tapioca

2

tbsp

butter

1

egg mixed with 1 tsp milk

2

tbsp

Demera sugar
Instructions
Mix together the rhubarb, strawberries, mint, white and brown sugar, lemon, salt and tapioca in a large bowl. Let sit until tapioca is starting to soften and juices are extruding from the fruits, at least fifteen minutes.

Preheat oven to 400 degrees

Roll out half your pie crust and line a deep-dish pie tin with it.

Roll out the other half and cut into long strips about 1" wide.

Fill the pie tin with the fruit and dot with the butter.

Using the strips of pie crust, weave a lattice on top of the pie by placing half of the strips at 1-2" intervals across the pie. Fold every other strip back halfway (to the center). Then lay a strip across the pie in the center covering the strips which have not been folded back. Return the folded strips to straight (going over the strip under them) and fold back the other strips. Lay a piece over the pie again and repeat. Continue, repeating on the other side, until finished. Fold up the bottom edge to seal in the lattice weaves.

Brush the entire pie crust with egg wash and sprinkle the pie with Demera sugar.

Bake at 400 degrees for 20 minutes then reduce oven temperature to 350 degrees and cook for 20-30 minutes until pie is golden brown and juices are bubbling up.

Let cool to room temperature before serving.