It was Friday night and I had one eye on my TV and the other on my phone as I was flipping through my Instagram feed when I something interesting.  I quickly sent my daughter a text.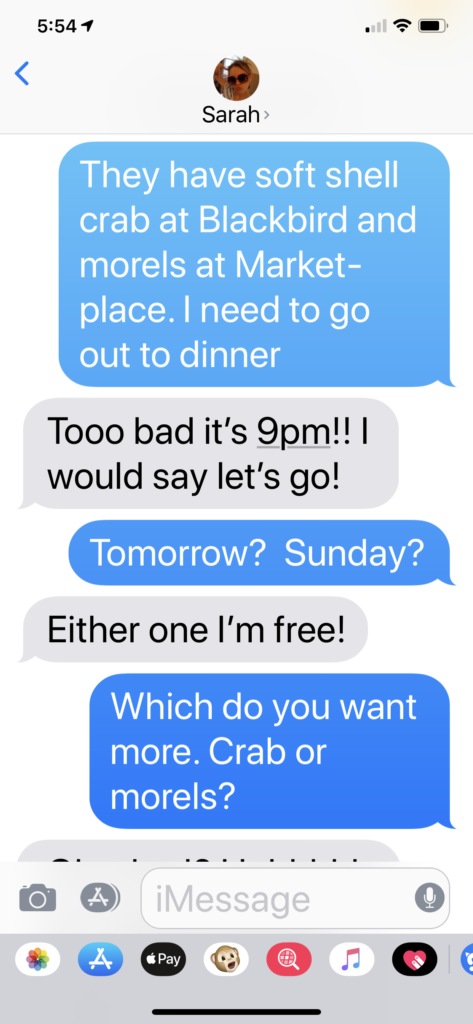 That was a good question.  Which did I want more?  Well I wanted them both but they were at two different restaurants and to complicate things it was the weekend in Asheville and the only time you can get a reservation in this town on a weekend is in the dead of winter when it's snowing!
But Sarah and I had another trick up our sleeve.  We decided to see if we could eat at the bar and have a course at each restaurant.
Table was hopping when we got there.  And while there were seats at the bar, they were set with cutlery so maybe someone had reserved them?  I talked to the greeter and yes, they did have morels and yes, we could sit at the bar.  Score 1 for our team.  I love the bar at Table.  It's small, just four places, but it over looks the line and you can watch three chefs cook in an incredibly tight space, moving from oven to counter and and back, plating beautiful dishes for their guests.  While waiting for our morels we watched mouth-watering marrow bones, pasta, composed salads and more leave for the dining room.
A red wine was suggested to go with our fresh Gnocchi topped with English Peas and  lemon sauce and finished with fresh Morels. Every bite was delicious and all too soon it was finished.
Tempted as we were to stay and finish our meal there, we were more tempted by the soft shell crabs.
We walked down the hill to The Blackbird Restaurant under the Aloft Hotel.  Amazingly the bar was completely empty.  But not for long.  Within five minutes of our arrival there was not a seat to be had.  Score 2 for the team!
In spite of being tempted by the bartender to pair our soft shell crab dish with bourbon (Basil Hayden or Maker's Mark for the touch of rye which could handle the pickled ramps), we wisely stayed with wine, an Italian white for this dish.
The soft shell crab was perfectly fried, crispy and dry, but what made the dish magic were the slightly acid pickled ramps and the Carolina Gold rice.  Carolina Gold is an heirloom rice which used to be the only rice served in North Carolina.  If you have never had it, it is time to try it.  I grew up with a Southern father.  We had rice when other people had potatoes. I love a good rice and this is good! Each part of this dish was perfectly cooked but the best bite was when you got a little ramp, a little rice and some crab on fork and and ate it together.
The Blackbird is known for its Coconut Layer Cake, four tiers high, but as much as we wanted to stay, we wanted to tempt fate with another restaurant more.  Before we did leave, we  let the bartender talk us into a "cheese course": a slice of apple, blue cheese, and lemon juice on a cracker washed down with Spanish Vermouth and Hungarian Dessert wine.  I love this town!
Sticking with seafood, oysters were next on our menu.  It didn't look good when we got to the Lobster Trap. People were six deep waiting for a table but in the back we spied two seats at the Raw Bar and yes, they were free for us!  Score 3 for the team!!  To be fair to the Lobster Trap, it was now almost 9 PM and the best oysters were sold out.  An hour earlier and we would have snagged some west coast gems.  Still, I'm not complaining and the bartender here gave Sarah the Dirty Martini she was longing for while I changed to a Champagne Cocktail.  We took our time over a dozen oysters, watching them work behind the counter, shucking more, until we realized it was after 9 PM and if we were going to make it to our dessert restaurant before it stopped serving at ten, we needed to get going.
Last stop was Chiesa, a small Italian restaurant near  where I live.  Chiesa is so popular that, in spite of it being a neighbourhood place, I don't get there as much as I would like because it has a solid reputation for good food and is always busy. Still, once more our luck held.  The restaurant was full except there were two seats at the bar. One final glass of champagne and a lovely Limoncello cake finished the evening in style.
And there you have it, four restaurants, four courses, no reservations, no fuss.  I don't know how it happened and I wouldn't swear to it happening again soon but it's always worth a try. Especially because in Asheville we eat seasonally and some foods, like morels and ramps, are foraged, have a short season, and are dependent on the weather.  So follow the restaurants and chefs you like on Instagram and you will know when it's time to go out to dinner!
Bon Appetit!