"It was the best of times.  It was the worst of times." Charles Dickens wrote in A Tale of Two Cities.  And that pretty much sums up this pie. My Apple Chess pie was the best of pies and the worst of pies.
Don't get me wrong.  It is an absolutely delicious pie.  Lovely slices of apple are nestled in a not-too-sweet, custardy filling. All baked in a buttery crust.
But I made my Apple Chess Pie in two cities.
I started the pie in my home in Charlotte, in a kitchen filled with everything I need to make a beautiful pie.
I assembled and baked the pie in Asheville, in a kitchen that, while warm and welcoming, had few of the gadgets I use to make pie baking simpler and easier.
Without rolling pin and silicone rolling mat, without pie weights, without microwave, without parchment paper and in an oven I had never used before, I baked my Apple Chess Pie.  And while it didn't come out totally beautiful, it came out pretty enough to eat!
I had just made my pastry (using a food processor!) when I decided to go to visit my daughter and her young son in Asheville.  I popped the pastry in a cooler, grabbed a pie tin and a couple of apples and drove up there.  I was lucky to have made the pastry at home because it is unquestionably easier to use a food processor to cut butter into the flour.  But if you don't have a processor, a pastry cutter will work, and without a pastry cutter, two knives will do it too.  Find out how in my pastry post
Sarah recently moved into this house and most of her baking supplies were still in a box in the basement.  So no rolling pin.  But there was a wine bottle and a counter on which to roll the pastry.
And there were no pie weights, or dried beans, to weigh down the pastry as I prebaked it.  But she did have rice.  Aluminum foil stood in for the parchment paper.
While the pie shell was cooling, I assembled the simplest of ingredients for my apple chess pie base.  Because a Chess Pie is just pie.  And a Apple Chess Pie is a just a Chess Pie with apples!
Melted butter and  brown sugar were mixed together (by hand) in a bowl.
Eggs were whisked in, one at a time, followed by the flour, cornmeal and cinnamon. Finally I stirred in the milk, lemon juice and vanilla.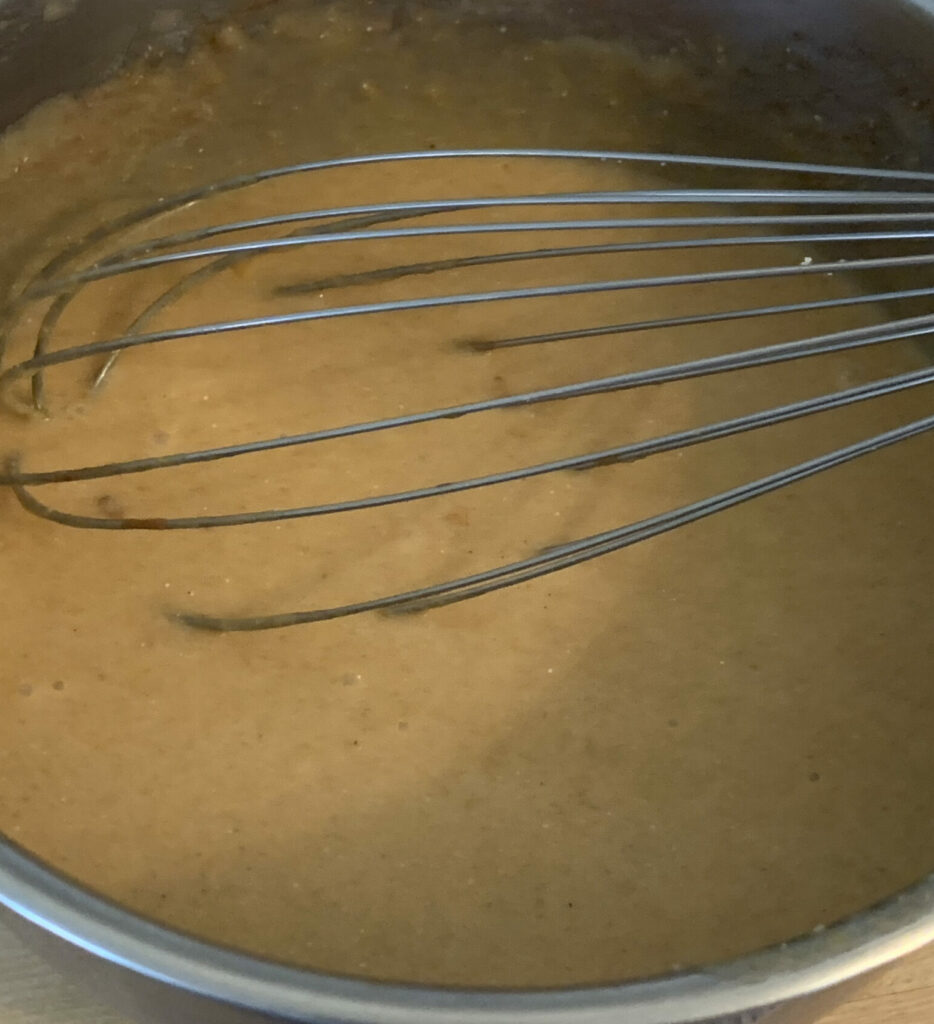 I took my peeled and sliced apples and placed them in the pie pan.  I thought I would make a decorative design but they kept floating up and out of place after I poured in the filling. No matter, somehow they managed to find their way into an acceptable pattern during the baking.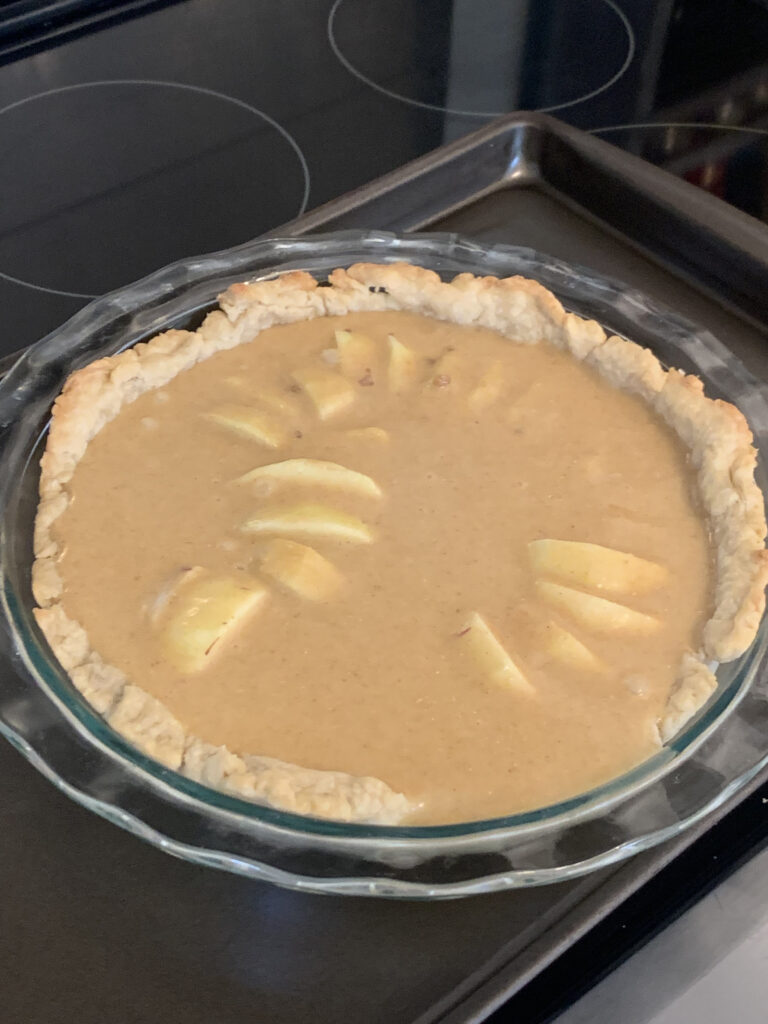 Finally I baked my Apple Chess Pie.
And it wasn't perfect by any means.  I didn't have enough rice to support the crust while it slow baked and the crust shrank more than I expected.  No nice crimped edges this time.
It definitely isn't photoworthy.  Except it is…
It is the best of pies!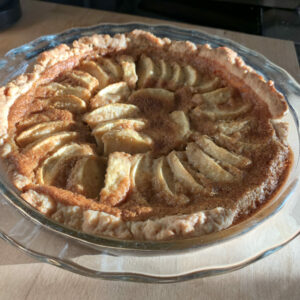 APPLE CHESS PIE
Ingredients
For the Pastry
2 ½

c

flour

1

tsp

salt

1

tbsp

sugar

1

c

cold butter

1/3 to ½

c

bourbon
For the Pie
½

c

butter

melted

2

c

brown sugar

4

eggs

2

tbsp

cornmeal

1

tbsp

flour

1

t/2 tsp cinnamon

¼

milk

1 ½

tbsp

lemon juice

1

tsp

vanilla

Pinch

of sat

Two apples

peeled and sliced
Instructions
MAKE THE PASTRY
Place the flour, sugar and salt in the bowl of a food processor and pulse once to twice to mix.

Chop the butter into smaller pieces and add to the processor. Pulse for seven seconds or until the butter is mixed in and the dough has the look and feel of coarse sand.

With the food processor going slowly pour in 1/3 c of the bourbon. If the dough has started to come together, pulse it a few times to see if it holds. If not add more bourbon a teaspoon at a time until it does.

Remove the dough from the processor and form it into two equal balls. Flatten them and wrap in plastic wrap. Rest the dough in the refrigerator for an hour or overnight until you are ready to proceed with the rest of the pie.
MAKE THE PIE
Blind bake the Pie Shell

Preheat the oven to 350 degrees. Remove one disk of pastry from the refrigerator and let it sit on the counter for about 15 minutes to soften enough to roll out. On a lightly floured board, roll the pie crust into 12" circle. Place it in a 9" pie pan. Crimp the edges.

Put the pie tin in the freezer for at least 20 minutes.

When you are ready to bake it, place a sheet of parchment paper inside the pie crust and fill with pie weights. Bake the pie for 13 minutes. Remove pie from the oven, take out the weights and paper and prick the bottom of the crust all over with a fork. Place the pie back in the oven and bake for another3-5 minutes until the bottom is dry.

Make the filling

Peel, core and slice the apples into 8-12 pieces. Arrange them on the base of the pie shell.

In a bowl, beat together the melted butter and sugar. Add the eggs one at a time, beating each one in before adding the next one. Beat in the cornmeal flour and cinnamon. Stir in the milk, lemon juice and vanilla. Add a pinch of salt.

Pour the filling into the crust.

Bake until the center of the pie is set (around 175 degrees). 45-60 minutes.

Let the pie cool and serve!
Recipe Notes
Notes: You can substitute 1/3 to 1/2 c ice water for the bourbon. This recipe makes enough pastry for two pie shells. The extra pastry can be frozen for up to 3 months. If you don't have pie weights, you can subtitute dried beans, rice or even sugar.