Zucchini "Bake"—it's such an inadequate and clunky term for delicious layers of squash, fresh tomatoes, and lovely gooey melted cheese flavored with olive oil and salt and just a touch of balsamic vinegar.  There has to be a better word!
Summer is in full swing and my garden is working overtime producing fresh tomatoes and zucchini.  SOOOO much zucchini!
I am still at the beginning of my zucchini craze which is when I happily eat it sautéed, in salads and roasted. Shortly the glut will become overwhelming and I will need to resort to other cooking methods (along with a box on the sidewalk saying "Take me…PLEASE!).  For now I am using the traditional accompaniments of tomato and basil which come to harvest at the same time as the zuchs.
This dish can be served light, with bread on the side or you can make a meal out of it by layering slices of bread under the vegetables in the dish.  The bread will soften and soak up all those lovely juices creating a more substantial meal or side dish.
I start by slicing the zucchini into 1 ½ " rounds and place them in a colander.  Salt them liberally and weigh them down with plate.  I plan on roasting them lightly and this will draw some of the water out so they roast faster.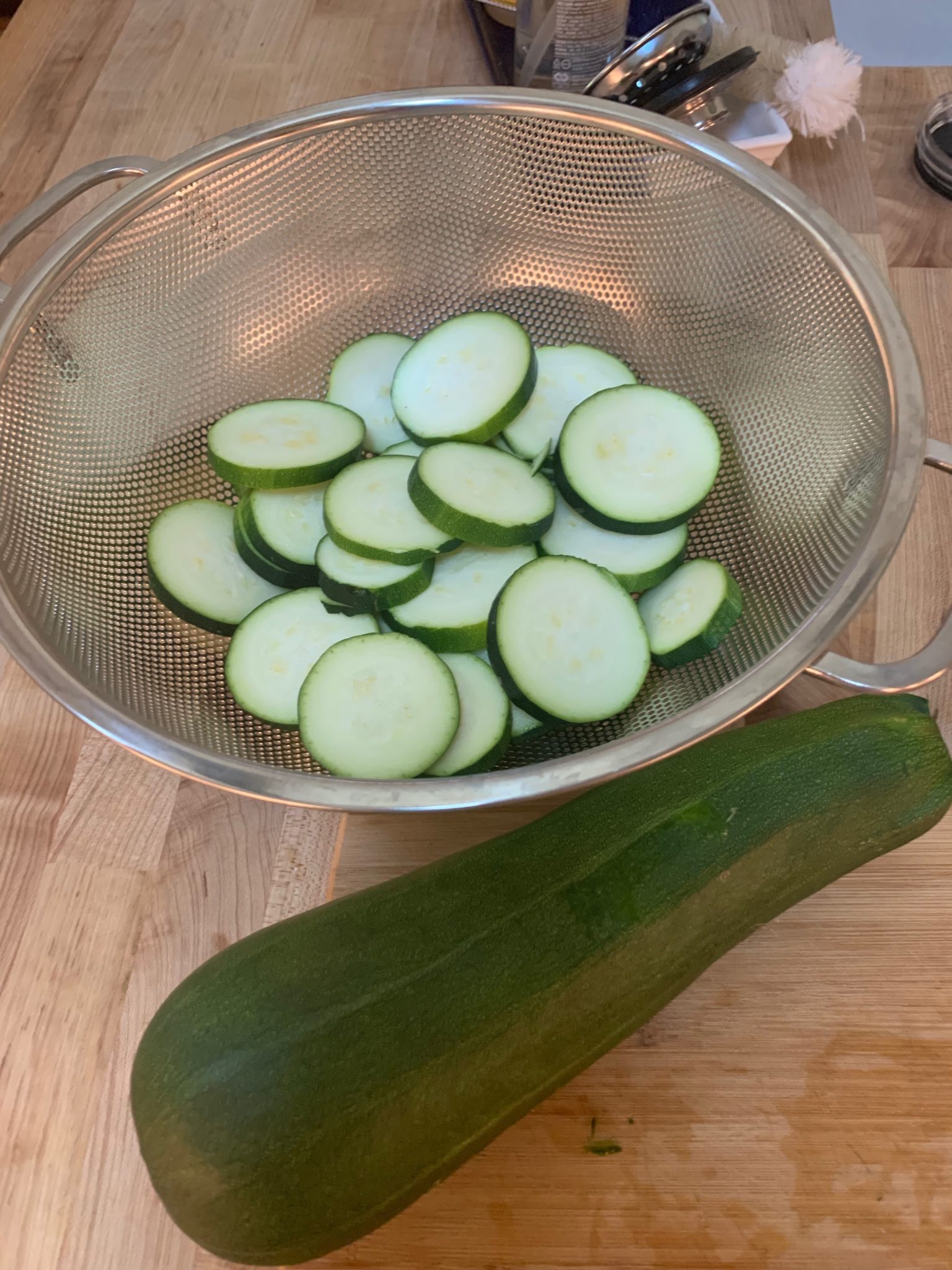 Once the zucchini is out of the oven, I set them aside to cool while I slice the tomatoes and cheese in the same width as my zucchini slices.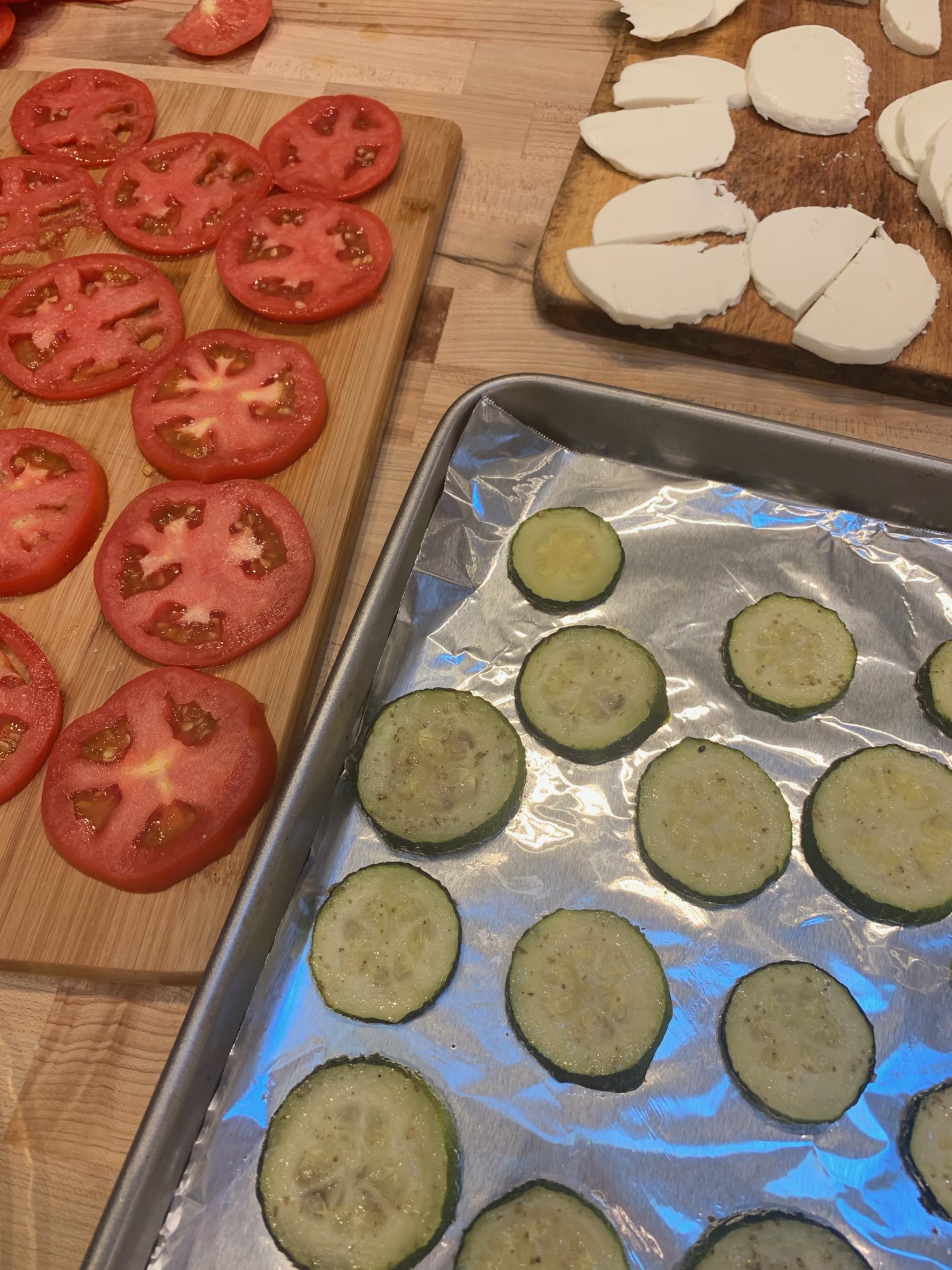 For this version, I choose to bake it in a glass pie dish so I can circle the veg and cheese in a pretty pattern.  If I was putting bread under it, I would use a rectangular dish and use French baquette, cut in half and placed cut side up on the bottom.
After lightly oiling the pie dish, I layer in a slice of zucchini, a slice of tomato and a half slice of cheese going around the outer edge first and working in until everything is used up and the pie plate is full. Then I tear up any remaining cheese and toss it on top.  Drizzle with olive oil and sprinkle with just a touch of salt (the zucchini will be slightly salty already).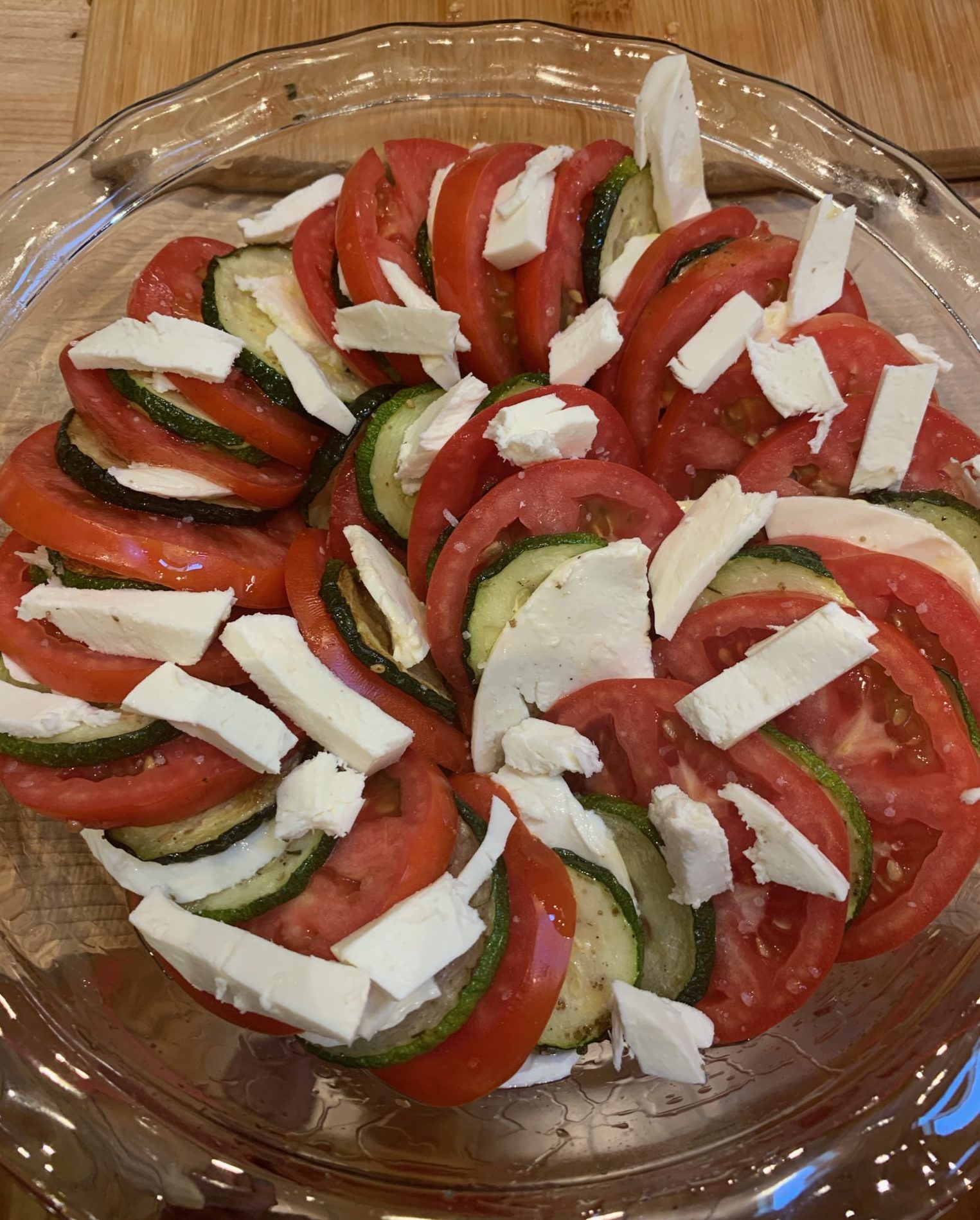 Bake it until the cheese is melted and just beginning to brown and the juices are bubbling.
The final touch is a chiffonade of basil and a drizzle of my best Balsamic vinegar.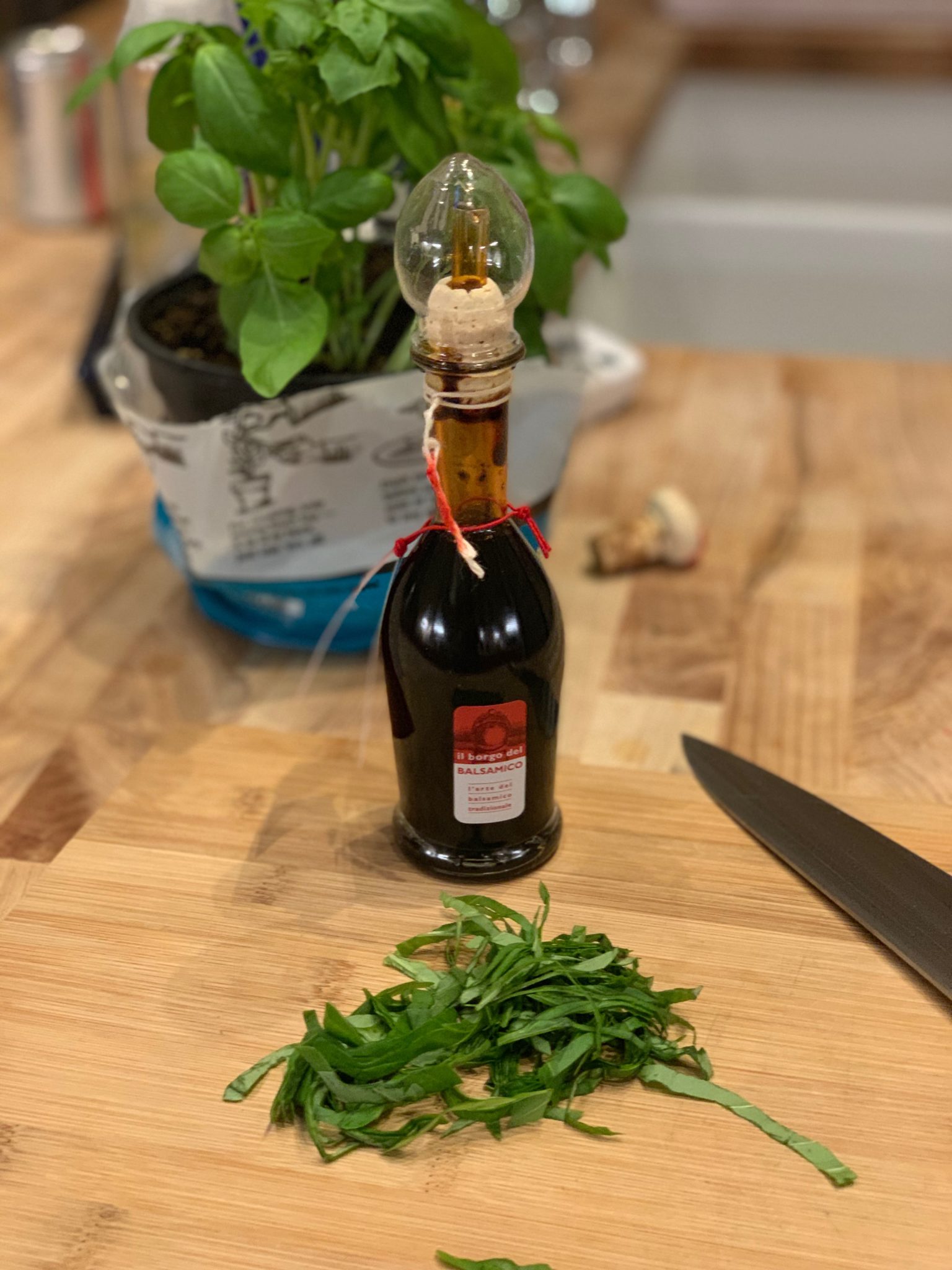 I eat it outside with a glass of Rose watching my garden grow!  Is there anything better than the freshest possible ingredients prepared in the simplest way?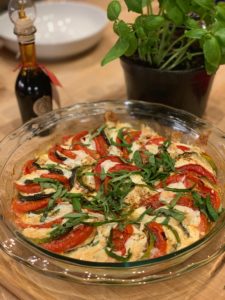 ZUCCHINI, TOMATO AND MOZZARELLA BAKE
Ingredients
2

large

or four medium Zucchini

Salt

Olive oil

1

tsp

thyme

4

ripe tomatoes

8

oz

Mozzarella cheese

8

large basil leaves

Balsamic vinegar
Instructions
Prepare the Zucchini.
Slice the zucchini into 1" rounds. Place them in a colander and toss with 1-2 tsp salt. Weigh down with a plate and set in sink to drain for an hour or so.

Preheat oven to 450 degrees.

Remove zucchini from colander and blot dry with a paper towel. Toss it with 1-2 tsp olive oil and thyme leaves. Place on a baking sheet and roast for 20 minues until it is just beginning to brown. Remove from the oven and let cool.
Assemble the Bake
Preheat oven to 350 degrees.

Lightly oil a glass baking dish or pie plate with olive oil.

Slice the tomatoes into 1" rounds to match the size of the zucchini slices. Sprinkle lightly with salt.

Slice the mozzarella into 1" rounds and then in half.

Starting with a slice of zucchini, place the slices in the baking dish standing on their side, alternating zucchini, tomato, and cheese. Continue until the dish is full and all the tomatoes and zucchini are used up. Tear up any remaining cheese and arrange on top.

Place on middle rack of the oven and bake for 30-35 minutes until the cheese melted and the juices are bubbling.

Make a chiffonade of basil by piling the leaves on top of one another, rolling them into a cigar shape and slicing into thin strips.

Sprinkle the basil over the cooked Zucchini Bake and drizzle with good quality Balsamic Vinegar.

Serve with bread or rolls.
Recipe Notes
Alternative version: Proceed as above with preparation of zucchini. Line the bottom of your baking dish with hearty bread (baquette, ciabatta, for example) and then top with the vegetables and cheese in a decorative pattern as above.