It's October.  Are we doing Halloween this year?  I certainly hope so or, judging by the amount the grocery stores are selling, all of us are going to be munching on candy well into the New Year.  And I am looking forward to seeing what ingenious costumes my neighbors come up with after a year's break!
October is time for apples, pumpkin, warm spices, and afternoon snacks. I took a trip over to my local Trader Joe's to see what they were offering up this Fall.  I came back with a fun assortment.  One item in particular was begging for a recipe—Maple Butter! So I created this Apple and Pumpkin Spice Bread which does the trick nicely.
The batter delivers a light and slightly crumbly loaf. It could also be baked in cake pans and iced with a cream cheese icing.  Or maybe a maple buttercream?
Delicious any way you make it.
And so easy!
Assemble your ingredients.
Flour, spices and baking soda in a bowl.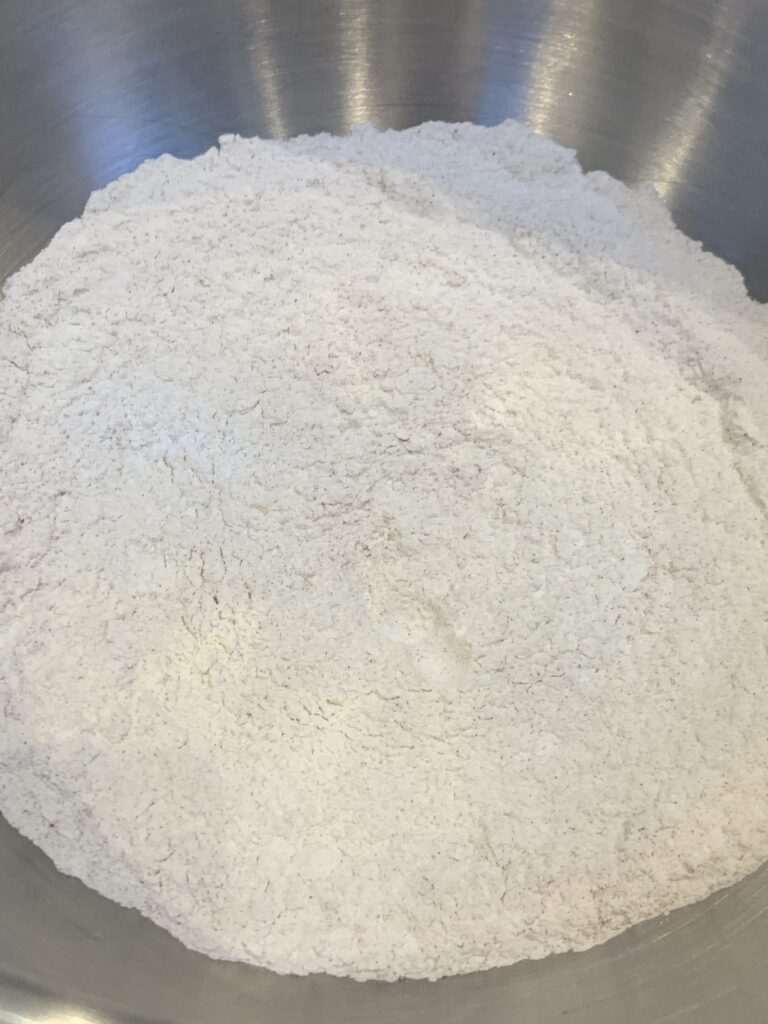 Eggs, sugar, pumpkin, and oil whisked together in a second bowl.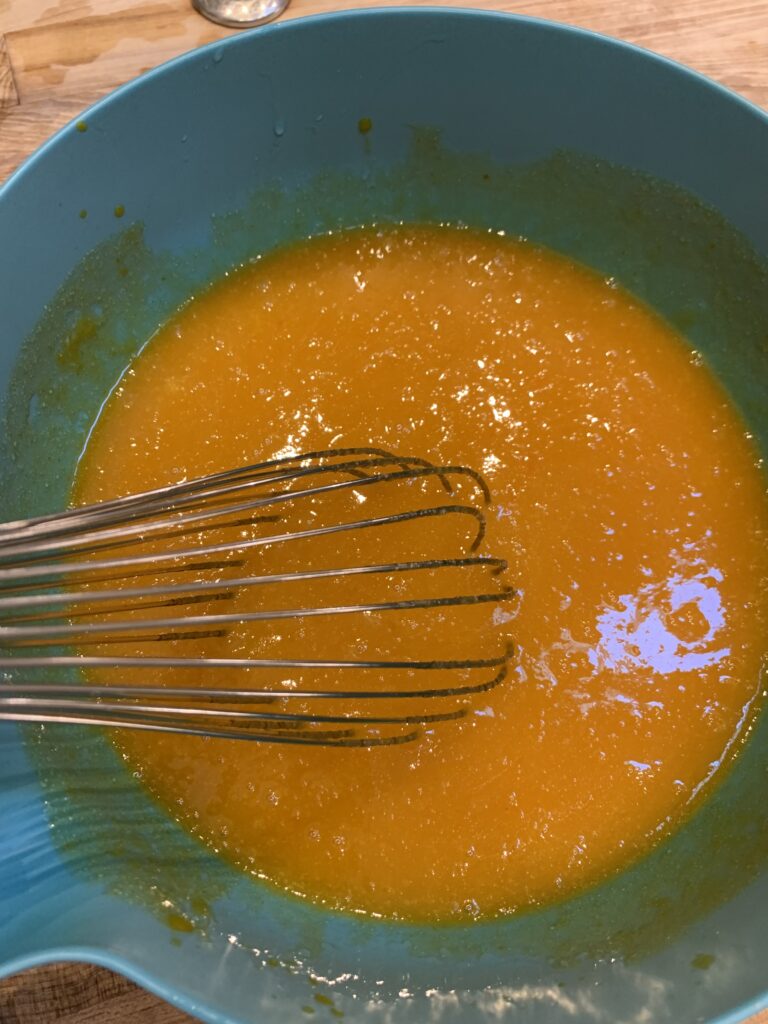 Dried fruits measured, tossed with the diced apple  and ready to go.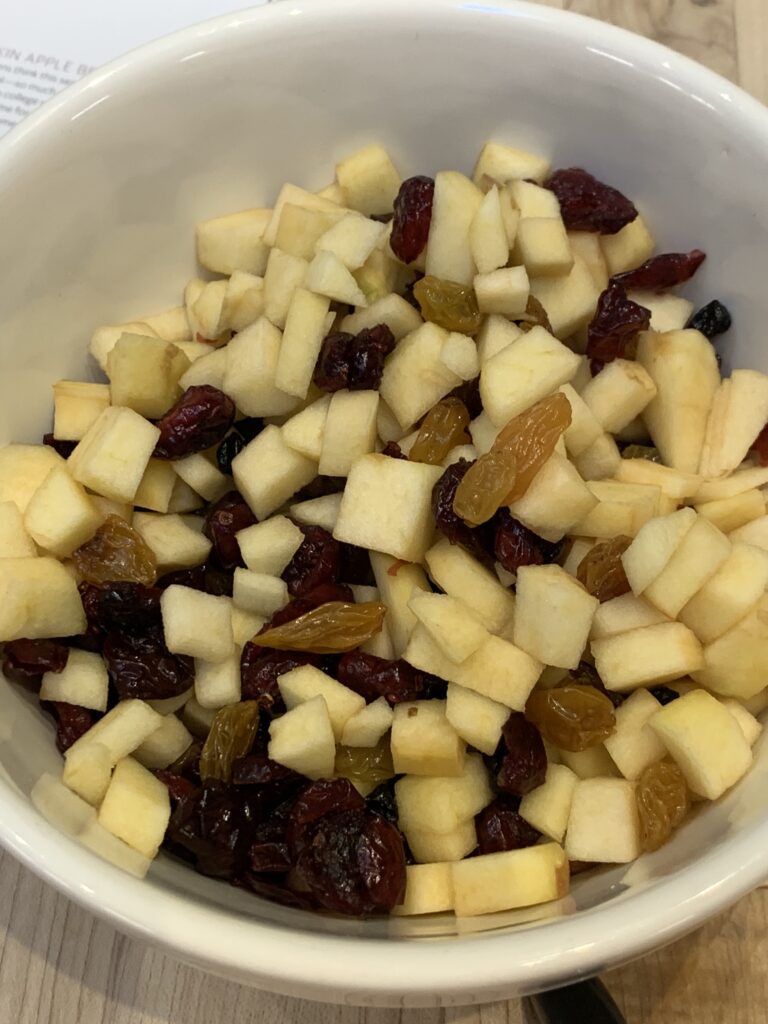 And a lovely, crumble topping.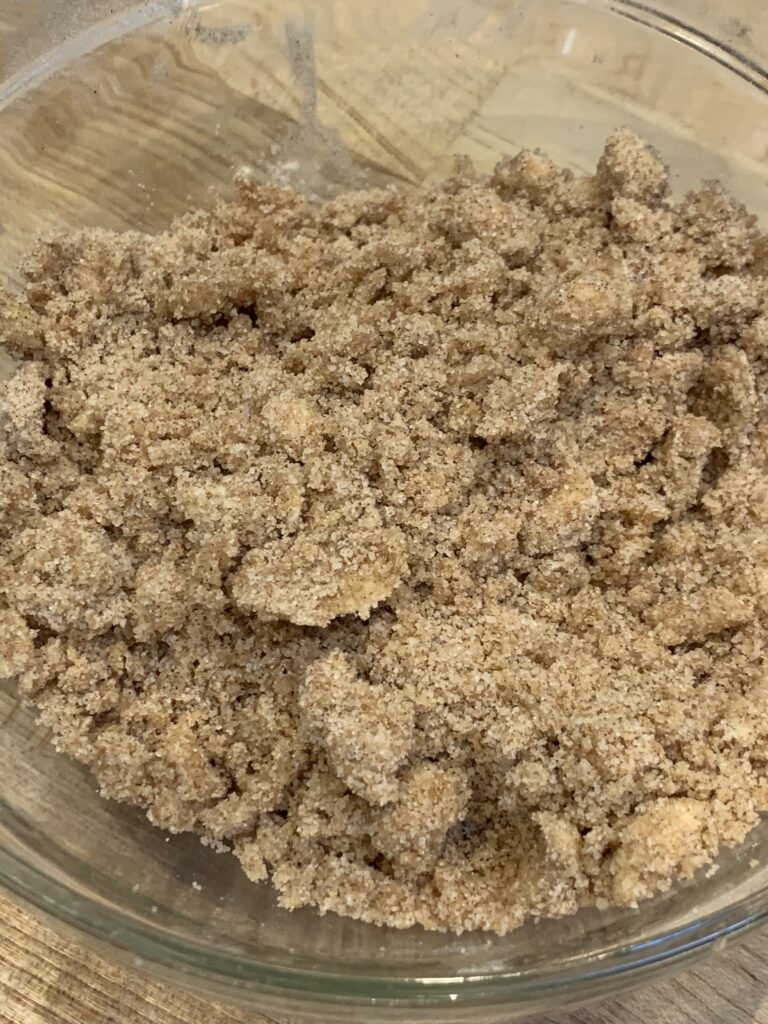 Stir the flour mixture into the egg mixture, fold in the fruits and pour it into your prepared pans.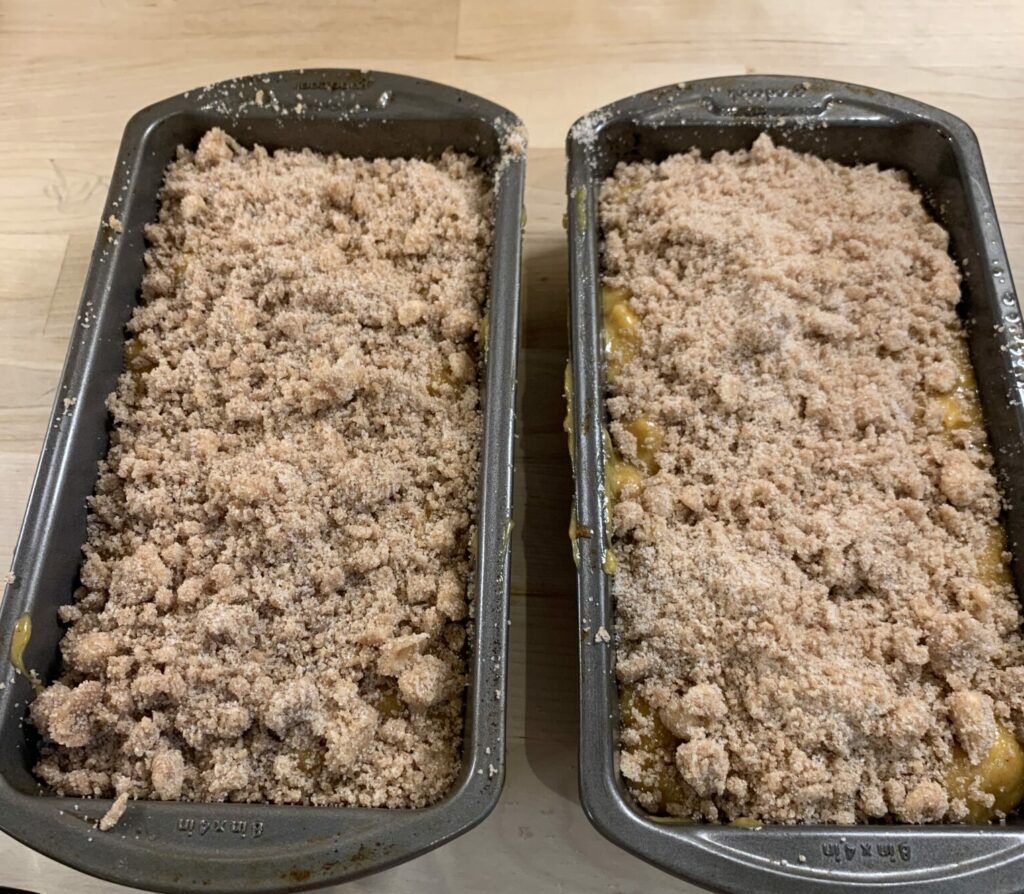 If you are using the crumble topping, spread it all over the loaves,  then use your hands to press it lightly into the batter.
And bake it.
Spread with Maple Butter?  Yumm!!!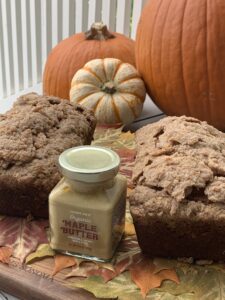 APPLE AND PUMPKIN SPICE BREAD
Ingredients
For the bread
3

c

flour

2

tsp

baking soda

1

tsp

cloves

1

tsp

nutmeg

1 ½

tsp

cinnamon

¼

tsp

allspice

¾

tsp

salt

4

eggs

2 ¼

c

sugar

1 15-

oz

can pumpkin

¾

c

vegetable oil

2

apples

peeled and diced

1

c

mixed raisins and cranberries
For the Crumble (optional)
½

c

sugar

1/3

c

flour

1

tsp

cinnamon

½

stick

1/4 c butter
Instructions
Preheat the oven to 350 degrees. Grease two 9" x 5" loaf pans and line the bottoms with parchment paper.

Stir together the flours, baking soda, spices and salt in a bowl.

In a separate larger bowl, whisk together the sugar, eggs, oil and pumpkin.

Peel and chop the apples and toss with the dried fruits (see note).

Make the crumble topping but cutting the butter into the sugar, flour and cinnamon. Your can also use your fingers to rub it together to a sand-like mixture.

Add the flour to the eggs and stir until it is almost fully mixed in.

Add the fruits and fold them in lightly. This will finish mixing in the flour as well.

Pour the mixture into your prepared loaf pans and sprinkle evenly with the crumble topping. Little press the topping into the cake batter.

Bake 60-70 minutes until a tester comes out clean or the loaves register 200 degrees on an instant-read thermometer.

Cool in the pans for 20 minutes and then turn out onto a wire rack to finish cooling.
Recipe Notes
Notes:
I used a mixture of dark raisins, golden raisins, and cranberries. You can all of one sort or any mixture you like.
To make a cake, prepared the batter as above, omitting the crumble.
Pour evenly into two prepared cake pans (greased and lined) and bake for 25-35 minutes until the top springs back when touched. Cool as above and ice with your favorite frosting.