And all the lives we ever lived and all the lives to be are full of trees and changing leaves. –Virginia Woolf
Autumn is a time of reflection.  As the light softens and changes; as the mornings darken and the evening comes earlier; as rain drops drearily, dragging reluctant leaves from their hold on branches, my coffee break demands a little more.  It asks for biscotti.  Crisp on the outside, soft on the inside, flavored with warm spices, candied ginger, cranberries and fragrant pumpkin, my biscotti reminds me of the past and future combined in each season.  Spring, summer, fall and winter, as one ends and a new one begins, there are days past to think of and news ones to ponder.
Make a batter with butter and sugar, beaten to lightness.  Add pumpkin and beat it again.  Eggs, one at a time,  then vanilla.  Whisk together flour and spices and stir that into the batter.
Candied ginger, chopped in small dices, and sour-sweet, dried cranberries are folded in.
It looks like a sticky mess, but wet hands will help you shape the batter into two thick logs.
Bake it once until it is firm.  Then let the biscotti rest before you slice it diagonally into cookies.
Back in the oven they go to continue baking until they  crisp up.
Finally make a cup of coffee or tea, take a biscotti (or two) and sit on your porch. Smell the dry leaves and feel the lingering warmth in the sunshine and ponder on all that is good in our world.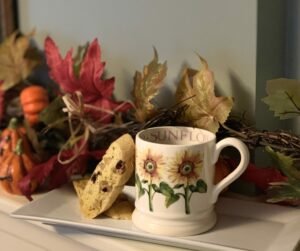 PUMPKIN BISCOTTI WITH GINGER AND CRANBERRY
Ingredients
1/4

c

butter

room temperature

1

c

sugar

½

c

canned pumpkin puree

3

eggs

1

tsp

vanilla

3

c

flour

1

tbsp

baking powder

¼

tsp

salt

1

tsp

cinnamon

½

tsp

nutmeg

¼

tsp

cloves

½-

l

tsp ginger

to taste

½

c

dried cranberries

½

c

candied ginger in small dices
Instructions
Preheat the oven to 325 degree. Line a sheet pan with parchment paper.

Beat the butter and sugar together until it is light and fluffy, 3-5 minutes on high. Add the pumpkin and beat again for 2 minutes.

Add the eggs, one at a time, beating well after each addition.

Stir in the vanilla.

Whisk together the flour, baking powder, salt, cinnamon, nutmeg, cloves and ginger in a small bowl.

Add the flour mixture to the egg and pumpkin mixture and stir together until just blended.

Fold in the candied ginger and cranberry.

Wet your hands with cool water and, using half of the batter at a time, shape each half into a log about 12" long.

Bake on the parchment lined pan for 30 minutes until firm and golden.

Remove the tray from the oven and reduce the oven temperature to 275 degrees.

Let the logs cool for ten minutes, then use serrated knife to slice the logs on the diagonal into 2" thick slices.

Place the cookies back on the baking sheet and cook for 8 minutes. Turn the cookies over and bake for another 8 minutes.

The biscotti should be crisp and firm.

Cool and store in an air-tight container.
Recipe Notes
Note: Use the lesser amount of ginger for a lighter flavor or go bold with the full amount.