A while back I was approached by a casting agent for a new cooking contest featuring home cooks with "a unique prospective and good short cuts".  I declined. Not that it wouldn't have been fun, but I am not a good fit for that.  More than anything else I believe that if you are going to the bother of cooking at home then you should use the best ingredients and give your efforts and the food the time it needs to be the best it can be.
Also because rushing causes things like this:
The Slow Food Movement was founded in 1986 to promote locally sourced, home cooked meals.  According the SFUSA (Slow Food USA)  people can incorporate Slow Food principles into their lives by eschewing processed foods, eating free-range poultry and grass-fed meat, preparing natural ingredients from scratch, raising their own food at least in part, and maintaining a strong level of awareness about the sources of their food.
 You don't have to do all of that all the time.  But every time you learn a new method of cooking or go to a local farmer's market, you will be rewarded with better food!
Which leads me to candied peel.
Also known as "mixed peel", candied citrus peel is a key ingredient in many traditional British Christmas baked goods.  Fruit cake, plum pudding and mincemeat for pies are all examples of this.  They all are better prepared a month or two in advance and they all get a bad rap in the USA, mostly because they are purchased, not homemade, and  they use inferior ingredients.
In my mind, commercial mixed peel is second only to green glace cherries in being an inferior ingredient!
So every year, I make my own.  It is so good that you will want to eat it straight off the plate as well as in some traditional foods rescued from the pit of disdain.
It is best to spread this out over two-three days.  Your active time will be relatively little.  Most of the time is spent soaking and drying the peel.
Start with a variety of citrus fruits.
Traditionally this would include citron, a large lemon-like fruit from which most modern citrus fruits have evolved.    However, I have never seen a citron at any store or market so I use lemons, limes, oranges and grapefruits.
Peel the fruits and slice the peel into ¼- ½ " strips. (Juice the fruit and save for other uses.  It freezes well).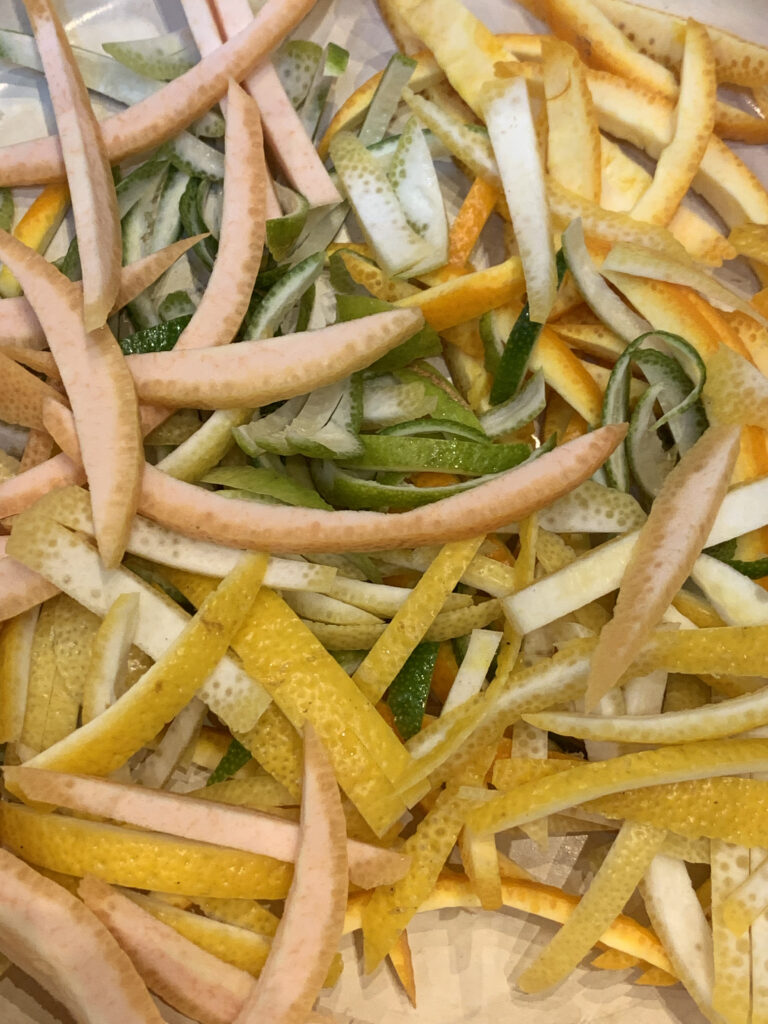 Don't worry about removing the white pith.  It is bitter, but we are going to remove that bitterness by blanching the peel.
Put all the peel in a large pot and cover it with water.  Bring it to a boil and let it simmer for ten minutes.  Drain the fruit and repeat this step four more times. Each time more of the bitterness is removed from the peel.
After the last blanching, drain the fruit. Make a simple syrup of sugar and water and bring it to a boil.  Dump in the peel. Turn off the heat and leave it covered for ten hours or overnight.
In the morning, drain the fruit again.  Then let it simmer in a simple syrup for an hour or so.  The peel will become translucent.
Once it has reached that point spread it on a rack to dry.  This will take 18-24 hours.
Once the fruit is mostly dry (it will feel tacky), toss it in some sugar and let it dry completely. It should plink when you drop it on a plate.
The candied peel will keep for a number of months in an airtight container.
And next week, I am going to give you a recipe to use it in!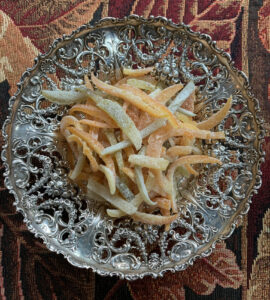 CANDIED CITRUS PEEL (Mixed Peel)
Ingredients
3

lemons

3

limes

2

oranges

2

grapefruit

4 ½

c

sugar
Instructions
Wash the fruit well to remove any wax or chemicals on the peels.

Use a knife to cut the rind off the fruit. It is okay if some of the white pith comes with it.

Cut the peel into ¼" – ½" strips.

Fill a large pot with water and add the fruit peel. Bring it to a boil and simmer for ten minutes. Drain the peel and repeat 4 times.

After the final blanching, drain the fruit and set aside. Put 2 cups of water and 2 cups of sugar in the pot and bring to a boil, stirring until the sugar is dissolved. Add the peel to the boiling syrup, cover and turn off the heat. Allow the peel to steep in the liquid for at least ten hours or overnight.

After the peel has steeped, drain it. (You can save any remaining syrup in the refrigerator. Use it in cocktails or as a soak for layer cakes. It will keep for a month or more.)

Combine a further 2 cups of sugar with two cups of water. Bring to boil and add the peel. This time, reduce the heat and simmer the peel in the syrup for an hour or until the peel is translucent and shiny.

Drain the fruit and spread it on wire racks to cool and dry. This will take 12 to 24 hours or more.

When the fruit is just barely sticky to the touch toss it in ½ cup of sugar and return it to the racks to finish drying.

Store the candied peel in a dark place in an airtight container.
Recipe Notes
Note: squeeze the juice and save for other uses. It freezes well