Every holiday cookie tray needs a show stopper, don't you think? Here's mine for this year!
These coconut macaroons are topped with dark chocolate and sprinkled with crushed peppermint for a cookie that is reminiscent of a Mounds Bars. Not to be confused with the French macaron, the macaroon was initially an Italian confection. The two are similar in using beaten egg whites as the leavening agent.  But, aside from confusingly similar spellings, the similarity stops there.  Shaped like small mountain peaks the Macaroons rise above their flatter cousins and catch the eye of everyone's inner cookie monster.
Sometimes an overly sweet and cloying cookie, I have reduced the sugar and eliminated the sweetened condensed milk often used in making macaroons.  The addition of bitter or semi-sweet chocolate takes the cookies to another level!
Start by separating the eggs.  You only need the egg whites for this recipe but don't throw out the yolks.  Save them for sauces, custards, and really rich scrambled eggs.  (Did you know you can freeze egg yolks?)
Make a meringue by whisking the eggs until they start to foam and then slowly adding in sugar and a little peppermint extract.  Continue whisking until they form soft peaks (the top flops over) when you lift the whisk up.
Gently stir in sweetened shredded coconut. (Interesting fact: coconuts are a fruit and go bad just like any other fruit.  Shredding  coconut was a way to preserve the coconut fruit so that it could be shipped from tropical countries to Europe and America.)
Use a cookie scoop or a rounded tablespoon to make your macaroons.  It is important to really pack them into the scoop so they hold together once they are cooked.
Bake the cookies until they are lightly browned on top then remove them to a rack to cool.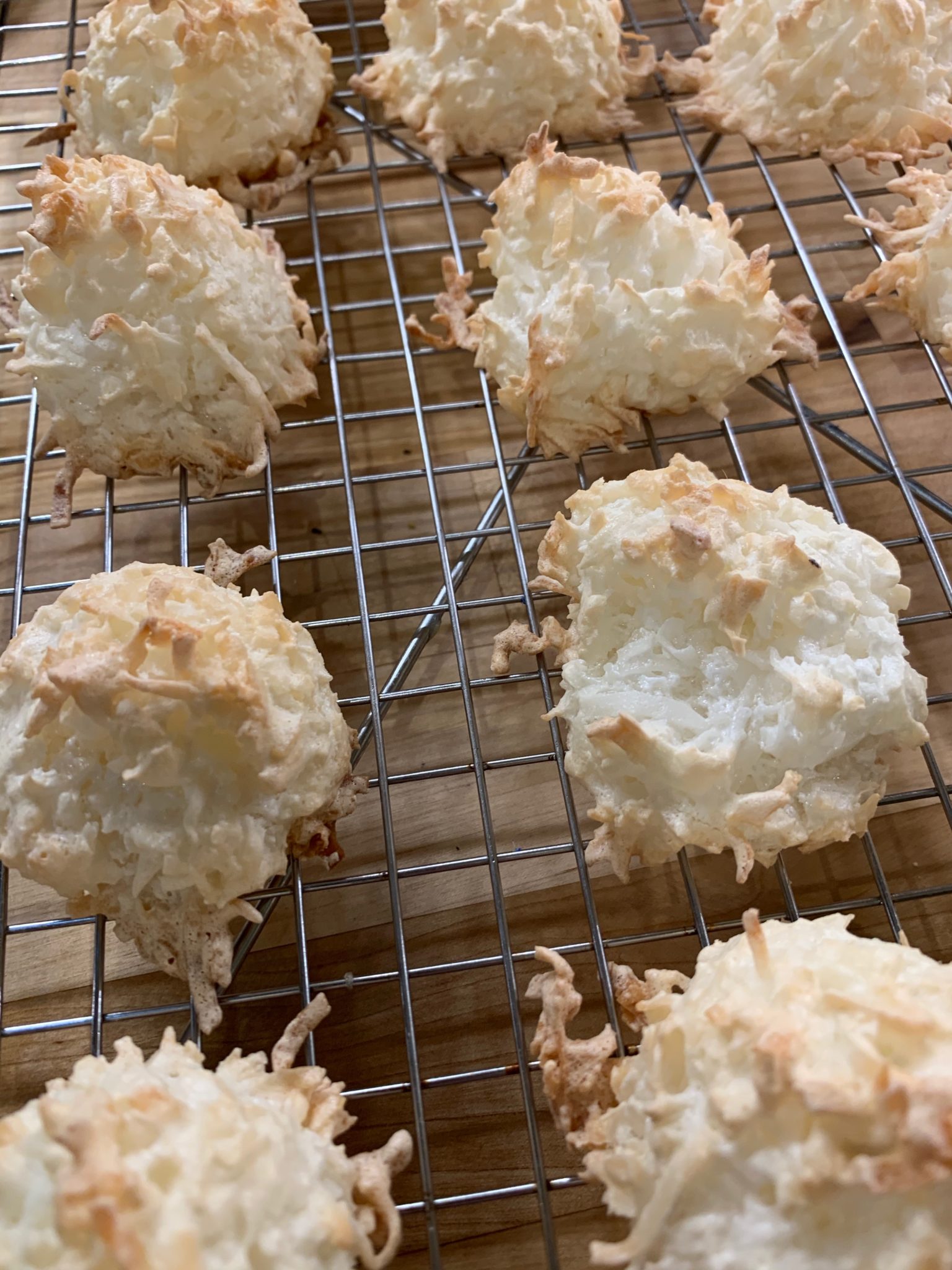 Once they are cooled, you can freeze them for later or continue with the chocolate and peppermint topping if you plan on serving them right away.
Melt the chocolate in small microwaveable bowl at 50% power. I like to use a good quality dark chocolate, it helps cut some of the sweetness of the coconut. If you like milk chocolate, or even white chocolate,  that's fine too. Start with 1 -2 minutes depending on the power of your microwave.  The chocolate will hold its shape even though it is melted.  Give it a stir and it will become creamy.  The residual heat from the chocolate and the bowl should finish melting any small bits.  If it does not, continue heating it in the microwave at 50% power in ten second intervals until it is ready.
Finally, dip the Macaroons in the chocolate and sprinkle them with crushed peppermint candies.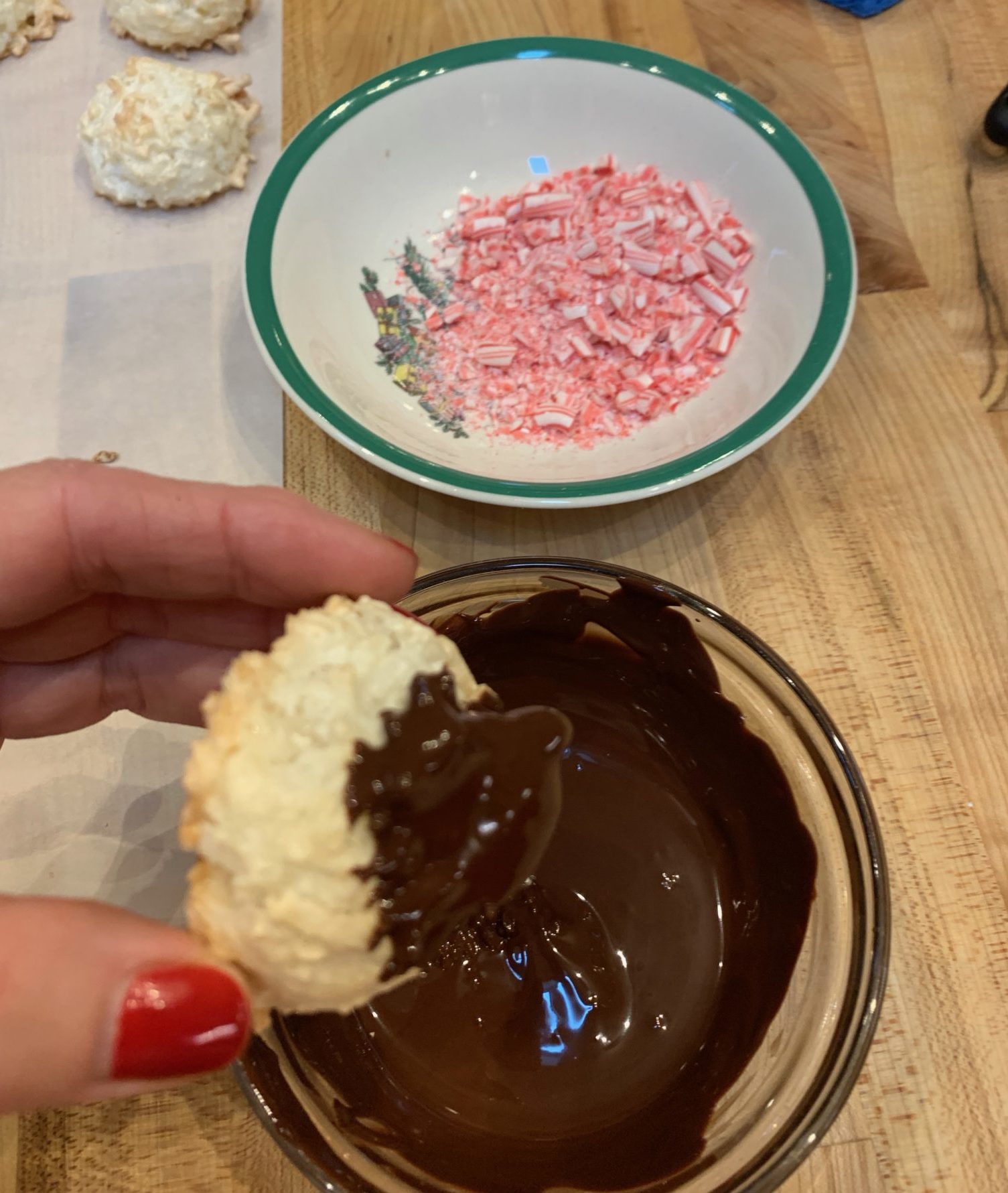 One the chocolate has cooled and set you can store them in an airtight container for up to a week.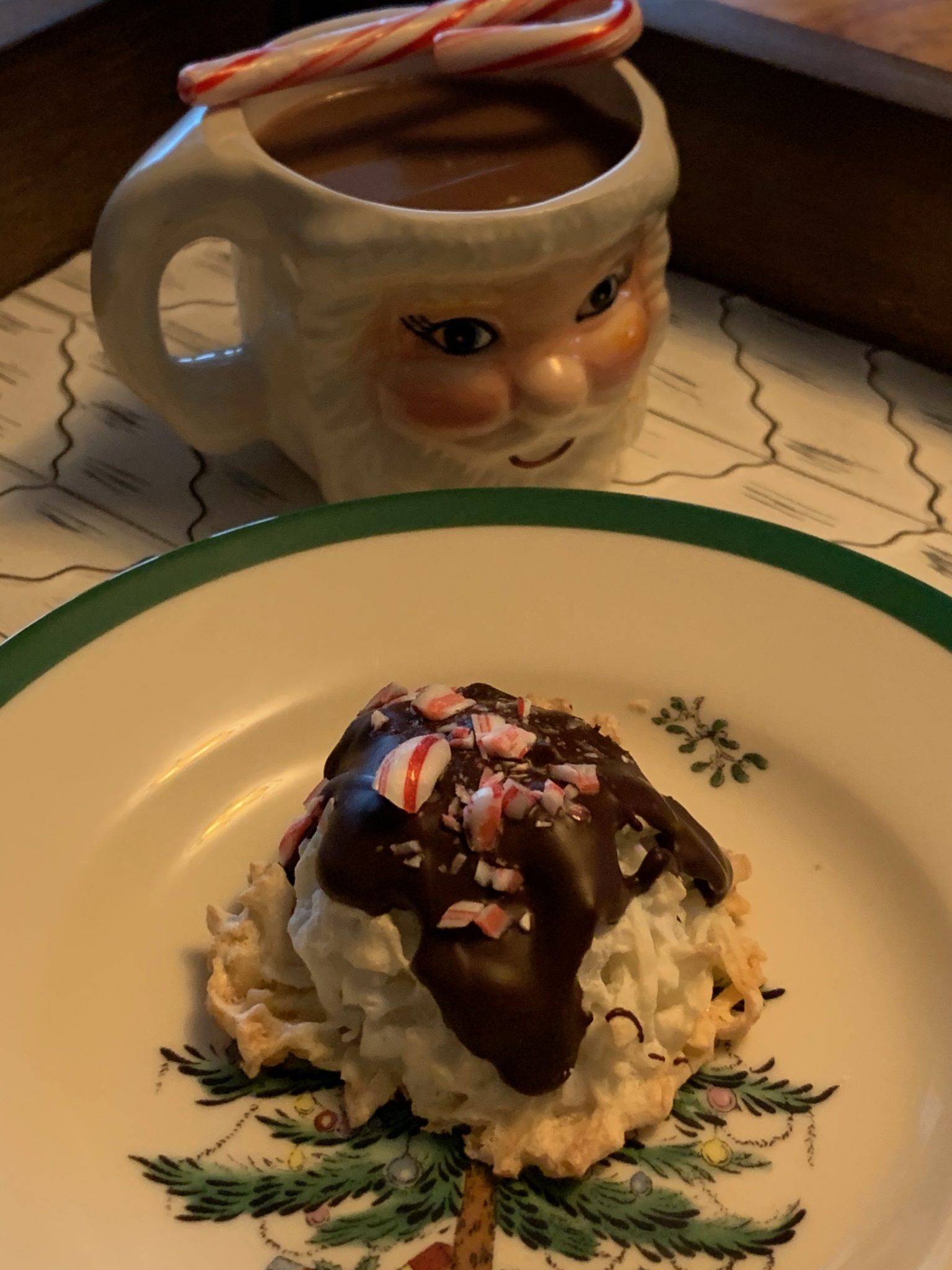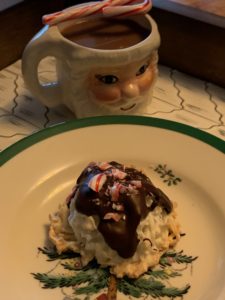 PEPPERMINT CHOCOLATE MACAROONS
Ingredients
3

egg whites

½

cup

sugar

½

tsp

peppermint extract

Pinch

of salt

4

cups

sweet shredded coconut

4

ounces

dark chocolate

10-20

crushed mini candy canes
Instructions
Preheat the oven to 325 degrees. Line your baking sheets with parchment paper.

Whisk the egg whites until they are foamy and starting to rise. Slowly add the sugar, peppermint extract and salt. Continue whipping the eggs until they are shiny and hold a soft peak.

Gently stir in the coconut until it is incorporated.

Drop by pack cookie scoop or tablespoons onto the prepared cookie sheets

Bake 25-30 minutes until they are lightly browned.

Remove from the oven and let cool completely.

Melt the chocolate in the microwave at 50% power for 1-1 ½ minutes. Stir and continue microwaving at 50% power in 10 second intervals, stirring each time, until completely smooth.

Dip each Macaroon in the chocolate and then sprinkle with crush peppermint candy.