Soft Gingersnap cookies, filled with candied ginger and given a sweet crunch with a sugar coating
The Holiday Home Tour is tomorrow and what was I thinking when I said they could show my house?  Did I realize it was one week after Thanksgiving which meant my legion of decorations must be up and the house cleaned to suit my relentless eye which can always, always, find a spot of dust, a smear, or a tiny piece of lint that I missed? And that I would have less than a week to do it in?
Well I got it done and there will be no cooking in my kitchen tonight so that it will look as good as I could make it for tomorrow.
However before I closed the door on dirt, I took a half hour to make myself a treat.
Gingersnaps
Except these Gingersnaps don't really snap unless you count the flavor.  They are a soft cookie, liberally studded with pieces of candied ginger.  Their crunch comes from the coating of large crystal sugar in which they are rolled before being cooked.
Here's how I do it.
First thing in the morning I take the butter out to soften.  This is at 7 AM when I feed my cat and make a cup of tea before retreating to my bed to read emails and avoid the news as much as possible.
An hour later, cup of coffee in hand, I beat the butter with sugar, molasses and eggs until it is soooo smooth and creamy.
Flour and spices are whisked together and added to the butter.  When they are incorporated, in goes my chopped ginger.
The batter needs to be chilled.  It should be in the fridge for at least an hour but will be patient with you and wait longer if you want to go to the store or the gym or somewhere first.
When you and the batter are ready, line a baking pan with parchment paper. Shape tablespoons of batter into balls then roll them around in Demerara Sugar until they are sparkly all over.
They will puff up in the oven and sink back down once you take them out.  It is best to let them sit on the sheet for a minute or two to harden before letting them cool on a rack.
I like these cookies with coffee or tea, in the morning or evening and especially I like to eat them for breakfast!
My house is ready and my cookies are baked.  Come on over!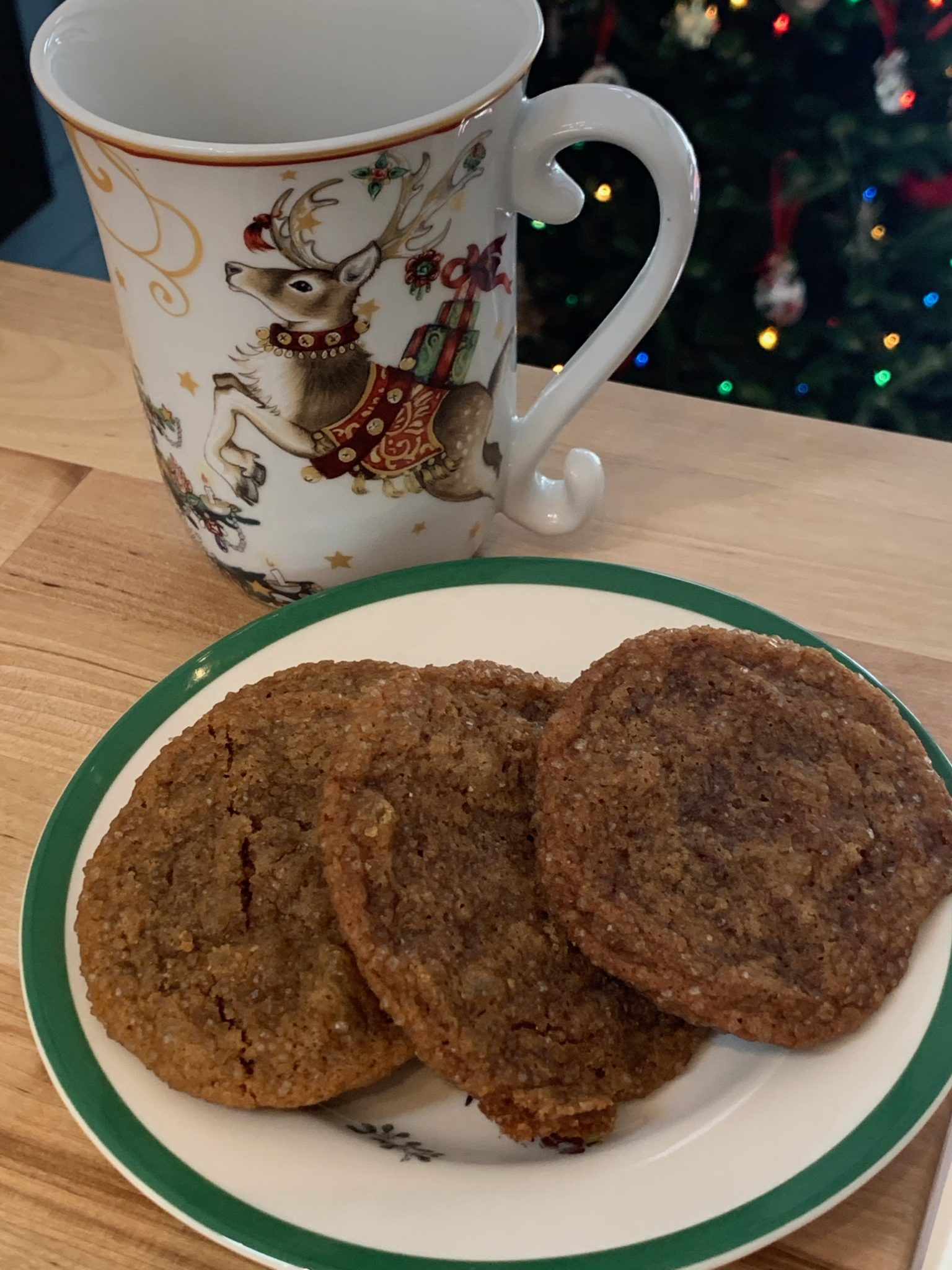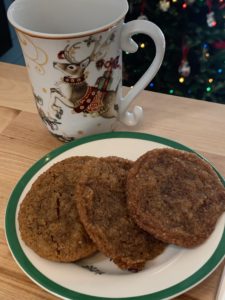 GINGERSNAPS
Ingredients
¾

c

butter

1

cup

sugar

¼

molasses

1

egg

2

c

flour

2

tsp

baking soda

½

tsp

ground cloves

2

tsp

cinnamon

½

tsp

salt

1

cup

chopped candied ginger

½

c

Demerara sugar
Instructions
Beat the butter, molasses, sugar and eggs for two-four minutes in a mixer until light and fluffy.

With a fork, whisk together the flour, baking soda, salt and spices until they are blended.

Add the flour mixture to the creamed butter and mix well.

Stir in the candied ginger.

Cover and refrigerate for at least an hour.

Preheat oven to 375 degrees.

Line your cookie sheets with parchment paper or grease well.

A tablespoon at a time, form the dough into small balls.

Put the Demerara sugar into a small bowl.

Roll the ball of cookie dough in the sugar until they are covered all over.

Place the balls of dough on your cookie sheet about 2" apart. The dough will spread.

Bake 8-10 minute until the cookies have risen and set.

Remove the trays from the oven and let cool for 1-2 minutes until the cookies have firmed enough to remove them to a rack to finish cooling