Tomato and Zucchin Galette in its simplest version: commercial pie crust and a few ingredients from your pantry come together to create a rustic pie rich in the flavors of summer.
I've been busy.
I am not kidding about that.
In the space of one month Rick and I are selling a house, buying a house, finishing building a house and renting a house. It wasn't meant to happen this way.  These things were not supposed to all come together at the same time.
Because they have, life has been a mad dash to get everything ready.
We have been masters at planning: our days are scripted, our to-do list compartmentalized.  We are nearly there.  For the most part everything is set so when the motion starts  (out of two houses, into another, furnish the fourth) we are ready.
I suddenly find myself with time for things I love, the things I have been too busy to do.
My garden is overflowing with tomatoes and zucchini. My pantry is almost empty and my kitchen down to the basics.  But with ingredients this fresh, it doesn't take much to create a delicious dish. And I am getting pretty good at McGyvering in my empty kitchen!
My pie making tools have been packed so I am making a free-form pie (aka Galette).  It's times like this when a good quality commercial pie crust is perfect.  Fortunately, there was one in my freezer which needed using.
I unroll the pastry and place it on a parchment lined sheet.
Spread about ½ cup of mayonnaise (Duke's, of course) on the dough, leaving an inch border all the way around.  Top it with a teaspoon of Dijon mustard and a sprinkling of garlic powder.
Next comes cheese, a thick layer of grated cheese. DUH!
Build layers of sliced zucchini and ripe tomato, sprinkle with salt and top with some fresh oregano and thyme leaves.
Bring the edge of the pastry up around the vegetables to form a crust.  Brush with a little beaten egg and bake.
We ate this last night as a side dish with some baked chicken.  And we are having the rest for lunch today!
Life is good.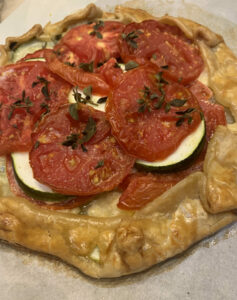 TOMATO AND ZUCCHINI GALETTE
Ingredients
1

sheet of Ready-to-Roll Pastry

3-4

ripe tomatoes

1

medium zucchini

Salt

½

cup

mayonnaise

1

tsp

Dijon mustard

¼

tsp

garlic powder

1

cup

grated Swiss cheese

½

tsp

fresh thyme leaves

½

tsp

fresh oregano leaves

1

egg

beaten
Instructions
Slice the tomatoes and zucchini into ¼" thick slices. Salt them lightly and place on a paper towel to drain. Let rest for an hour. Pat dry.

Preheat the oven to 375 degrees. Line a baking sheet with parchment paper.

Unroll the pastry onto the parchment paper.

Spread the mayonnaise on the pastry leaving a border about 2" all the way around.

Spread the mustard on top of the mayo and sprinkle with the garlic powder.

Place the grated cheese evenly over the pastry.

Starting with the zucchini, layer zucchini and tomato slices on top of the cheese, ending with a layer of tomato. Salt to taste and distribute the herbs evenly om top.

Fold the edges of the pastry up to make a rim around the pie. Brush the edges of the pastry with beaten egg.

Bake the tart for 45-50 minutes, checking it after about 35 minutes and cover the tart loosely with foil if it is browning too fast.

Let the tart rest for 10 minutes before slicing.

Serve warm or cold.
Recipe Notes
Note: I used Jarlsburg cheese for my tart. You can also use cheddar, goat cheese, mozzarella or feta. The amount of cheese is entirely up to you!