This is a big week for me.  I am moving into my new home!  It's kind of hard to believe the day is here at last, especially as the place is still crawling with painters and cabinet makers, but Caine says it will be done when the movers arrive and he is always good for his word.
So I hope you will excuse me if this week's offering is not one of my recipes but that of Yotam Ottolenghi, an Israeli-British chef, whose stated mission is "the idea of celebrating vegetables or pulses without making them taste like meat, or as complements to meat, but to be what they are."
Ottolenghi brings strong cultural influences to the table but does not stick to any one flavor profile or style of cuisine.
And so to Eggplant with Buttermilk Sauce and Pomegranate.
My son-in-law, Tom, made this for me the last night I was with them after the birth of my granddaughter, Maisie.  Emily and Tom are doing great as parents and it was time for Tom's mother to step in and get her share of new-baby-granddaughter time.
You start with eggplants: the number varies according to how many people you are feeding. There were four of us and we were serving the dish with bread as an appetizer so we used two.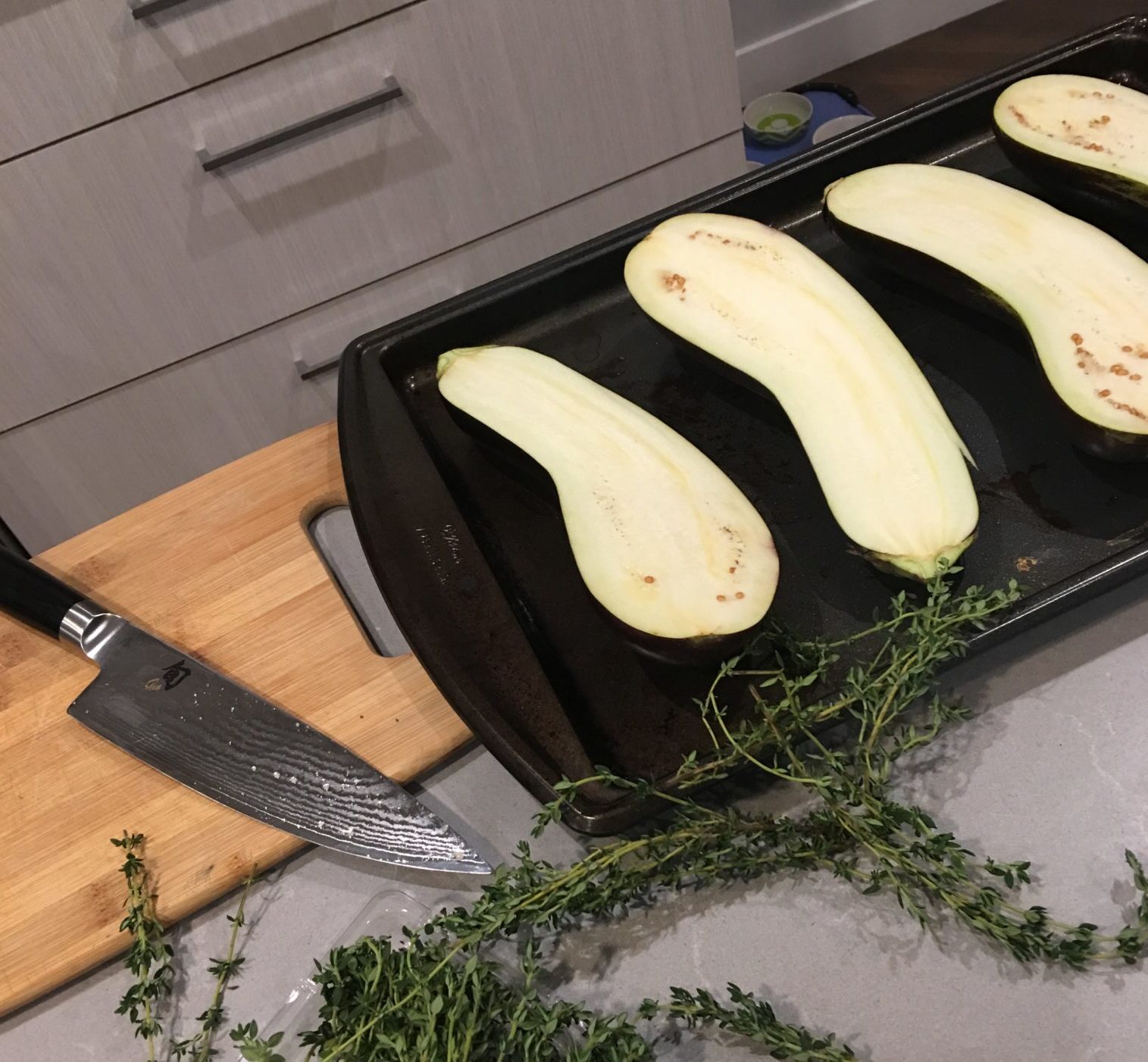 With his usual exquisite precision, Tom cut the eggplants in half and scored them diagonally in both directions, making a diamond -shaped pattern.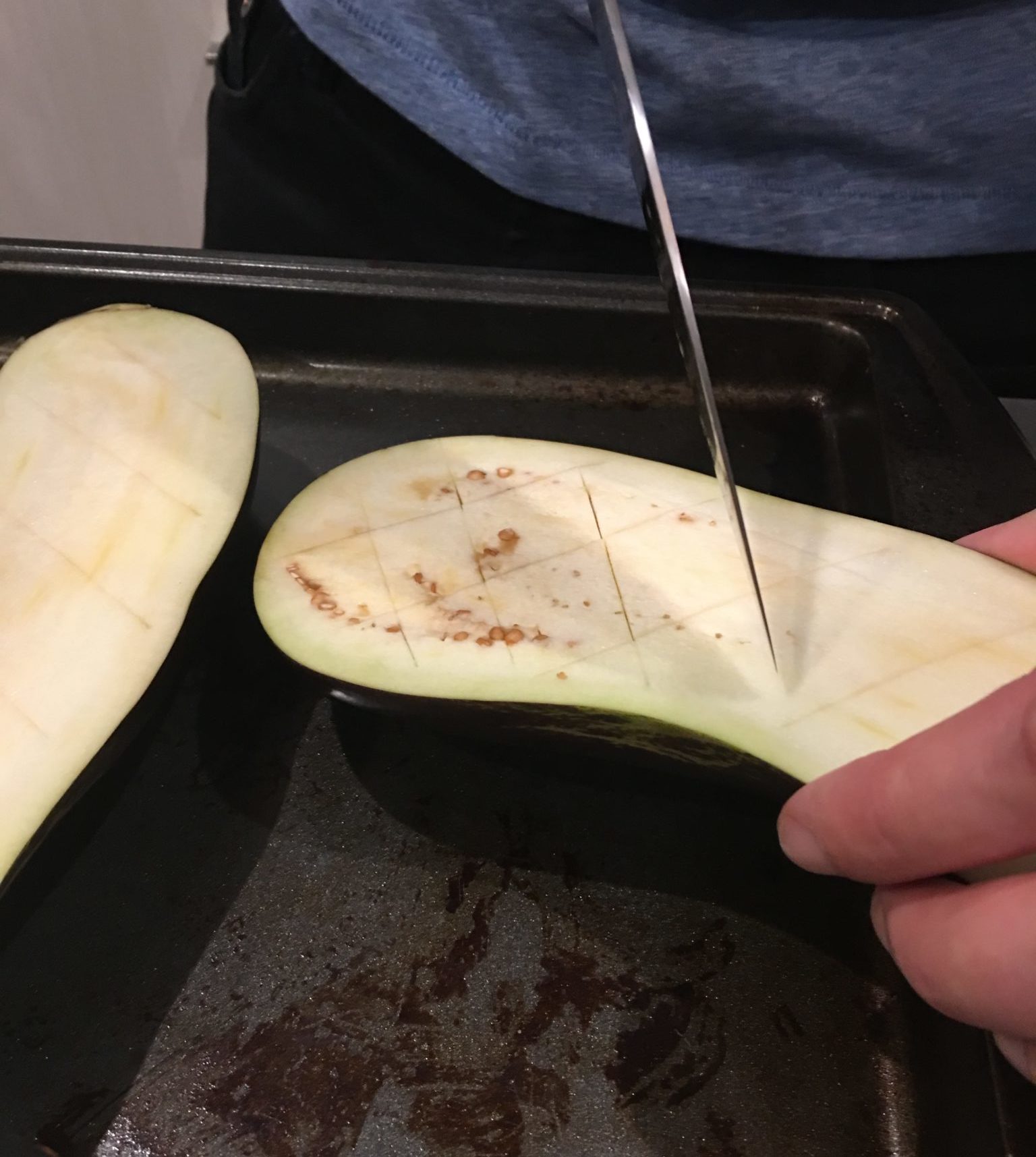 The eggplants are brushed with olive oil until the oil is absorbed by the eggplant.  You can tell by the golden color.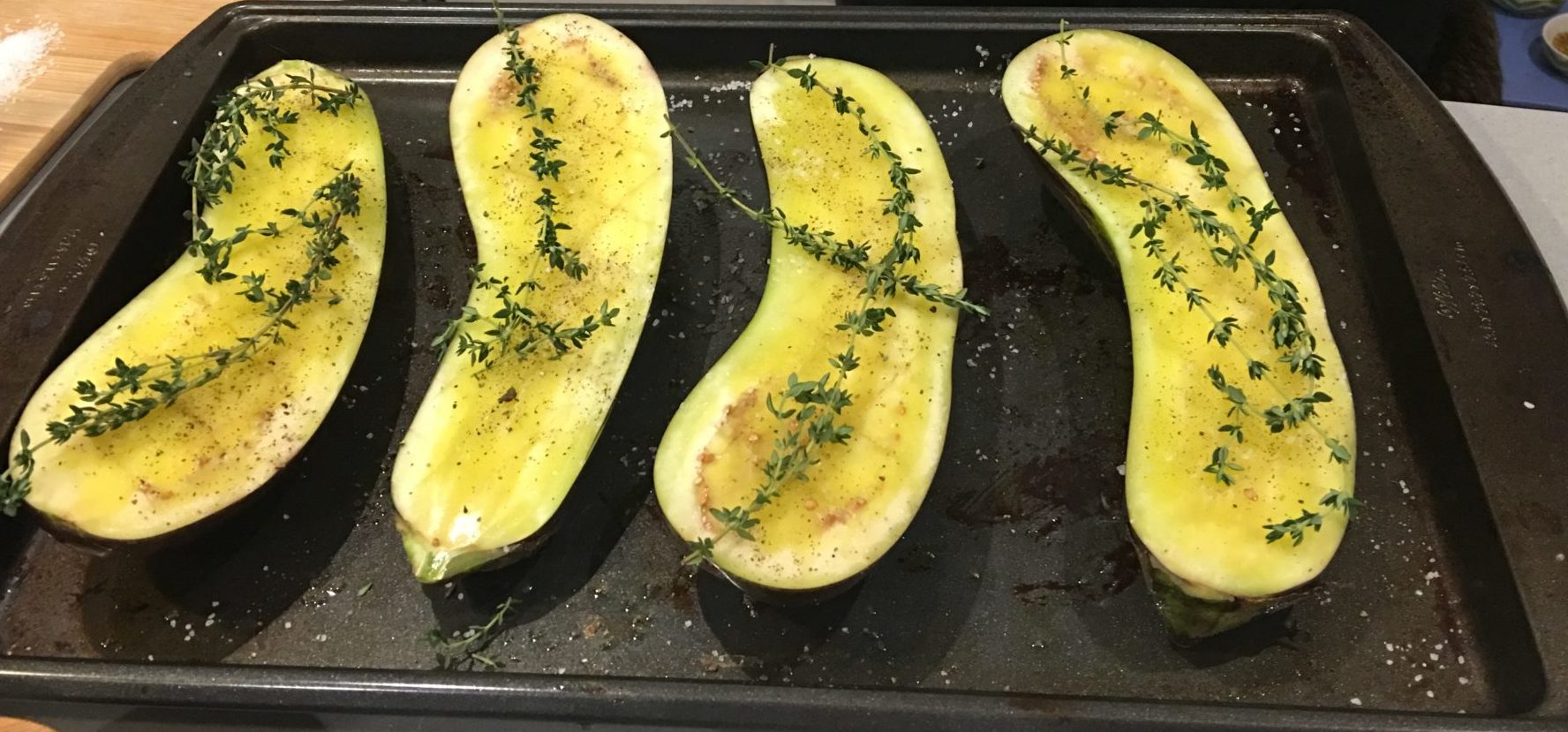 Sprinkle them with fresh thyme leaves and salt and pepper liberally.  Ottolenghi's recipe calls for lemon thyme leaves which is fine if you have your own herb garden but not generally available in stores.  Regular thyme will work just fine.
Pop them in a 350 degree oven and let them cook for 35-40 minutes until they are soft and browned.
While the eggplants are cooking prepare the sauce. Seed the pomegranate, removing all the bits of white pith so that the seeds are clean.
In a small bowl, whisk together all of the other ingredients until  smooth.  If you can get real buttermilk it is worth it.  If not, add a teaspoon of vinegar to a cup of whole milk and let it sit for about 5 minutes to thicken before using it.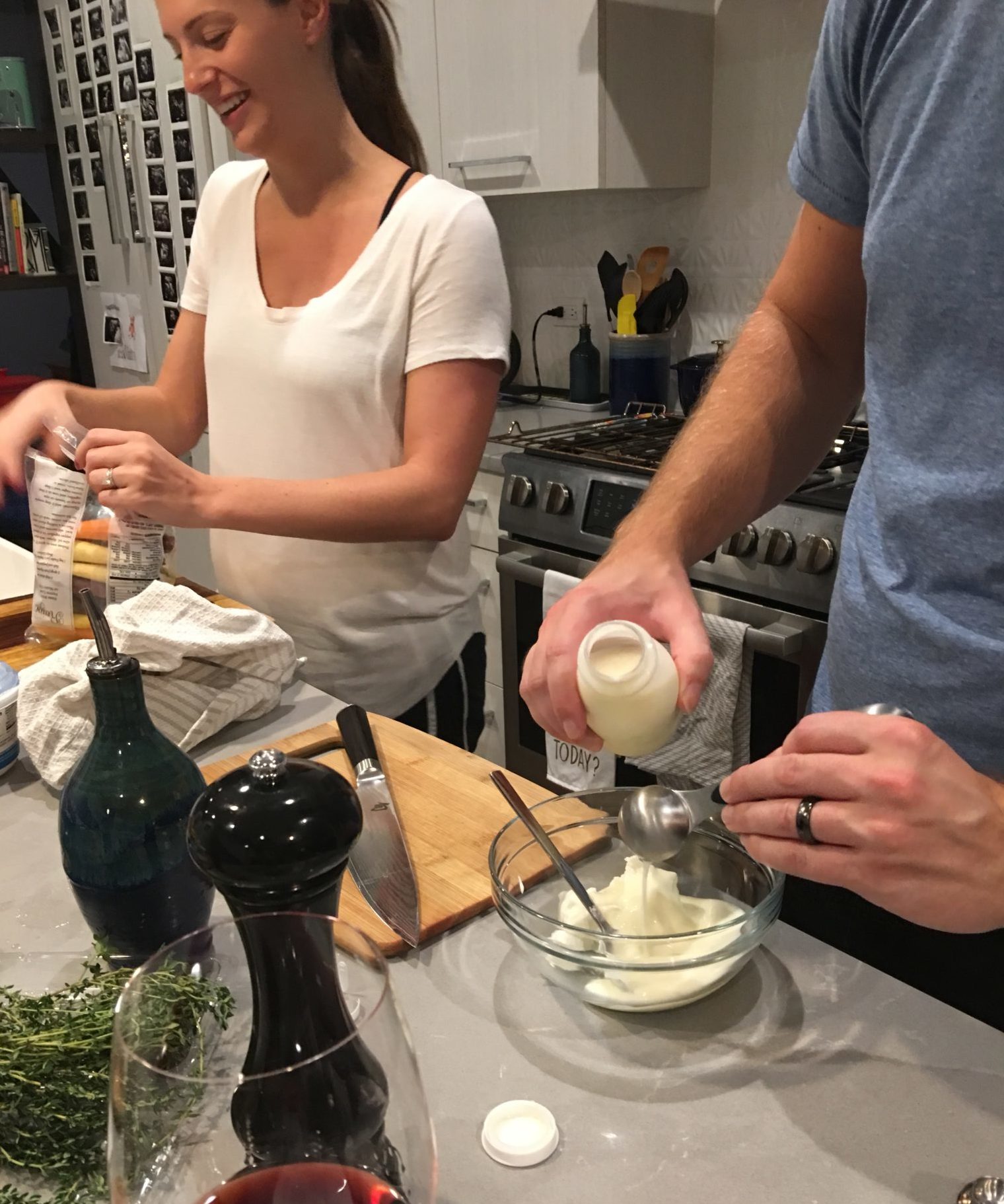 To serve, spoon the buttermilk sauce over the eggplant halves and sprinkle with pomegranate seeds and Za'atar.  I can hear you saying, "What is Za'atar and where do I get it?" because that's what I said.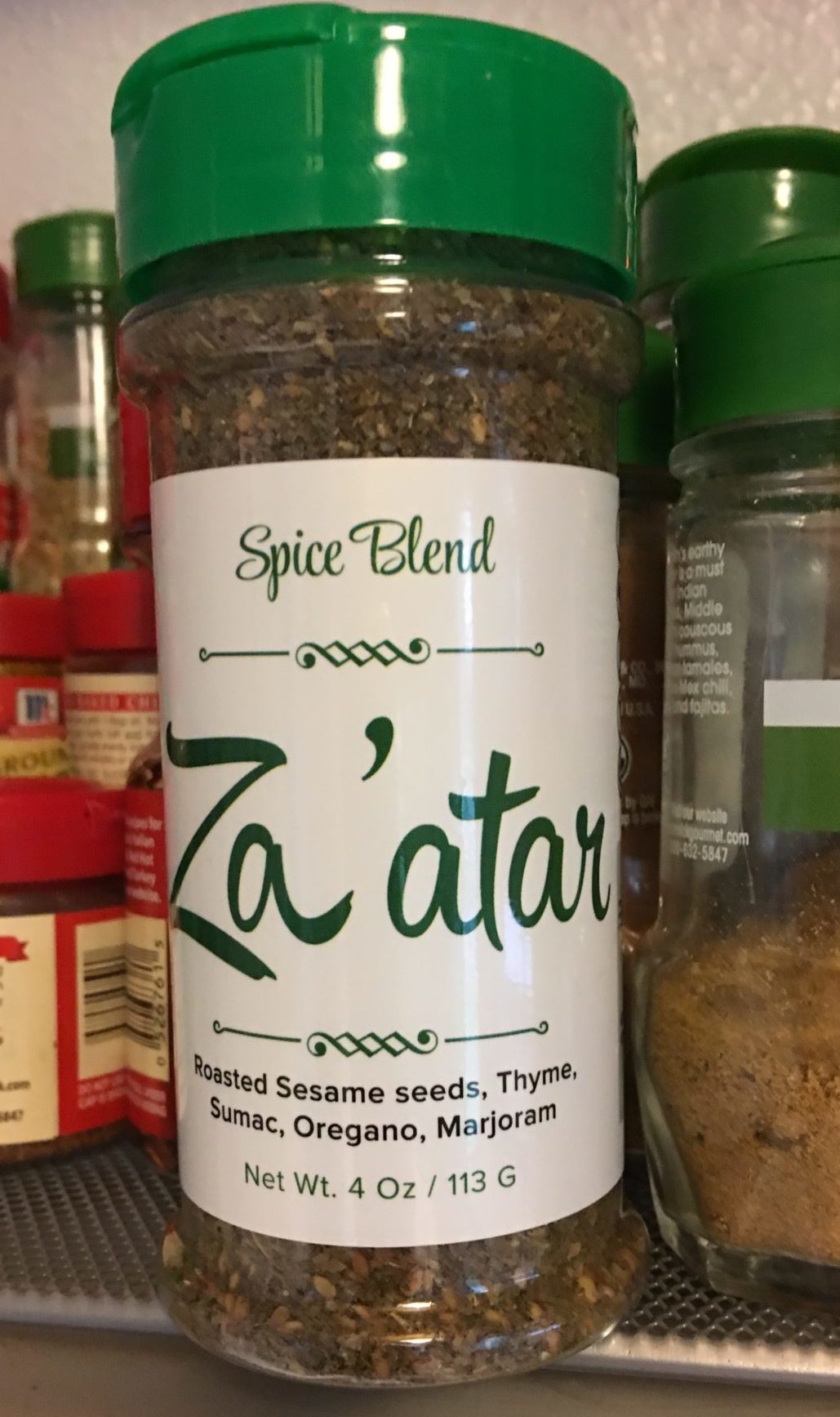 Za'atar is a Middle Eastern seasoning made of thyme, sesame seeds, majoram, oregano, salt and sumac.  I ended up ordering it online.  You can make it at home (here is a link for the recipe)    Everything except the sumac is probably in your neighborhood store and if you can't find sumac, don't stress, just omit it!
We toasted some slices of thick bread and ate it as a spread with drinks before dinner.  It makes a pretty, bright and delicious hors d'oeurve and I am thinking it may appear at my house this holiday season.
(And speaking of holiday seasons, this November my Sunday posts will return with pies for Thanksgiving and cookies in December.  Be sure to subscribe to my blog so you don't miss any of the fun.  Just fill in your email at the top of this page.  I promise I won't give it away or fill your inbox with a ton of messages!)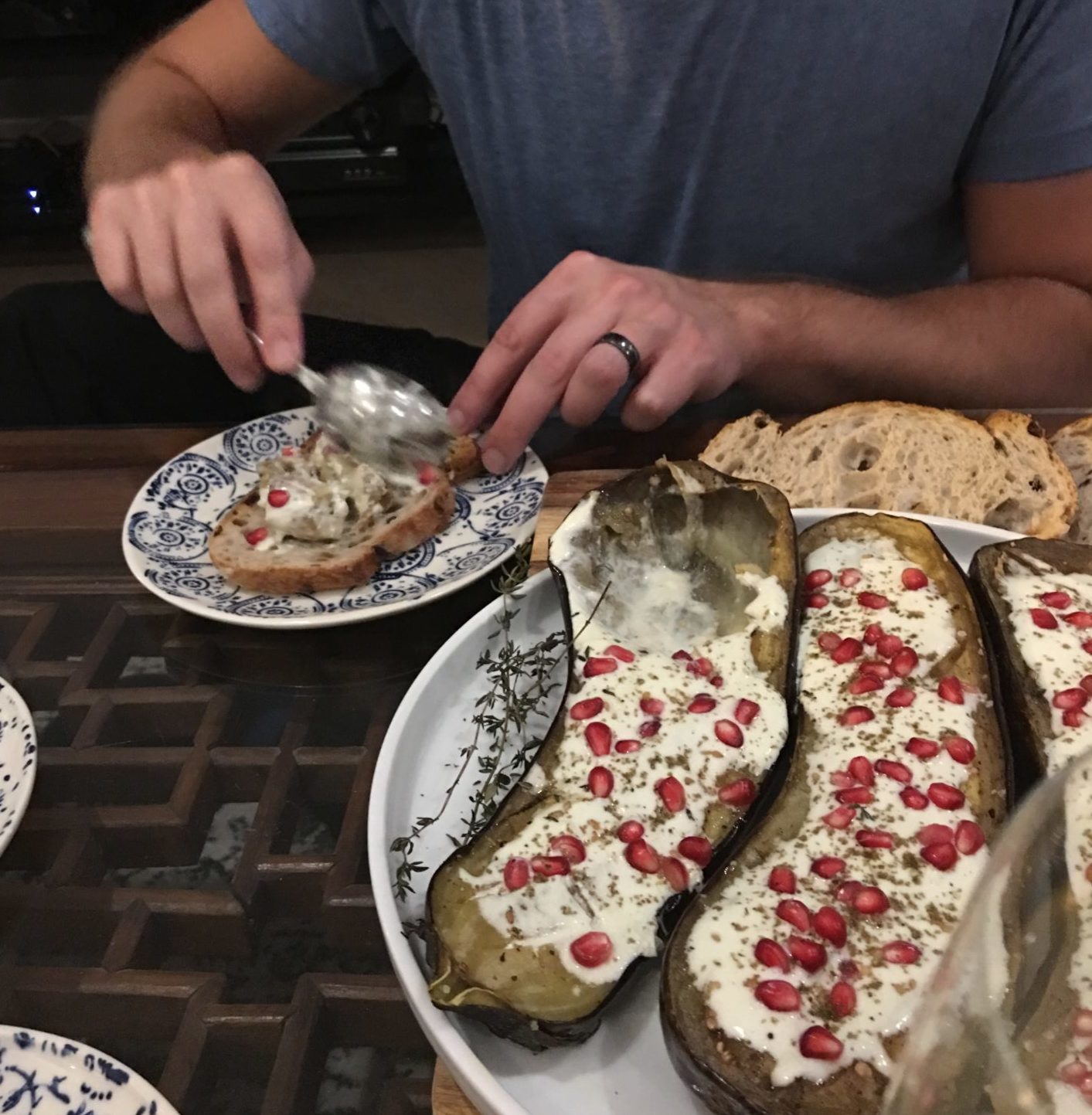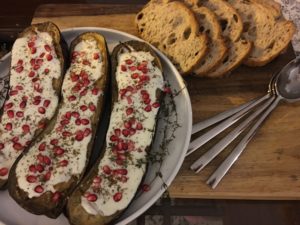 OTTOLENGHI'S EGGPLANT WITH BUTTERMILK SAUCE AND POMEGRANATE
Instructions
For the Eggplant
Preheat oven to 350 degrees

Cut eggplant in half lengthwise. Score a diamond pattern in the flesh of the eggplant halves with a sharp knife.

Place the eggplant, cut side up, on a baking sheet.

Brush with olive oil until the oil is absorbed and the eggplant is golden in color.

Sprinkle with thyme and salt and pepper.

Roast 35-40 minutes until soft. Remove and let cool a bit.

While the eggplant is cooking, remove the seeds from the pomegranate and clean well.
Make the Sauce
Whisk together all of the ingredients until smooth.

Taste and adjust seasoning.

Refrigerate until needed.
Assemble the dish
Spoon the buttermilk sauce over the eggplant halves.

Sprinkle with za'atar and plenty of pomegranate seeds.

Garnish with thyme and drizzle with a little olive oil.

Serve with toasted bread slices.
Recipe Notes
Note: any leftover buttermilk sauce makes a great salad dressing!