I always called January "The Month of Atonement". In the past I have viewed the start of the new year as a time to deprive myself as a means of repenting for the excesses of the December holiday season.  But this year as the words slipped casually out of my mouth, I found myself wondering what was the sin I was atoning for?  Christmas and New Year's (to a lesser extent) are holidays of joy and celebration.  All the feasting and partying with friends and family, the sharing of foods as gifts and offerings, are acts of love and happiness.  This not something to atone for.
This year I am redefining my outlook towards January.  There can be no doubt that I ate and drank more than my body needed (and loved every minute of it) so what is needed in January is to rebalance my life.
Up to now I have thought of this in terms of "going on a diet".  But if you rephrase your thinking about your body and life style as an act of balance you will see that balancing is by definition unstable.   Sometimes the balance is a little off to one side or the other.  This is not a bad thing.  You just have to move it back to the other side for a bit.  Moderation in all things, including moderation!
This January, I am not on a specific diet.  I would like to lose the little extra weight I gained in December but I am giving myself a month to do it.  I am not going way out on the far end of deprivation.  I am going to try to return to the balance of my usual life with a little bit less for a while until I am where I want to be.
I started with Crab Cakes on New Year's Day.  I like my crab cakes crabby! I don't use a lot of filler and for this month and this menu I cut back on the fat and bread crumbs.  Finally, instead of my favorite accompaniment of Bearnaise sauce, I made a light and spicy Mango Salsa.
Six ingredients is all it takes.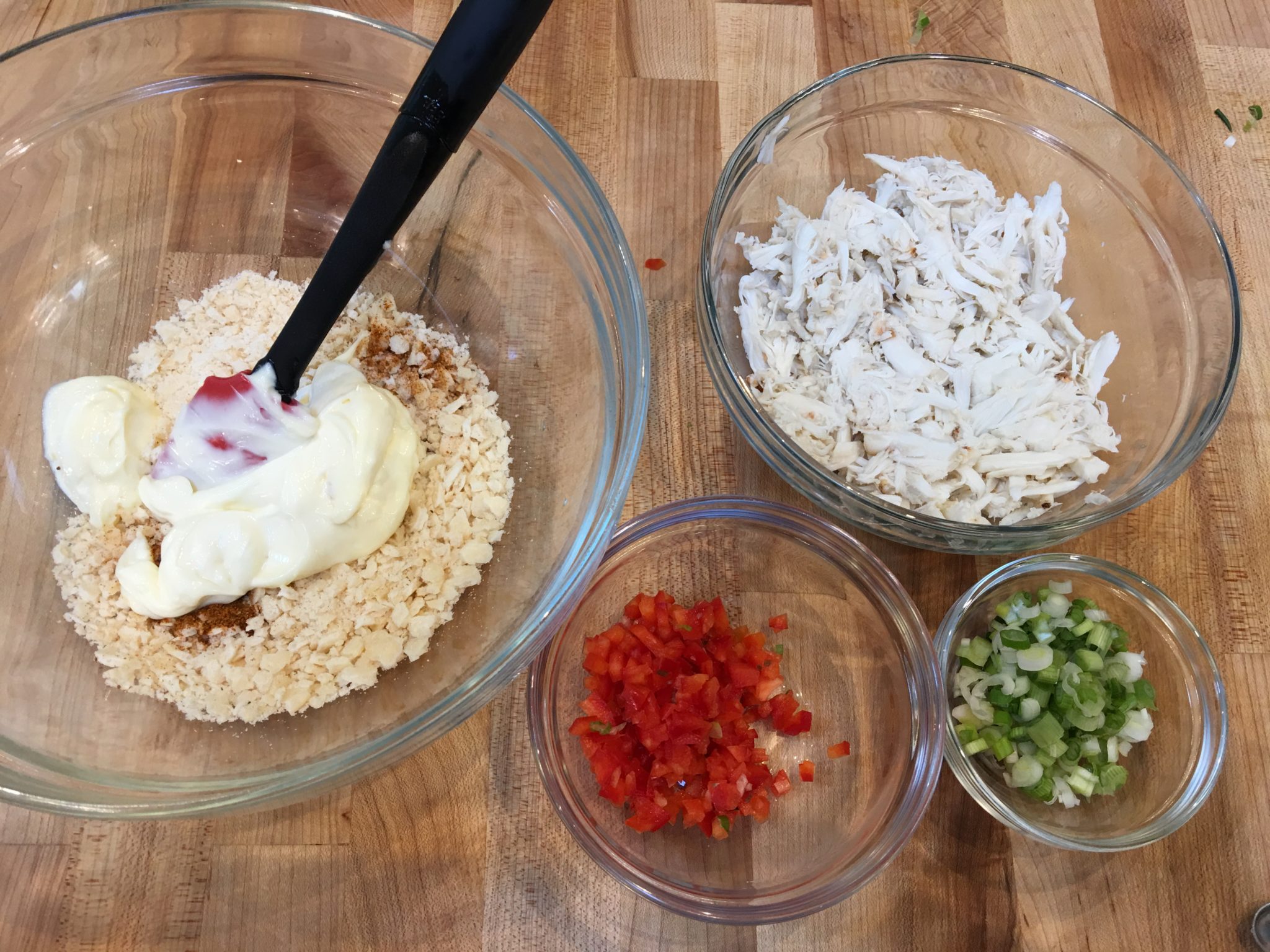 The "bread crumbs" are actually rice crackers which I broke up in my food processor.  The mayonnaise is the light version.  (You can use full fat mayo if you want but most people can't tell the difference) and Old Bay Spice because those people know crabs! Add green onions, red pepper and crab meat, done.
Mix it all together lightly.  You want to try to keep the crab meat in decent sized pieces.  Taste it and adjust the seasoning.  I don't add salt because the crackers are salted.  You may need to add a little salt.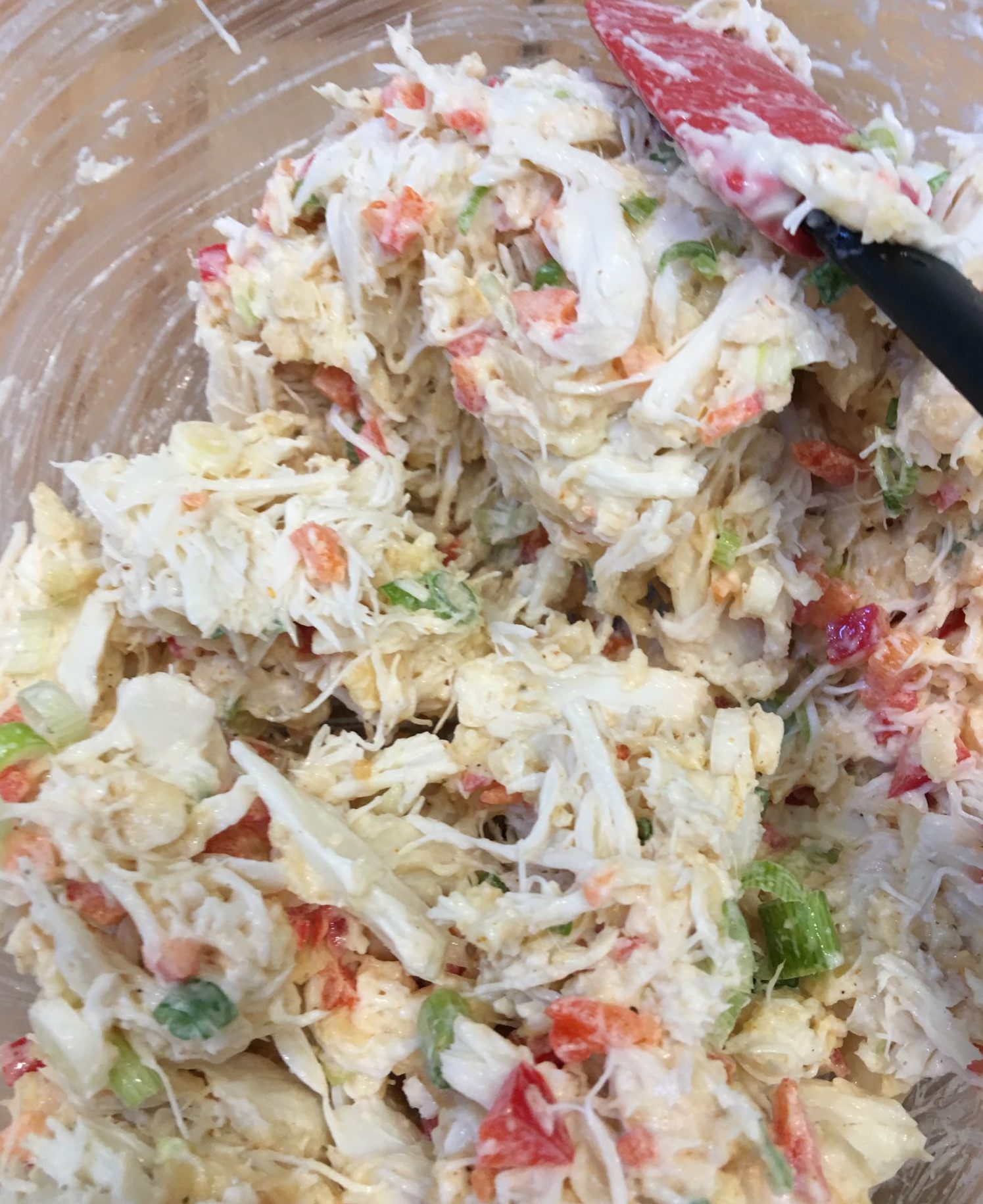 I use a half cup measure to form my crab cakes.  Pack the mixture in lightly and use a knife to release it. Lightly coat the cakes with some more of the crumbs.  Cover and refrigerate them until you are ready to cook them.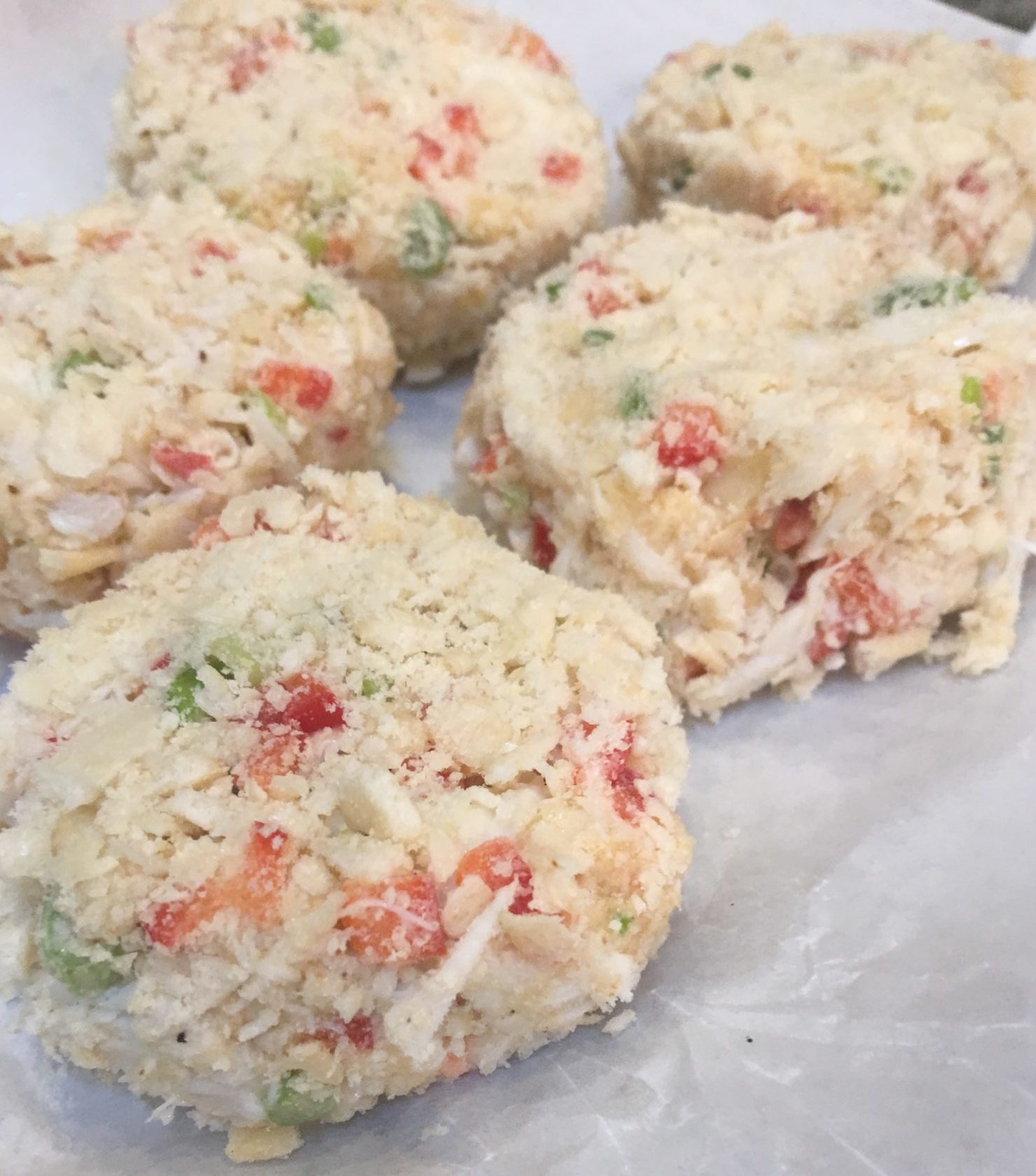 Now make the salsa.
The seed of a mango is long and flat and runs straight down the middle so cut a slab off of both sides of the mango as close to the seed as you can.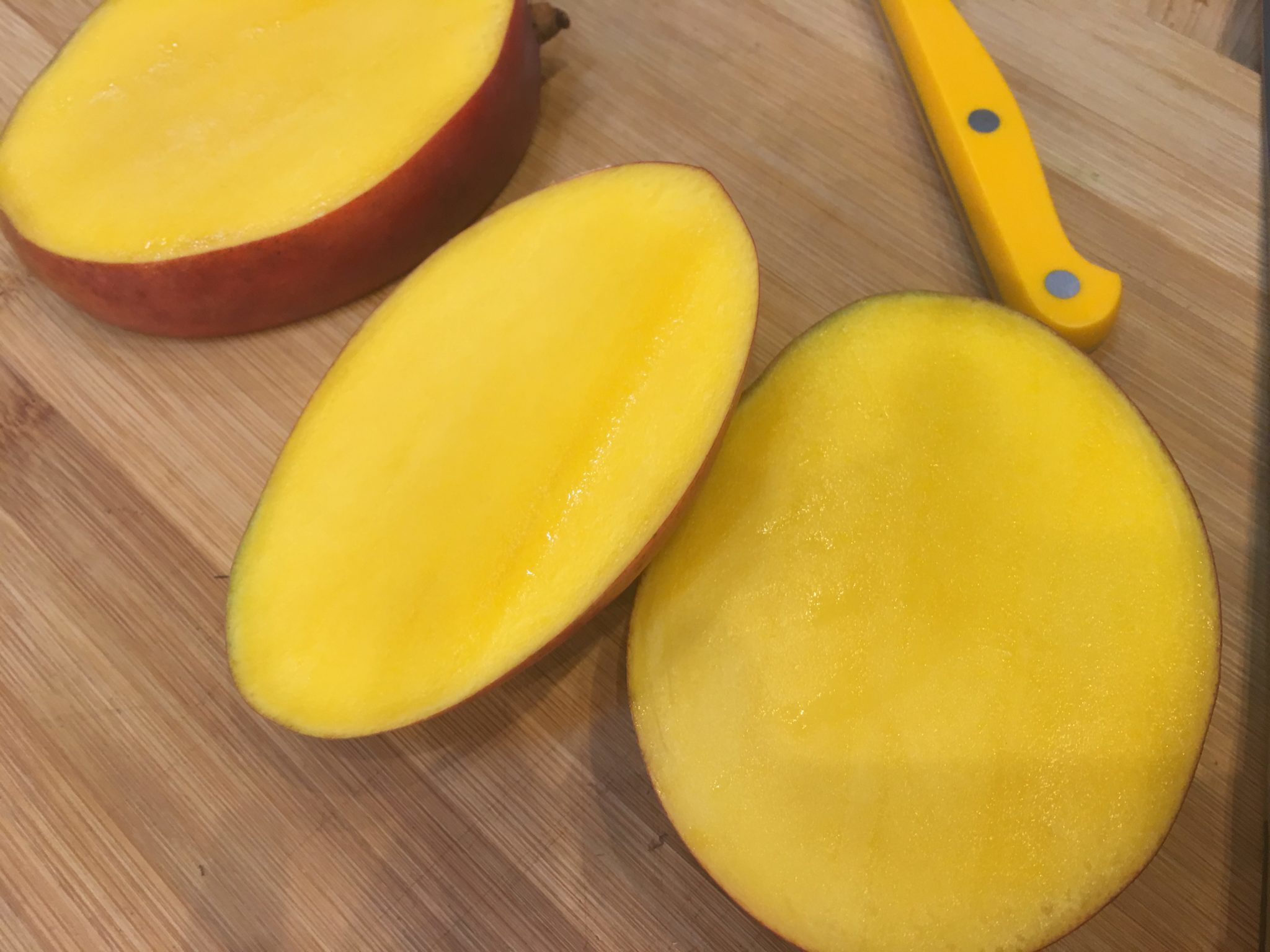 Score the mango with a knife in a diamond pattern then use a spoon to release the meat.  It should come out in small pieces.  If you need to, chop it a little more until you have a fine dice.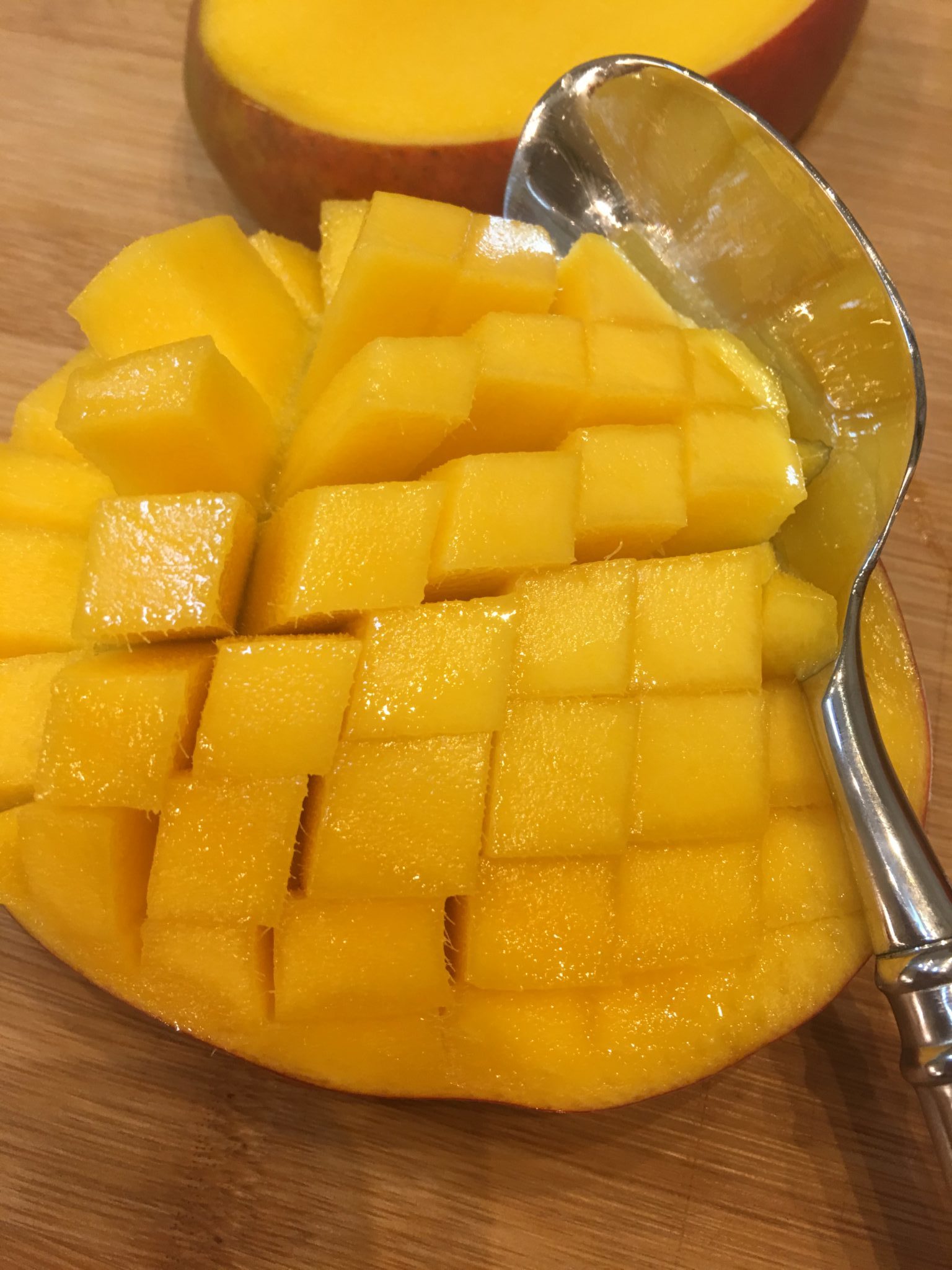 Add some good quality medium spice fresh salsa.  I like spicy but I think the "hot" salsa overpowers the flavors of the mango and cilantro.  You can always use low heat salsa and spice it up if you are not sure.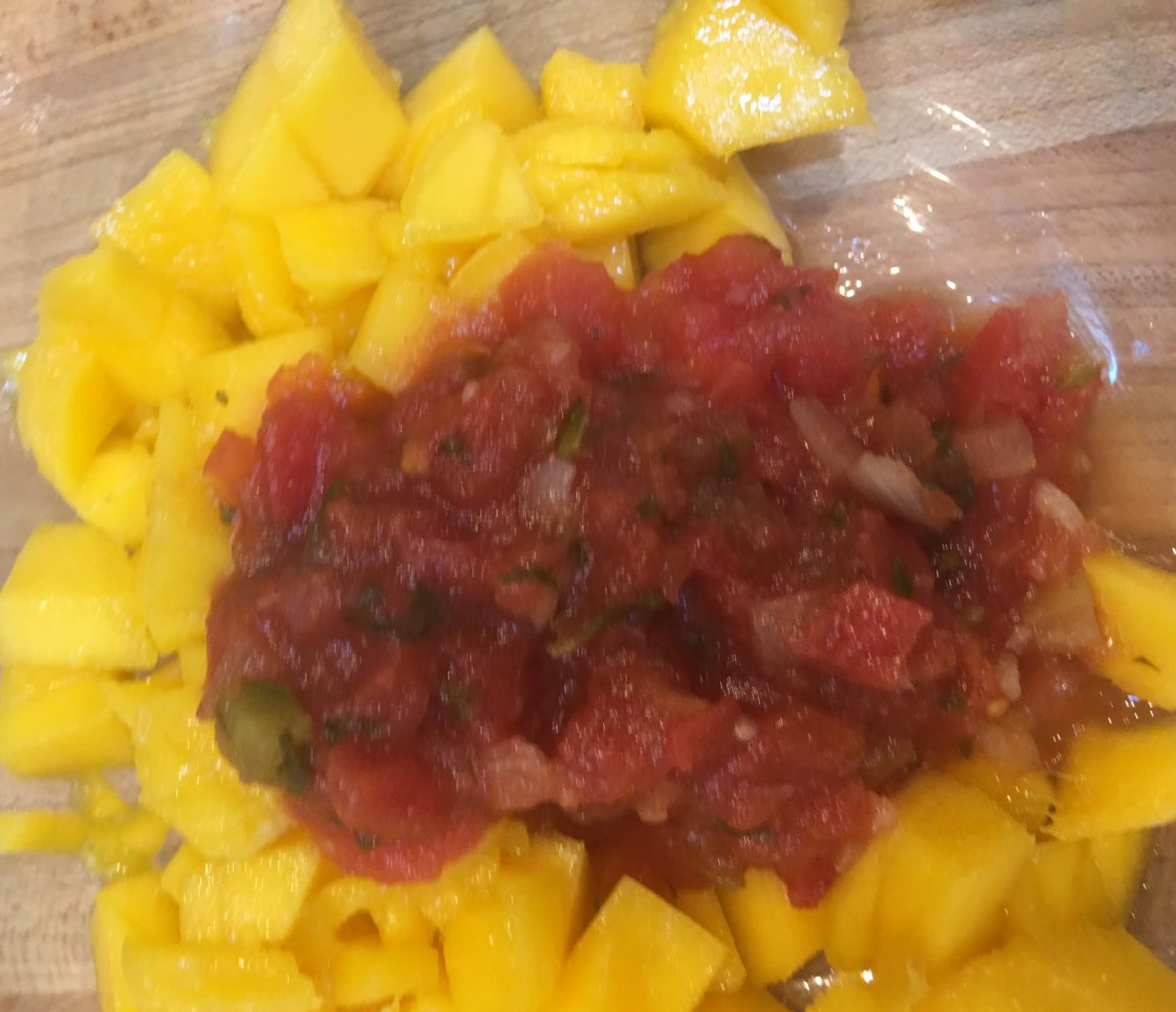 Take a handful of cilantro.  What's a handful?  It depends on your liking of cilantro.  This is my handful.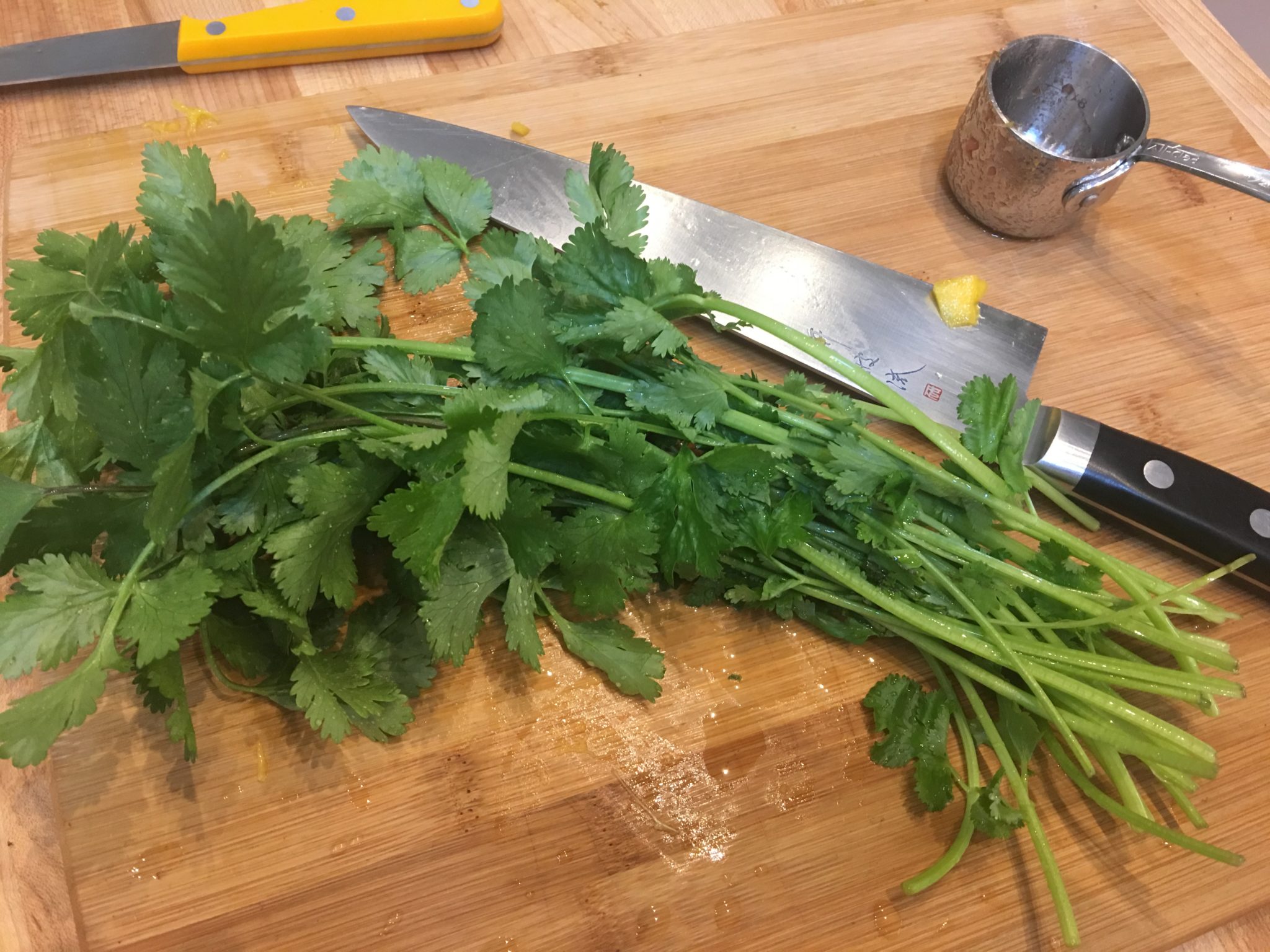 Chop the cilantro making sure you include the stems.  This is where most of the flavor is.  Now toss it all together and refrigerate it until needed.
To cook the crab cakes, saute them in a little butter until lightly browned and then finish them in the oven until they are warmed through.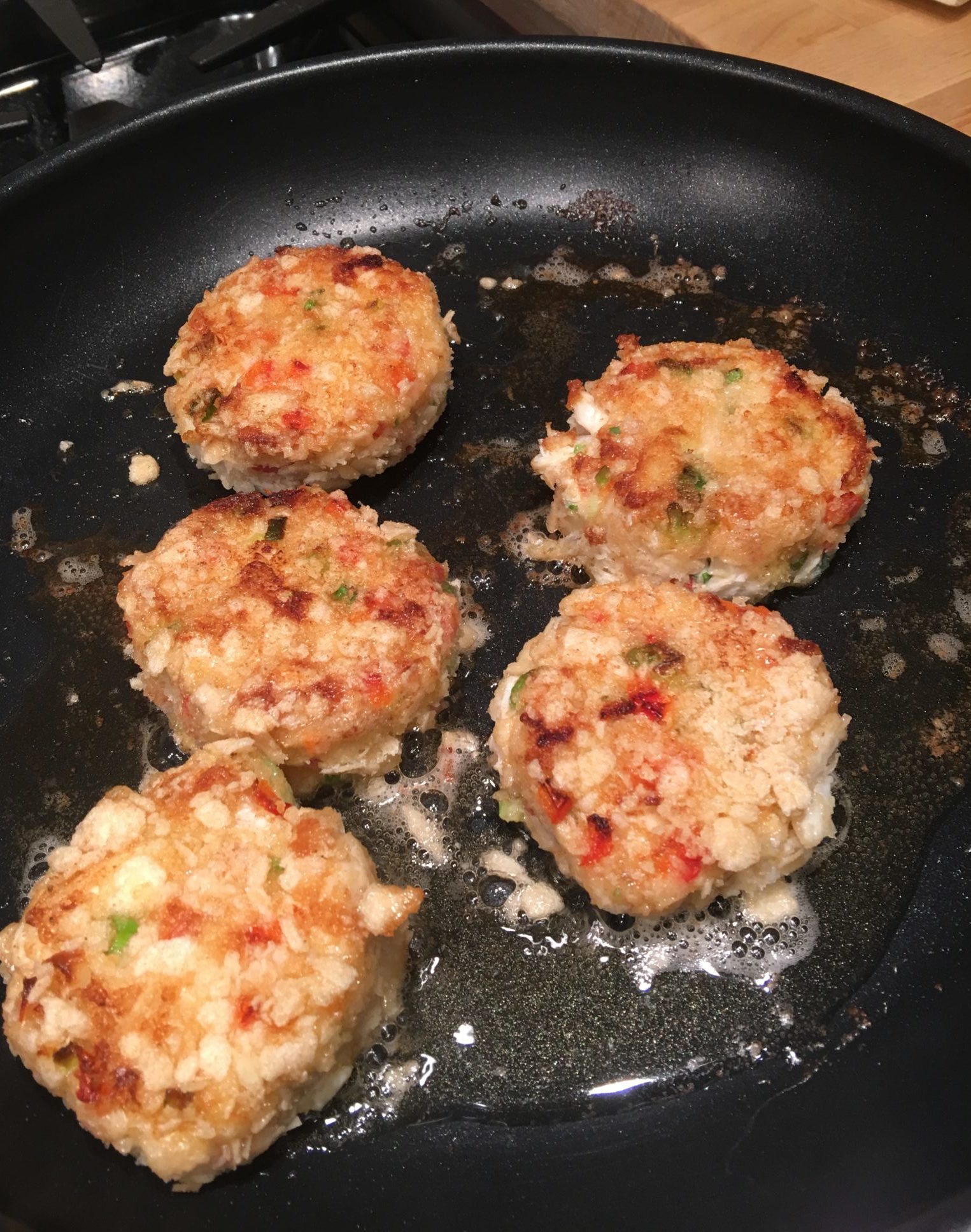 Serve with the salsa and a green salad.
Now I'm off to the gym!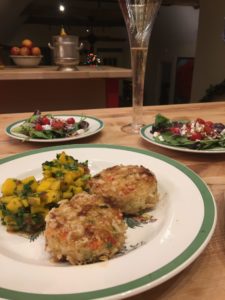 CRAB CAKES WITH MANGO SALSA
Ingredients
For the Crab Cakes
1/3

cup

mayonnaise

½

tsp

Old Bay Seasoning

8

oz

crabmeat

2/3

cups

cracker or bread crumbs

divided

¼

cup

scallions

minced

¼

cup

red pepper

finely diced

2

tbsp

butter
For the Salsa
1

large mango

¼

cup

fresh salsa

1

large handful cilantro

finely chopped
Instructions
Make the Crab Cakes
In a medium bowl stir together 1/3 cup bread crumbs and all the other ingredients except the crabmeat.

Add the crabmeat and gently fold it in, being careful not to break up the pieces too much.

Put the remaining bread crumbs in a shallow bowl or plate.

Fill a half cup measuring cup with crabmeat, pressing down slightly.

Use a knife to release the crab cake from the measuring cup and place in the plate with the bread crumbs, turning and patting gently to help bread crumbs adhere.

Repeat until all the crabmeat is used.

Refrigerate at least a half an hour or up to 12 hours.

Prepare and refrigerate the salsa.
To cook the Crab Cakes
Preheat the oven to 350.

Melt the butter in an oven proof sauté pan until the foams and "sings" in the pan.

Brown the crab cakes for about two minutes on a side being careful not to burn them.

Once the crab cakes are brown, place them in the oven to finish cooking, about 5 minutes, until warmed through.

Serve with Mango Salsa.
For the Salsa
Slice a large mango along both sides of the seed.

Using a sharp knife, score the mango without piercing the skin, into a small diamond pattern.

With a spoon separate the mango flesh from the skin. If the pieces are overly large, chop them as needed.

Place the mango dice in a bowl along with the salsa.

Wash and dry a handful of cilantro.

Chop the cilantro and stems finely. You should have about 1/3 cup of chopped cilantro.

Add the cilantro to the mango and salsa and stir together.

Cover and refrigerate until needed.