I love the holidays.  I love the decorating and shopping, the mess and the clutter and the sheer busyness of it all.  And then I love taking it down, putting away the ribbons and bows, the green and red, sweeping up the pine needles and tossing out the faded flowers.  Included in all of this, of course, is ridding one's refrigerator of the remnants of the year-end feasting.
In our house we always make sure to have a big enough turkey (or goose) to have left overs.  Next day turkey sandwiches are required!  And after that it might be time for soup or,  if there is enough, my real favorite, Turkey Hash.  This mish-mash of leftovers is Christmas Dinner all over again but without the fuss and in a more manageable quantity. It's the reason I make more than enough gravy, the reason I have peas in my freezer, and the reason I don't care if my family wants mashed potatoes on Christmas night because Turkey Hash is best served over rice.
Step one:  Open your refrigerator and take out all of the containers of left-overs.
Harvest as much meat as you can from the wings and drumsticks and whatever other meat has survived.  You will need about two cups for 4-5 people.
Assess the gravy situation.  Two cups of meat will need about 1/2 to 3/4 of a cup.  It's okay if you don't have quite enough.  You can stretch it with some turkey (or chicken) stock.  If you don't have any at all, you could resort to canned gravy.  Not ideal, I know.  This was my mother's fallback but that was 50 years ago.
Chop up an onion and saute it in a little oil in a medium sauce pan until it is soft and translucent.  Then add the turkey meat and the gravy and heat it gently.  If it looks too dry add some stock.  Stir in some vegetables.  You can use what's leftover or add some frozen veg to it.  In my family we like peas but it works with carrots and parsnips.  Maybe not Brussels sprouts, I've never tried.  Taste it and add salt and pepper if needed.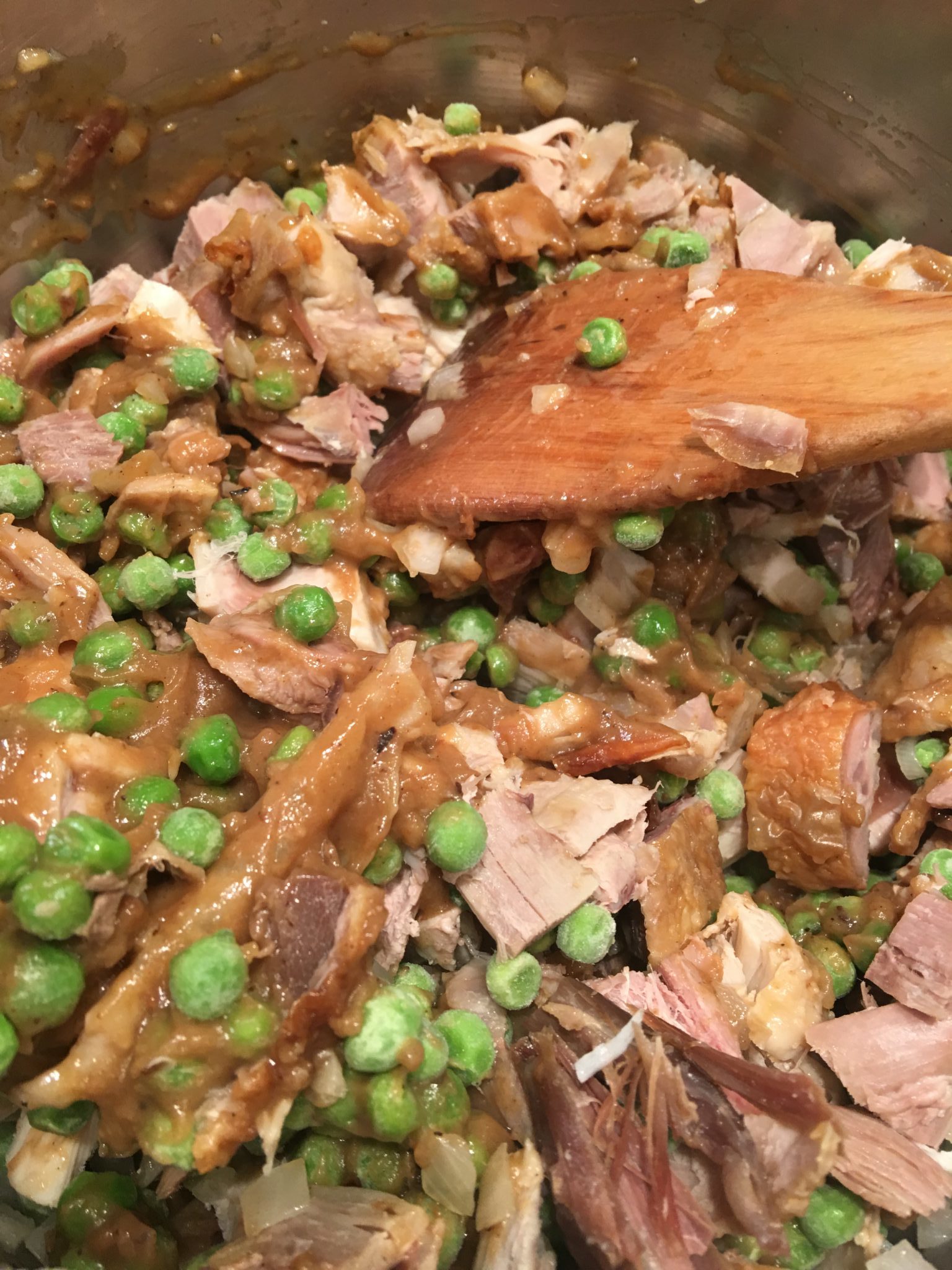 Then set it aside while you make the rice and reheat it gently before serving it.
That's it.  Add some cranberry and leftover stuffing on the side and enjoy a final farewell to your Christmas dinner.  Because you know what's coming next, January and time to get back to eating healthy and the gym!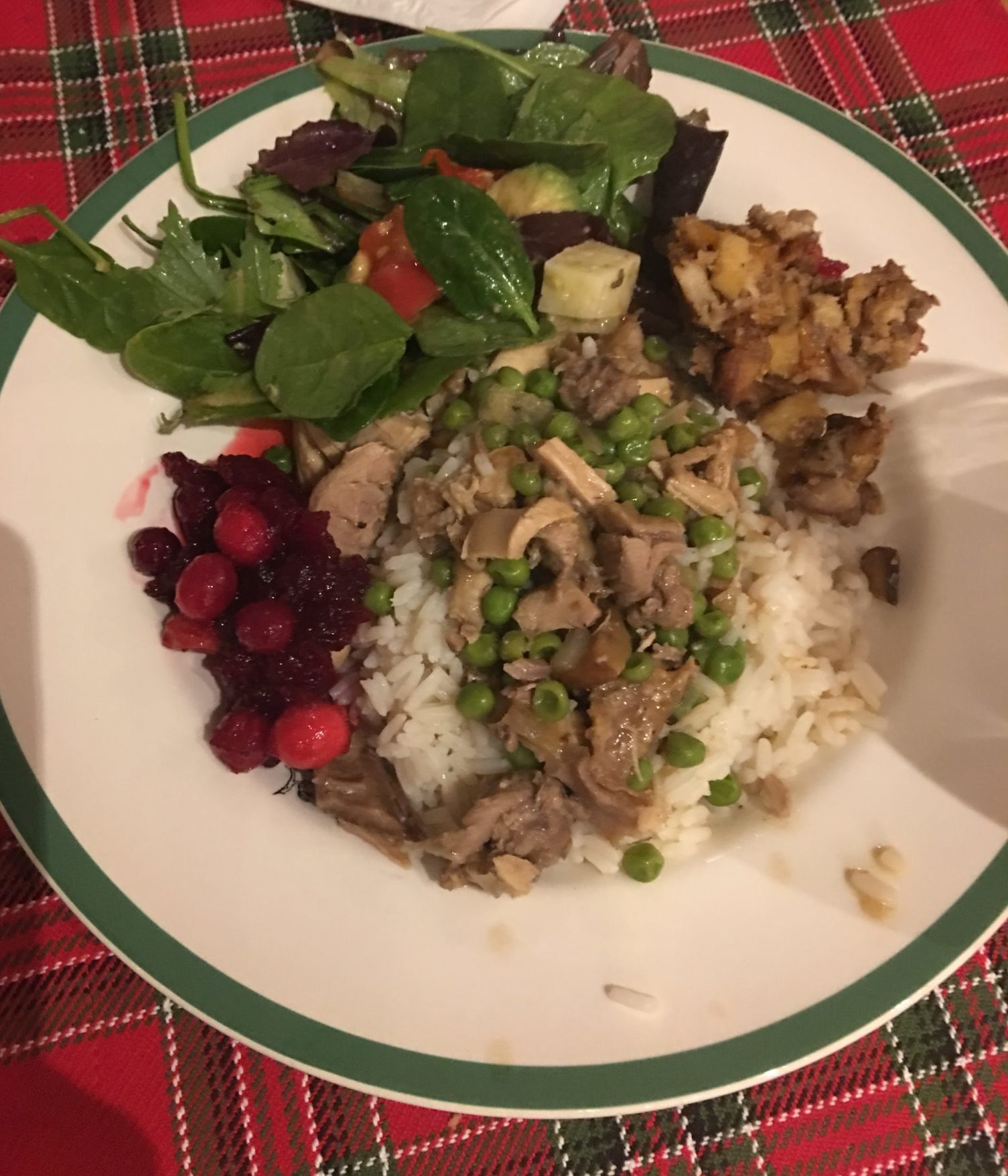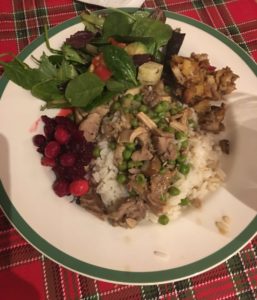 TURKEY HASH
Ingredients
I onion

chopped

2-3

tsp

oil

2-3

cups

chopped turkey meat

¼

cup

turkey or chicken stock

as needed

½- ¾

cups

turkey gravy

1

cup

peas

2-3

cups

cooked rice

Cranberry sauce

optional

Stuffing

optional
Instructions
Cook the onion in the oil until soft and translucent.

Add the turkey meat and gravy.

Add stock if it is too dry.

Add peas and cook until they are warmed through.

Serve over rice. Garnish with cranberry sauce and stuffing.