The other night I went on my first date in 45 years.  Now just try and get your head around that because Lord knows I have trouble with it.
It's been a very long time since I have felt attractive and desired so I am not averse to the idea of meeting people who are interested in getting to know me. It feels good. On the other hand, I just got out of a 37 yearlong marriage, more than half my life (!), and I am enjoying doing what I want to do when I want to do it.
I knew right after I said yes that this man was not going to change my mind about my freedom.  But then I thought why did he have to?  What was the purpose in meeting up?
Here's where being older comes into play. If a woman asked me did I want to meet up for a drink I would say yes and think no more about it than it was a chance to make a new friend.  Same goes for a man.  So, while this man didn't seem like he would be more than one "date" material, there was a fair to middling chance that he could be a friend.
So I went. It was pleasant but the end of hour, I said no to continuing on to dinner  and went home to my cat, mentally ticking off a box on my list of new life/new experiences.
These muffins are the result: Rosemary Rhubarb Date Muffins.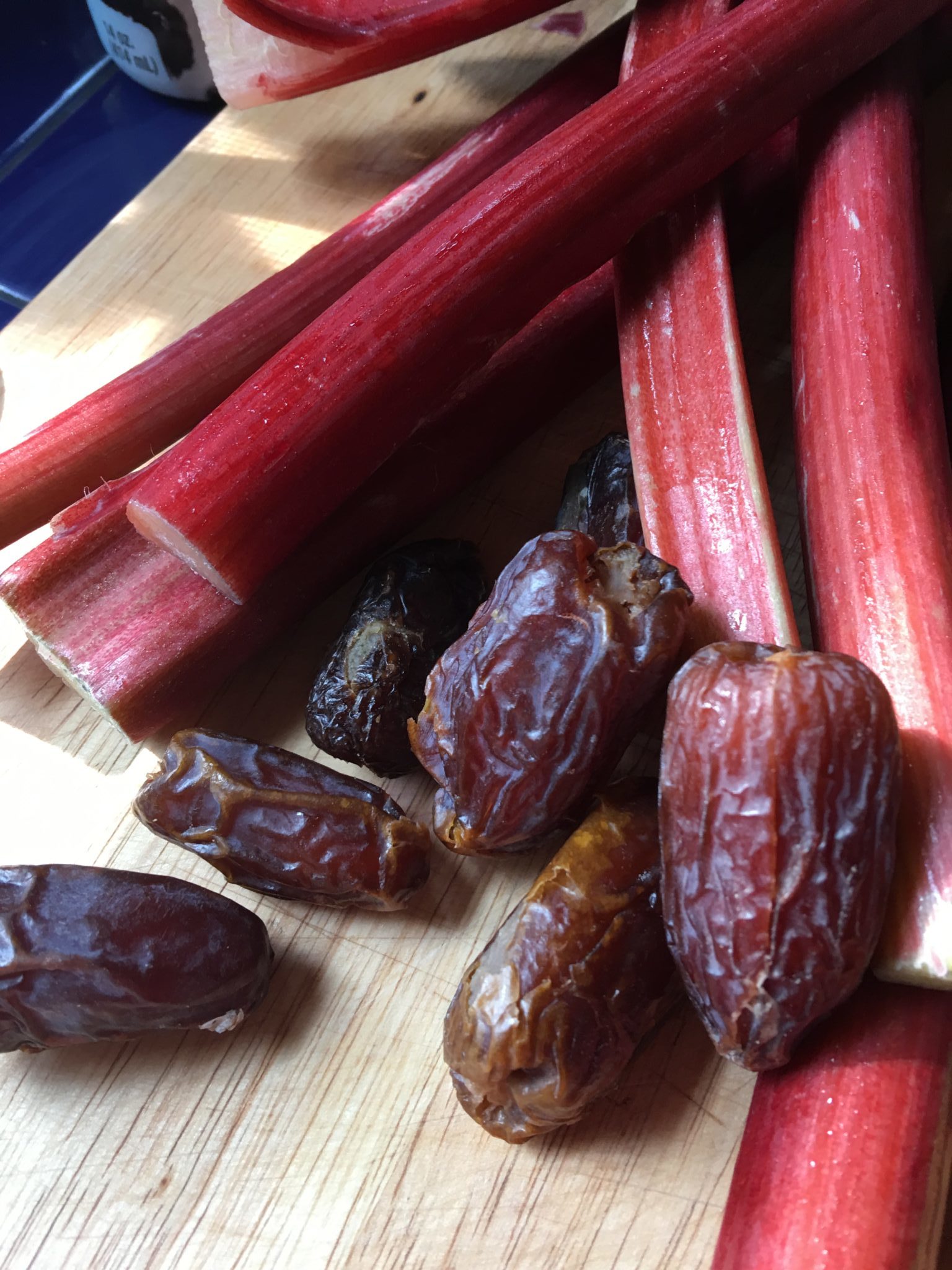 Rhubarb for the background noise of the bar, people talking and laughing. (In early days of radio, actors would say "rhubarb, rhubarb" to create the sound of a crowd)
Date because it was a date (duh!)
And Rosemary because it was interesting and a little odd and it worked even if it wasn't exactly what you might expect.
I mixed together the dry ingredients then chopped the rosemary very finely and stirred it in.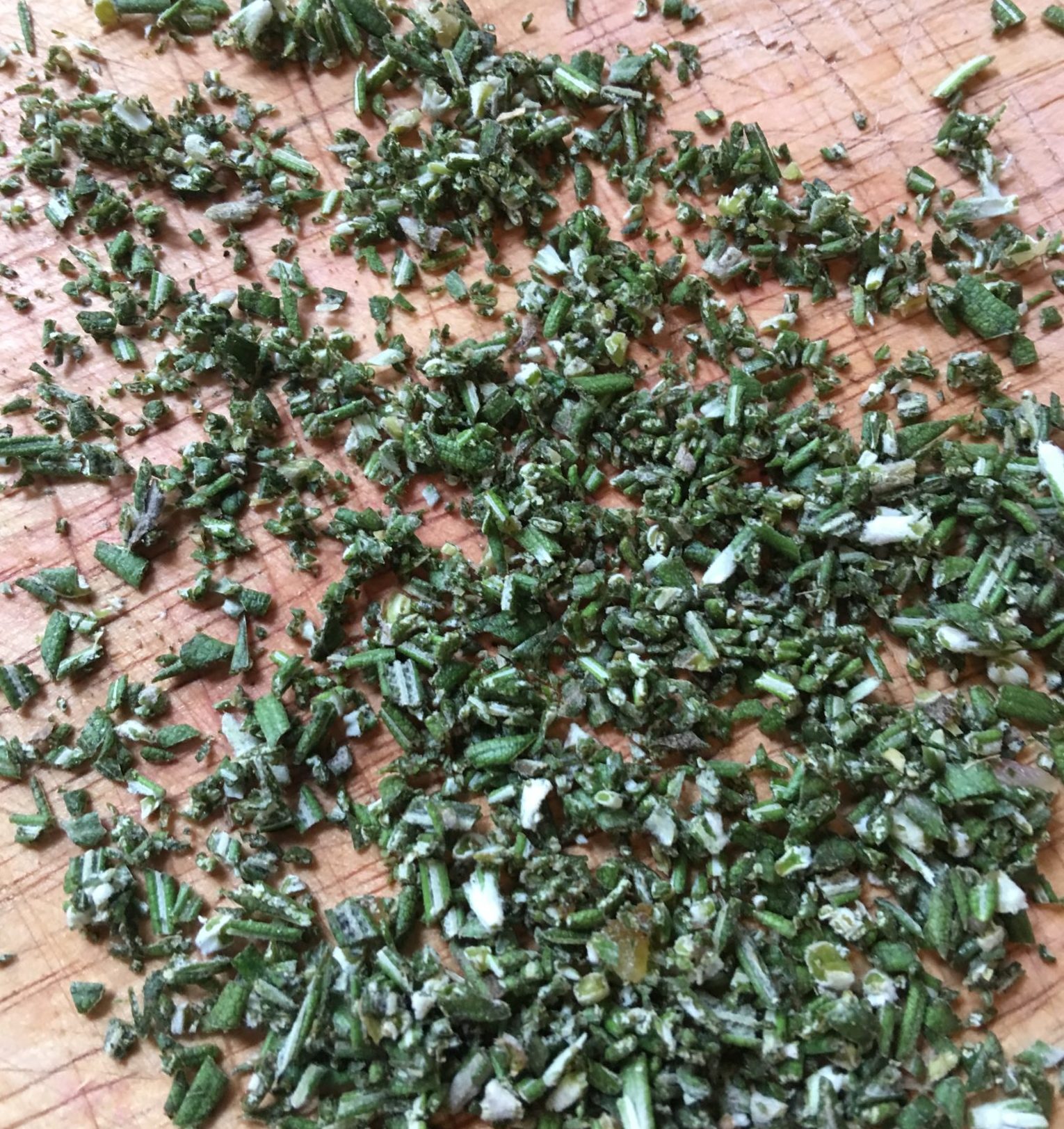 In a separate bowl, I beat together the sugar, oil, egg and buttermilk until the sugar was dissolved and the mixture was smooth.  I did it by hand but you can use a mixer if you like (and have one!)
Stir in the dry ingredients and mix until just combined.
Fold in the dates and rhubarb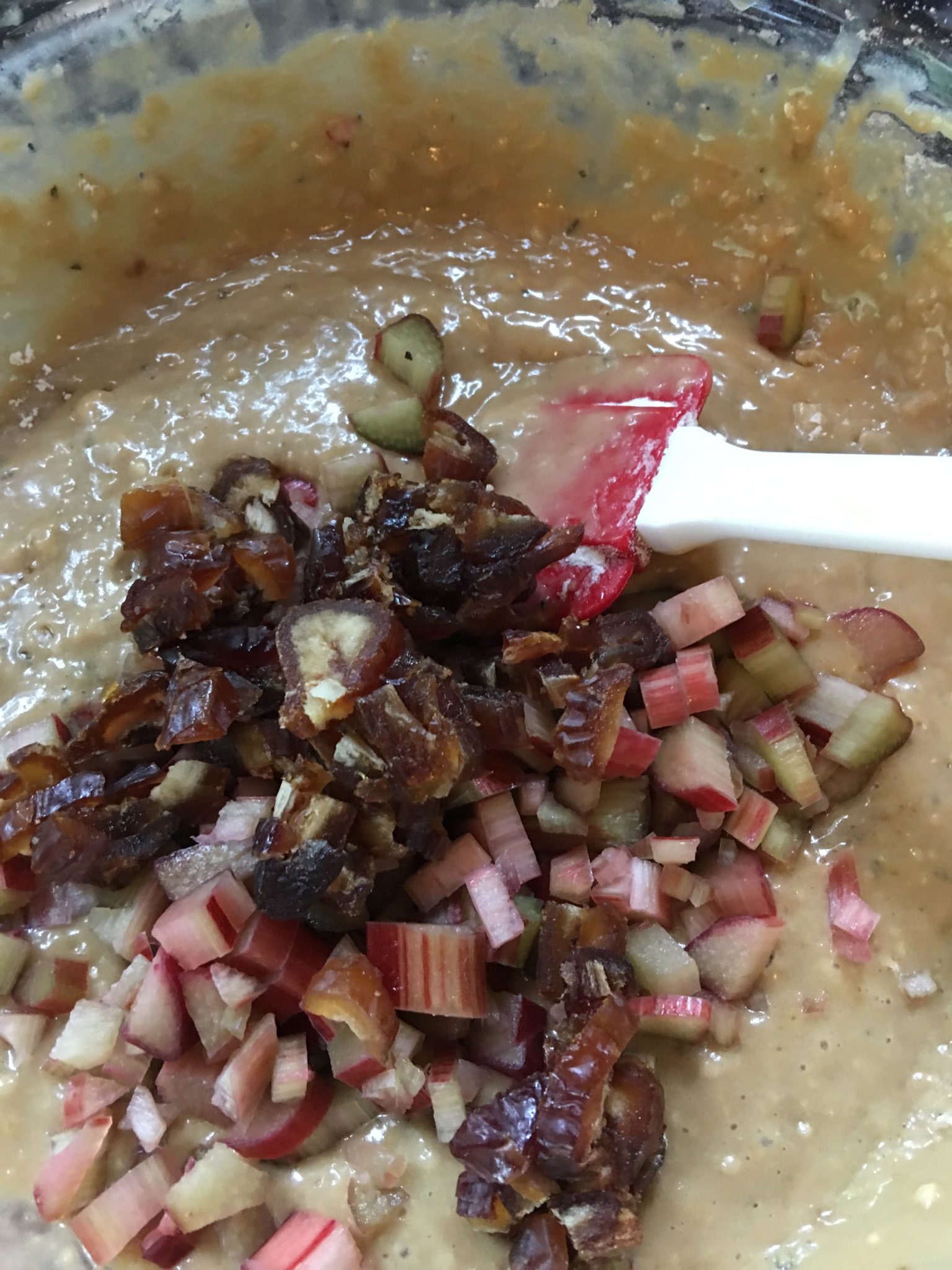 then fill the muffin cups.  You can fill them pretty full.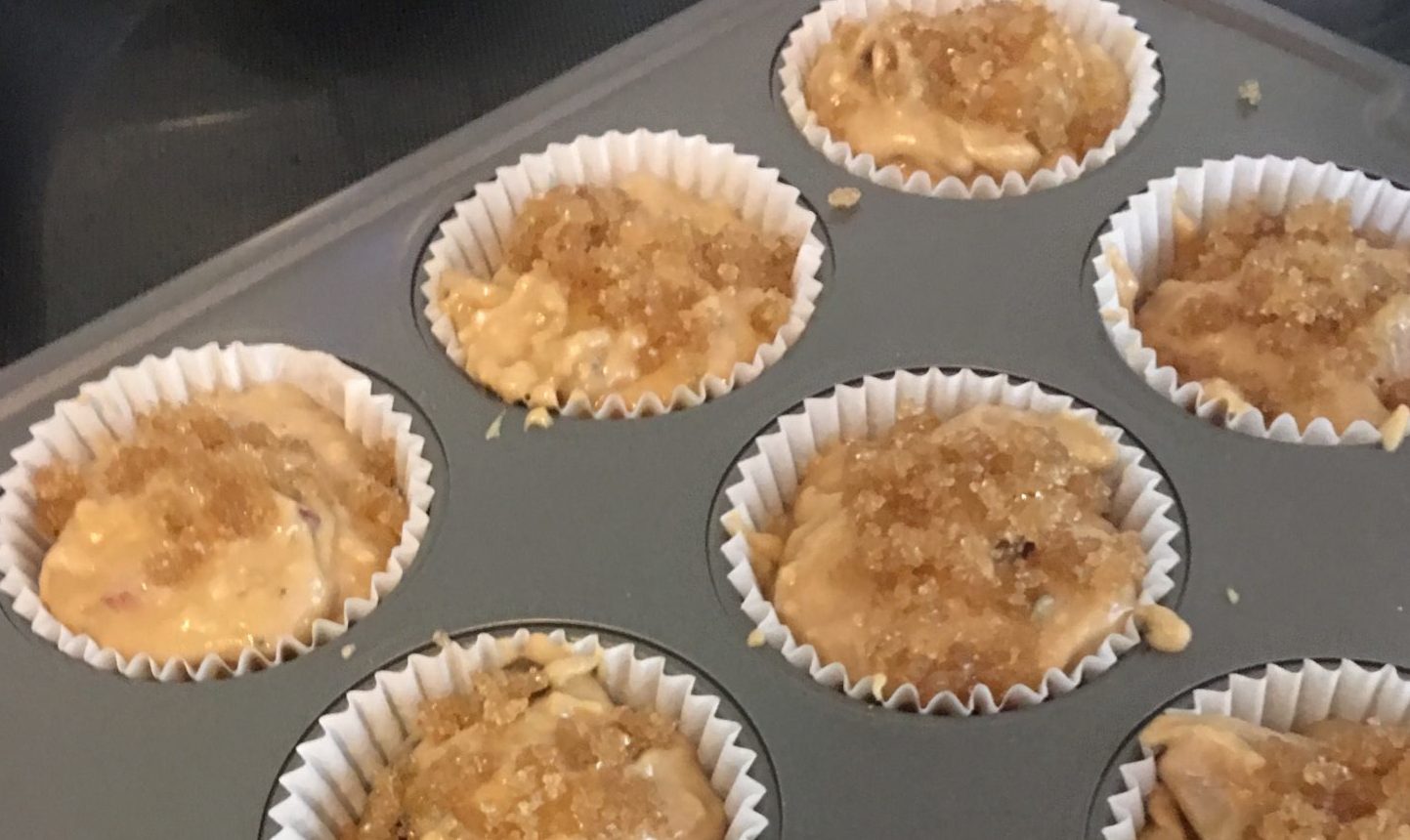 Mix together the demerara sugar and the melted butter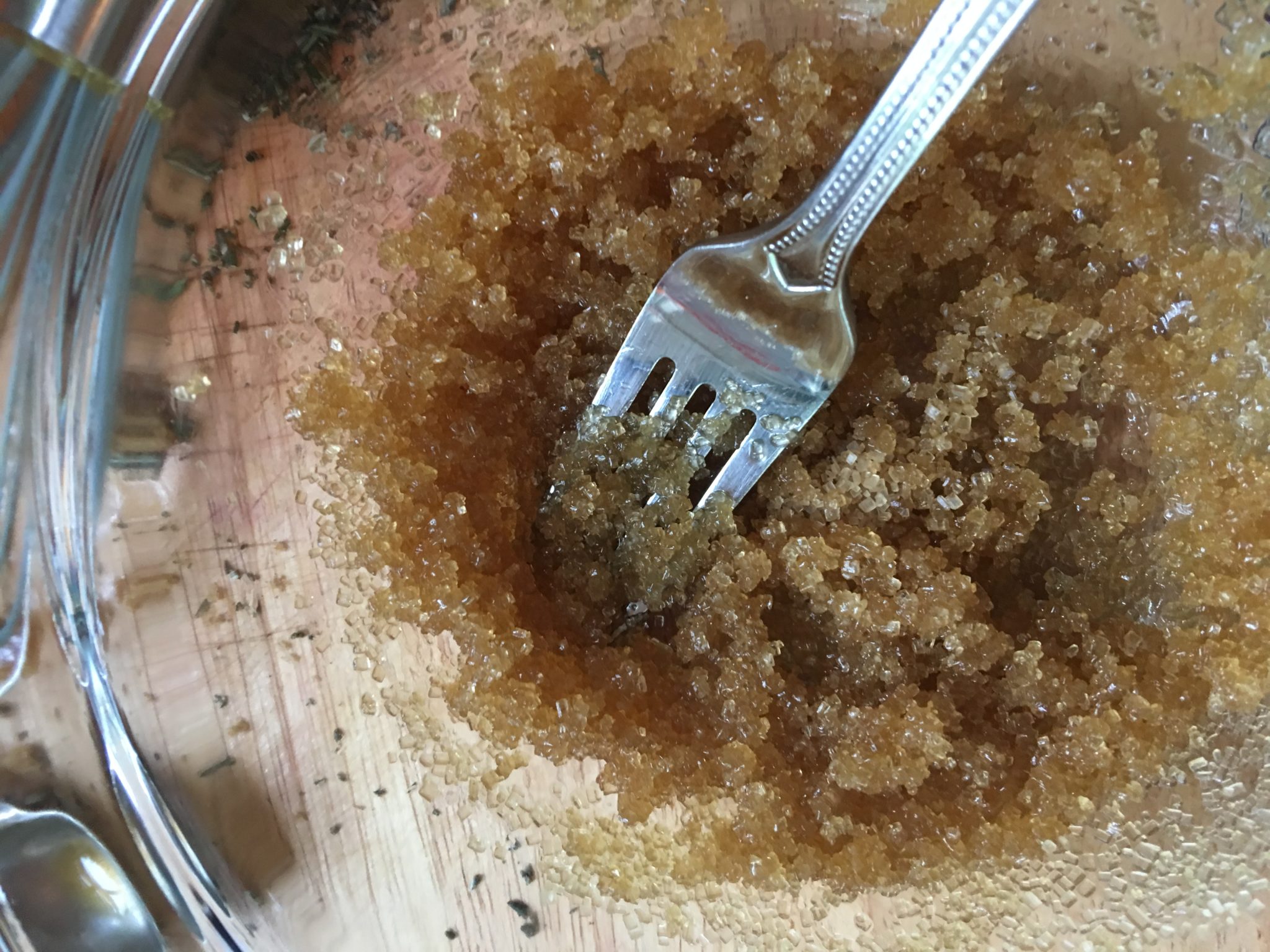 and sprinkle it generously on top of the muffins.  If you don't have demerara sugar you can use raw sugar or turbinado.  You can even use plain white sugar if you like although that won't give you quite as delightfully crunchy a topping!
Bake them until they pop back when lightly touched, then cool them for a bit before taking them out of the tins.
These muffins are  not overly sweet.  The rhubarb gives a nice tang while the date provides a touch of sweetness and the rosemary is an underlying note of freshness!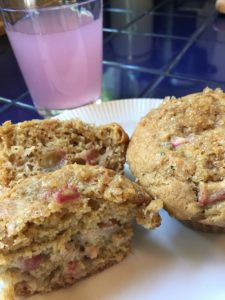 ROSEMARY RHUBARB DATE MUFFINS
Ingredients
2 ½

cups

flour

1

tsp

baking soda

1

tsp

baking powder

½

tsp

salt

1

tbsp

fresh rosemary

finely chopped

1 ¼

cups

dark brown sugar

½

cup

canola oil

1

egg

1

cup

buttermilk

1 ½

cups

chopped rhubarb

½

cup

chopped dates

1

tbsp

melted butter

1/3

cup

demerara sugar
Instructions
Preheat oven to 350

Grease muffin tin or line with paper cups

Stir together the flour, baking soda, baking powder, salt and rosemary.

In a separate bowl, beat together the brown sugar, egg, oil, and buttermilk until it is smooth.

Add the dry ingredients and stir until just mixed.

Fold in the rhubarb and dates.

Place about ¼ cup of batter in each of the muffin cups.

Mix the melted butter and the demerara sugar together in a small bowl.

Sprinkle this mixture liberally over the top of the muffins.

Bake for 20-25 minutes until done.

Cool for 5 to 10 minutes in the tin before removing to a cooling rack.
Recipe Notes
If you don't have buttermilk, mix together 1 cup of milk with 1 tsp white vinegar and let sit for five minutes.
Turbinado or raw sugar can be used instead of the demerara sugar.