It's cold out there.  People are talking about snow, some with delight and some with dread.  Here in Asheville we are in the freezing cold rain season.  My backyard and driveway are a mud pit big enough to handle a herd of hippos. This calls for something warm, with cheese, and carbs.  In short, it calls for French Onion Soup.
I got this recipe from a friend of mine almost 50 years ago.  It's been a family favorite for a long time and is our traditional Halloween night dinner, good enough to tempt children away from a bag of goodies and also make tired parents happy.
It's not hard to make but it does take time.  Fortunately, it is best made a day or two before you want to serve it so you can work around the long cook time as needed.
And the reason it takes so long is because you can't rush the onions.  Slice them thinly and cook them slowly over low heat.
They need to go from this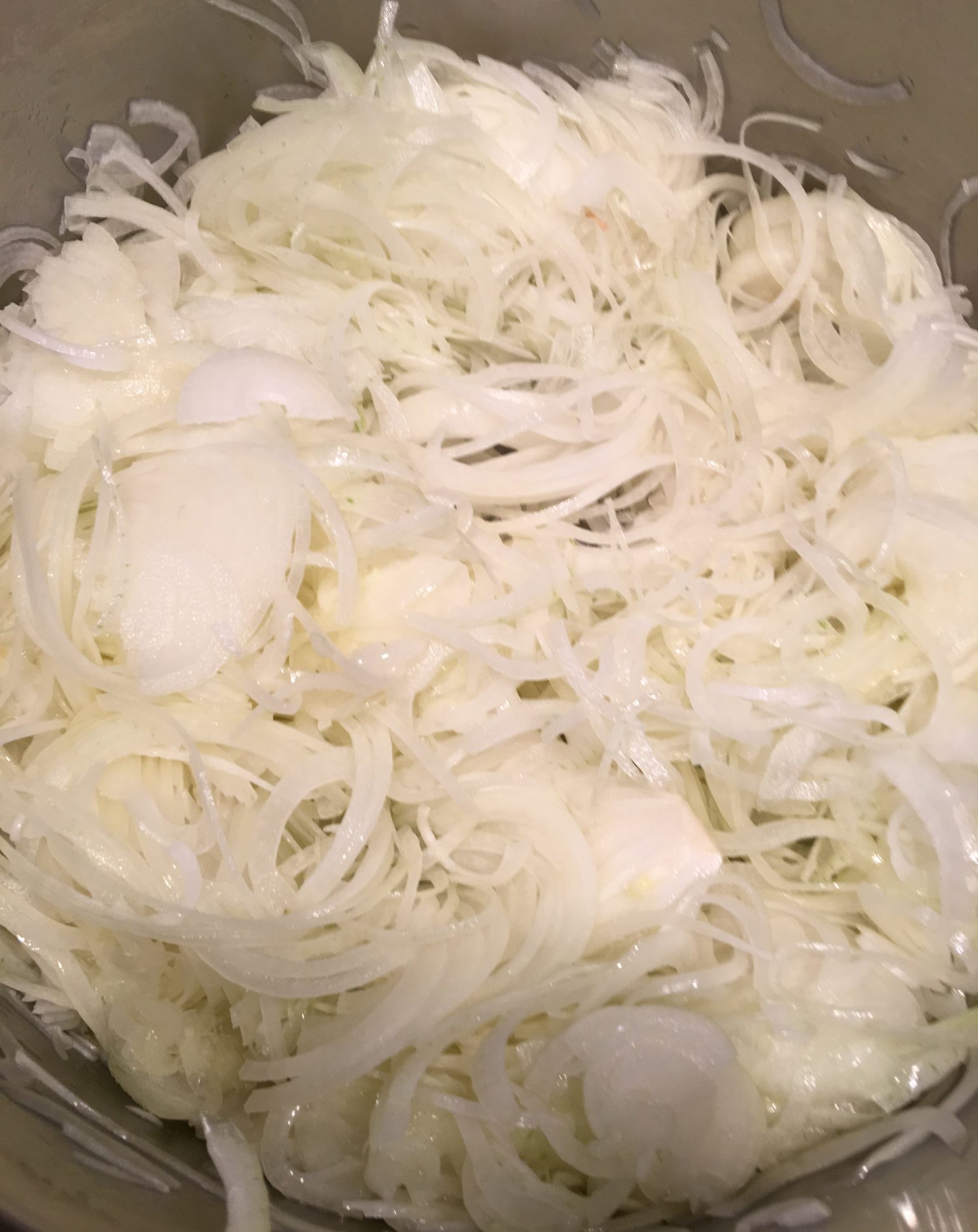 To this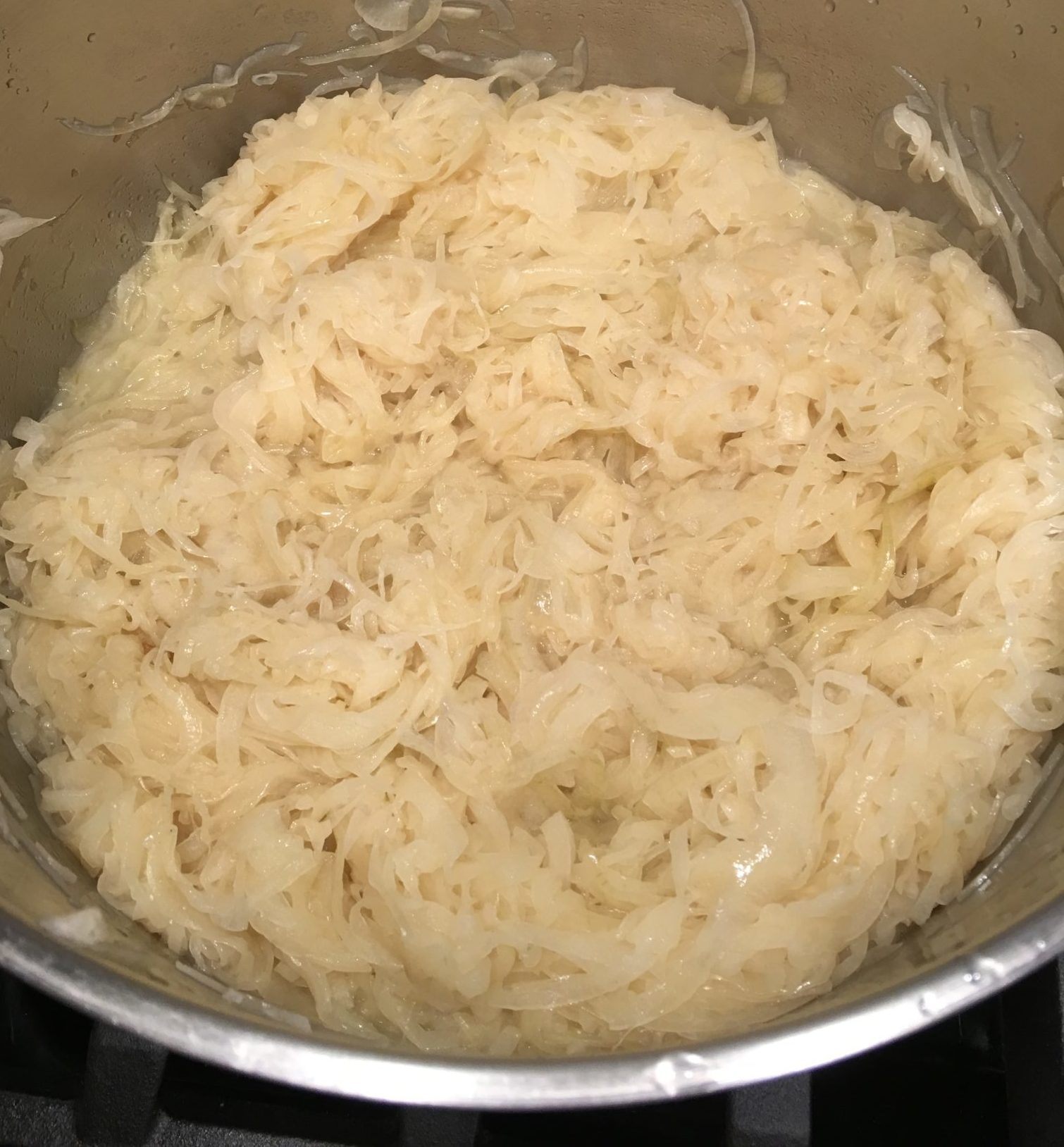 To this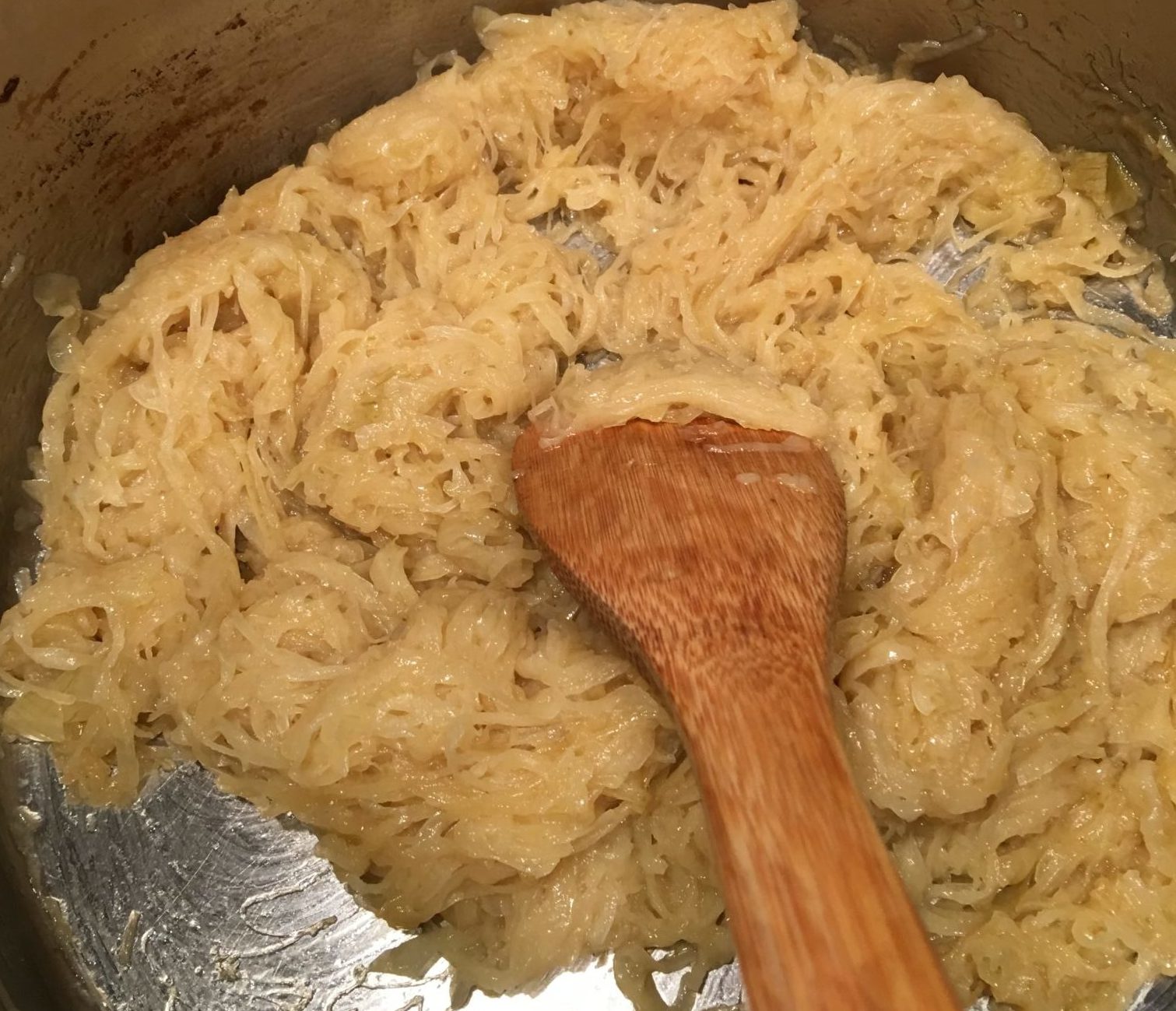 It takes about two hours.  It's best not to stir them too often as that will make it take even longer.  I'm an impatient sort so I set a timer for 15 minutes and then walk away from the stove. Repeat as needed.
After the onions are cooked, add the liquids and let it cook some more.
Taste it, cook some more and there you are.  Soup's made! On to cheese and bread.  I like to use Jarlsberg Cheese.  It has a good flavor and melt-ability but really any hard cheese will work. Swiss is traditional.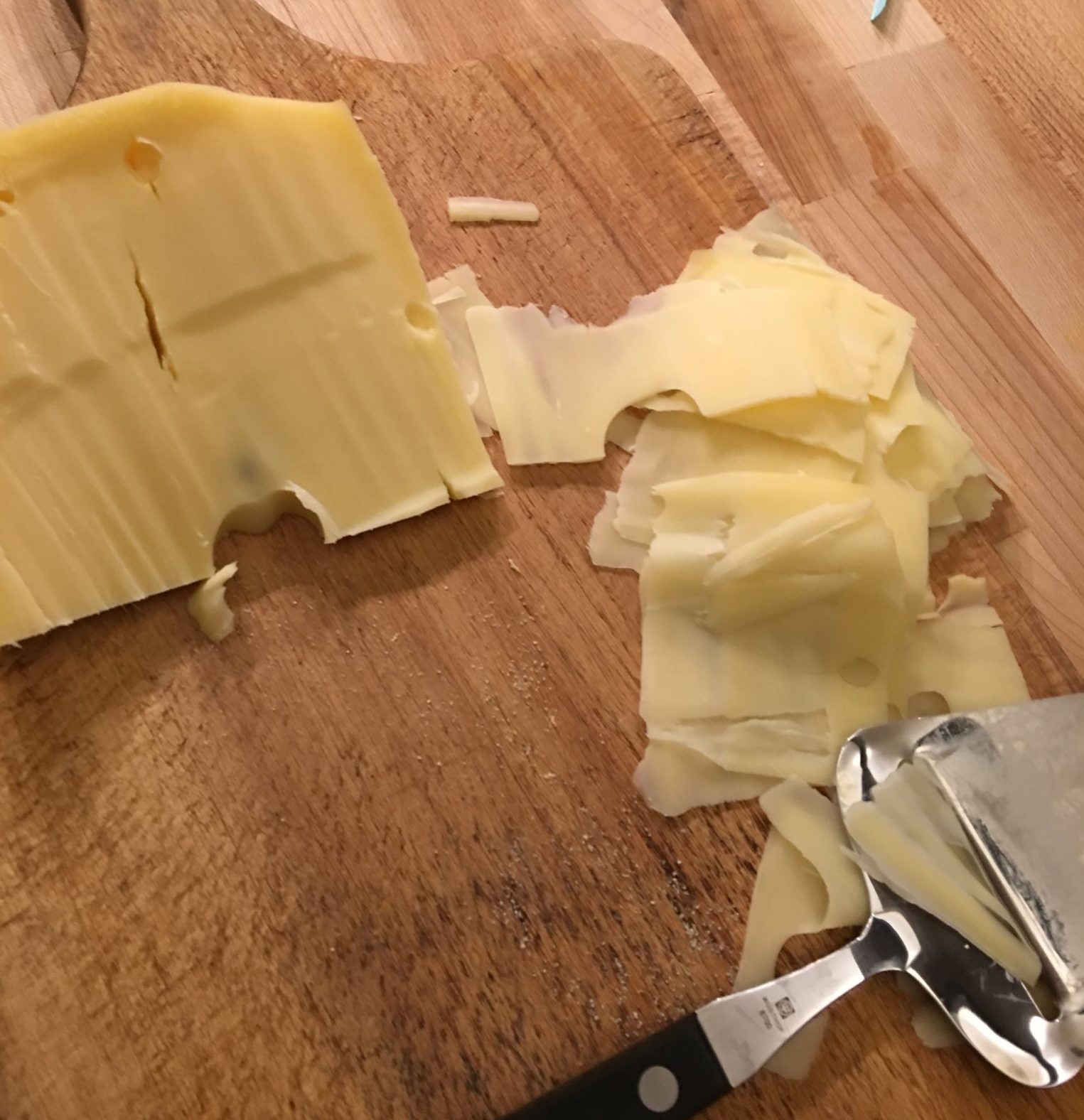 If you are reheating the soup, it's always a good idea to bring it to a full boil before eating it.  Put the hot soup in heavy duty bowls which can go under the broiler.  Toast some thick slices of French bread and place them on top of the soup then layer as much cheese as you would like on top of that.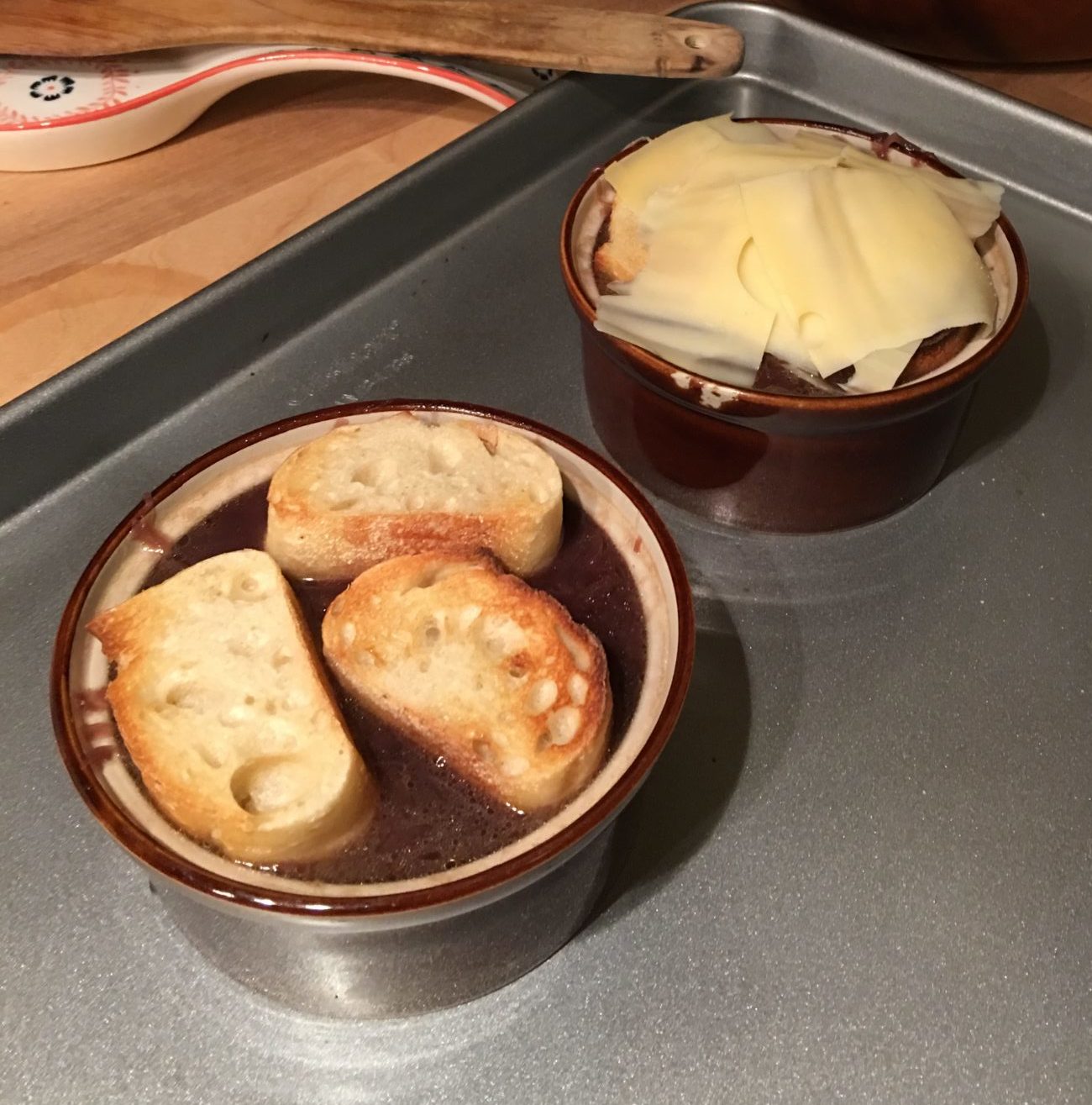 Broil it until it is bubbly and brown.  Now watch out you don't burn the roof of your mouth.  I almost always do!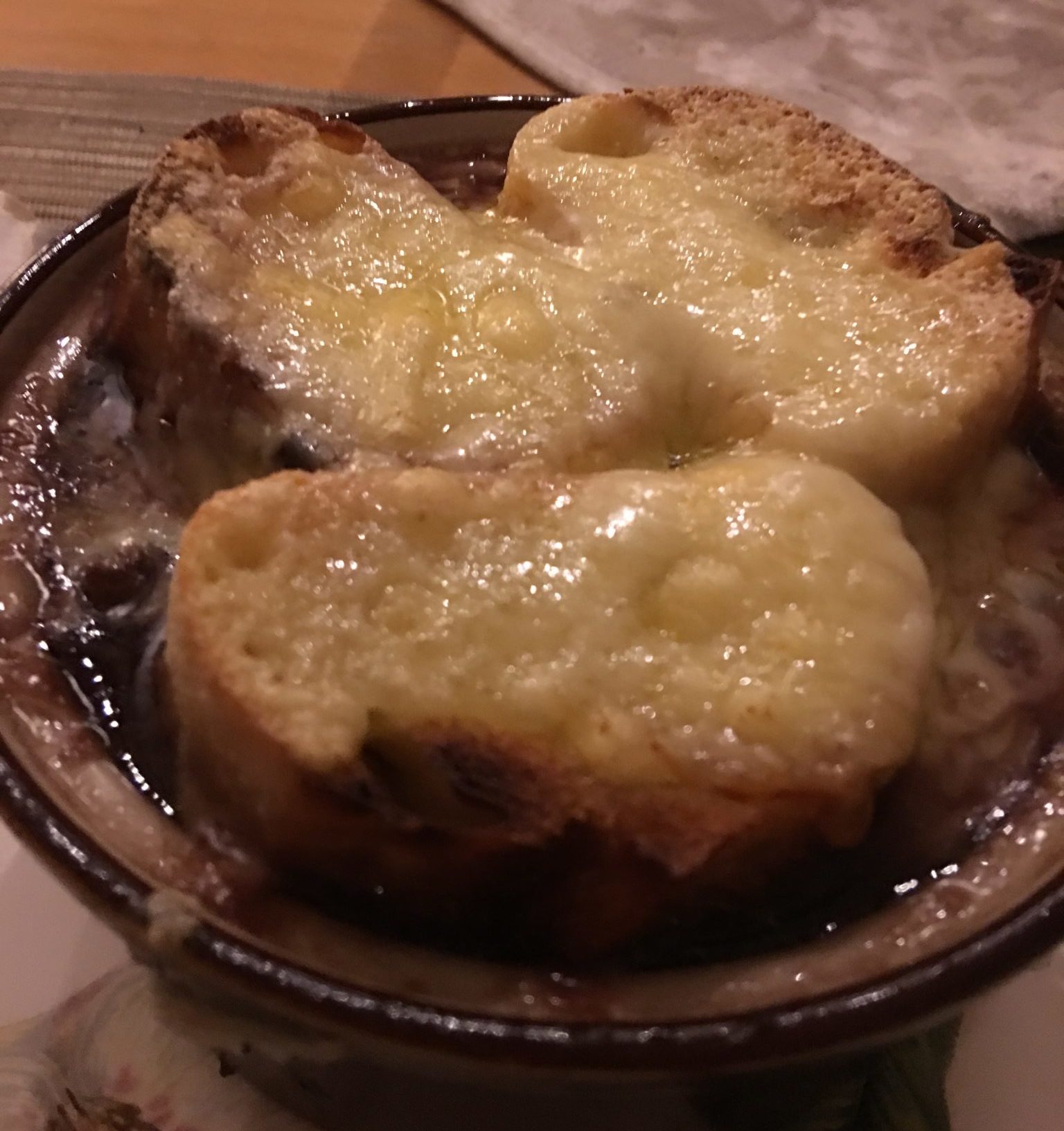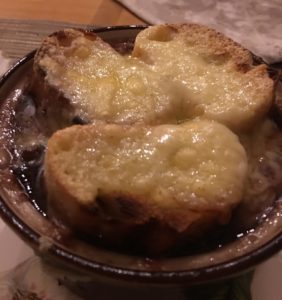 FRENCH ONION SOUP
Ingredients
3

lbs

yellow onions

½

cup

butter

1 stick

1

tbsp

sugar

3

+ cups strong red wine

4-6

cups

beef stock or canned beef consome

Jarlsberg cheese

1

baquette
Instructions
Melt the butter in a large stock pan over low heat.

Peel and thinly slice the onions.

Add the onions to the melted butter. Stir to coat them in butter.

Cover the pan and let cook for 1 ½ to 2 hours, stirring every fifteen minutes.

When the onions have cooked down and are very soft and tender, sprinkle them with 1 tbsp sugar and bring the heat up to medium. Cook, stirring often, until the onions are golden brown.

Add 2 cups of red wine to the pan and 4 cups of beef stock.

Bring to a boil, reduce the heat and cook at a low simmer for another hour. Add more wine and/or stock to taste and let cook for another 30 minutes.

Soup can be cooled at this point and stored in the refrigerator.

To serve: slice and lightly toast two pieces of baquette (2" thick) per serving.

Slice the Jarlsberg cheese into thin slices

Heat the oven broiler to medium high.

Bring the soup to a full boil and ladle into French onion soup crocks.

Top with the baquette slices and cheese and cook under the broiler until the cheese has melted and browned.