I hope all of you had a good Thanksgiving.  Mine had just enough dysfunctional family dynamic to lend some poignancy but not enough to keep it from being warm, and wonderful and loving.
And now it is on to the holidays and its paean to baked goods which fills the bakers among us with ambition and delight while those who don't bake are happy and necessary accessories as eaters of our follies!
In case you haven't figured it out by now, I am counted among the bakers.  From an early age I would flip avidly through magazines and newspapers dreaming and planning the cakes, cookies and desserts I would make.
Over time I have assembled a repertoire of Holiday goodies which my family expect from me.  These are the must-makes and only after those are finished am I free to pursue the more extravagant and fanciful!
First up on my family's traditional list of goodies are Fruit-Nut Bars. Somewhere in a box in the attic there is a faded green spiral notebook from my 15th year.  It was my first year at boarding school and I thought with longing of my mother's baking which began right after Thanksgiving, filling the house scents of sugar and spices. I started a notebook of recipes which I clipped from Family Circle and Better Homes and Garden.  (This was well before the days of Bon Appetit and Gourmet Magazine).  I think the recipe for these fruit and nut filled bars came from the New York Times, but I couldn't swear to it. Wherever it came from, it has stood the test of time and is firmly in the pantheon of Christmas cookies in my house.
Start with dried fruit.  Any mixture of dried fruits will do.  I think that dried apples are a must, after that raisins, dates, dried apricots, cranberries, whatever you have on hand.
Put them all in a food processor and give them a whirl.  Then stick them  in a small pan with a little bit of water. Bring the water to a boil then cover the pan and turn off the heat.  Leave them to steam and soften while you get on with the rest.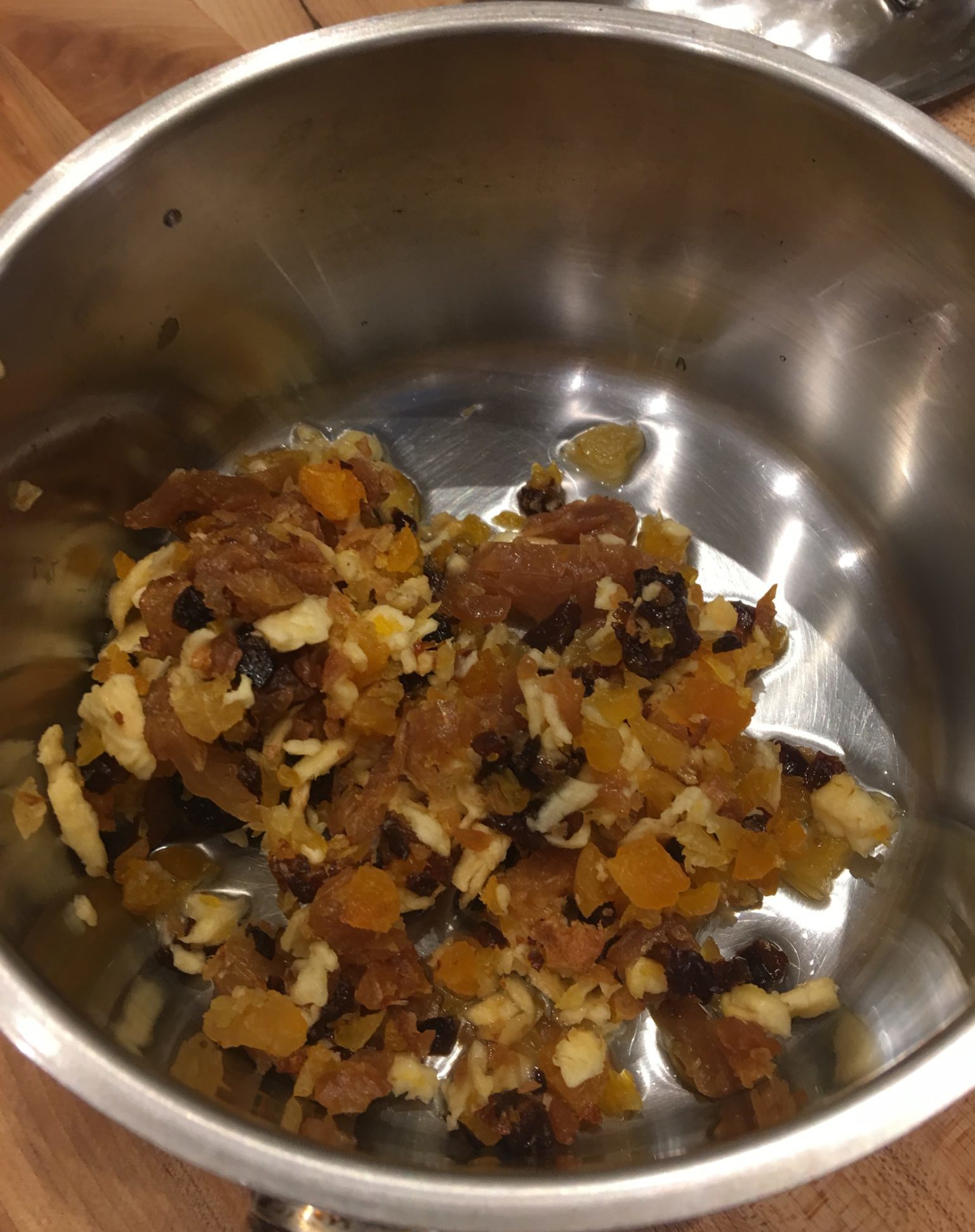 Put all the ingredients for the bottom crust in the food processor and whirr them together. (You don't need to clean the food processor from the dried fruit.  It's okay if some bits get in the crust).  Then pat it into a brownie pan and cook until it is lightly browned.  (Another tip is to line the pan with foil, then you can just lift it out of the pan when it has cooled.  It can be a bit sticky)
For the batter, you can use a mixer or do it by hand.  I have done it both ways.  It doesn't really seem to matter how much you beat it once you have mixed it well.
Add the nuts and the fruit and pour them over the crust.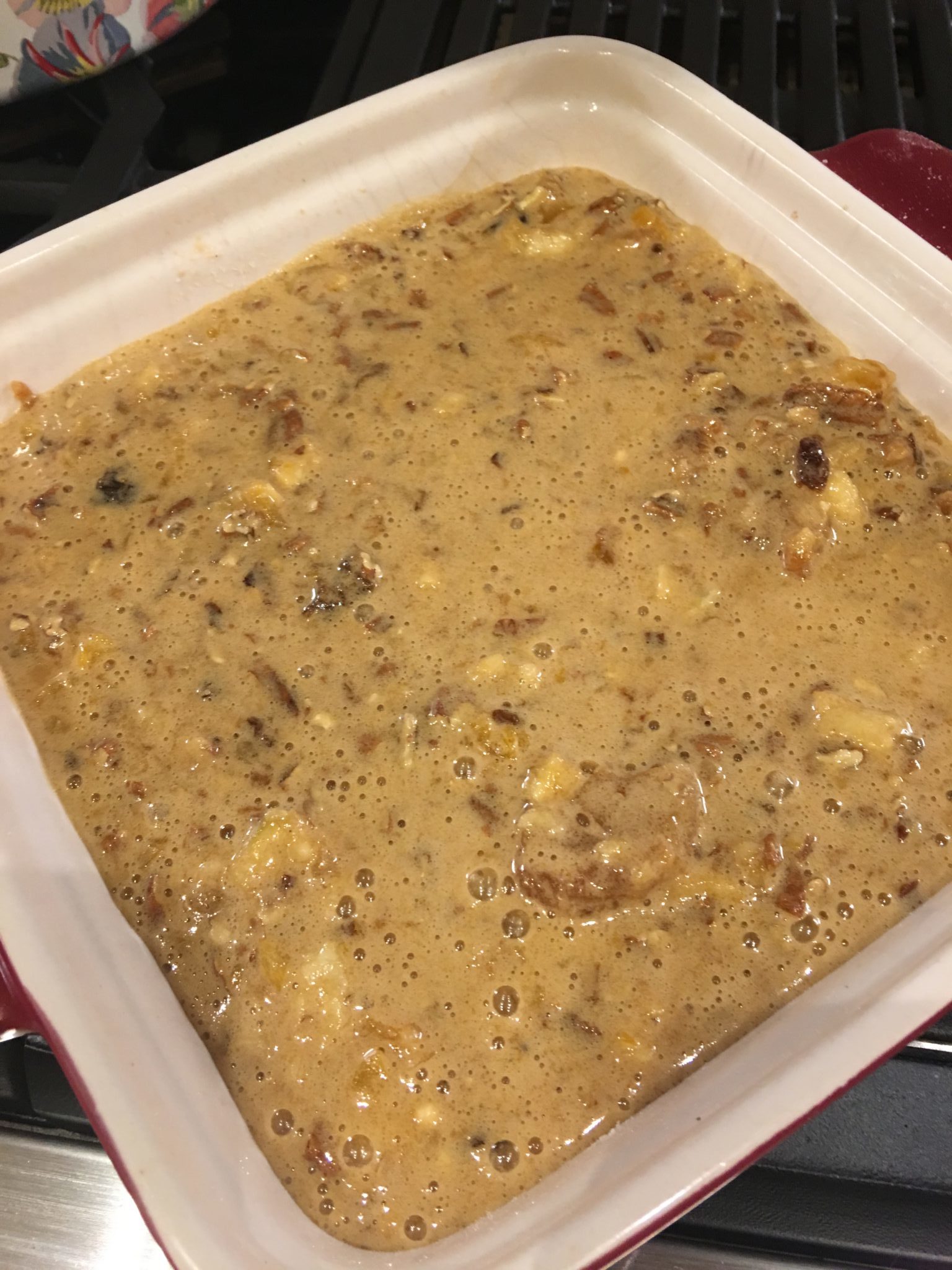 Cook it until it's done.  This step can be tricky since a toothpick inserted may come out a bit moist from the fruit so I try a couple of places.  The top forms a thin crust over a sticky fruit-filled center.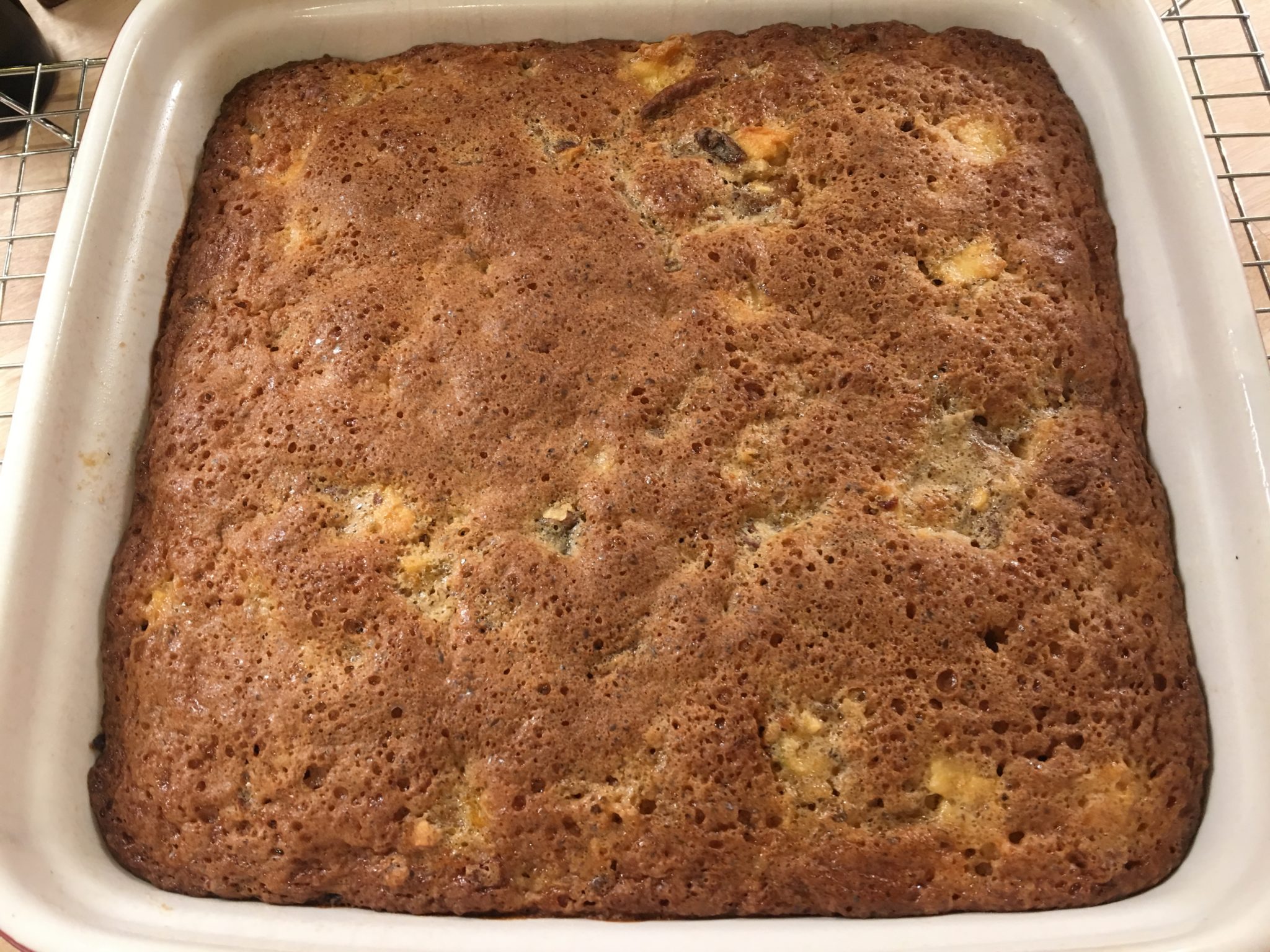 Once it has cooled, cut the mixture into bars and toss in a little powdered sugar.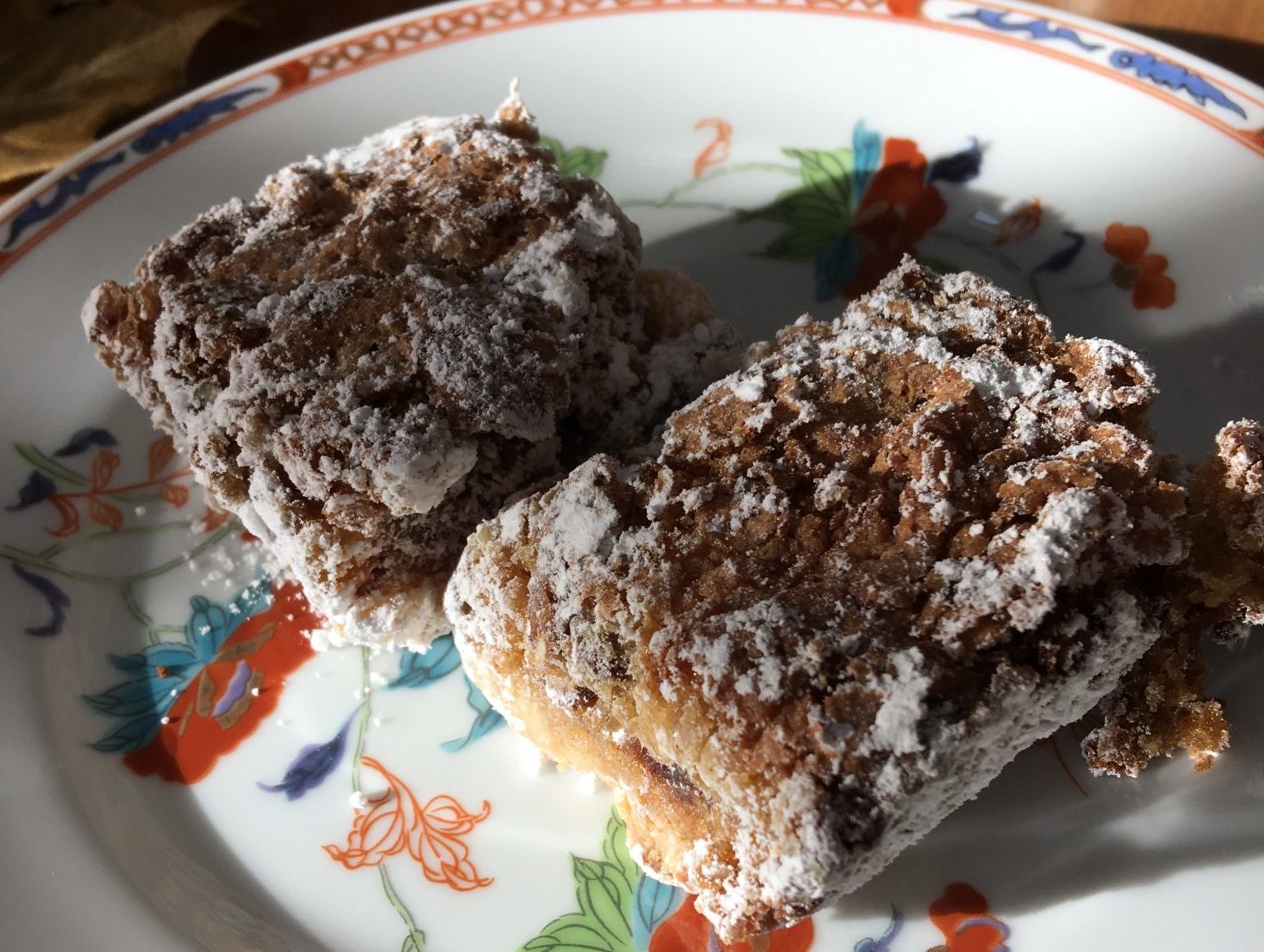 I usually make a double batch and freeze half (pre-sugaring).
Must-have #1 done!
(This recipe is also available in my cookbook, Our Family Table: Recipes & Lessons from a Life Abroad, available on Amazon and through my website)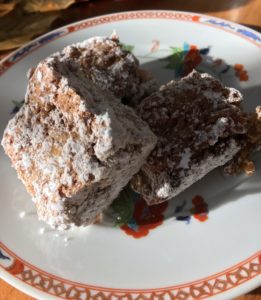 FRUIT-NUT BARS
Ingredients
½

c

dried fruits

chopped

2

c

flour

½

c

butter

¼

c

sugar

1

c

brown sugar

packed

2

eggs

1/3

c

flour

½

tsp

baking powder

¼

tsp

salt

½

tsp

vanilla

½

c

pecans

chopped

Confectioners' sugar
Instructions
Preheat the oven to 350 degrees. Grease an 8-inch square pan (or line with foil).

Place the fruit in a small saucepan with 1 tablespoon water. Bring to a boil, cover and remove from the heat. Let sit, covered, while preparing and baking the bottom layer.

Mix 1 cup flour, butter and granulated sugar in a medium bowl until crumbly. You can also use a food processor for this. Pulse two or three times until large crumbs have formed. Press into the prepared pan and bake 20 minutes until just starting to brown around the edges.

Meanwhile, in a medium bowl, beat the brown sugar with the eggs. Add 1/3 cup flour, baking powder and salt, and stir to blend. Stir in the vanilla, nuts and fruit.

Spread topping over the baked layer and bake 30-40 minutes until set.

Let cool before cutting into squares. Roll the bars in confectioners' sugar before serving.